This easy homemade New York-Style Bagel recipe is simply the best! Basic pantry ingredients transform into deliciously chewy freshly made New York bagels.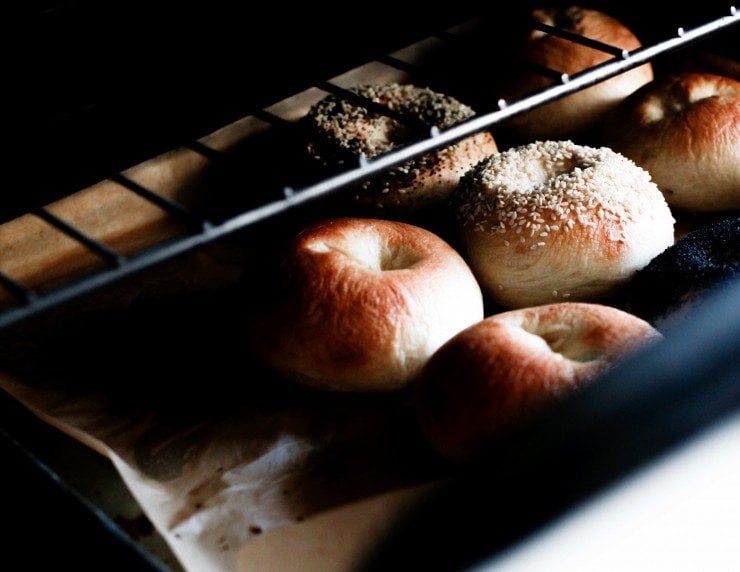 This is simply the best homemade New York-Style Bagel Recipe. After so much love (this recipe has received over 11 years worth on here!), I had to share the recipe in Hand Made Baking, and I updated this page with various photos, tons of tips, tricks, and information you'll need to achieve the most perfect chewy homemade bagels.
This easy bagel recipe is delicious and results in perfection. It does not need as much dedication as other bagel recipes you will find on the web– you do not need to dedicate 2 days to this. It's a same-day homemade bagel recipe that comes together in 2 hours.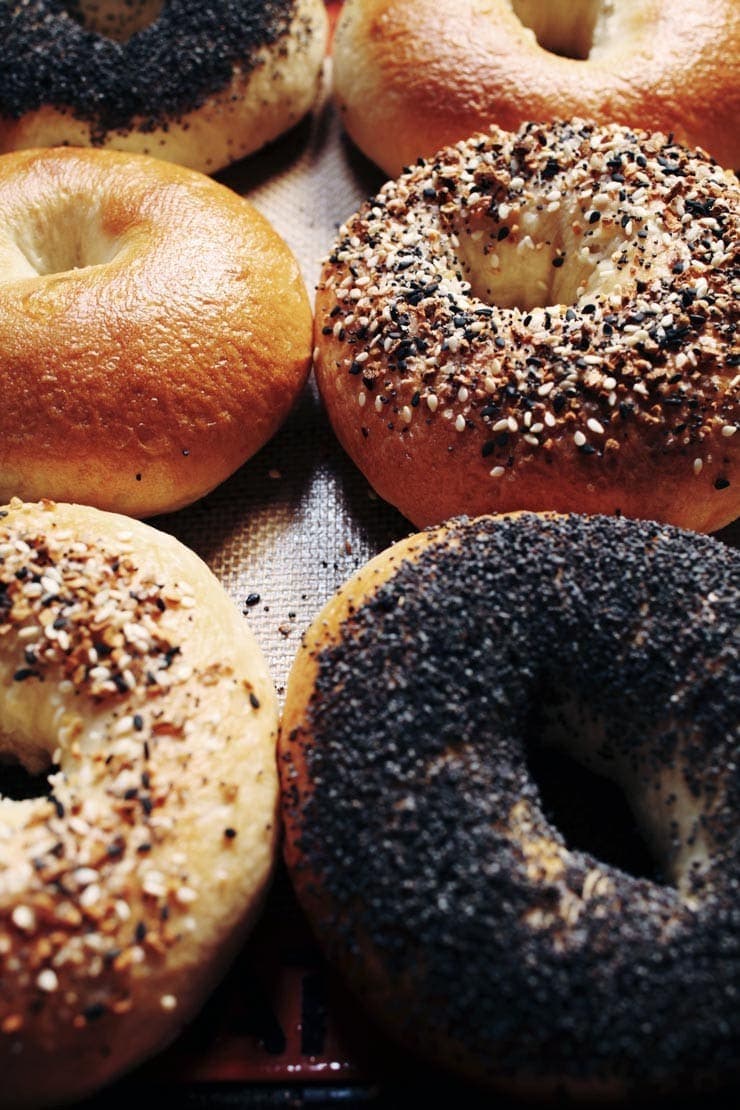 As a native New Yorker, I know there's nothing better than a fresh bagel schmeared with cream cheese. I have a high standard when it comes to bagels and I don't put unusual ingredients in mine.
In these bagels, you will not find any yogurt, maple-syrup, or ingredients you might not have in your pantry.
I no longer live in New York City, and I constantly crave the good old-fashioned bagels I grew up on– flavorful, modestly sweet, and chewy with soft, shiny crusts. These bagels are made the classic way: you boil them in water for a couple of minutes before you bake them. This is probably one of the most bizarre things a person can do to dough, but it just works.
This bagel recipe is a very altered adaptation of one from a cookbook, Ultimate Bread, that I borrowed over a decade ago from my aunt. It was my first introduction to homemade bagels. Over the years, this has become the best bagel recipe that I've ever made.
It doesn't require unusual ingredients or require special equipment to make the recipe. These homemade chewy bagels are a treat fresh out of the oven, but when they're toasted– oh, my! Can we just say that you'll be making this bagel recipe time and time again?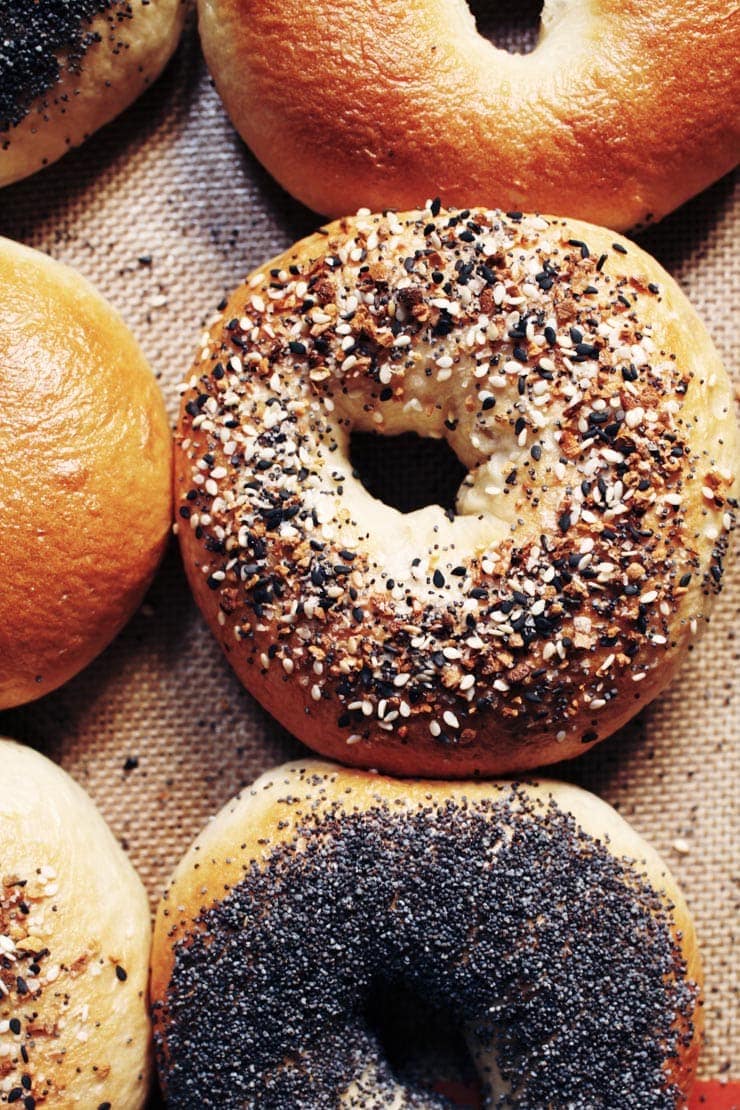 After making this New York-Style bagel recipe on your own, you will feel a sense of accomplishment and satisfaction. I know I always do! This will definitely give some competition to your local bagel shop- the recipe is that good (I mean, look at the comments!).
This homemade bagel recipe is so good that you'll be impressed with yourself and totally satisfied after you take a nice bite out of one of these freshly made chewy bagels. So, if you mail order bagels from your favorite spot in New York City and pay $7.50 a bagel, save your money!
And if good bagels cannot be found where you live, worry no more; this recipe is infinitely adaptable, and the little bit of effort you put into making these bagels is well worth it. It's time to get baking!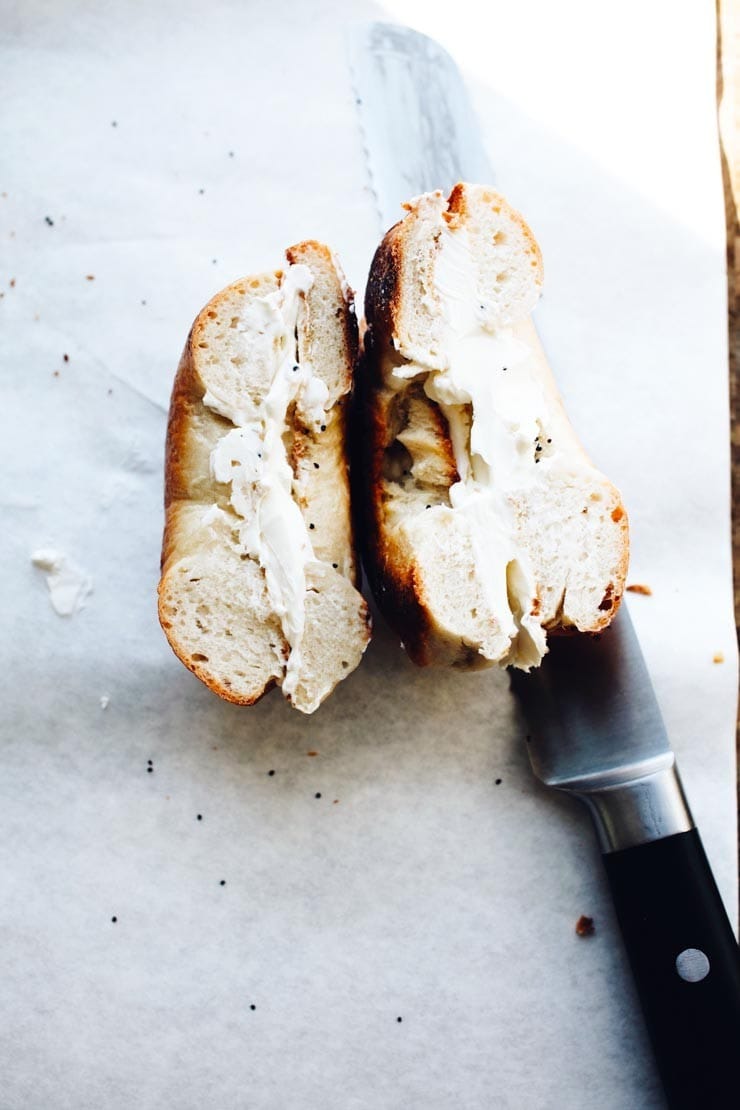 Homemade Bagel Recipe Ingredients
This homemade bagel recipe consists of four major parts– making and preparing the bagel dough, shaping and boiling the bagels, the bagel topping, and the things you'll need to serve them with. Here's what you'll need:
The Bagel Dough: The Bagel Recipe Ingredients
• Granulated Sugar– this is used to slightly sweeten the bagel dough and to activate the yeast.
Feel free to use natural cane sugar here if you have it.
• Active dry yeast– to help the bagel dough form and rise.
• Luke warm water– this needs to be between around 105ºF/ 40.5ºC and 115ºF / 46ºC; this will also help the yeast activate and bind the flour and other ingredients into a smooth, elastic bagel dough. On the rare occasion, you may need more water than listed in the recipe. The water called for in the recipe is a guide– your ultimate goal is to form a smooth bagel dough that is moist and firm.
• Bread flour – It contains a high protein content, perfect for making homemade bagels that are chewy. All-purpose flour works here too, they will be just as delicious– just not as chewy as ones made with bread flour (Read: New York-Style Bagel Recipe FAQ located below the recipe in this post for more information about flour alternatives for these homemade bagels).
• Fine-Grain Sea Salt– this adds the right amount of flavor to the bagels.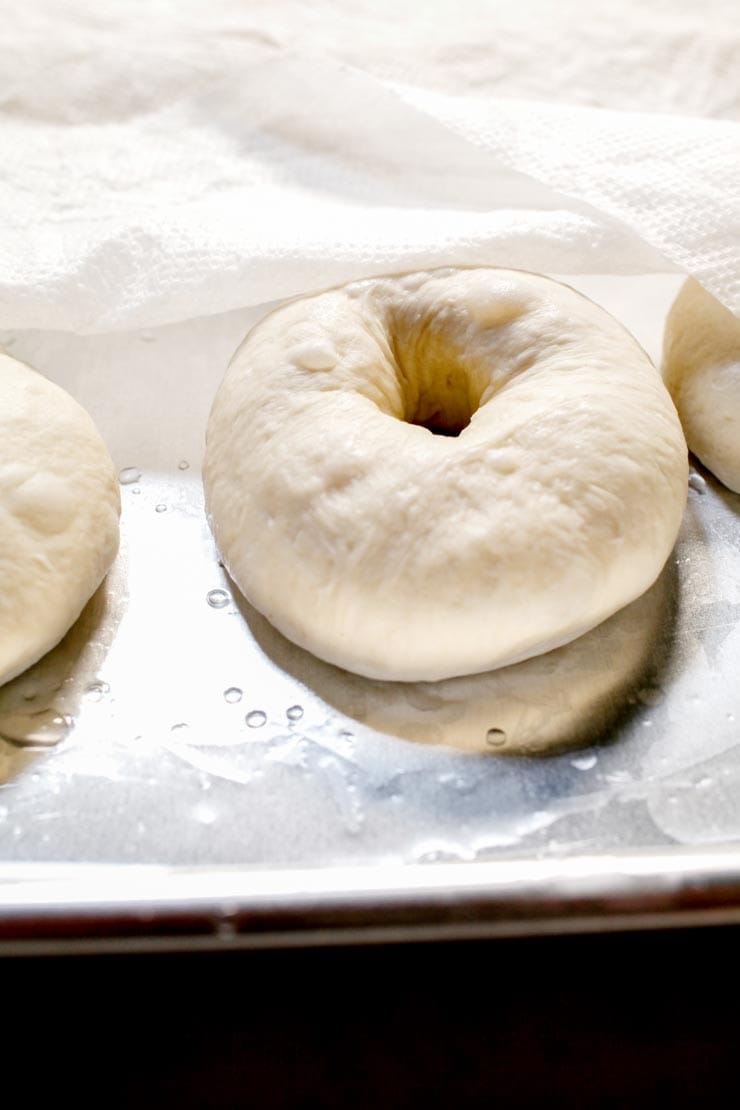 Shaping and Boiling the Bagels
There are many methods in which you can shape a bagel; there is a more traditional method that many bagel shops use– you roll the bagel dough into logs and bind the ends together.
The method used here is done by simply poking the hole in the middle of taught rounds of bagel dough. Once that is done, the bagel rings are gently stretched to about a third of the diameter of the bagel.
After a short rest, each bagel is boiled. This gives the bagels their New York-Style signature delicious, chewy, and shiny crust.
While you can opt to flavor your poaching liquid (there's more information about this in the FAQ section), I keep it simple here and just use water and these come out perfect every time.
The Bagel Toppings
Favorite bagel toppings vary from person to person. Depending on the day, I like a good homemade everything bagel or a poppyseed bagel. I know many people who are partial to single toppings like minced onion or coarse salt. Whatever you like, definitely customize the toppings to match your tastes.
Everything bagel seasoning, minced fresh garlic, minced fresh onion or shallot, poppy seeds, sesame seeds, caraway seeds, coarse salt, cinnamon sugar- these are just some of the many topping options you can go with to customize the taste of your bagels.
What to Serve the Bagels With
A proper New York-Style bagel always requires a schmear. What is a "schmear" you ask? It's a generous slather of cream cheese. It's practically a requirement, especially when these homemade bagels come out of the oven. However, there are multiple ways you can serve them– all of which I have listed within this post.
How to Make Homemade New York-Style Bagels
First, proof the yeast. Proofing basically means you're activating the yeast. To do this, you will need to add sugar and yeast into luke warm water. After about 5 minutes, the yeast will bubble up; this indicates that the mixture is ready to stir until everything is properly dissolved.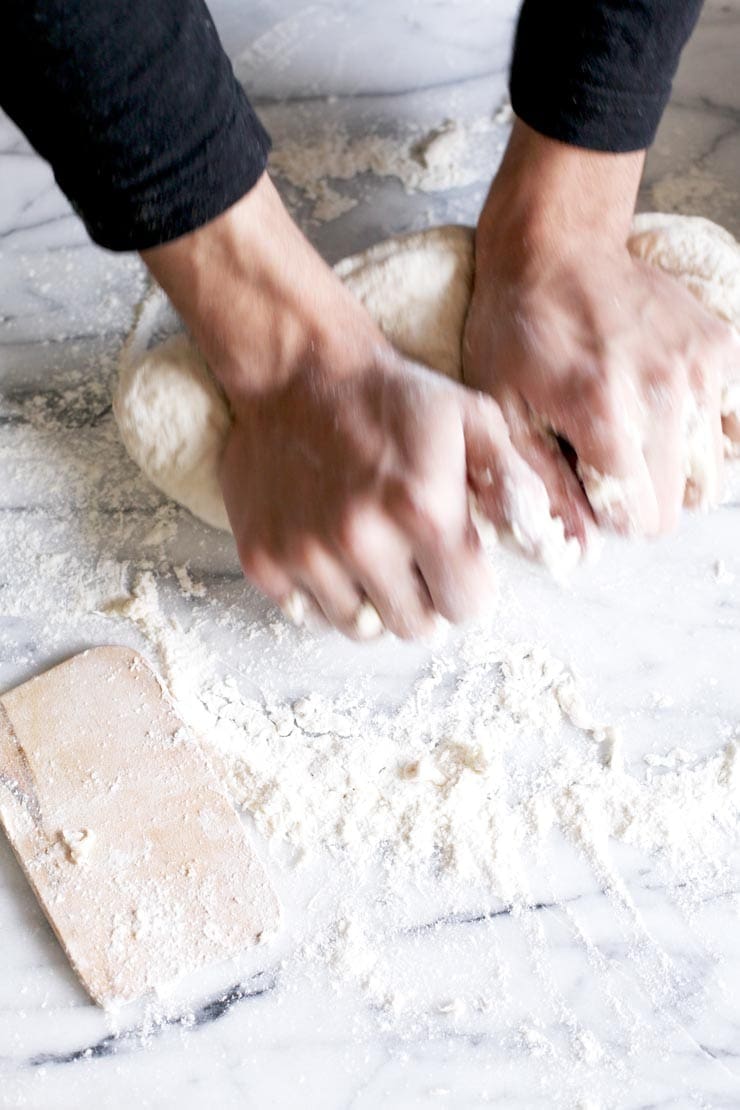 Then, mix the bagel dough together. You can you can opt to make the bagel dough by hand (which I highly recommend if you're making this recipe for the firs time), or you can do so with a stand mixer fitted with the hook attachment, on the lowest setting (for about 5 to 6 minutes). If you're making a double batch you might not be able to use your stand mixer for kneading– refer to your manufacturer's instructions.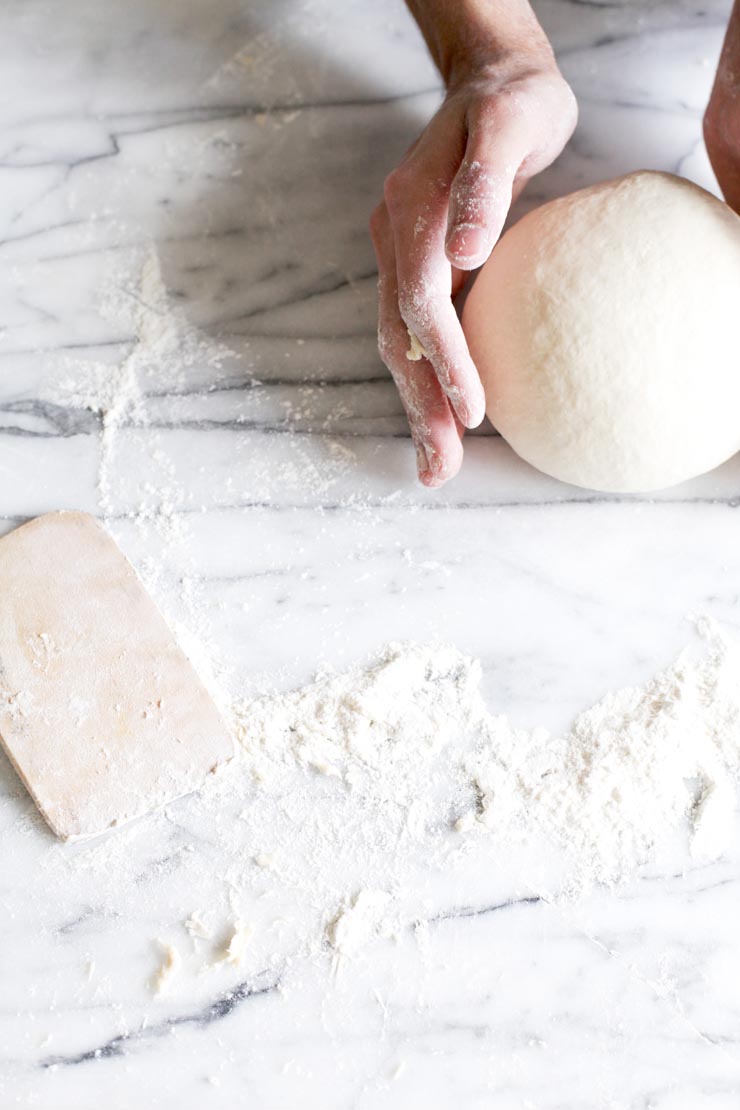 When mixing the bagel dough, you may or may not need the entirety of the water called for in the recipe. You want the bagel dough to be moist and firm after it is mixed. Sometimes you may need more water, depending on humidity, brand of flour, your altitude, climate, amongst many other things.
Once the dough has come together and has been kneaded, place the bagel dough in an oiled bowl to rest for an hour (about 2 hours if you're using less yeast) or covered overnight in the refrigerator.
Once the bagel dough has rested, you will need to deflate it. You will know it has rested enough when you poke the dough with your finger and the impression remains. If it bounces back, the bagel dough has not risen enough.
If you allowed the bagel dough to rest in the refrigerator, allow it to sit at room temperature for about 1/2 hour before working with it.
Once deflated, divide the dough. It should be divided into 8 equal portions. Feel free to use a scale or eyeball it. You do not have to be exacting about this; just make sure they're roughly even so that all the bagels bake at the same time.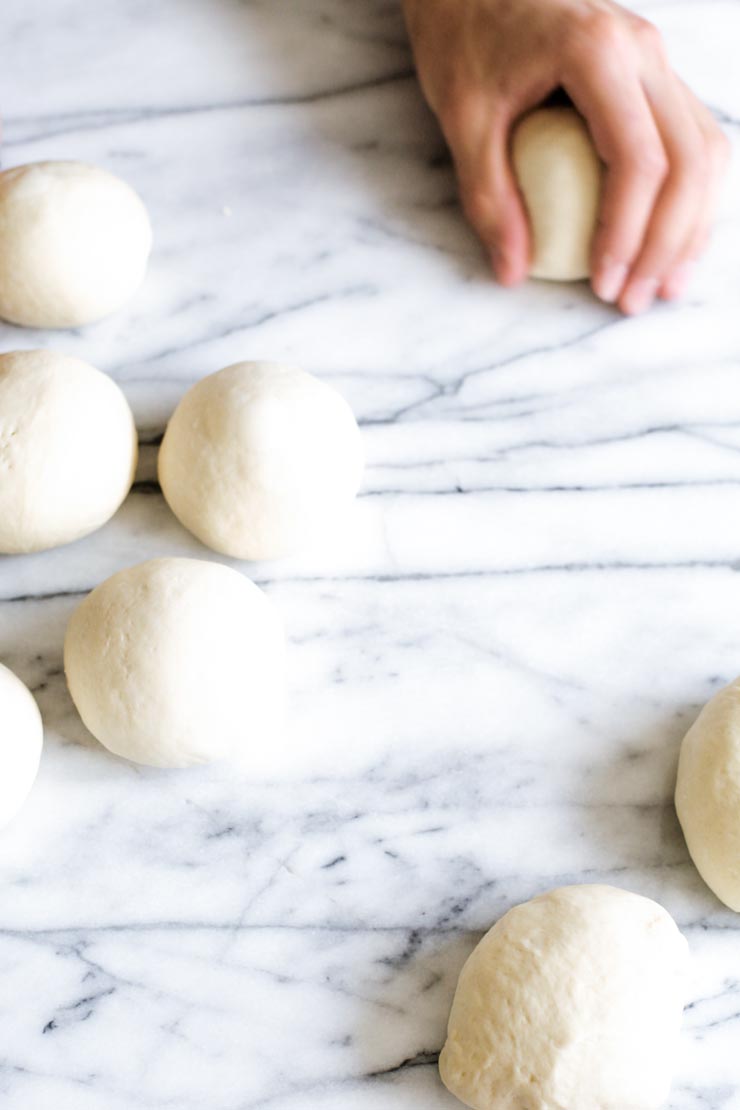 After that, form the bagel dough portions into rounds. Don't use flour for this step. This is going to sound more complicated than it is, but hold your hand in a C shape while cupping a portion of dough.
Press the dough against the work surface (remember to avoid flouring it) and move your hand and the dough in a slow, circular motion. Allow the irregular edge of the dough to pull onto itself, while decreasing the pressure on top of the dough slightly until a perfectly smooth round ball forms.
Repeat this with the other portions. Have your eyes crossed? This probably does sound difficult at first, but essentially all you're doing is making the dough round taut by pulling its sides in and keeping it round.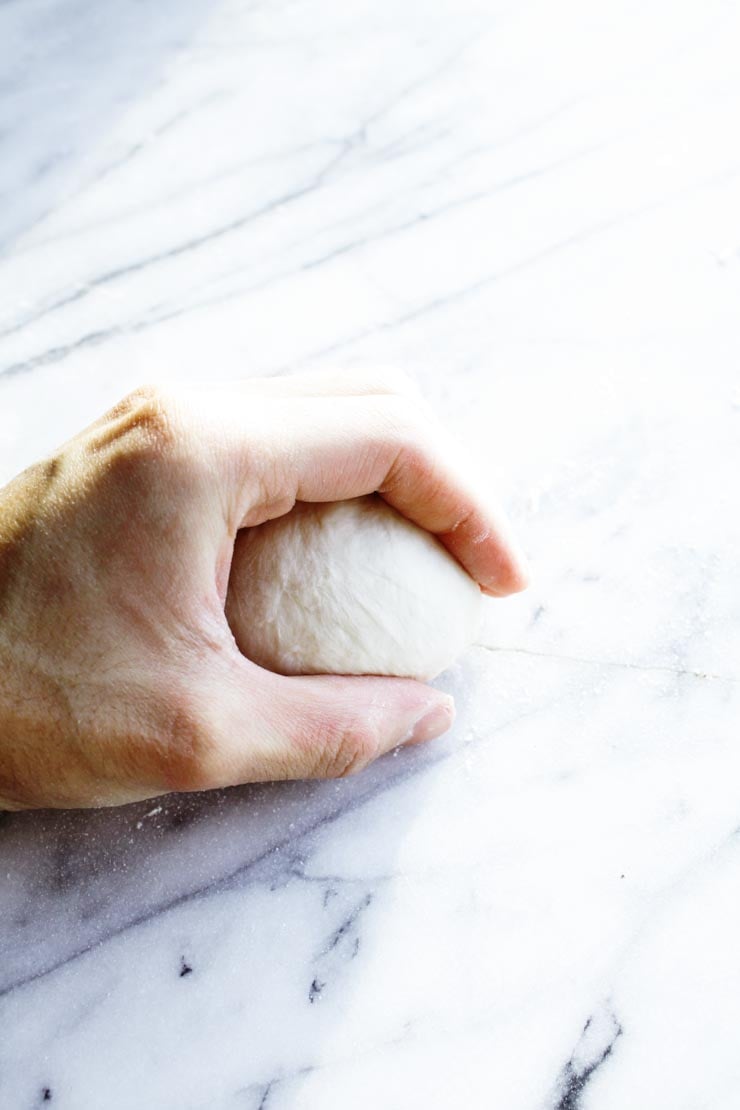 Now, here comes the part when we shape the bagel dough! Working gently and firmly with the dough will result in perfectly smooth bagels.
Simply coat a finger with flour and gently press your finger into the center of each dough ball. Then you stretch the rings out to about a third of the diameter of the bagel and place them onto a prepared baking sheet.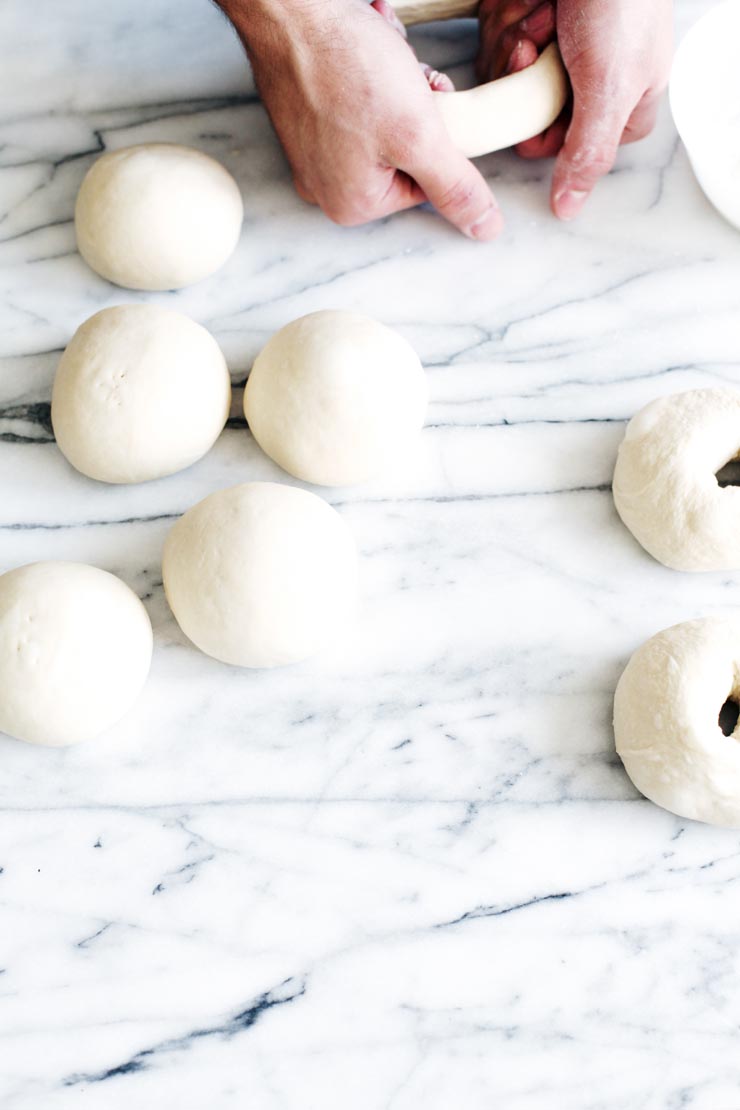 It's time to boil the bagels. The bagels need a little rest in between shaping and boiling. So, while the unbaked bagels rest, bring a large pot of water to a bubbling boil.
Once it has reached a boil, lower the heat to a simmer. You'll need a slotted spoon or a skimmer to place the bagels into the water. Some folks like to use small squares of parchment that they cut up before hand– do what is most comfortable for you.
Handling the uncooked dough with the utmost care will preserve their shape as well.
Boil the bagels and don't overcrowd the water. Boil as many bagels as you can comfortably fit into the pot. They will puff up quite a bit, so do keep in mind they do need some breathing room.
Once in the water, the bagels will float on the top. Let them sit for 1 minute, then gently flip them over to boil for another minute on the other side.
This will give them a nice crust and their signature New York-Style chew. You can go a little bit longer on the poach, as well. This will give them a stronger crust and chew– more on that in the recipe.
After boiling them, top the bagels! This is the time when you can let your creativity run free. You can use any or all of the topping options listed in the recipe.
Often times I do a combination of toppings to make a delicious homemade everything bagel or I sometimes just keep it plain or stick to one ingredient on each bagel. Be creative!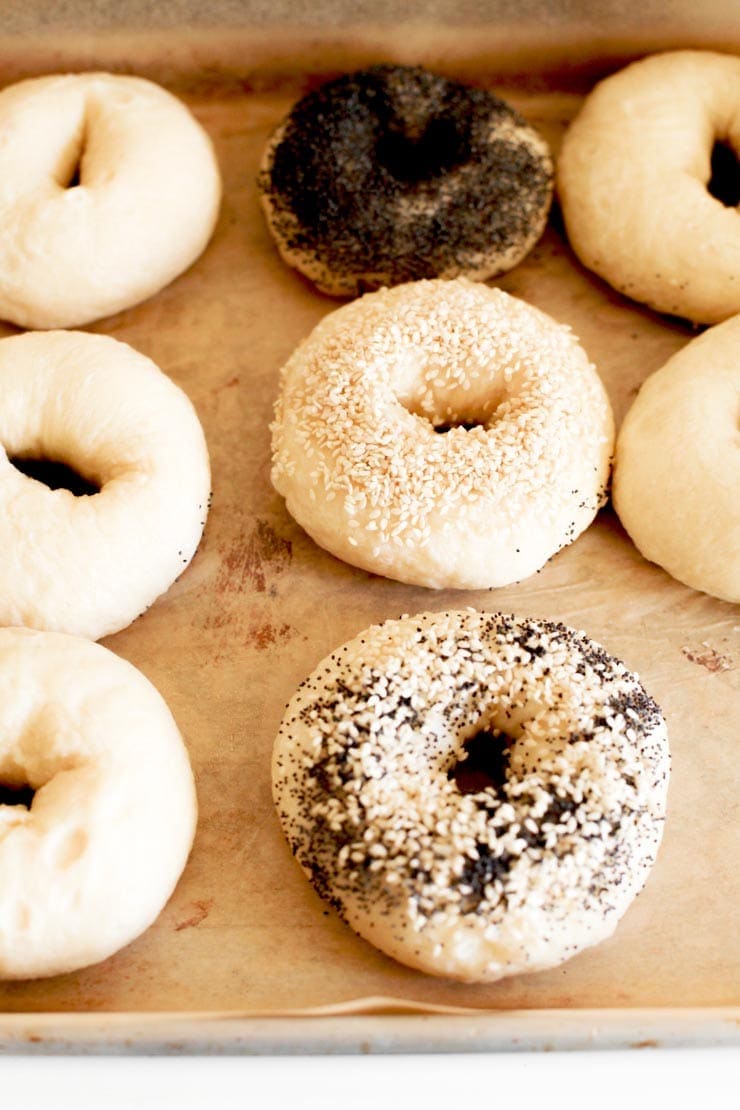 Once the bagels have been topped, bake them. Depending if your oven is calibrated or not (I like to keep an oven thermometer in mine to ensure it's always accurate), you will need to bake the bagels between 20-25 minutes. Until they're uniformly golden brown.
Now, here is the difficult part (not really). You're supposed to let these cool for at least a few minutes once they're out of the oven, until you can handle them. If you're impatient like me, I brave through it, slice one open and schmear some cream cheese on mine right away.
Take a bite… Oooh, child!
Homemade New York-Style Bagel Serving Suggestions
There is no right or wrong way to eat a bagel, but I've listed a few ideas and classic options you would enjoy. A schmear is a classic.
A bagel with lox is also another classic. If you're looking for a good breakfast idea, go the New York City deli route and make yourself an Egg and Cheese Bagel (bacon is preferred, but optional).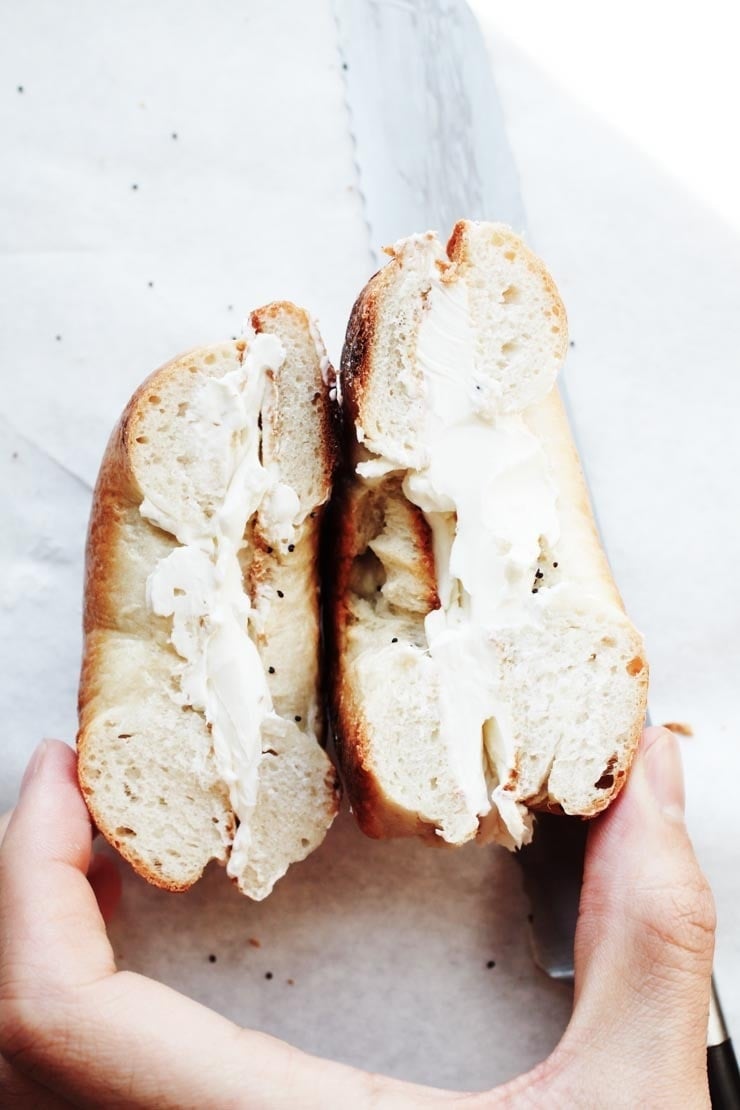 • Bagel with cream cheese– either plain, or your choice of flavored cream cheese. A schmear is a New York classic, and it's so good.
• Bagel with butter– especially with homemade butter or a delicious French butter. Heavenly.
• Bagel with butter and jam– more specifically homemade butter and homemade strawberry jam– a match made in heaven. Highly recommended!
• Bagel with lox– add a schmear of cream cheese, lox on top, a slice of fresh tomato, red onion, thinly sliced cucumbers, and some deliciously briney capers. Perfection.
• Bagel with Avocado– a nice, healthy option. Toast the bagel, smash a ripe avocado on top, season to your liking, and serve it. Bacon is perfect on top, if you're into that. Leftover guacamole is also delicious.
• Bagel with Egg and Cheese– this is New York City deli / bodega-style, peeps. Toast the bagel. Butter it lightly. Make an egg and cheese omelet to your liking. Or fry an egg up, over easy, season it with salt and pepper, top it with cheese and bacon. Add ketchup, if you're into it; add aioli, hot sauce, sriracha, sambal olek, or a combination thereof if you'd prefer that. Cut it in half. You'll thank me later.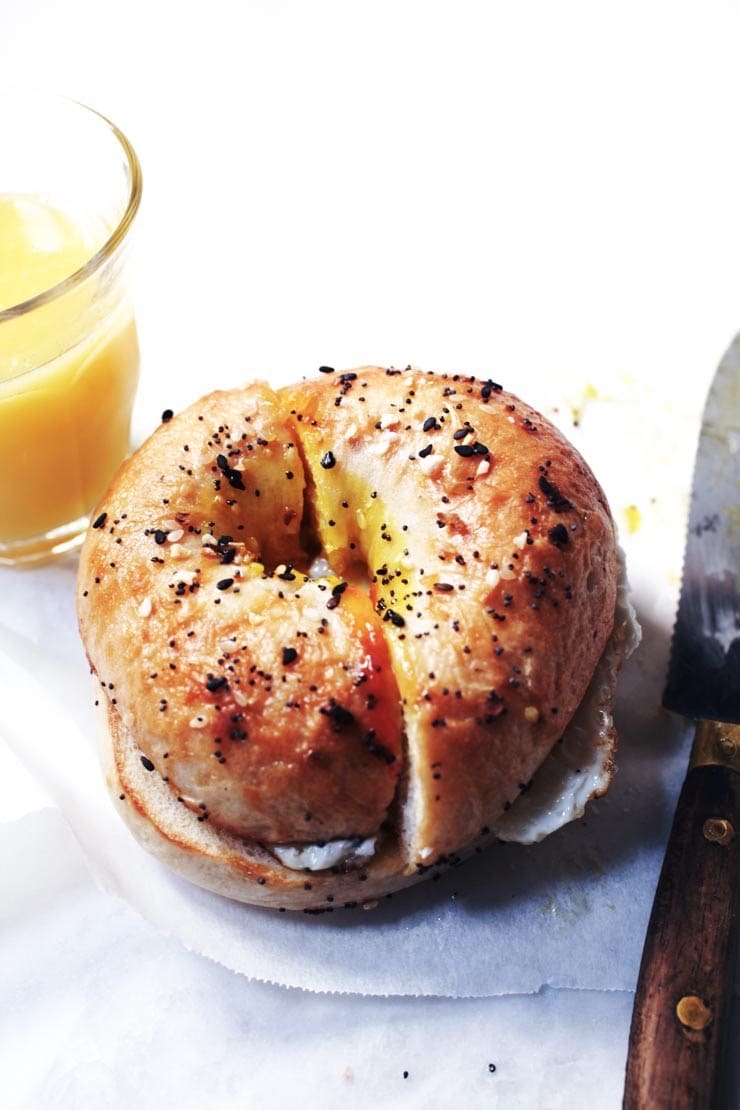 More Everyday Baking Recipes
New York-Style Bagel Recipe: Frequently Asked Questions (FAQs)
The following is a comprehensive list of Frequently Asked Questions I receive about this New York-Style Bagel Recipe. You will find answers to your questions about Yeast, types of flour you can use, and everything you may need to keep in mind when it comes to preparing this homemade bagel recipe and storing the bagels properly.
The Yeast
• Can I use fresh yeast?
If you are unable to get active dry or instant yeast, you can use fresh yeast. The general rule of thumb is a ratio of 2.5:1, fresh to active dry. As the amount of active dry yeast used in the recipe is only 6 grams, you would need about 15 grams of fresh yeast.
When substituting fresh yeast, you may want to make a few adjustments to the method; fresh yeast does not need to be proofed like active dry yeast (the water, sugar, and yeast step will be unnecessary in this case), so do keep that in mind. But, as some have told me, they've simply substituted fresh yeast for the active dry yeast and followed the steps as directed without any issues.
• Can I use instant yeast for this bagels recipe?
You can. Substitute an equal amount. There's no need to proof the yeast, so add the yeast to the flour with the sugar and jump straight to making the dough.
• I prefer less of a yeasty bread-like flavor, how can I achieve that?
You can reduce the amount of active dry yeast to 1 teaspoon in the recipe; do note that you will have to double the rising time to about 2 hours, instead.
---
Types of Flour
• What if I can't find bread flour? Can I substitute regular (all-purpose) flour?
If you don't have access to bread flour, it is okay to use all-purpose flour; they will still come out wonderfully. Alternatively, if you can find vital wheat gluten (it's usually carried at health food stores), add 4 teaspoons to the all-purpose flour, and you should have a good substitute for the bread flour called for in the recipe.
• Can I make bagels with whole-wheat flour?
Yes, simply use half whole-wheat flour and half bread flour. If you like a milder tasting bagel, you can use white whole-wheat flour.
• Can I use spelt flour for bagels?
Yes. Use 2 cups / 255 g whole-wheat flour and 2 1/2 cups / 315 g sifted spelt four. Alternatively, readers have told me that they've made the bagels entirely out of spelt flour with great success.
---
Preparation
• How hot should the water be to proof the yeast?
The water should ideally be between 105F / 40.5C – 115F / 46C.
• Can I prepare the bagel dough in my bread maker or KitchenAid / stand mixer?
You can absolutely use either. For a stand mixer: use the hook attachment, and knead the dough on the lowest setting. Do this for 5 to 6 minutes until smooth and springy. If you're making a double batch, you might not be able to use your stand mixer for kneading– refer to the manufacturer's instructions.
• My bagels aren't smooth. What did I do wrong?
There's two factors that come into play here: the way the dough is handled and the water the dough is boiled in. Being gentle is crucial to the formation of smooth looking bagels. The less you handle it, the smoother it will be. If you squeeze the dough roughly, it'll turn out wrinkly. Like many folks, I bake these bagels a lot, and some batches come out smooth and gorgeous, and on bad days some come out wrinkly. It's all about how you handle the dough, but in the end- it always tastes amazing!
When it comes to boiling, make sure the water is not at a rolling boil; this will also prevent them from looking rough.
• How can I achiece an even shinier, sweeter bagel? Can I use barley malt or honey?
Yes! This will achieve a slightly sweeter and shinier product. Use about 1 teaspoon of barley malt in the dough and a generous tablespoon in the pot of boiling water. Because this is not easily found, I have not made it a required ingredient for the recipe. However, it does add a delicious taste. Alternatively, you can use a couple tablespoons of brown sugar and/ or honey in the boiling water to achieve a similar effect.
• Do the bagels need an eggwash before they go into the oven?
No, an egg wash is not necessary, though it does give a beautiful sheen to the bagels. The bagels will be just as beautiful and delicious if you forego the egg wash– this is especially a great option for vegans.
Once boiled, add toppings to the wet, unbaked bagels immediately so that the toppings stick.
• My bagels stuck to my pan. What can I do to prevent this in the future?
The original recipe calls for simply using an oiled pan (I've edited it). Like many folks, I am paranoid about things sticking to pans, so I use parchment paper or a silpat baking mat (as shown in this post). Feel free to do the same. I do oil the parchment just a bit to add a little bit of extra non-stick protection, but it's not necessary.
• I live at high elevation, what can I do to ensure these come out properly?
I've been told by bakers who live at a higher elevation that this recipe works well as is, however I know that high-altitude baking, especially with yeast, can be a headache as dough tends to rise about 25 to 50 percent quicker than at lower altitudes, so do keep that in mind.
A sure-fire way to ensure that the finished product is not very dense would be to reduce the amount of yeast to 1 teaspoon and allow the dough to rise for the recommended time in the recipe. If the dough has doubled in size after 1-hour, it's good to start working with. If not, continue to let it rise, checking on it every 15 minutes until doubled in size. Your altitude, brand of flour, humidity, and room temperature are factors that would make the rising times vary.
• Can I make the bagels bigger?
You can, just keep in mind that they will need longer to bake, so check on them every few minutes past the 20 minute mark until they are uniformly golden brown.
---
Make Ahead and Storage
• How can I make the dough ahead of time? Can I refrigerate the dough over night?
The best means of making the dough ahead of time would be to prepare it, cover its container with plastic wrap, and rest it over night in the refrigerator. This is called a cold-rise. I often do this and I love this method because it allows the dough to achieve a more complex flavor. If you are doing a cold rise, be sure to allow the dough about 1/2 hour to come to room temperature before working with it.
• Can I par-bake the bagels for later baking?
Yes, you can bake them until they are a faint gold tinge (about 10-15 minutes). Cool the par-baked bagels completely before storing them in a resealable bag to be stored in the freezer. To be bake from frozen, bake the bagels for an additional 10-15 minutes, until soft and golden brown.
• Can I freeze the bagels? Do they keep well?
Once cool, out of the oven, you can freeze the bagels without any issues. Slice them and then freeze them in a freezer-safe plastic bag, and let them thaw when needed. If you're planning on toasting them, thawing them is unnecessary.
• How long do the bagels stay fresh for?
The bagels will keep in a resealable plastic bag at room temperature for up to 2 days.
Updated May 14th, 2020 – As one of the most popular recipes here and in my book, I've received many questions about this bagel recipe. For your convenience, I've updated the post with photos, more information, and answers to your Frequently Asked Questions.
Have another question? Leave a comment below!