Step away from the box chocolate cake mix! This easy Chocolate Cupcake recipe with chocolate frosting results in the best super moist chocolate cupcakes that come together in just one bowl!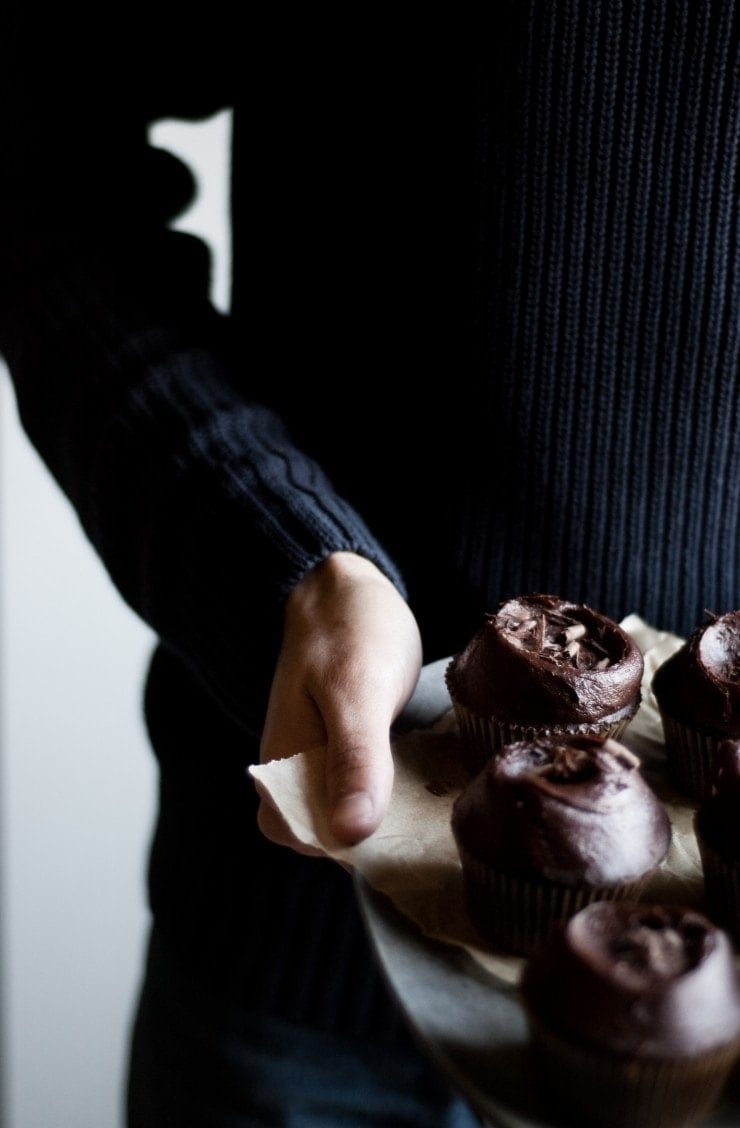 I made us a moist chocolate cupcakes recipe! I know we've not spoken since December, and I sincerely apologize for that. Emails flooded my inbox daily for the past couple months, asking if I was well, and if another recipe post would be seen on this site. My answer the entire time was always, "Yes, I promise! Soon."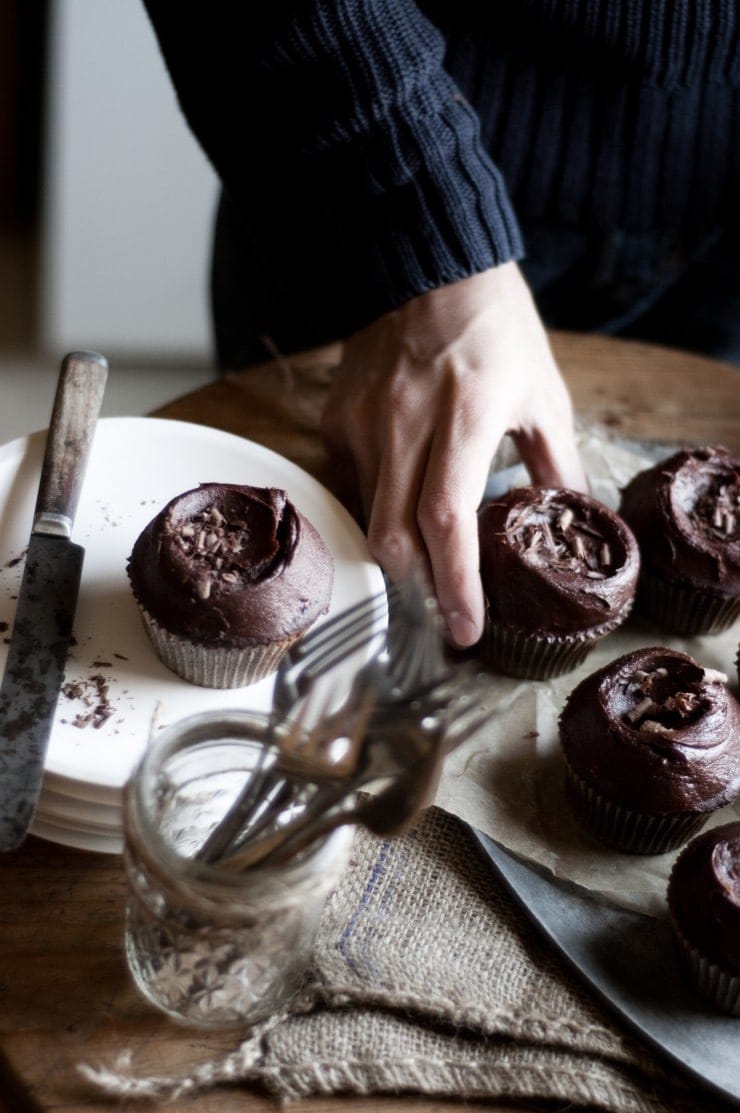 I kind of pulled myself back, for the fear that I'll have nothing left to write about, or that my photos or my prose will be nothing as great as my last one. It took me a while to post about this Chocolate Cupcakes Recipe.
These chocolate cupcakes with chocolate frosting are simply irresistible, but sometimes to find the appropriate words to convey that is exhausting. However, a friend reminded me that I started this blog for myself, and that I must continue to write for myself- whenever I have time to write. It seems sort of selfish to think that way, but I think putting myself in that mindset is the only way that I'll be able to share more with you. She also reminded me that "Good writing comes from living." So, I will do just that—live and eat and make this moist chocolate cupcakes recipe with chocolate frosting until I am ready to move on.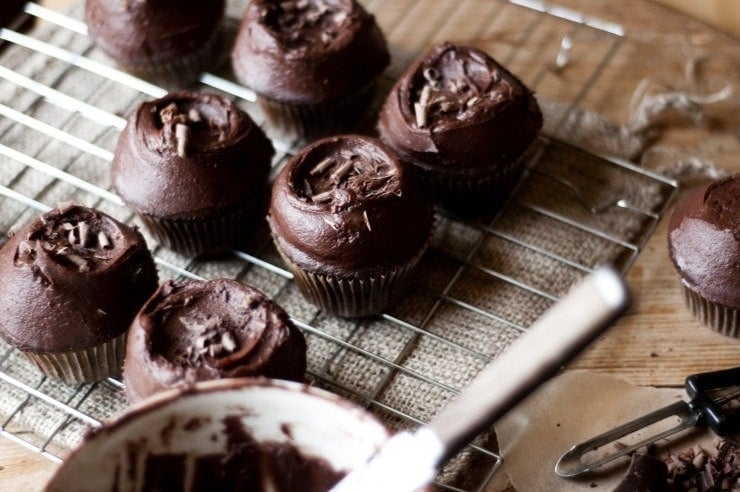 I'm sure you've been wondering about the work I've been doing behind the scenes. I've been baking more than ever. If you remember the news in my fig tarts recipe post, I have more exciting news to share with you (aside from this chocolate cupcakes recipe)! The publishing company I was developing a proposal with a while back? It was Chronicle Books in California. You might have quite a few of their books on your bookshelves or in your kitchen, in fact (Among a few: Plenty, Tartine, Tartine Bread, Ruhlman's Twenty, Sky High, and Flour).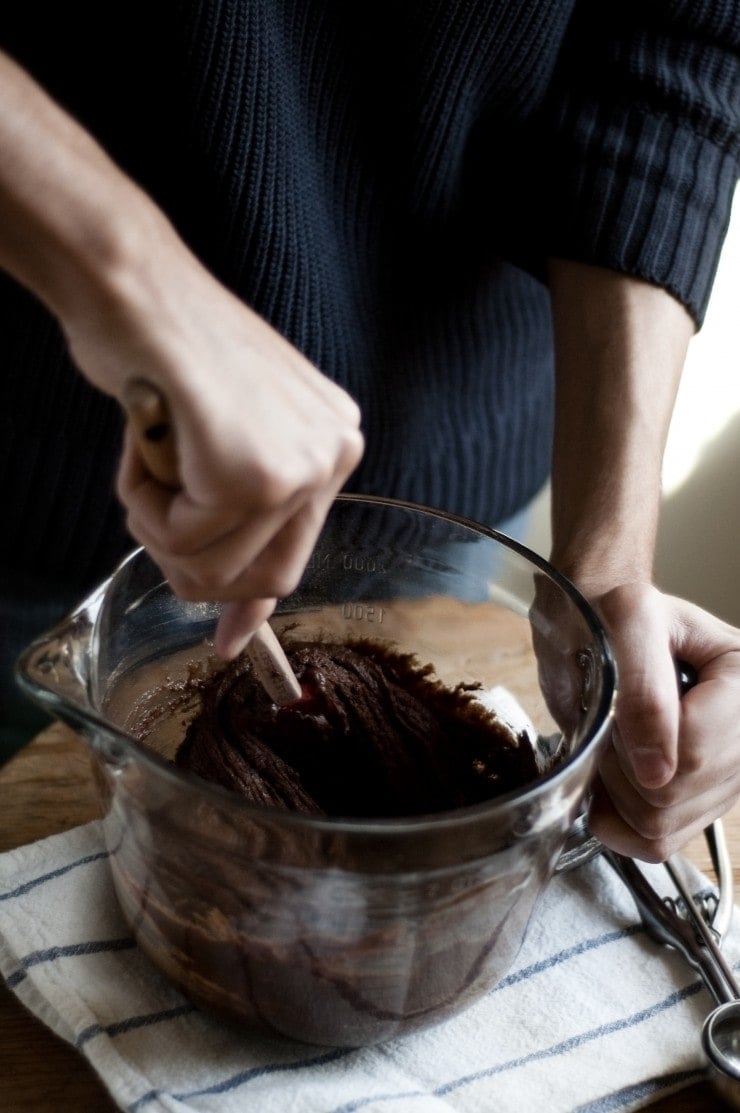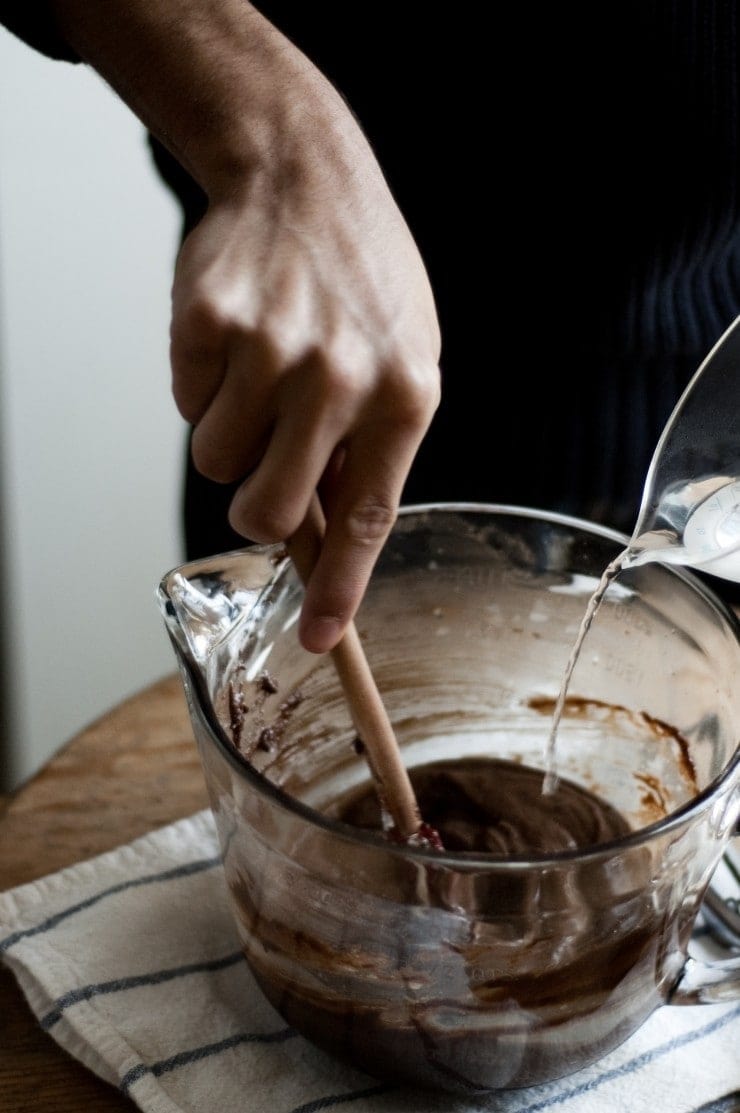 Speaking of chocolate, as you've probably noticed, I made us some insanely rich and moist chocolate cupcakes in honor of all of this news. These chocolate cupcakes come together in one bowl and they require very little machinery or messing around. It's a zero-fuss easy and moist chocolate cupcakes recipe that can almost be made on a whim.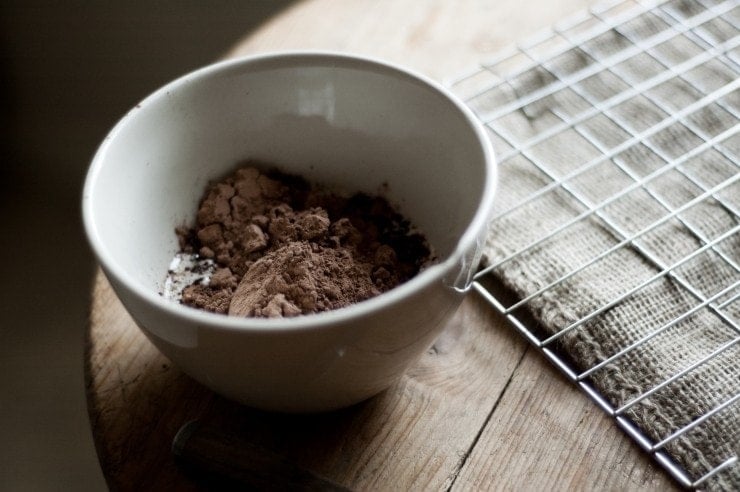 Chocolate Cupcake Recipe Ingredients
There's no need to get out your stand mixer or paddle attachment for this chocolate cupcake recipe, and there's no need to separate your dry ingredients from your wet ingredients. These chocolate cupcakes come together in one bowl.
The Chocolate Cake: Chocolate Cupcake Recipe Ingredients:
Granulated White Sugar– This is to sweeten the chocolate cupcakes and contribute to the moistness of the cupcakes.
All-Purpose Flour– regular all-purpose flour is best for this recipe; it's easy to find and produces a delicious moist crumb. I highly recommend spooning the flour into the cup and sweeping it level with the flat side of a knife in order to perfectly measure your flour.
Unsweetened Natural Cocoa Powder – this is where all the chocolate flavor comes from in these rich and moist chocolate cupcakes. Do not mix up hot cocoa mix with unsweetened cocoa powder; hot cocoa mixes often have milk powder, sugar, and cocoa powder mixed in. It will not work here. Dutch-processed (Dutched) cocoa powder will not work here, either.
Baking Powder and Baking Soda– each of these acts as a leavening agent for the cupcakes. There's no substitute for one or the other. Both are needed here.
Fine-Grain Sea Salt– this adds the right amount of flavor to the chocolate cupcakes. Just the smallest amount rounds out all of the chocolatey flavor of these rich chocolate cupcakes.
Large Egg– this binds the chocolate cupcake batter together and helps leaven the cupcakes. It's best to have the egg at room temperature (to quickly do this, read How to Bring Eggs Quickly to Room Temperature).
Sour Cream– not only does sour cream add a nice flavor to these perfect chocolate cupcakes, but it also contributes to the moistness of the overall cupcakes.
Sunflower Oil– this not only adds to the ease of these moist chocolate cupcakes, but it adds to the moistness of the cake. Whether you enjoy the cake at room temperature or cold out of the refrigerator, the cake will always remain moist because of this. While I use sunflower oil here, use any neutral-tasting oil such a safflower oil, corn oil, canola oil, or vegetable oil.
Pure Vanilla Extract– flavor is important in this recipe, and I do not skimp on it here. You'll need 1 tablespoon of pure vanilla extract. It adds delicious flavor that helps round out the chocolatey flavor of the cupcakes.
Boiling Hot Water– just boiled is fine, but for even more flavor, hot coffee works beautifully here. You will not taste it, but it will enhance the chocolate flavor of the cupcakes. Whichever you decide to choose, it will make the most perfect chocolate cupcakes that are extremely moist.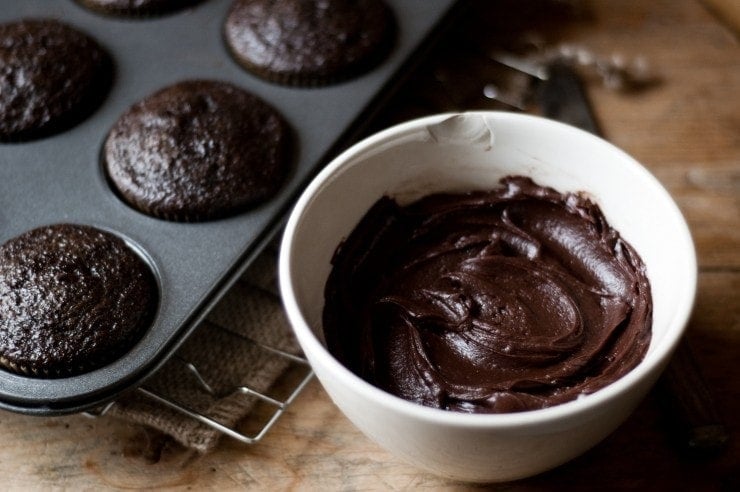 The Chocolate Buttercream Frosting: Chocolate Frosting Recipe Ingredients:
This chocolate frosting recipe doesn't require tinkering with melted chocolate like with a chocolate ganache (although fee free to make the water ganache in my Yellow Birthday Cake recipe ). It is as easy as mixing everything in a bowl.
Unsalted Butter– this is the main ingredient in the frosting. Unlike most frostings this does not require the unsalted butter to be softened. Instead, here, the chocolate frosting uses melted butter. It's easy to work with and doesn't waste time.
Unsweetened Natural Cocoa Powder– unlike the chocolate cupcakes portion of this recipe, feel free to use Dutch cocoa powder for the chocolate frosting portion of this recipe.
Whole Milk– it works best for the chocolate frosting. This helps smooth and bind the frosting together.
Confectioners' Sugar (Powdered Sugar)– you'll need quite a bit, but there is no substitute to making the chocolate frosting for these cupcakes. Fear not, however, the frosting is not cloyingly sweet and is not gritty like your conventional American-style buttercream recipe.
Pure Vanilla Extract– just enough adds delicious flavor and rounds out the flavor of the chocolate frosting.
Golden Syrup or Light Corn Syrup– here is a little secret. While not necessary, a small amount of light corn syrup helps the chocolate frosting remain smooth and shiny and prevents it from crusting over.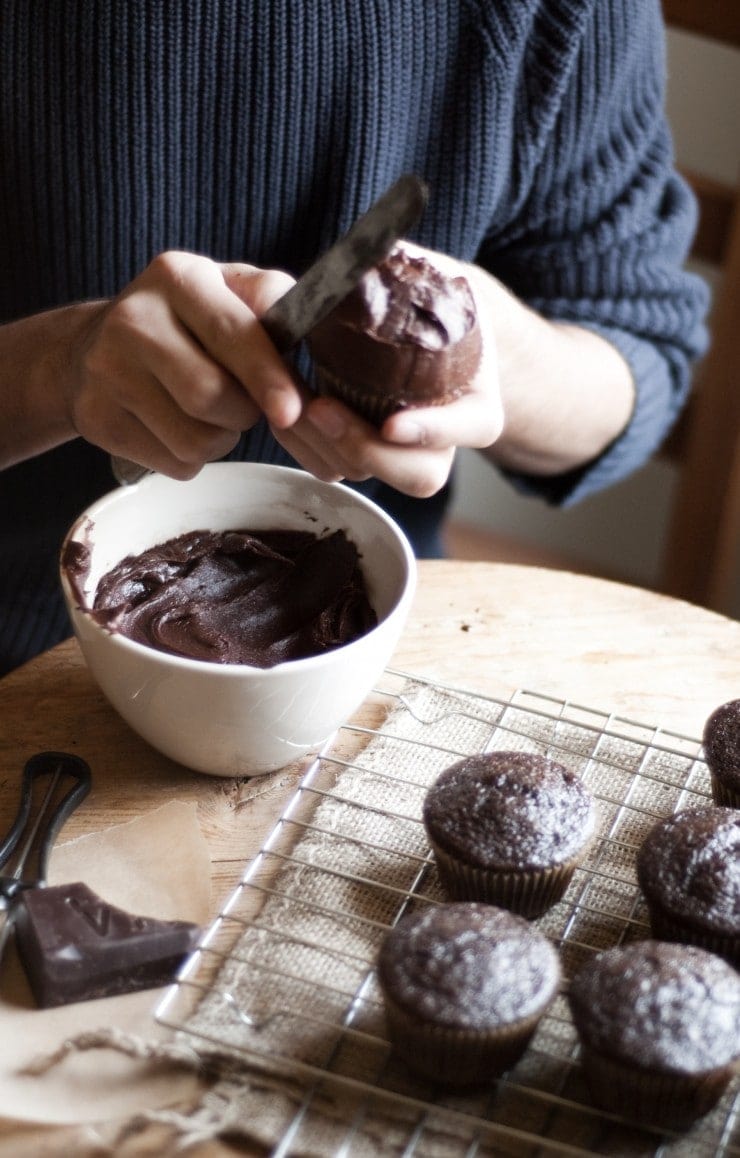 How to Make the Best Chocolate Cupcakes
This moist chocolate cupcakes recipe is as difficult as putting a boxed cake mix together.
It all starts off with a scant cupful of all-purpose flour, a cup of sugar, a kiss of cocoa, a touch of baking soda and baking powder, and some sea salt in a large mixing bowl.
The dry ingredients are whisked together, just until the cocoa turns the pale ingredients into a milk chocolate tan. After that, vanilla extract, an egg, some sour cream, vegetable oil, and a bit of boiling water are stirred in until just combined.
The watery chocolate mixture is spooned into a paper-lined muffin tin, and is then baked for about 17 minutes. In that time, the liquid chocolate concoction transforms into tender, moist-crumbed chocolate cupcakes.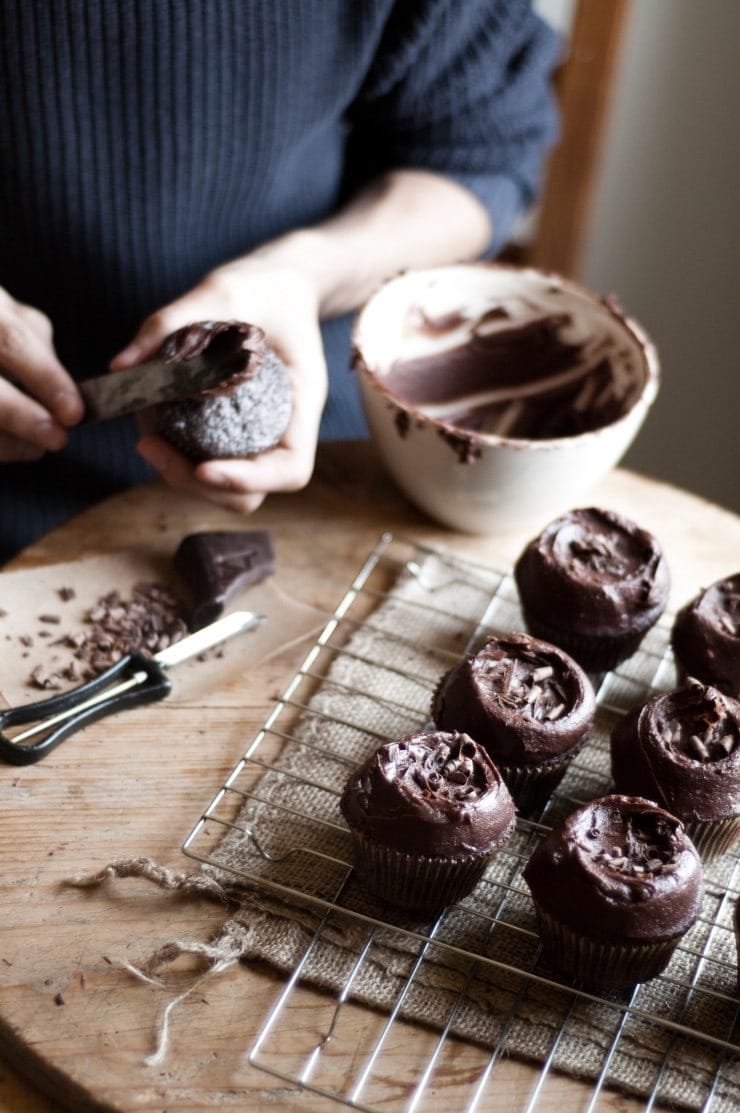 Once baked, the chocolate cupcakes are left to sit in the tin until the tin is cool to the touch, then they're transferred to cooling racks while the frosting is made.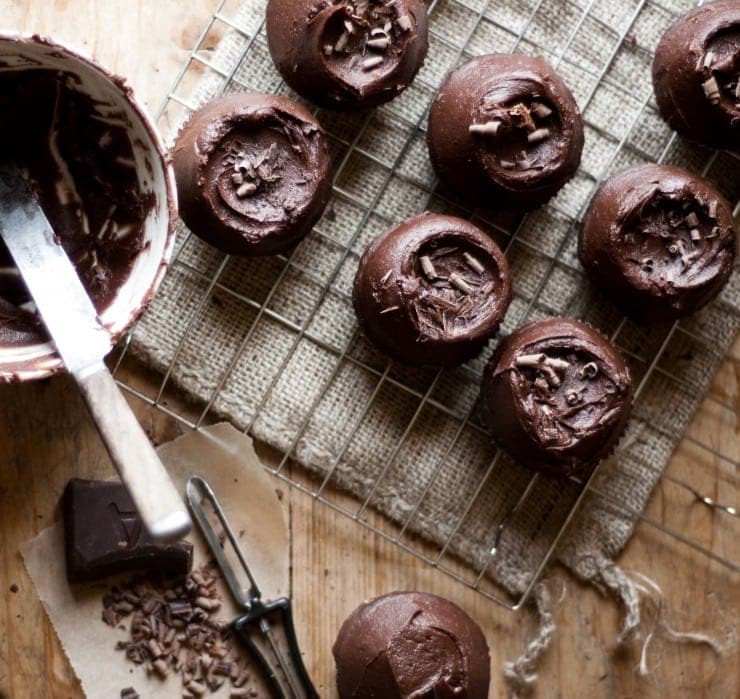 How to Make Chocolate Frosting (Chocolate Buttercream) for Chocolate Cupcakes
The chocolate frosting for this chocolate cupcakes recipe is as scarcely difficult as the cake- it requires a mound of cocoa and a small puddle of melted butter to be combined in a bowl with a couple heaping cupfuls of powdered sugar, some milk, and a scant teaspoon of vanilla extract. The mixture is mixed until smooth and spreadable.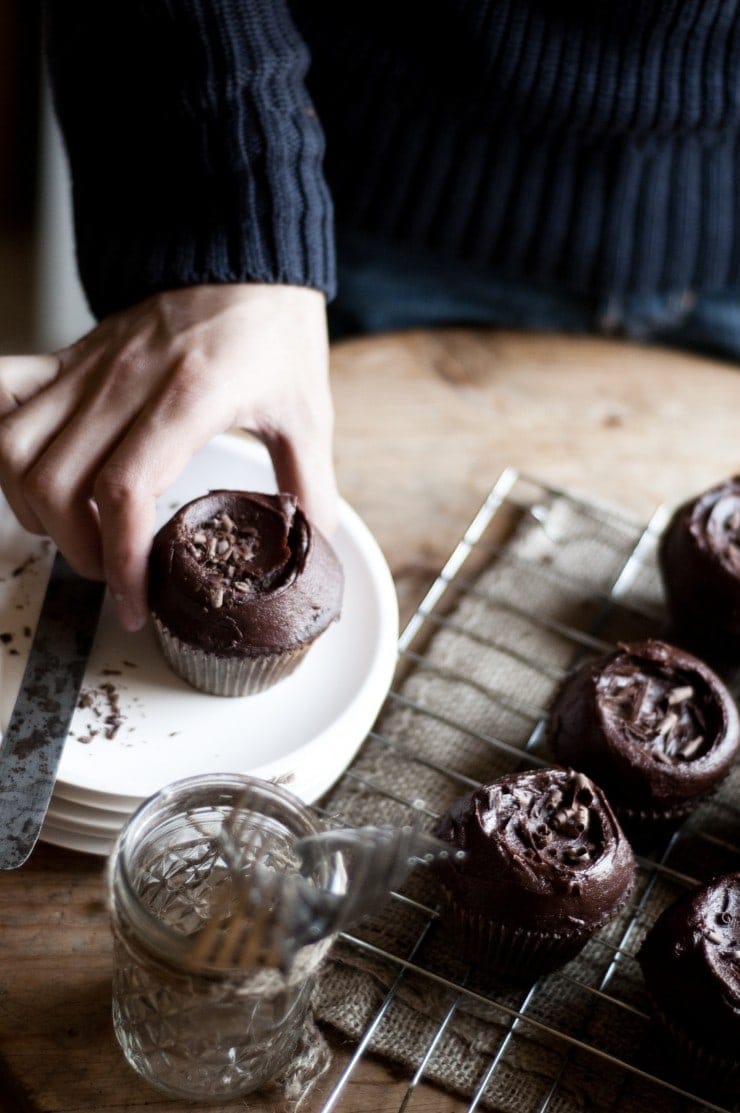 How to Frost The Chocolate Cupcakes
Once the chocolate cupcakes have been completely cooled, the dulcet dark earth-colored frosting is generously spread onto each cupcake. Once finished, each cupcake is adorned with fairy dust, in the form of dark chocolate shavings.
There's no need for piping bags here. Though, feel free to use one if you wish.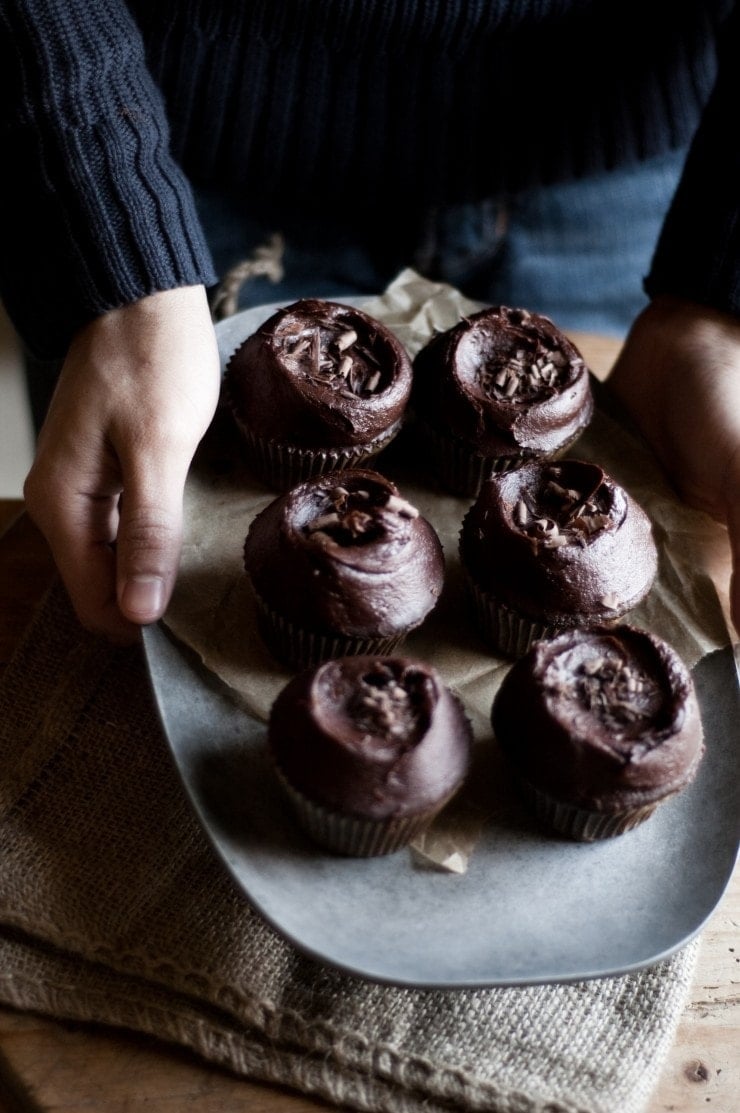 To frost the chocolate cupcakes, I used a small off-set spatula (use a smooth butter knife if you don't have one) at around a 40-degree angle to spread the frosting smoothly around the cupcake. Then, I used a large cake spatula to create the indent in the center of the chocolate frosting. Turn 360º one way, and turn 180º in the opposite direction; lift the spatula, and that's it.
Shave some dark chocolate on top of the frosted chocolate cupcakes using a vegetable peeler (or you can use a microplane or box grater).
And there you have it! Hand Made Baking by Kamran Siddiqi. The Best Chocolate Cupcakes. Yes.
Other Great Baking Recipes You'll Enjoy