The best recipe for infinitely tender, flavorful, and moist Raspberry Scones here, but you can simply make plain scones or use your favorite berries!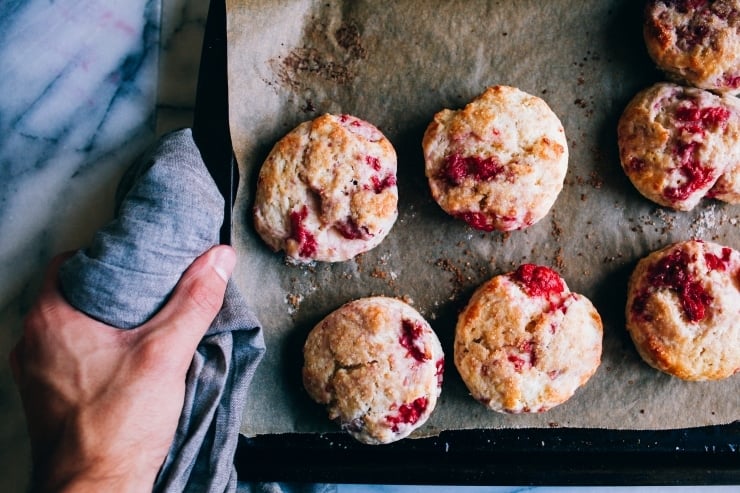 I had to come back and bring you a Raspberry Scones Recipe. The kind that are speckled with crimson-red berries and are infinitely tender, flavorful, and moist. I know it's not summertime here, but heartbreak knows no season or the holidays and when it demands you make raspberry scones at 6am, then raspberry scones must happen. It's as simple as that.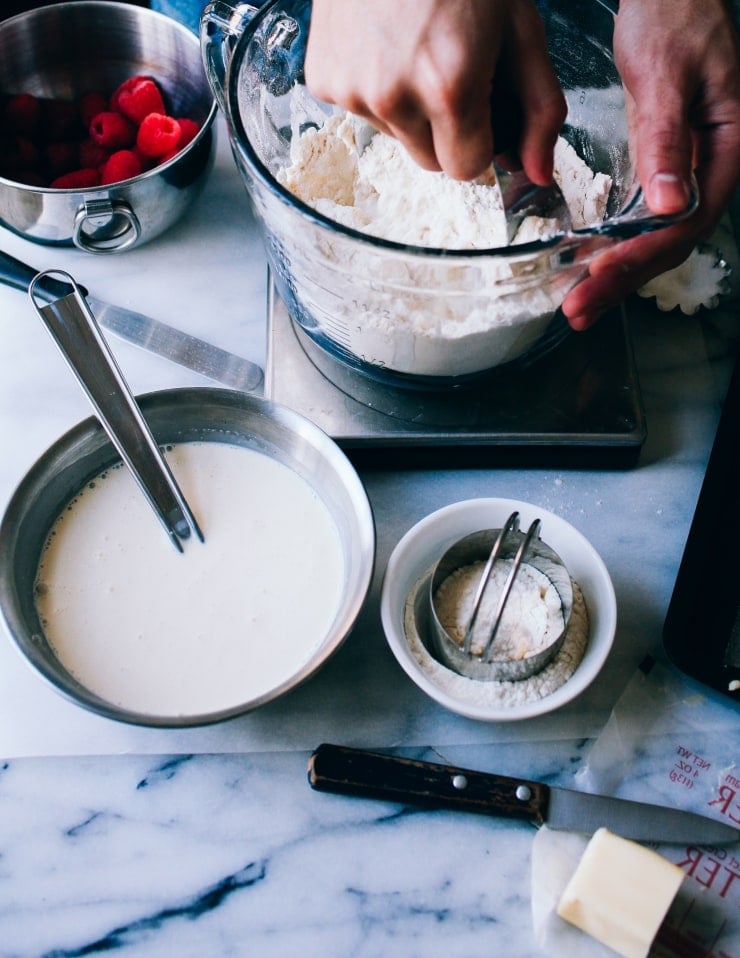 The funny thing about heartbreak is that we learn from our mistakes, but we also pay for them. It's very much a sobering experience and, of course, an emotional one. And because we are all human, it's almost embedded in us to find love– to find that one mate that makes our soul sing and dance like a child; oh, the innocence. (More on this raspberry scones recipe in a minute)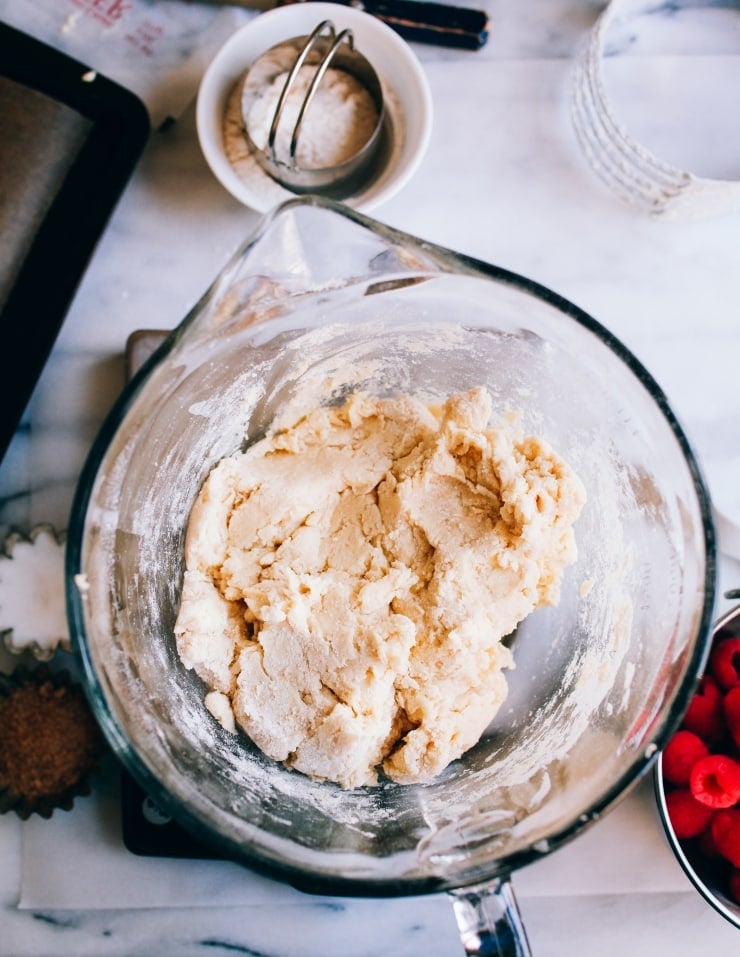 I remember when I was ten years old, before ever having Raspberry Scones or even cream scones, I tried convincing my parents that I was a mature individual– that I knew when I was doing something wrong and right and that because I was from New York, it was practically embedded in my bones. I thought I was a tough New Yorker that could handle it all; that I was fearless, strong, and iron-hearted, but that's not how it is at all.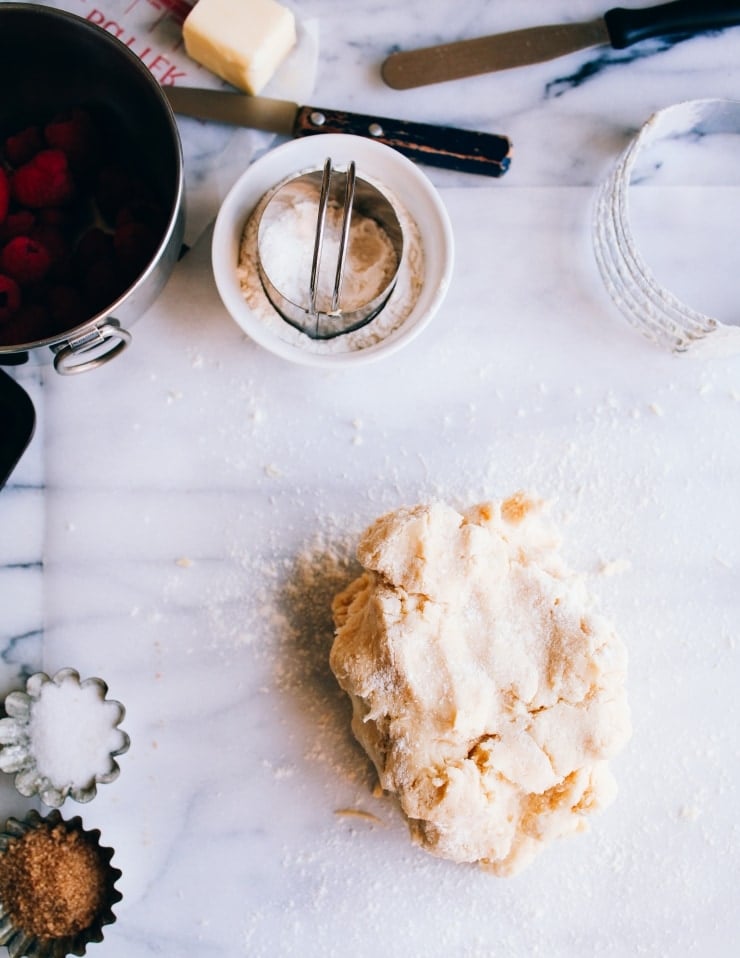 We associate songs, foods (like these Raspberry Scones), and places with our pasts– chapters that were closed years ago, or just the other day. These chapters, however, require revisiting once in a while. They remind us to love harder, to better and embrace ourselves as individuals, and they ultimately remind us to remain true to ourselves.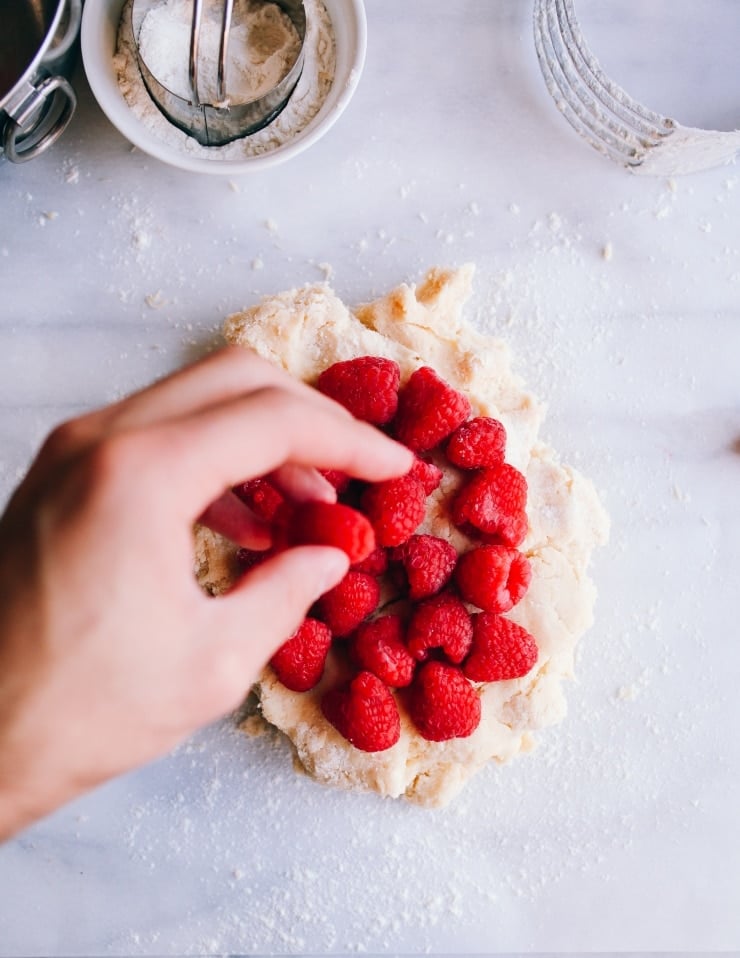 Growing up, I learned that there are so many factors that contribute to a simple idea, which make things seems much more complicated than that, but they're only as complicated as we wish to believe. All of us, no matter what age, where we're from, how we were brought up– we're all tender-hearted and feel pain, disappointment, and sorrow.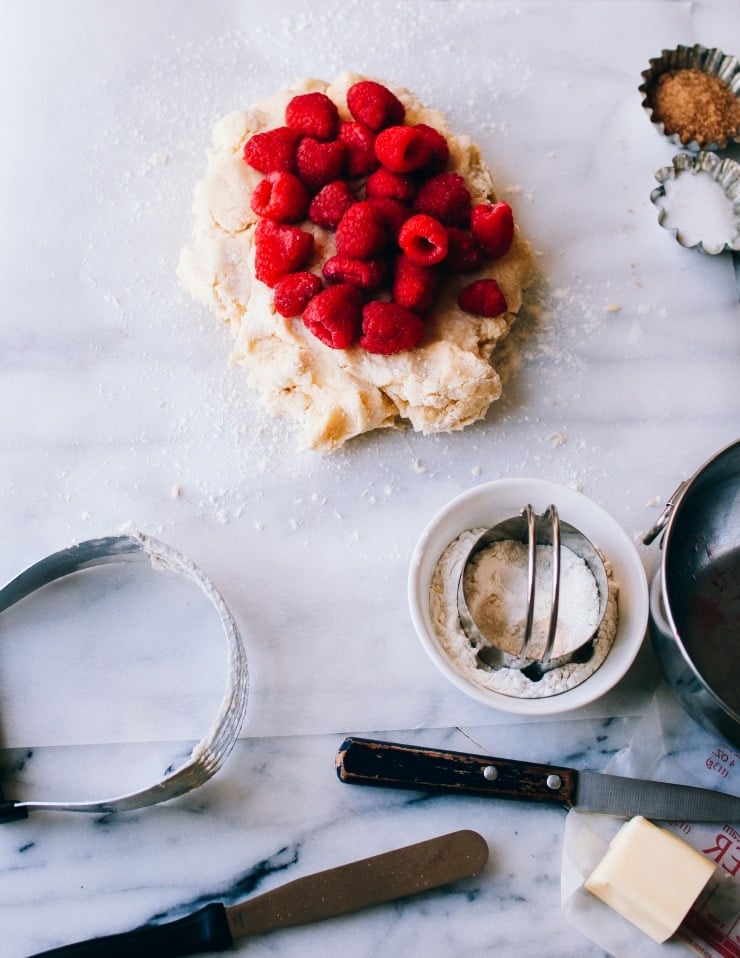 We're fragile creatures, just like these raspberry scones and the berries that fill them. From beginning to end, scones, like our hearts, require a gentle touch. They can be formed and cut into any shape, but we're the ones that control the entire process. That's what life is, in a nutshell. It's about taking what we want out of our lives and learning from each and every one of our experiences.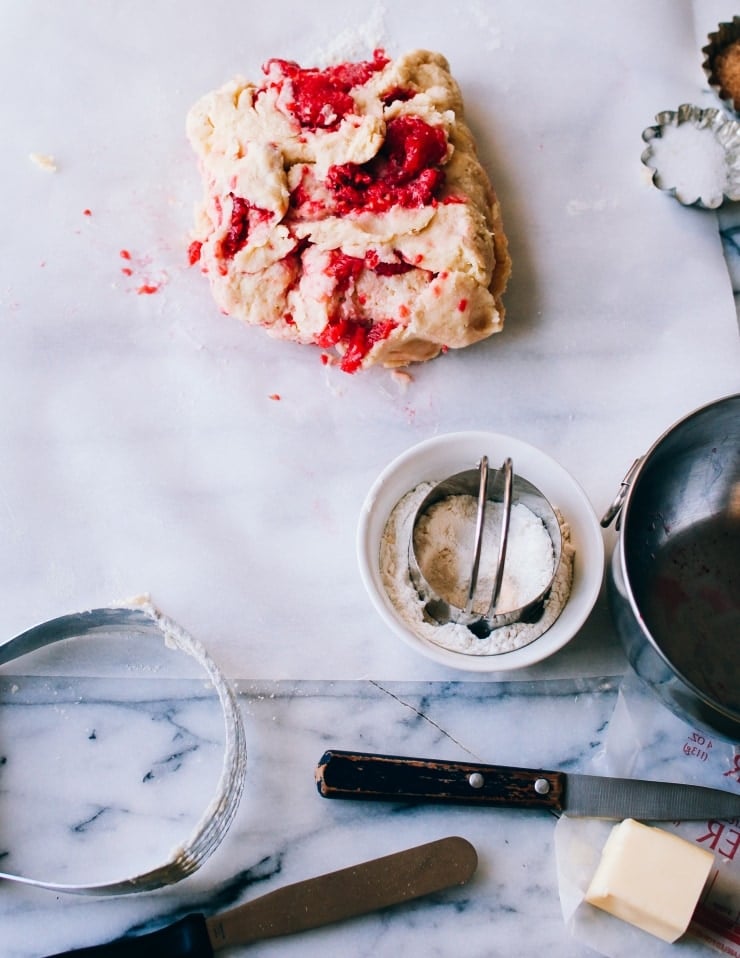 It's easy to write, "all will be well, I promise" but you and I both know that it's easier said than done. We all heal at different rates. For some, it could take a couple weeks, for others, a couple months; and for others, it could take years. Time is what heals, but in the meantime, make these raspberry scones; they'll assist in the process. Sip on your favorite tea or coffee, or indulge in some hot chocolate or warm apple cider– whatever floats your boat. For the raspberry scones, a pat of butter is recommended, and jam is optional. Be positive, make friends, love harder, and have some raspberry cream scones.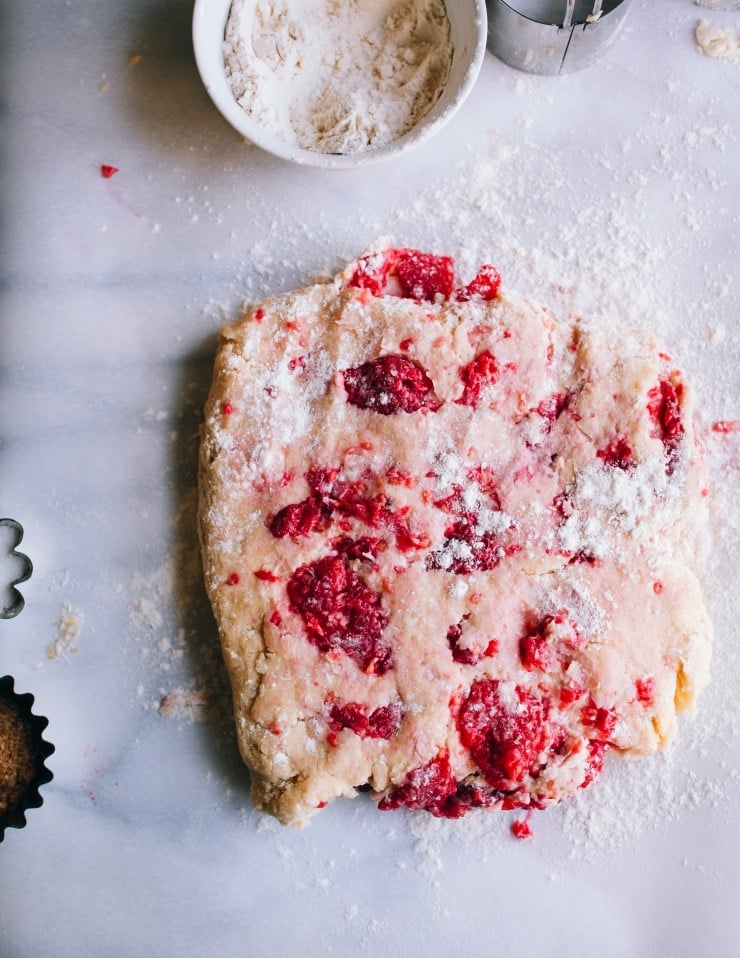 Raspberry Scones Recipe
These are proper raspberry scones—ones that will mend any bad day, bad week, or a broken heart. No matter when you have these raspberry scones; whether it's during the holidays, during a break-up, in the dead of winter, in the middle of summer, at the heart of Spring— they're exceptional.
Ingredients for Raspberry Scones
It doesn't take much to make raspberry scones. These have two major components, the cream scone dough and the sugar topping.
Raspberry Scones Dough Ingredients
All-Purpose Flour– one of the main ingredients for these raspberry scones. I wouldn't suggest using any other flour in place of this as these make for tender scones that are infinitely adaptable.
Granulated Sugar– for added sweetness and flavor.
Baking Powder– to help the scones rise.
Fine-Grain Sea Salt– a small amount, but this rounds out the flavor of the scones and prevents the rich ingredients like the butter and heavy cream from being too heavy on the palette.
Unsalted Butter– the secret to flaky scones is to ensure all of your ingredients are cold, especially the butter.
Heavy (Whipping) Cream– adds delicious flavor and keeps the scones moist and tender.
Large Egg– you'll need this cold, out of the fridge. This not only binds everything together, but also helps make the scones dough forgivable when working with it.
Pure Vanilla Extract– the smallest amount, but it makes all the difference in flavor.
Fresh Raspberries– frozen raspberries would work too, though fresh is best. Feel free to experiment with other berries, or leave them out entirely! These as plain cream scones is also just as glorious!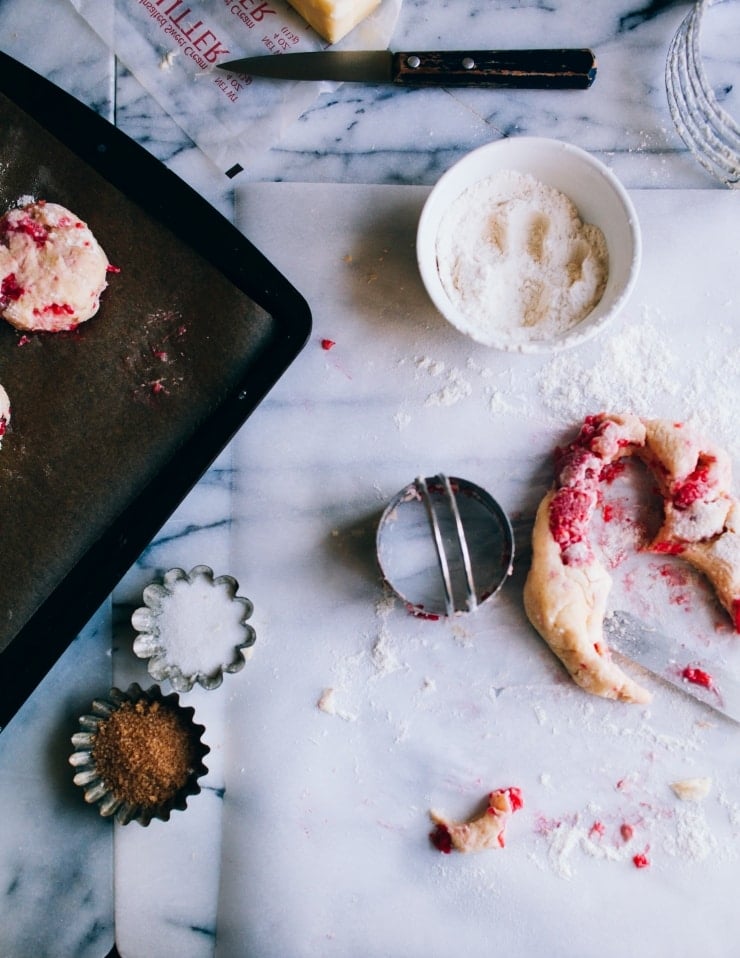 Scones Topping Ingredients
There aren't any special toppings when it comes to these raspberry scones, however… the few ingredients necessary help bring these delectable scones to new heights. The egg, granulated sugar, and salt make for the most glorious glaze. There is a process to glazing these scones; definitely heed to the directions in the recipe for this part.
Large Egg– fridge- cold works fine.
Granulated Sugar– this will help achieve the most perfect glaze atop the scones.
Fine-Grain Sea Salt– a teeny tiny pinch helps make the glaze all that much better!
Demerara Sugar– for crunch and texture on the scones. If you don't have demerara, turbinado sugar, or even plain granulated sugar works fine here too.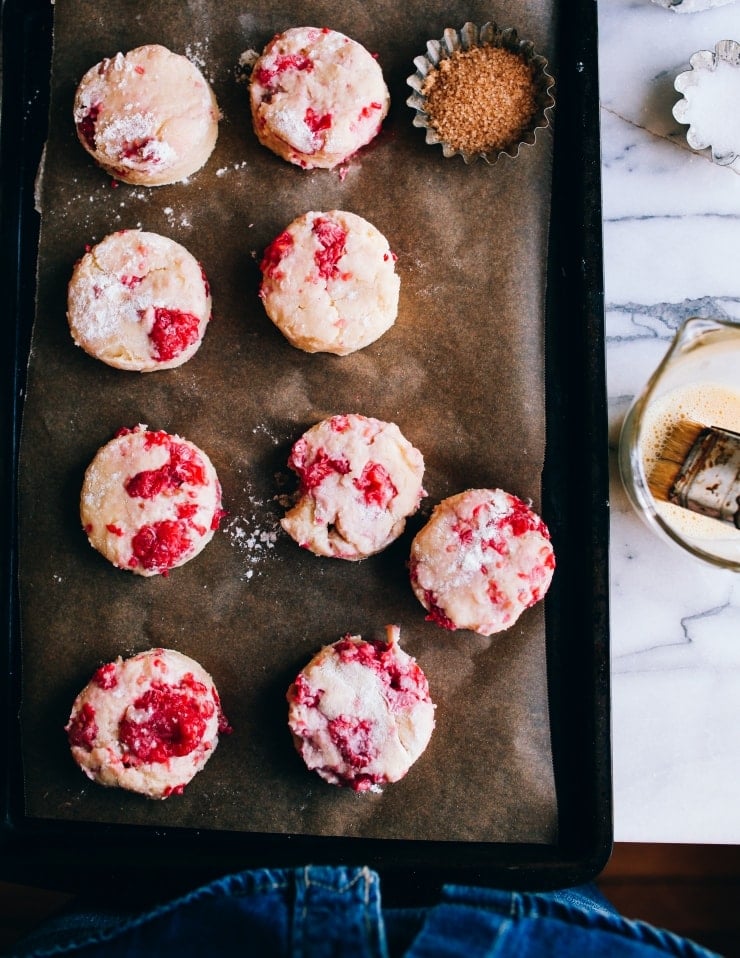 How to Make Raspberry Scones
There are a few components to raspberry scones– the dough and the glaze and topping, but it all comes together quickly and easily. The most unique part about this recipe is the folding and glazing techniques that I use to make for flaky, tender, and beautiful scones.
In a large bowl you'll have to whisk all the dry ingredients together. After that, the cold butter goes in–rub the butter into the flour mixture with your fingertips, two butter knives, or a pastry blender until it all resembles coarse meal and no pieces of butter are larger than the size of a pea.
In a glass measuring jug, beat together the wet ingredients the pour it into the flour and butter mixture, and stir until a dough forms.
Lightly flour a clean work surface and turn out the dough. Scatter the raspberries or other berries on top of the dough if you're using any, and gently knead the raspberries into the dough for 10 seconds, until they are evenly distributed throughout. Do note that because of the raspberries, the dough will be quite moist at this point; so be sure to lightly flour the work surface as needed to prevent sticking.
Pat the dough into a square about 3/4 in/2 cm thick and let it rest for 15 minutes before preheating the oven.
Once the oven has preheated, use a knife to cut the dough into 9 squares and put them on the baking sheet that's been lined with parchment. Or use a 2-inch /5cm round cutter or the rim of a glass dipped in flour to punch out circles of dough. Cut them as close together as possible–you should get six rounds, and when you pat the dough back together (it doesn't need to be a square this time), you should be able to a few more rounds. Avoid re-rolling the dough during this second stage as it can result in tough scones.
Once cutting is done, in a small bowl, beat together the glaze ingredients. This is where things get a little unique. Lightly brush the tops of the scones dough with the glaze and wait 1 minute until the topping sets. Sprinkle the tops with some demerara sugar, and bake for about 15 minutes, until the scones are golden brown. Be sure to rotate the pan halfway through baking.
Allow the scones to sit on the pan for 2 minutes before transferring them to a cooling rack to cool a little before serving.
The Secret To Making The Best Raspberry Scones
The secret to amazing raspberry scones is to handle the dough as little as possible and to use cold ingredients to achieve flaky buttery layers. There's not much to it!
How to Serve Raspberry Scones
These raspberry scones are best served the same day with butter, jam, and a delicious warm beverage like a milky black tea (Earl Grey is amazing here!) or coffee. They're best served in the middle of the day or as a delicious accompaniment to your breakfast.
More Everyday Recipes