Alice Waters' very best apple tart recipe. It's sophisticated, divine, and delicious. Definitely worth a try if you have a ton of apples lying around!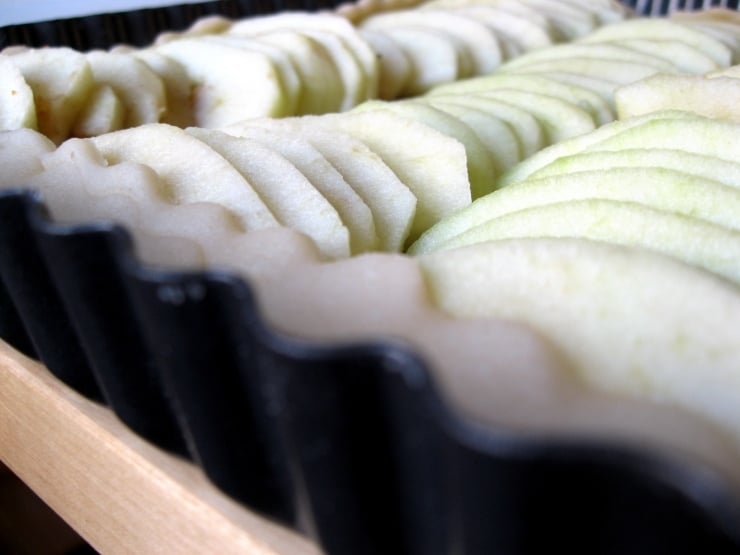 "OMG! You're back."
I don't know how to break it to you, but I never actually left. Anyway, I've got some awesome news!
No, I still haven't gotten a new camera, but I have to mention something as equally awesome to you! One of the biggest people in blogging. A person that I have looked up to since I began food blogging is Bee of Rasa Malaysia. A couple of weeks ago, she asked me if I was interested in being her intern. Of course I talked it over with my parents, they were excited for me, but not as excited as I was– I was psyched. I wasn't going to let one of the greatest opportunities go, so I quickly accepted her offer. Since then, we've kept me being her intern on the hush-hush, but on twitter the other day, we both announced it.
So, a little about how amazing of a person Bee is… Bee is not only one of the most amazing food bloggers on the face of this planet, she is one of the kindest, sweetest, and smartest, down-to-earth food blogger that I've talked to.
Not only is she amazing, but have you checked out her blog?! If you haven't, you really are missing out on a lot!
Speaking of amazing bloggers, one my my other favorite bloggers, Deb of Smitten Kitchen has an amazing apple tart on her site that I happened to to make. You see, apples are by far one of my most favorite fruits. They are enjoyable in so many different ways that you'd probably be here until tomorrow reading my long list of ways to eat / prepare them.
Anyway, do you remember my mention of my crazy baking moment a while back? Well, today, I'd like to share one of the recipes that I made that day. This recipe was so good that I feel like it is my duty for me to share it with you all.
I am serious about it being my duty to share this recipe because it is that good.
Have you ever tried a recipe and have noticed how versatile certain aspects of it are? Well, this is one of those recipes…
This apple tart recipe is not only the best apple tart recipe that you are going to ever try- it can be made to look practically any way that you'd like it. I prefer making it semi- neat… You'll have to look at the upcoming photos below to see what I mean.
So, how do you make it? Well, you start this whole thing by making a Pâte Brisée… Fancy name, I know, but the stuff is basically pie dough. Don't let the words fool you! After making the dough, you want it to be very thin. Because I was using a rectangular (and pretty large) tart pan, I decided to double the dough recipe because I wasn't going to roll the dough out to something that resembles the thickness of a couple sheets of paper.
After your dough is prepared, you want to peel, core, and slice the apples. I ended up with a few extra slices of apple, so instead of keeping everything all nicey-nice, I just decided to drop the rest on top with the first tart- yes, I made two… (now you know what I mean by semi-neat). I know, shame on me! By the way, when you scroll down to the recipe, the finished product is of the first tart… I wanted to post the photo of the nicer tart, but to my surprise all of the photos for that tart came out horribly blurry, the shots were good, but the photos just weren't up to par. Oh, before I forget- DO NOT throw any of the peels and cores of the apples away. You'll need them for something else…
After brushing the tart crust with some melted butter, you're going to want to sprinkle a few tablespoons of granulated sugar on top of the crust and the apples.
Bake this tart pan of deliciousness for about an hour, rotating frequently until the crust is a deep golden brown color.
While the tart is baking, take all of the reserved peels and cores, place them in a mixture of sugar and water and reduce the mixture down until it becomes a syrup. Once the tart is out of the oven (and cooled for a few minutes), brush the tart with the syrup and enjoy! Serve with whipped cream, ice cream, or anything else that may be good to serve with this. I personally like eating it alone, but I know that my family likes eating it with vanilla ice cream- something that we have in our freezer no matter what time of the year it is. Speaking of vanilla ice cream. I should so make some! Who said it's too late in the year to make some?