Easy homemade paratha recipe. These parathas are served with a quick & easy no-cook mango chutney. So easy, and so delicious.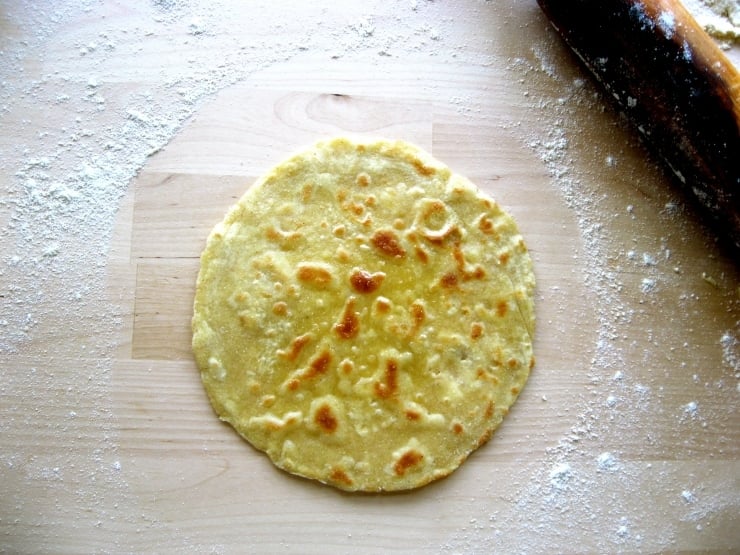 Some people find Indian food to be intimidating to make. Parathas can be, especially. Heck, I thought it was at first. I guess Indian food is so intimidating because of all the preparation required to make a meal. There is probably not one thing in Indian cuisine that does not require a great deal of preparation and a great deal of cooking time. When it comes to cooking Indian food, you have to love to cook. The same goes for these Parathas.
I know that being able to cook at the age of six has always been a great advantage for me. It gave me more time to "master" all of the basics of Indian cuisine, "American" cuisine, and even Spanish cuisine. One of the most basic things in Indian cuisine that I learned to make as a child were parathas (Indian flat bread). I know that some people may not consider making parathas basic, but it's considered basic in Indian and Pakistani cuisine (at least I think so).
I have made several different different types of Indian flat breads in my life. Whether it's roti, paratha, puri, and tons of other Indian flat breads, I've made tons of it. I can't say that I have made as much as my father or even as much as my grandmother who has over 65 years of experience making Indian flat breads, but I can say that I've got the technique and the science to paratha making down.
This post will probably be one of my longest posts, but it's well worth reading, especially if you love Indian food. I will provide you with step-by-step instructions (with photos) for paratha making and I will share my recipe for a simple mango chutney.
For my sweet and savory mango chutney, you won't need 20 different indian spices and 6 different types of vinegar or other things necessary to make a complicated chutney. All you'll need are some basic ingredients that most people have in their pantry and a mango. Yep, that's it! Nothing too complicated here…
My paratha recipe yields 15 parathas, but you can definitely halve the recipe if you don't plan on making that many parathas.
MORE INTERNATIONAL RECIPES
So without further ado, here are the recipes: