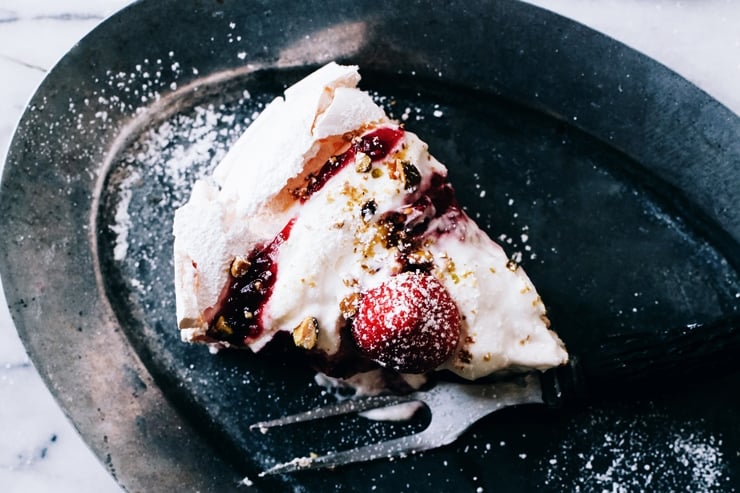 "I oversee the food and drink publishing at Chronicle Books in San Francisco." I didn't get it. I thought I was being pranked.
My memory heaved me back to a few months prior. I sat alone on the outskirts of Riverside Park, umbrella in hand, where I suavely obnoxiously laid a copy of that morning's New York Times on the sodden bench. The fog was as thick as stiffly whipped meringue, the air smelled of dog breath and gasoline, and the trusty automatic umbrella I had since middle school graduation saw better days. Despite it all, I patiently waited it out to take a phone call from an acquaintance at a big publishing house there in the city. I was excited; I wanted to write a cookbook and I wanted to hear her honest opinion about what I should do next. After I stupidly confused the honks of several yellow cabs for my ringtone, my chunky silver flip phone vibrated and Pocketful of Sunshine pierced the humid September air as I shuffled to compose myself, "HELLO!"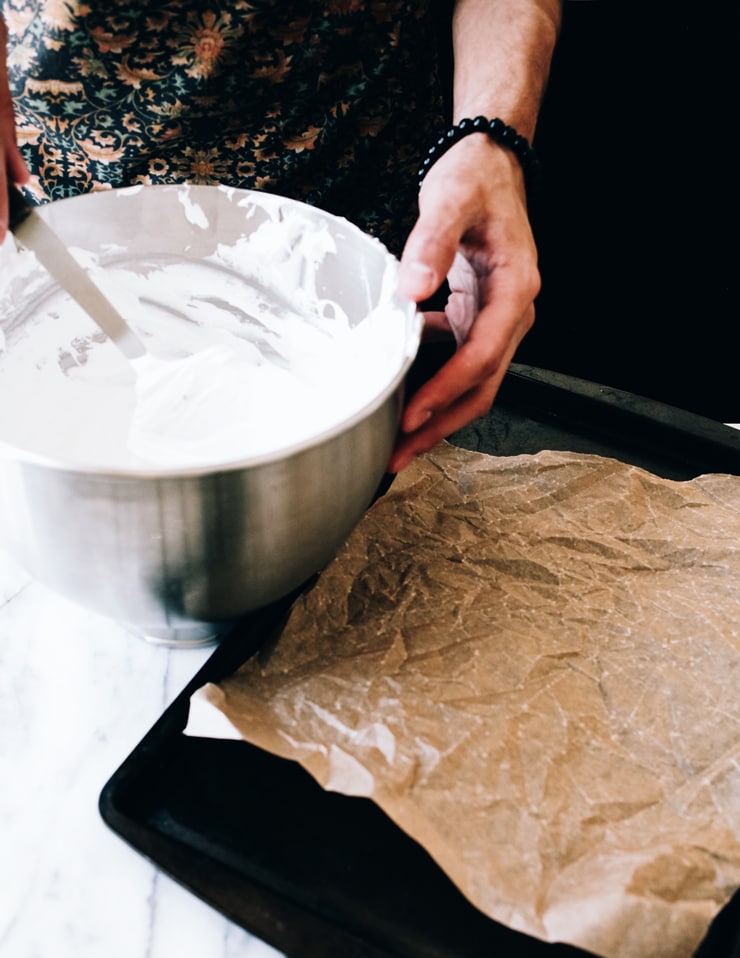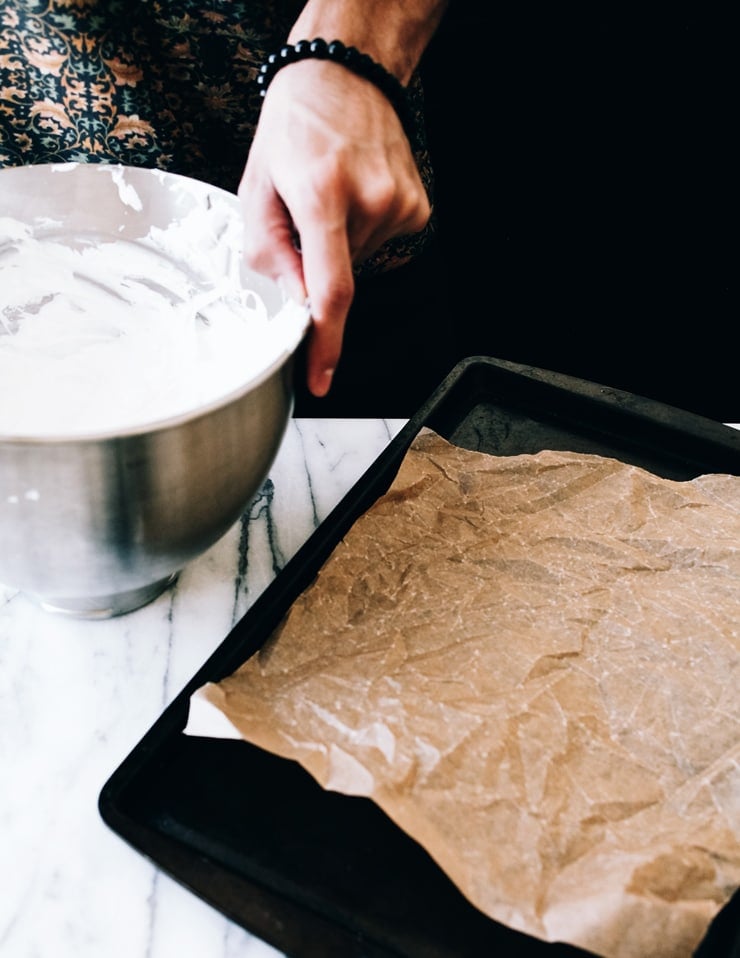 The phone call was brief; she told me to contact her about writing a book when I achieved near-impossible (in my mind) numerical fetes. I knew it was a safe bet, and the right thing to do. After all, she's the editor at a prestigious publishing house and knows better. In spite of that, what I heard felt like a firm, wind-lugging blow to the stomach . . . I suck at math, and numbers are always the last thing I want to focus on. I just wanted a chance. Despite the conversation, I stubbornly refused to let my dream disappear into the smog; I kept it in the back of my mind.
I shuddered, and my mind transported me back to New Jersey; I was caught off-guard by that email. I scooped up my laptop and barreled into my Mom's bedroom. "Mom, I need you to read this out loud." The harsh smell of nail polish waved past my nose. She'd just painted her fingernails a vibrant strawberry red, "Hand those to me, please." She signaled for her glasses, and carefully slid them onto her face using the pads of her fingers.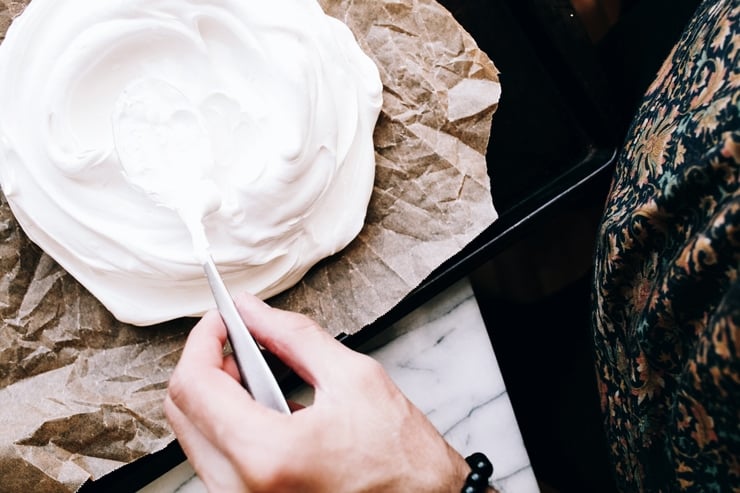 I placed the computer on her lap, and pointed at where to read, "I oversee the food and drink publishing at Chronicle Books . . . I'm sure you're plenty busy, but if you want to chat about book ideas give me a shout."
"Mom." I looked at her, wide-eyed.
"Kamran, they want you to write a book! Is this real? I swear to God, you'd better email
her back."
I felt my lips quiver, my heart drop, and tears fill my eyes. It was as if one of Scheherazade's genies spiraled into my life like a veil of spun sugar, ready to grant three wishes after centuries of imprisonment. The universe spoke and it was in my favor; I was going to write a book.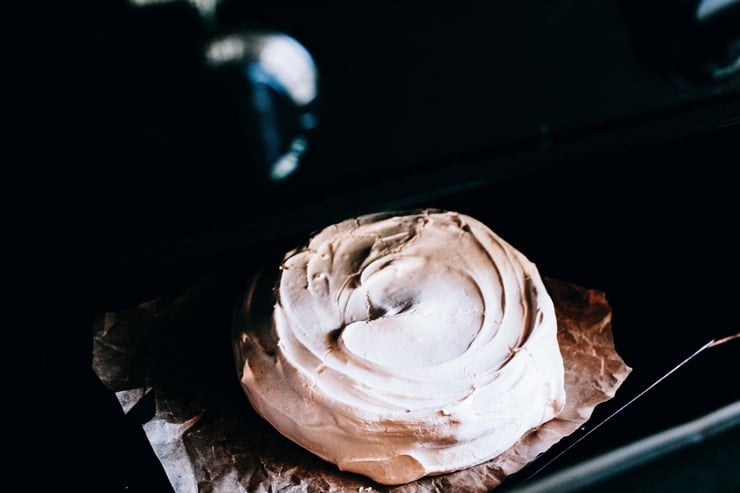 Fast forwarding past the meetings, emails, phone calls, and contracts, I finally had a concept ready. It was an instructional on everything I loved to cook and bake— a risky idea I was set on. They weren't sold on the concept; it was back to the drawing board for me, and my new instructions were to do something I didn't dare want to think about doing: a baking book. It was a scary task I felt was best left to the people who've been doing it well for a long time— people like David and Mary Berry.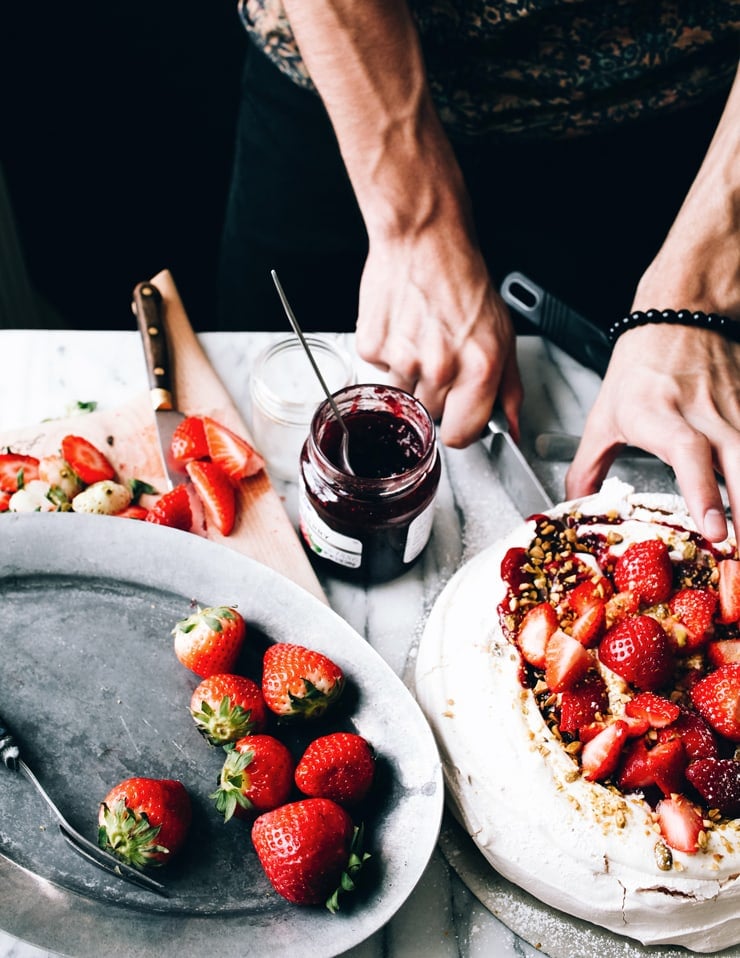 After a lot of brainstorming and a tight deadline floating over my head, I declared I'd write a book on baking, not a baking book. I feel like the whole point of writing a book is to write something you want to read. I may have confused you a bit on the whole "baking book versus book on baking" bit; there's a difference in my eyes. A baking book is simply a book with recipes: an instructional, a textbook lacking in personality. It's baking books that people fear, and I didn't want to add to them. Hand Made Baking is a book about baking.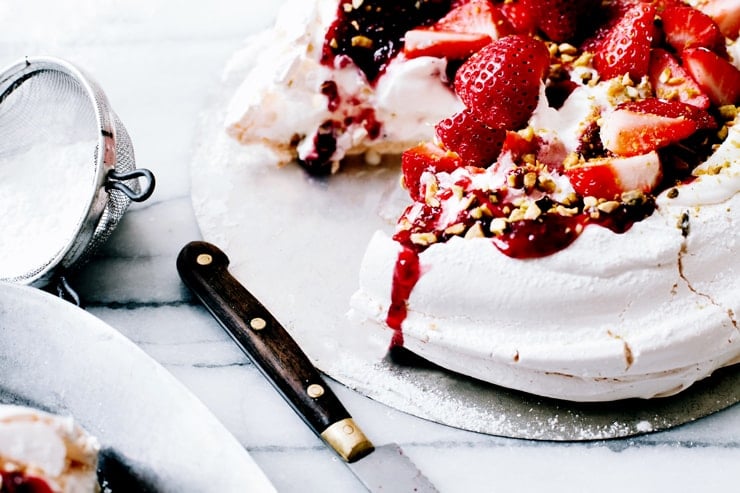 Baking has always been my form of unwinding. It's my therapy and the ultimate means in which I can express my love and care for others. Sharing something delicious, made with your hands— that's the true essence of baking. Baking isn't meant to be feared, but rather embraced. Hand Made Baking, from the moment the idea smacked me upside the head, was to embody that; with sharing and confidence-building being at the center of it all.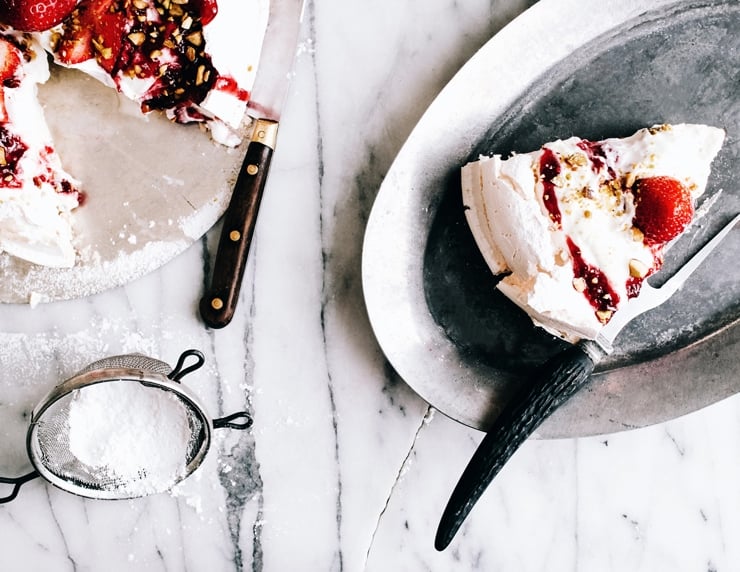 Hand Made Baking is my love letter to you. It's a love letter in which I've revivified the past and left all assumptions behind. Whether you're making my nostalgic Nancy Drew Blondies or something as charming as my Caribbean Princess Cake, I'm there guiding you through each step. You won't find conventional chemistry equation-like recipes in this book. Because there's so much I don't have control of, I am a maniac about the details I can control, and thankfully I was given the freedom to do what I felt is right. I wanted the recipes to be approachable no matter where you are in the world; no matter if you're using cup measurements or a kitchen scale. All of the ingredients are measured appropriately for you.
There's no proper break-down of the book anywhere online, and I want to give it to you here.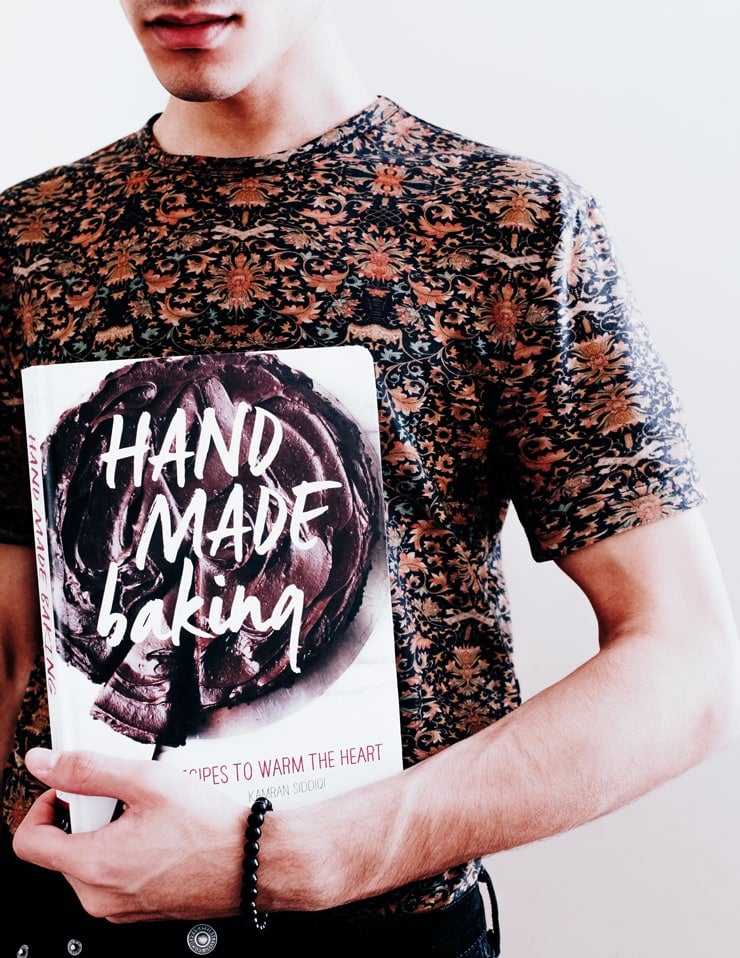 Hand Made Baking is broken down as such:
– There's the Introduction— no explanation needed here.
– After the introduction, comes Kitchen Basics. Kitchen basics is a section dedicated to informing you about anything and everything you might need while making the recipes from the book. I give alternatives, various brand names, and my personal favorites to help you decide what to get when you're stocking up on baking equipment.
– Next is what I like to regard as one of the most important sections of the book— Before you Begin. I liken this part of the book to grandmotherly guidance– it's far from patronizing; it's more like friendly baking advice from . . . your sweet grandmother (I know, I know. I'm a dude. Let's pretend I'm one of the Golden Girls, for the sake of making a point, shall we?). It's everything you need to know about your oven, baking times, a reminder to check expiration dates, and how to measure accurately– essential, especially if you're using cups.
– Then comes the recipe chapters— Rise and Shine (breakfast), As Easy as 1-2-3 (pie and pastries), Three O'Clock (cookies of all sorts), Piece of Cake (cakes galore), and Spread a Little Butter on That! (breads). Every recipe in the book has at least one photo accompanying it. And those recipes requiring visual guidance, have just that— multiple photos displaying those techniques.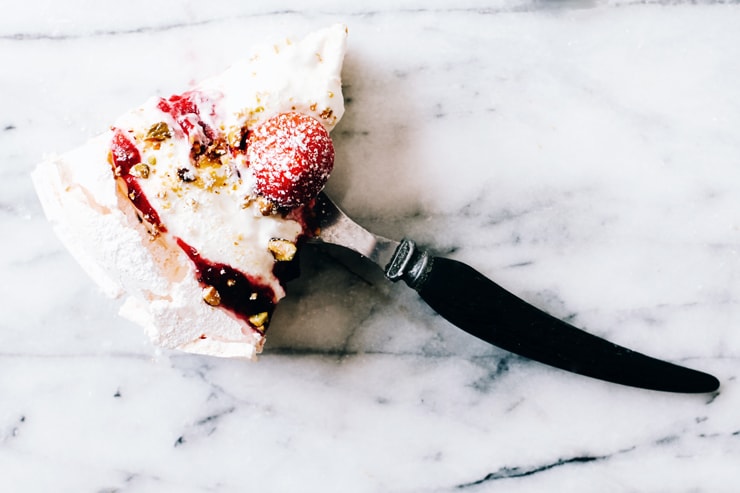 At the core of Hand Made Baking is good, honest recipes for bakers of all ranks. This Pavlova is one of my favorites from the book. I've tweaked it a bit for the sake of celebrating a long journey— smog, strawberry red nail polish, and revivification. Give it a try; I know you won't be disappointed.
If you're interested in ordering a copy of the book, I've included all the details below (book trailer and another delicious post to come soon!).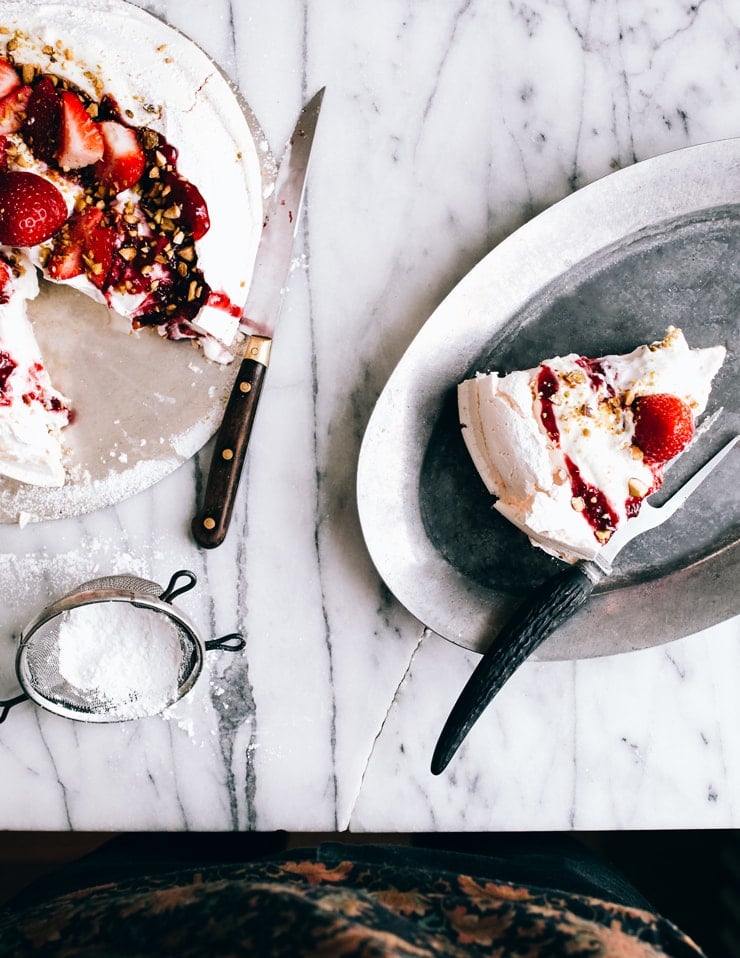 Ever-So-Classy Pavlova Recipe
Makes on 8-in/ 20-cm Dessert; Serves 4 to 6 people, or 3 Pav Addicts
Prep time:
Cook time:

Slightly Tweaked from Hand Made Baking: Recipes to Warm The Heart, by Yours truly

This pavlova is as classy as the ballerina for whom the dessert was named, and it's fit for any occasion. The outside of the pavlova meringue is slightly crisp, but its inside is soft, marshmallow-like, and as billowy as the whipped cream used to top the confection.

To those not fluent in pav-making, it might seem rather unusual to add vinegar (you won't taste it, I promise) to a decadent dessert, but it's this tiny bit of acid that keeps the inside marshmallowy and the outside nice and crisp. Once cooled, don't be alarmed; the pavlova is meant to be sunken and cratered— that's what adds to the beauty of it— anyway, it's all going to be covered in the finest accouterments. Here, I've covered the top with a duvet of billowy whipped cream, a casual spiral of raspberry jam, several handfuls of strawberries, and a smattering of coarsely chopped pistachio nuts. However, feel free to dress your pavlova to your tastes.

Meringue making does require a bit of man-power and some patience, so be sure to use a clean bowl (avoid anything copper) and some form of electrical assistance— either a handheld mixer or a stand mixer— to make the process easier.

Ingredients:
For the meringue
5 large egg whites, at room temperature
1 1/4 cups / 250g granulated sugar
Pinch of fine-grain sea salt
1 1/4 teaspoons white vinegar

For the topping
1 recipe Billowy Whipped Cream, see recipe below

3 tablespoons raspberry jam, whisked with until smooth
Fruit of your choice (strawberries, blackberries, raspberries, blueberries, passion fruit, etc.)
Chopped pistachio nuts, or another nut of your choice (optional)

Preparation:

Position a rack in the center of the oven. Pre­heat the oven to 250°F/120°C. Line a rimmed baking sheet with parchment paper, and—this isn't necessary, but I find it helpful—use a pencil to trace around an 8-in/20-cm cake pan on the parchment paper. Flip the paper over, and set the baking sheet aside.

In a large, clean bowl using a handheld mixer or in the bowl of a stand mixer fitted with the whisk attachment, beat the egg whites on the lowest setting. After 15 seconds, gradually increase the speed to the highest setting. Once the mixture begins to foam, add the sugar and salt in a slow, steady stream.

The egg whites will begin to look glossy. Keep beating on high until firm (stiff) peaks form. The mixture should not feel granular when you rub it between your thumb and index finger, and the peak clinging on the wire whisk should stand with the utmost confidence.

Fold the vinegar into the meringue with a metal spoon to avoid deflating, then spoon the meringue onto the prepared baking sheet, spreading it out into the drawn circle (if you're freehanding it, try to keep it around 8 in/20 cm in diameter and 2 in/5 cm in height). Bake for 1 hour and 15 minutes, until the outside of the meringue has hardened and the center is still soft and chewy.

Allow the meringue to cool on its pan. Peel off the parchment and transfer the meringue to a plate or cake stand.

Prepare the Billowy Whipped Cream (recipe follows). Spoon the whipped cream onto the pavlova, causally spiral the jam onto the whipped cream (if using), then top with the fruit of your choice and maybe a smattering of pistachio nuts before serving. Serve right away.

Some Notes:
• The pavlova shell will keep, unfilled, in an airtight container at room temperature for up to 2 days. A filled pav is best eaten on the same day that you make it.

• I know this goes without saying, but it's better to be safe than sorry: don't get any yolk in your egg whites; it'll prevent the meringue from firming up. The same goes for using greasy mixing materials.
Billowy Whipped Cream
Makes about 2 Cups / 240ml

The mixing method for this whipped cream is somewhat unusual, but it results in a beauti­fully droopy and billowy topping that's perfect for adorning pastries and cakes. I usually whip the cream by hand in a large bowl with a whisk—it's a good workout. However, a hand­held mixer or stand mixer works just as well. Feel free to adjust the sugar to suit your taste.

Ingredients:
1 cup/240 ml cold heavy (whipping) cream
2 Tbsp confectioners' sugar
1 tsp pure vanilla extract (optional)

Preparation:

Put a large bowl in the freezer to chill for several minutes before beginning.

In the chilled bowl, using a balloon whisk or a handheld mixer (or in the bowl of a stand mixer fitted with the whisk attachment), whip together 1/2 cup/120 ml of the cream and the confection­ers' sugar until firm, stiff peaks form. Whisk in the vanilla (if using). Lightly whisk in the remaining cream to create an ethereal whipped cream.

Keep the whipped cream refrigerated, covered with plastic wrap, for up to 2 hours before using