A beautiful and easy-to-make Strawberry Pavlova Recipe. Delicious meringue is covered in whipped cream, fresh strawberries and a scattering of pistachios.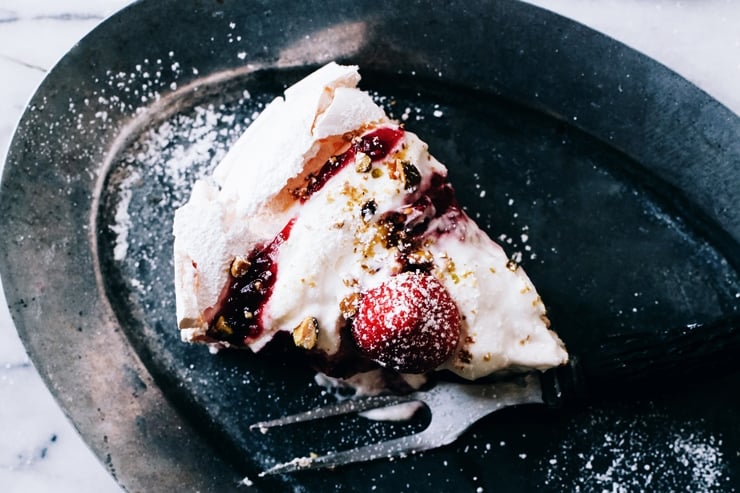 "I oversee the food and drink publishing at Chronicle Books in San Francisco." I didn't get it. I thought I was being pranked. My memory heaved me back to a few months prior. I sat alone on the outskirts of Riverside Park, umbrella in hand, where I suavely obnoxiously laid a copy of that morning's New York Times on the sodden bench. The fog was as thick as stiffly whipped meringue for a pavlova, the air smelled of dog breath and gasoline, and the trusty automatic umbrella I had since middle school graduation saw better days. Despite it all, I patiently waited it out to take a phone call from an acquaintance at a big publishing house there in the city. I was excited; I wanted to write a cookbook and I wanted to hear her honest opinion about what I should do next. After I stupidly confused the honks of several yellow cabs for my ringtone, my chunky silver flip phone vibrated and Pocketful of Sunshine pierced the humid September air as I shuffled to compose myself, "HELLO!" (we'll get to this strawberry pavlova in a minute).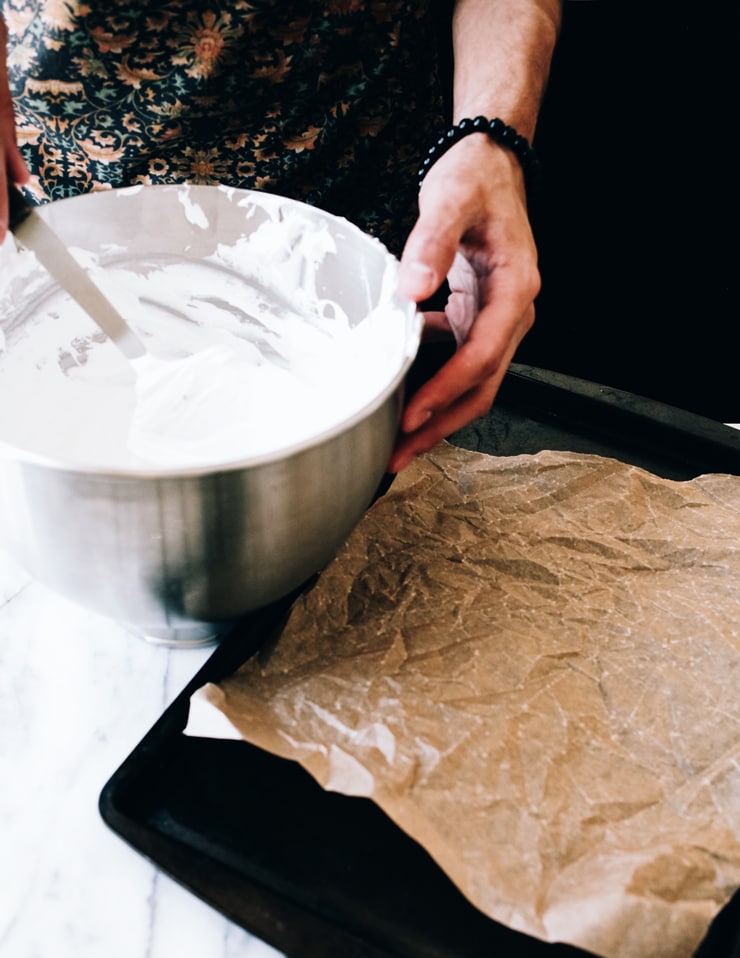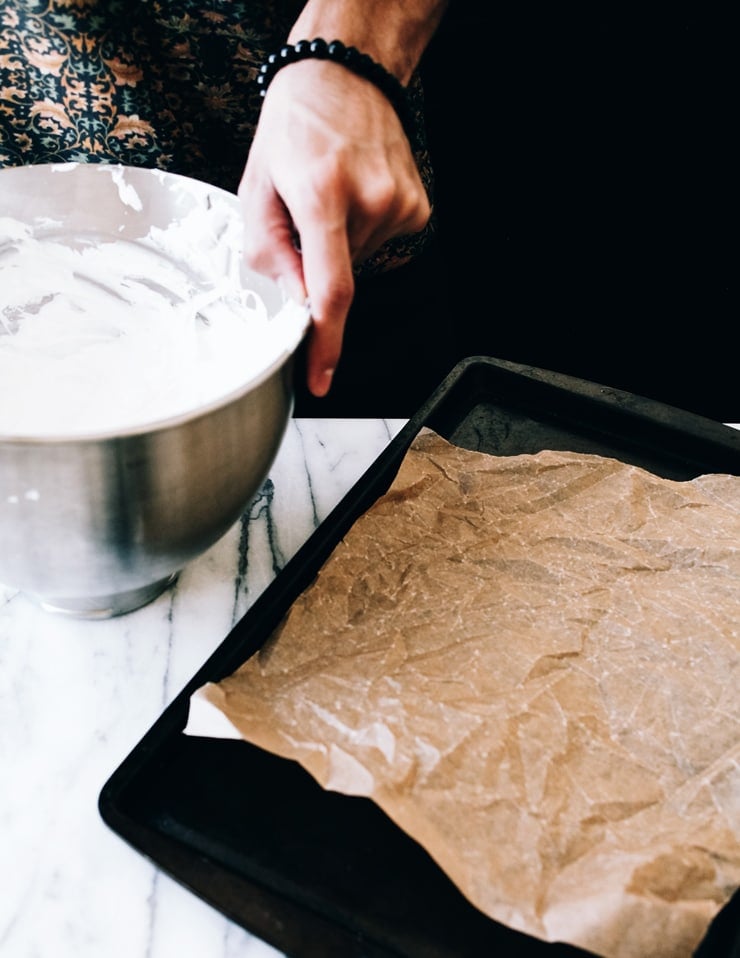 The phone call was brief; she told me to contact her about writing a book when I achieved near-impossible (in my mind) numerical fetes. I knew it was a safe bet, and the right thing to do. After all, she's the editor at a prestigious publishing house and knows better. In spite of that, what I heard felt like a firm, wind-lugging blow to the stomach . . . I suck at math, and numbers are always the last thing I want to focus on. I just wanted a chance. Despite the conversation, I stubbornly refused to let my dream disappear into the smog; I kept it in the back of my mind. I kept this pavlova on my heart.
I shuddered, and my mind transported me back to New Jersey; I was caught off-guard by that email. I scooped up my laptop and barreled into my Mom's bedroom. "Mom, I need you to read this out loud." The harsh smell of nail polish waved past my nose. She'd just painted her fingernails a vibrant strawberry red (it inspired this strawberry pavlova), "Hand those to me, please." She signaled for her glasses, and carefully slid them onto her face using the pads of her fingers.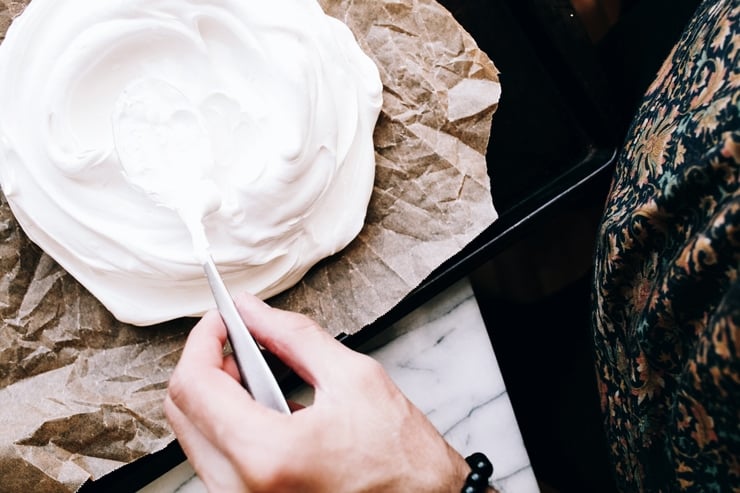 I placed the computer on her lap, and pointed at where to read, "I oversee the food and drink publishing at Chronicle Books . . . I'm sure you're plenty busy, but if you want to chat about book ideas give me a shout."
"Mom." I looked at her, wide-eyed.
"Kamran, they want you to write a book! Is this real? I swear to God, you'd better email her back."
I felt my lips quiver, my heart drop, and tears fill my eyes. It was as if one of Scheherazade's genies spiraled into my life like a veil of spun sugar, ready to grant three wishes after centuries of imprisonment. The universe spoke and it was in my favor; I was going to write a book.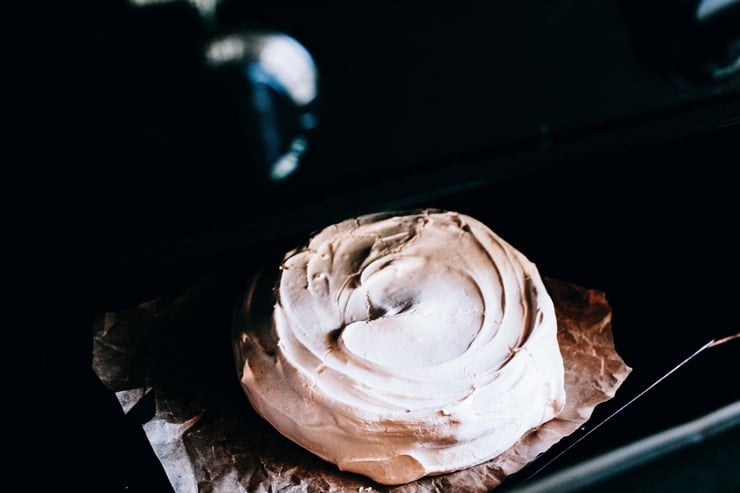 Fast forwarding past the meetings, emails, phone calls, and contracts, I finally had a concept ready. It was an instructional on everything I loved to cook and bake— a risky idea I was set on. They weren't sold on the concept; it was back to the drawing board for me, and my new instructions were to do something I didn't dare want to think about doing: a baking book. With these and pretzels and chocolate cake and strawberry pavlova. It was a scary task I felt was best left to the people who've been doing it well for a long time— people like David and Mary Berry.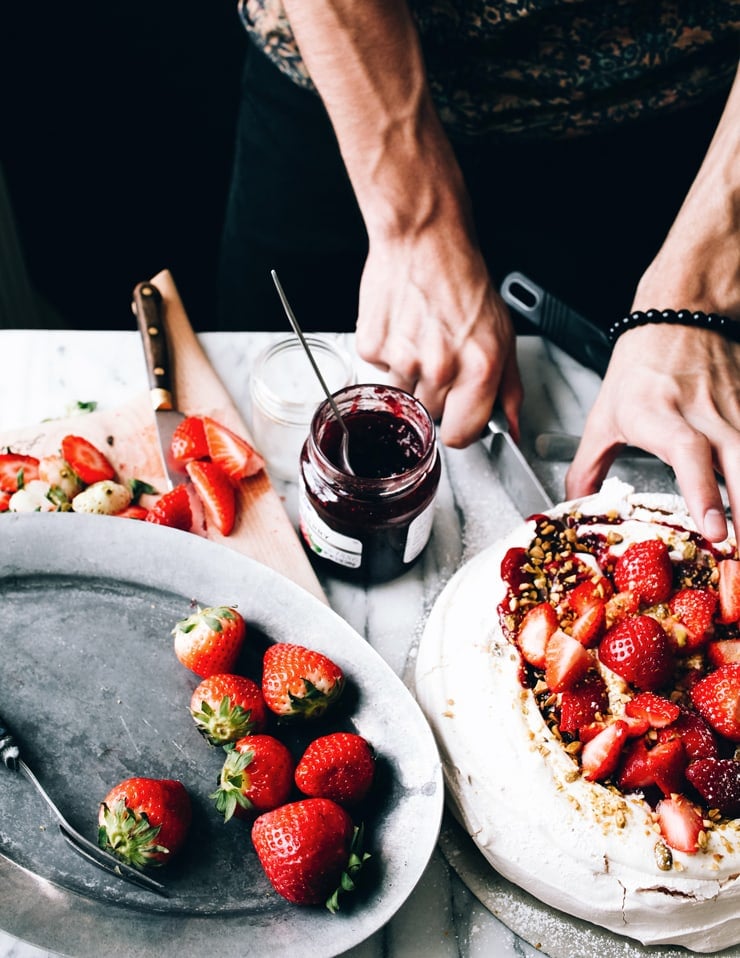 After a lot of brainstorming and a tight deadline floating over my head, I declared I'd write a book on baking, not a baking book. I feel like the whole point of writing a book is to write something you want to read. I may have confused you a bit on the whole "baking book versus book on baking" bit; there's a difference in my eyes. A baking book is simply a book with recipes: an instructional, a textbook lacking in personality. It's baking books that people fear, and I didn't want to add to them. Hand Made Baking is a book about baking.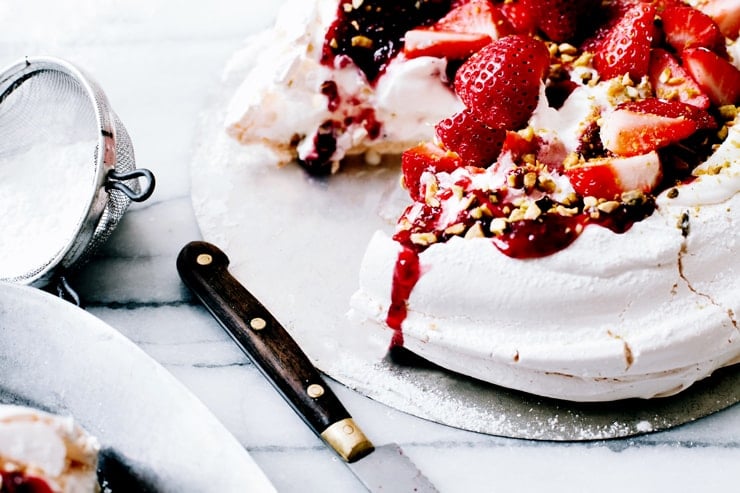 Baking has always been my form of unwinding. It's my therapy and the ultimate means in which I can express my love and care for others. Sharing something delicious, made with your hands— that's the true essence of baking. Baking isn't meant to be feared, but rather embraced. Hand Made Baking, from the moment the idea smacked me upside the head, was to embody that; with sharing and confidence-building being at the center of it all.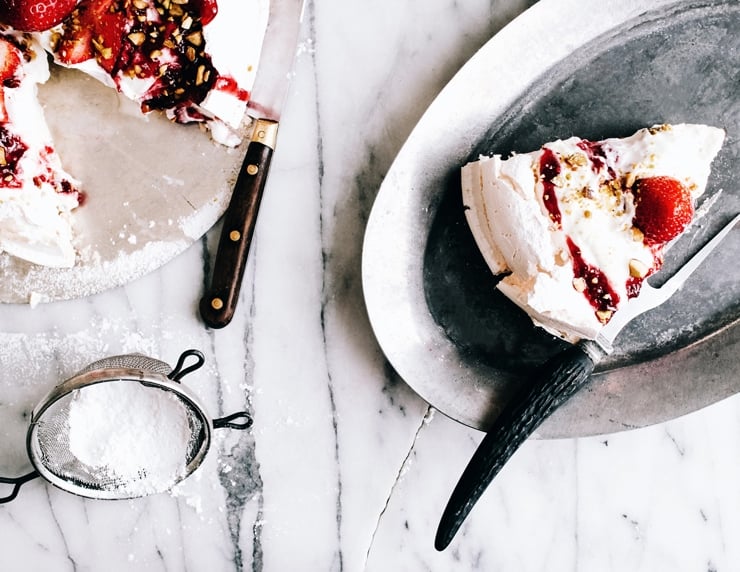 Hand Made Baking is my love letter to you. It's a love letter in which I've revivified the past and left all assumptions behind. Whether you're making this pavlova recipe, my nostalgic Nancy Drew Blondies or something as charming as my Caribbean Princess Cake, I'm there guiding you through each step. You won't find conventional chemistry equation-like recipes in this book. Because there's so much I don't have control of, I am a maniac about the details I can control, and thankfully I was given the freedom to do what I felt is right. I wanted the recipes to be approachable no matter where you are in the world; no matter if you're using cup measurements or a kitchen scale. All of the ingredients are measured appropriately for you.
There's no proper break-down of the book anywhere online, and I want to give it to you here.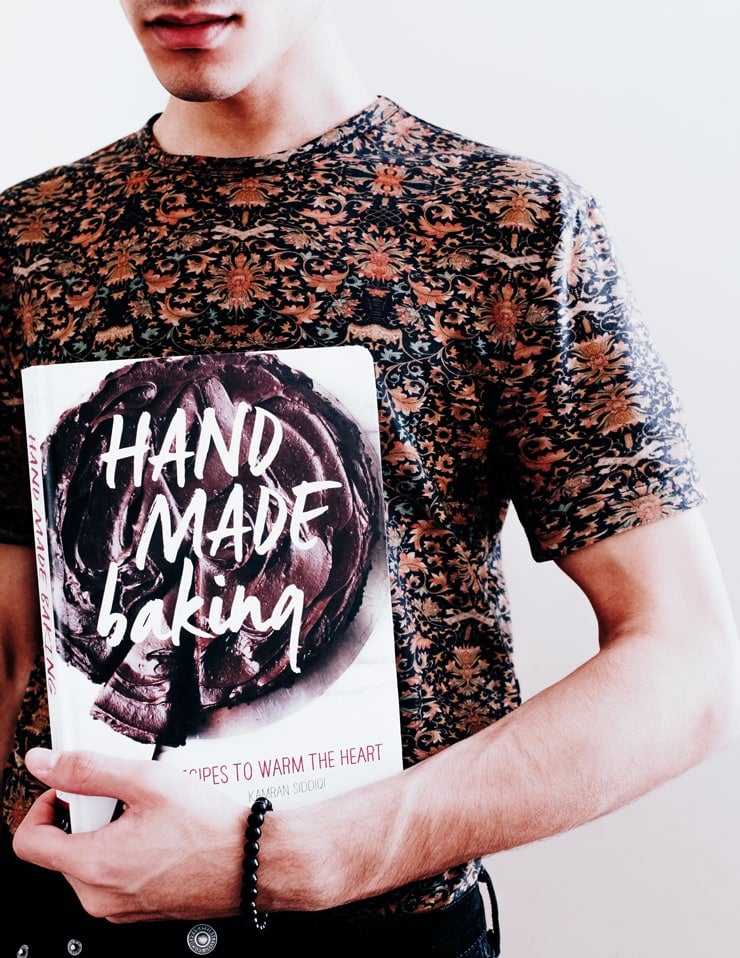 Hand Made Baking is broken down as such:
– There's the Introduction— no explanation needed here.
– After the introduction, comes Kitchen Basics. Kitchen basics is a section dedicated to informing you about anything and everything you might need while making the recipes from the book. I give alternatives, various brand names, and my personal favorites to help you decide what to get when you're stocking up on baking equipment.
– Next is what I like to regard as one of the most important sections of the book— Before you Begin. I liken this part of the book to grandmotherly guidance– it's far from patronizing; it's more like friendly baking advice from . . . your sweet grandmother (I know, I know. I'm a dude. Let's pretend I'm one of the Golden Girls, for the sake of making a point, shall we?). It's everything you need to know about your oven, baking times, a reminder to check expiration dates, and how to measure accurately– essential, especially if you're using cups.
– Then comes the recipe chapters— Rise and Shine (breakfast), As Easy as 1-2-3 (pie and pastries), Three O'Clock (cookies of all sorts), Piece of Cake (cakes galore), and Spread a Little Butter on That! (breads). Every recipe in the book has at least one photo accompanying it. And those recipes requiring visual guidance, have just that— multiple photos displaying those techniques.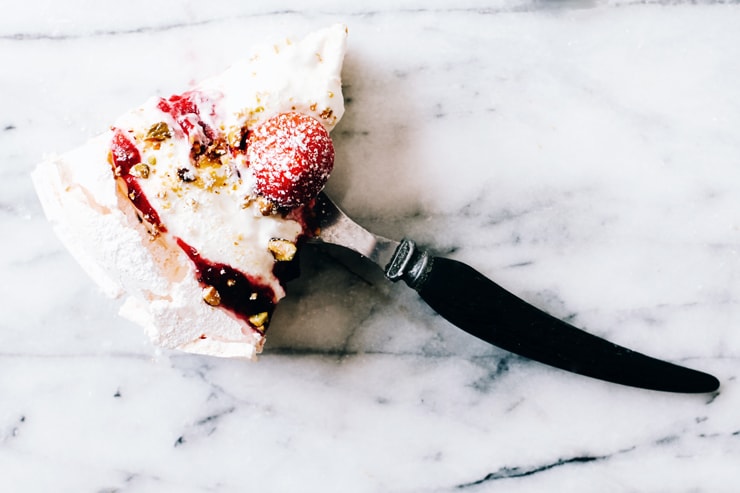 At the core of Hand Made Baking is good, honest recipes for bakers of all ranks. This Strawberry Pavlova is one of my favorites from the book. I've tweaked it a bit for the sake of celebrating a long journey— smog, strawberry red nail polish, and revivification. Give it a try; I know you won't be disappointed.
If you're interested in ordering a copy of the book, I've included all the details below (book trailer and another delicious post to come soon!).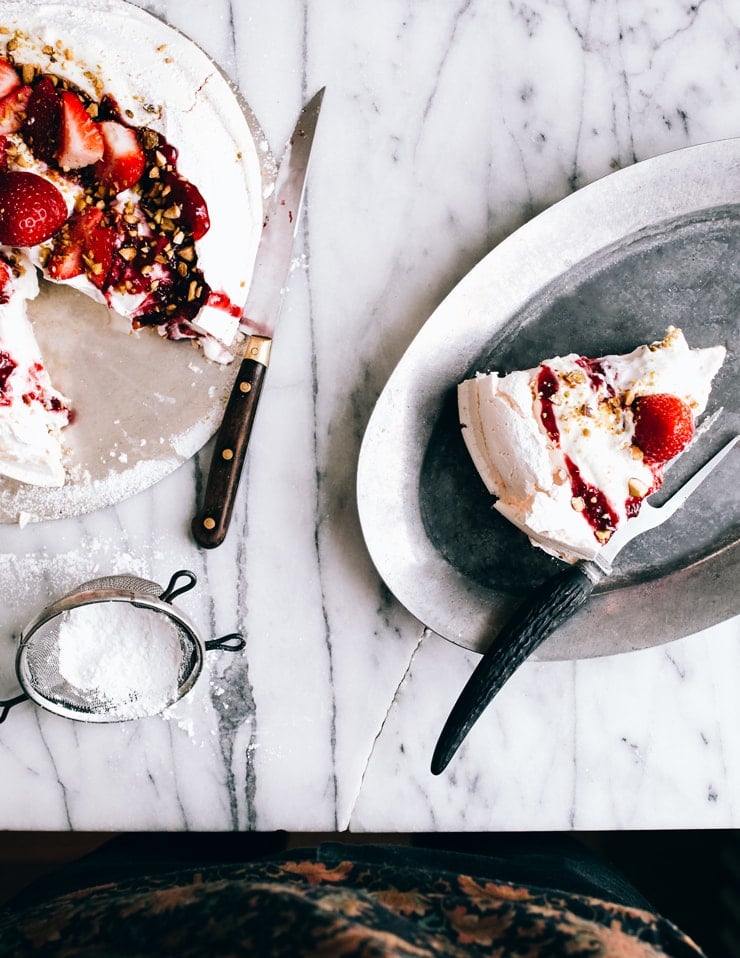 More Everyday Baking Recipes: