A 5-minute easy Belgian waffles recipe for delicious, golden, and lighter-than-air homemade Belgian waffles. The best part? These come together in one bowl!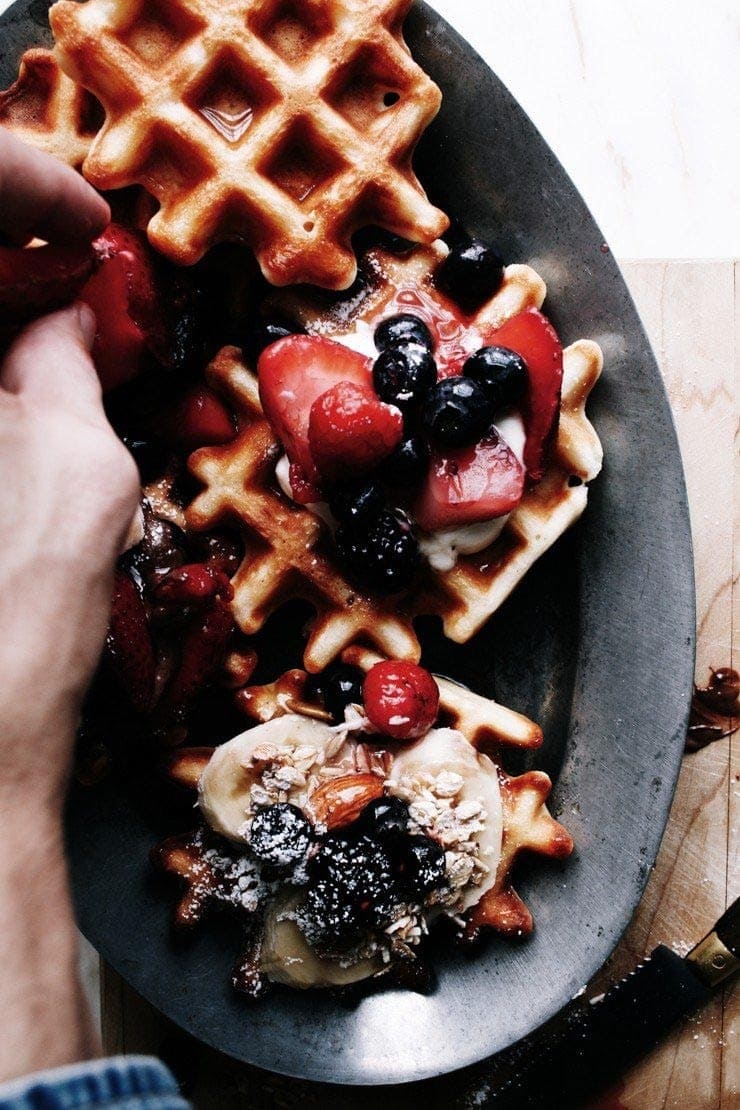 I searched everywhere for my favorite homemade Belgian waffles recipe– it is literally the best! I unsuccessfully raided the kitchen cupboards with the hope I'd find my homemade waffle recipe scribbled on an index card splattered in batter. This card literally held the secret to easy Belgian waffles.
After months of searching, I finally found it in the turquoise journal I filled with waffle recipe notes from when I wrote the book. Somewhere between cacao percentages and the perfect crumb-to-apple ratio on a crumble was a nonchalantly scribbled list of ingredients for this gilt-edged Belgian waffle recipe. An easy recipe for waffles that only takes five minutes to prepare- yes! Behold, the king of breakfast recipes!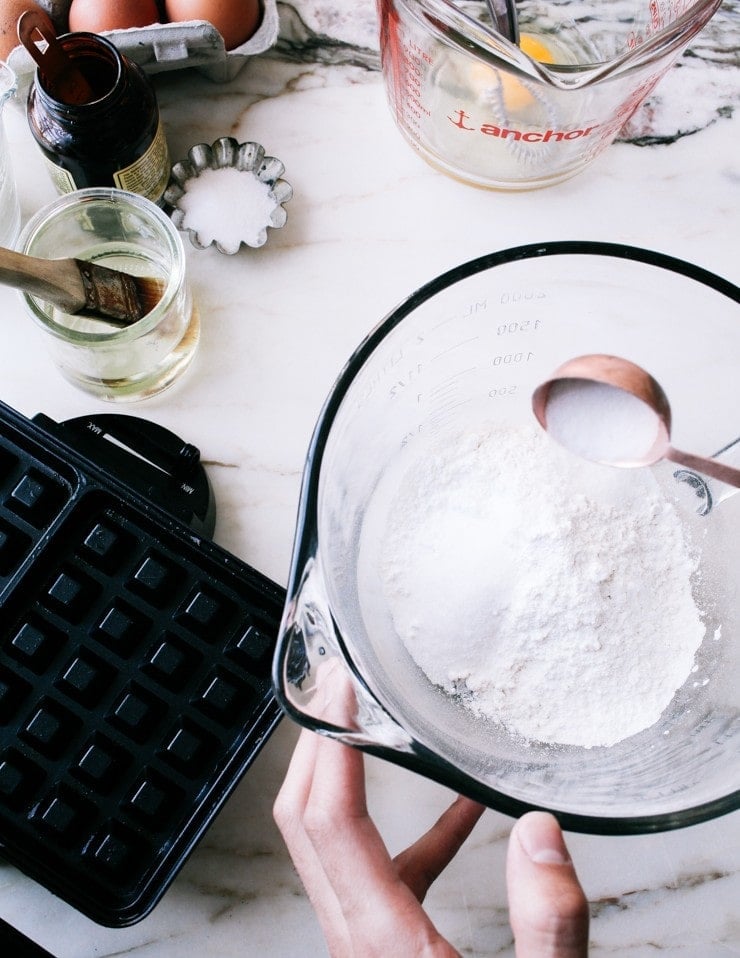 ---
What are American-style Belgian Waffles?
The Belgian waffles I'm referring to aren't the classic kind leavened with yeast. While these are not true belgian waffles they are aren't your regular waffles either. This they're the kind that is a phenomenon in hotel chains and diners all across the United States— sweet smelling, deeply welled, golden-kissed, and crisp deep pockets with a lighter-than-air center. These fluffy waffles are the kind you'll want to have topped with ice cream and fresh fruit or with delicious pools of syrup on Saturday mornings.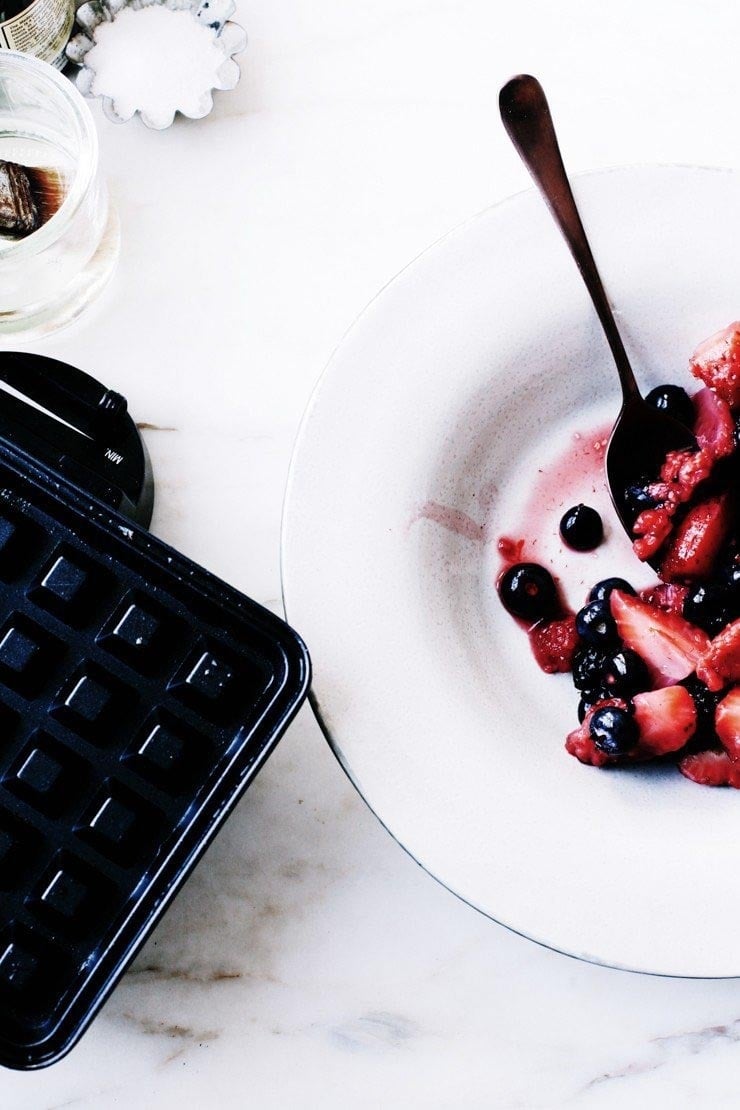 Belgian Waffle Recipe: Ingredients
The batter for these Belgian waffles quite literally comes together in a few stirs. Simple ingredients means you can put down the box mix. You don't need a second bowl or electric mixer or even a third bowl. It consists of one part, a medium bowl to large bowl and practically no effort. Here is what you will need:
• All-Purpose Flour – all-purpose flour works best for these, but whole wheat pastry flour would work well here too.
• Sugar – This adds just a little sweetness and helps the waffles caramelize and crisp beautifully. Feel free to use either granulated white sugar or natural cane sugar.
• Baking Powder – This is your leavening agent. It will help make for a perfectly fluffy interior. It's crucial, so don't leave it out!
• Salt – This balances all the flavors together. Who knew that such a small amount could be so beneficial to this recipe?
• Milk – You can either use whole milk (this is not a diet recipe, after all) or buttermilk. I'd steer clear of the lemon / vinegar and milk substitute, however– it could alter how these rise.
• Oil – Not butter. Oil is best for making these. If you've the time to make clarified butter, it works well here. For those of us that haven't the time to do so for a batch of waffles, feel free to use any neutral-tasting oil. I use sunflower oil, but vegetable oil, canola oil, etc. would work well too. For more flavor, coconut oil is a great option here.
• An Egg – This binds everything together into a luscious batter, helps with the coloring, and helps rise these waffles to their greatest potential. With this recipe, you will not need to beat eggs until stiff peaks form or make the batter ahead of time and wait until the next morning.
• Vanilla Extract – Just a kiss of it. Vanilla extract adds a fragrant sweetness that makes the smell of these perfect Belgian Waffles so enticing.
How to make the best Belgian waffles
A Sunday morning spent in a sunny kitchen, surrounded by fairytale-like wisps of steam slowly fluttering from the Belgian waffle maker, is oddly reassuring— no matter what time of the year. You don't need earsplitting machinery or a workout to mix up delectable waffles, which is one of the many reasons why you'll adore this recipe. Everything practically comes together in a few stirs. That's it. Oh, happy day!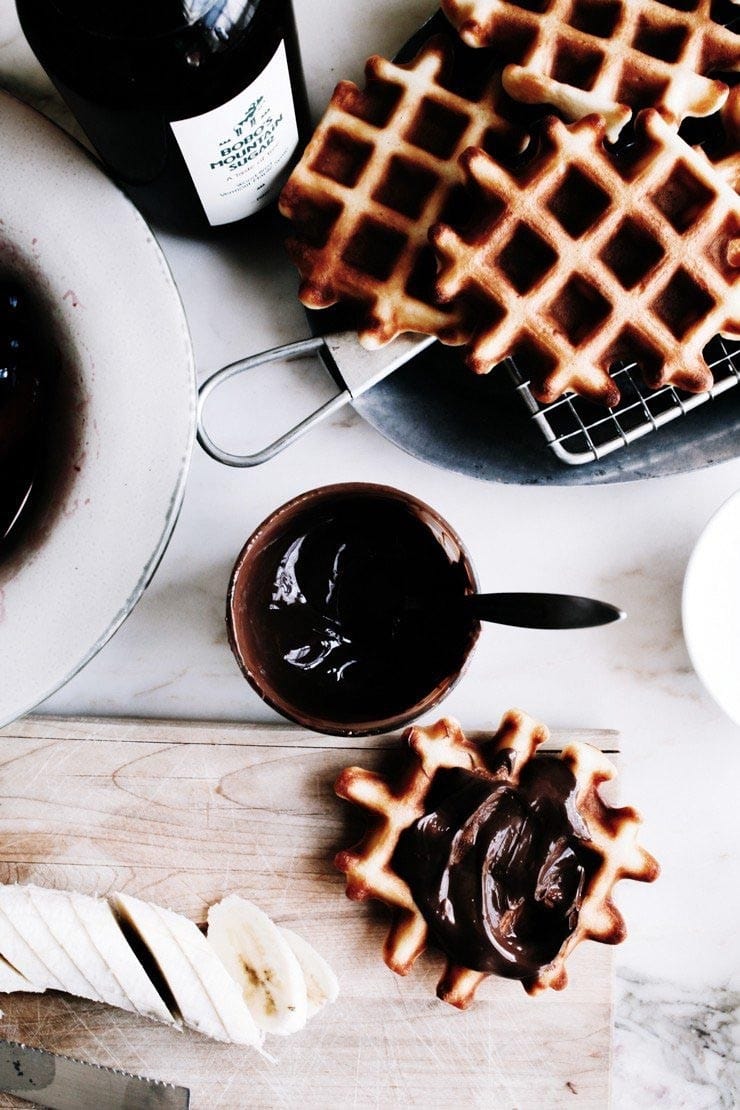 As it is, not every recipe for American-style Belgian waffles is made the same. Some require folding voluptuous clouds of firmly whipped egg whites into the batter with a rubber spatula. Others also require that egg yolks and sugar be ribboned together with a hand mixer until thick and a stunning pale primrose.
These methods and tips are acceptable, of course— everyone has a technique that works for them.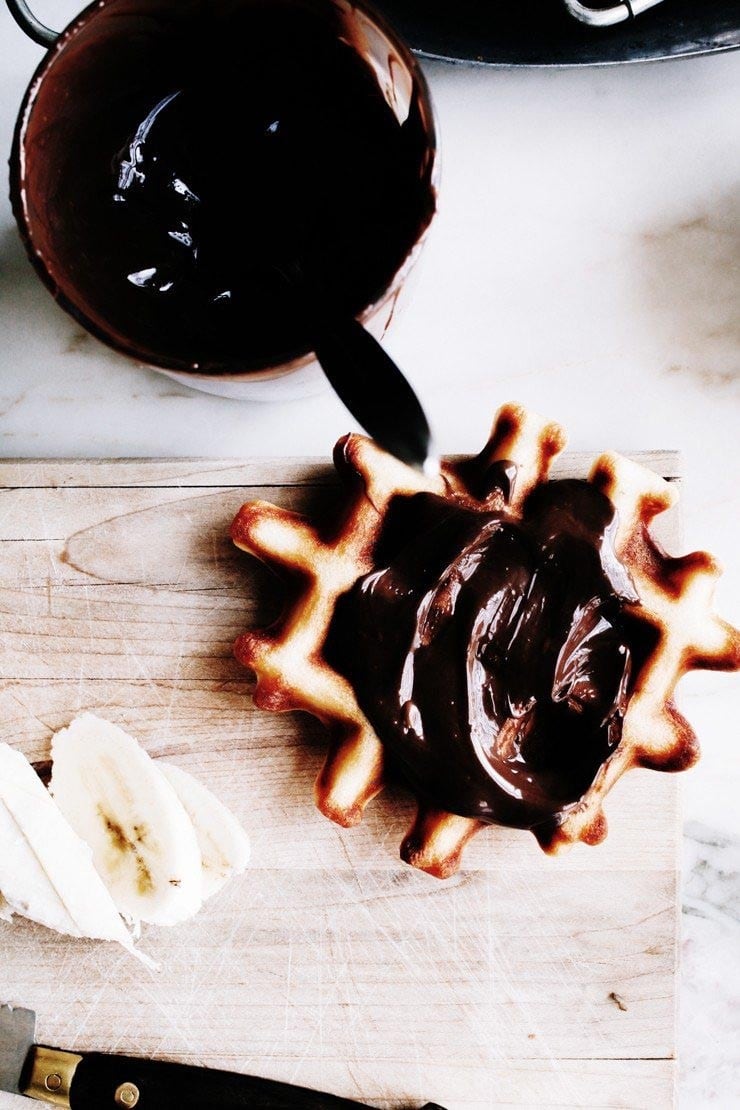 I'm an impatient cook, I can't be bothered to transform egg whites into shaving cream foam at 9am on a Sunday. Caffeine and a quick meditation sesh must be had before the cacophonous sounds of roaring kitchen engines. It's just how I am.
Now, please don't get me wrong, I love mornings— just ones with minimal amounts of noise. The point is… If you're anything like me and want quick, silent, effortless satisfaction, these are for you.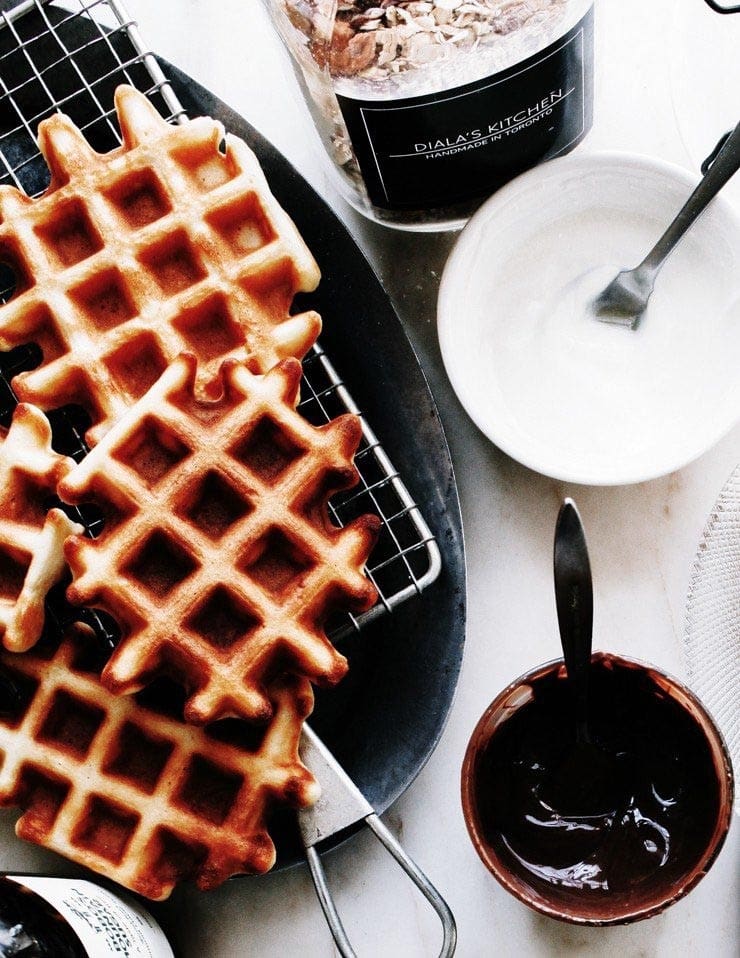 Belgian Waffle Recipe Tips
What's most reassuring is when you sit down to tuck-in and the waffles are still crisp and warm. In my experience, a moderately warm oven can be helpful in maintaining ultimate crispness, but only in small batches.
Large batches can end up unappetizingly rock-hard because they can overcook from the heat of the oven. A better approach to all of this is to toss the freshly-made homemade waffles— one at a time— back and forth between your hands. This essentially helps release any steam and allows for divine crispness. However, for another approach to this, I've some more tips.
I'm not one to preach about rules when it comes to cooking or baking. I find it patronizing and that's just not my style. However, deliciously crisp homemade Belgian waffles require that a little bit of care be taken, so here are some notes. You'll want to keep these 8 things in mind to ensure your waffles always come out great every time: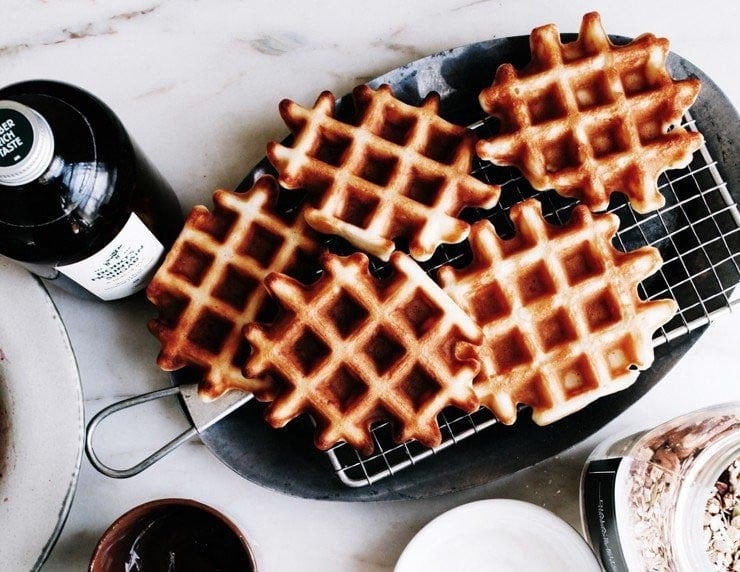 1. Use whole milk or buttermilk for this homemade Belgian waffle recipe.
Despite the honeyed yogurt and granola on some of the homemade waffles pictured, please don't be fooled. When it comes to milk, you'll need to use full-fat (whole) milk in this recipe; this ensures there is less water content in the waffles, which means the waffles will steam less and remain crisp on the outside. This makes for the ultimate waffle batter.
More steam means you'll end up with limp waffles. We don't do limp and soggy anything around here, pun unintended. For flavor that is found in most classic American-style homemade Belgian waffle recipes, feel free to use buttermilk if you have it on hand. It imparts a lovely tang to the waffles.
If you don't have buttermilk, I wouldn't bother using the vinegar / lemon juice and milk substitute here. Buttermilk adds a nice tart flavor to the waffles that cannot be recreated with a quick substitute like that. This buttermilk substitute would work in a pinch, however. Even Bon Appetit agrees.
2. Don't skimp on the fat.
Butter is another thing to keep in mind when it comes to fat. Don't use it; well, don't use it as it is for making the waffles. As much as I love butter, it doesn't create a crisp enough waffle in its truest form. There are options, however. A somewhat obvious option is, of course, any neutral-tasting oil. The other option, which might seem unusual, is clarified butter.
If you have the time to make clarified butter feel free to use it here. But, as I'll probably write many times, please don't feel obliged to do so— oil works marvelously in this recipe. If you're worried about imparting flavor, coconut oil is a fantastic option.
3. You don't need an expensive waffle iron.
Use whatever decent quality Belgian waffle maker you can afford. This iron is the one I have (I've had it for years and it's still running strong), but I've read many good things about the Presto, the Breville, and the Cuisinart.
4. Preheat your waffle iron & use room temperature ingredients.
I often let my waffle iron go through a couple cooking cycles while I make the batter. This means the iron will be as hot as necessary, which helps ensure you get crisp Belgian waffles every time.
Whilst a cold iron means you'll end up with soggy waffles, having ingredients that aren't at room temperature means you'll likely end up with undercooked waffles. To combat this, you can quickly bring your eggs to room temperature and heat your milk up either in the microwave or on the stove just enough to get the chill off.
5. Grease your Belgian Waffle iron.
Despite most waffle irons having nonstick coatings, you'll need to liberally grease both the top and bottom of the waffle iron with oil. If you've ever had the problem of a waffle sticking, it's likely that you've been too stingy with the oil. Worry not; so long as your waffle iron is hot, your waffles will not be greasy.
If you're like me and have forgotten to grease the waffle iron before pouring your batter in, all is not wasted (I promise— you can see how I rectified the problem here). Using a pastry brush, grease around the sides of each waffle, and let the oil settle between the waffle and the waffle iron for about 10 seconds. Then, carefully lift the waffles out of the iron and all should be well in the world!
6. Lumpy is normal.
Dear reader, when you mix all of the ingredients together for these, you'll realize that things aren't as smooth as silk. We're not going for a cake batter with this waffle recipe. The moment there's no visible flour, you're ready to go. Easy peasy! Mixing everything within an inch of its life to ensure a lump-free batter means you'll likely end up with tough waffles.
7. Toss your waffles.
You'll know your Belgian waffles are done when you see the steam stop billowing out from the sides of the waffle iron. They'll also be golden and crispy-edged. One trick to ensuring this is by gently tossing each Belgian waffle, as they come out of the iron, between both hands several times. This allows the steam to escape before it hits the plate.
8. Use your oven with caution.
To ensure your homemade Belgian waffles are crisp and warm, you can put them in a preheated 350ºF/180ºC oven on the rack once they come out of the waffle iron. This method can be flawed, however. With large batches, the waffles can become overcooked by the heat of the oven.
A different method of approach is to preheat the oven to 350ºF / 180ºC and then switch it off once it's reached that temperature. It's a tiny bit of futzing around but it ensures your Belgian waffles aren't overcooked and that they remain warm, crisp, and delicious.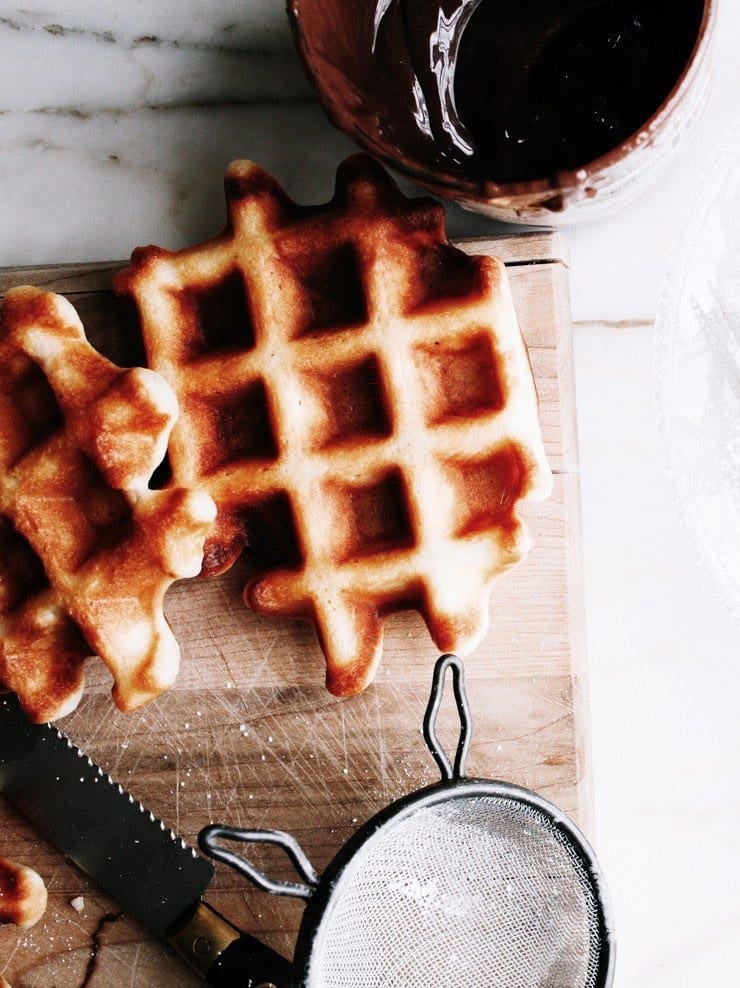 Belgian Waffle Serving Suggestions
Whether you like to keep it simple and drown your homemade Belgian waffles in maple syrup or your favorite pancake syrup, there's so many more ways to enjoy these fantastic golden brown Belgian Waffles.
• A healthy alternative – top with your favorite yogurt with a bit of honey stirred in and some granola (the one pictured is some fantastic homemade granola gifted to me by my friend Diala)
• A berry waffle breakfast– top with fresh or macerated berries (as pictured), like strawberries, blueberries, blackberries, raspberries.
• Make it a treat– a classic combination of Nutella and sliced bananas makes these Belgian waffles a delicious treat.
• Keep it classy– top with a pat of softened butter, and drizzle in maple syrup, your favorite pancake syrup, or golden syrup.
More Delicious Breakfast Recipes
• New York-Style Bagels
• Sunny-Side Up Eggs: How to Fry an Egg
• Raspberry & Cream Scones
• Perfect Blueberry Muffins
• Old Fashioned Banana Pancakes