An easy homemade New York-style soft pretzels recipe. Each soft pretzel is perfect served warm with a side of yellow mustard or a cheese sauce.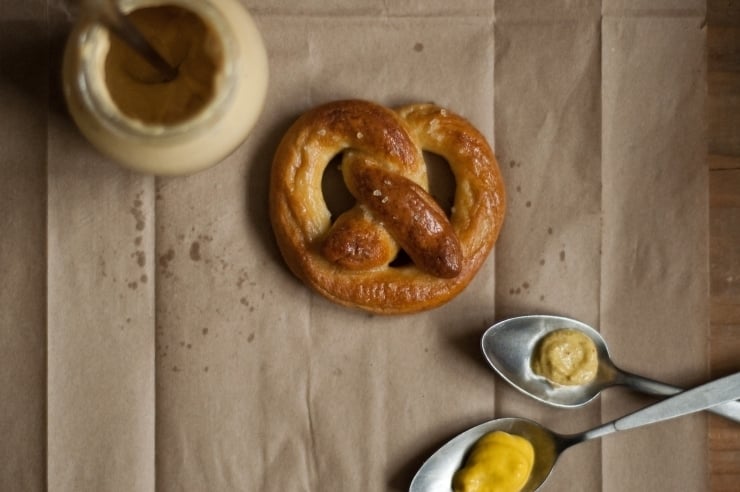 Before I open up a new planner book with "2011" marked across its pages, I'd like to squeeze one last post into 2010- A New York-Style Soft Pretzels Recipe. It's the kind of soft pretzel that many people crave after visiting the busy streets of New York. It's what a native New Yorker would crave after moving into middle-of-nowhere New Jersey (at least in my case). It's the pretzel that I remember my parents buying me and my sister when we were younger.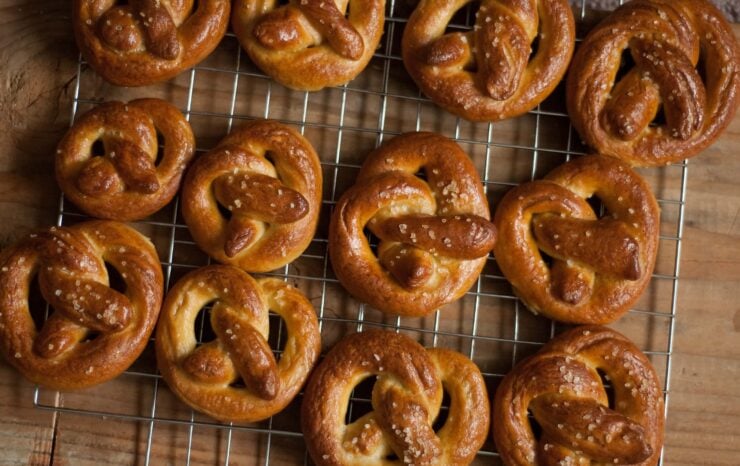 During the summer months, my sister and I would ask our parents for the full-of-sugar snow cones sold by elderly men scraping at huge blocks of ice at carts bombarded with lines of sweating people holding dollar bills in their hands. During the winter months, my sister and I would ask our parents for the warm, butter, soft pretzels sold on every corner between Penn Station and Times Square (onto this soft pretzel recipe in a minute).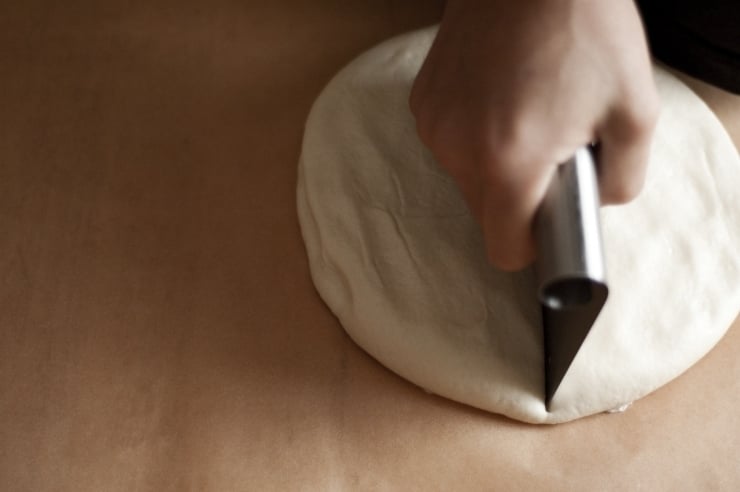 Have you ever bought something from a pretzel vendor? It's as if a drug deal is going down, but with pretzels. "I'd like some of your finest crack a pretzel please." And then, you take a couple bucks out of your pocket, hand it to the pretzel dealer vendor, and he hands you a nice warm soft pretzel. You pick up the yellow bottle placed in front of you, squeeze a generous amount of fluorescent yellow mustard around the entire pretzel, and make your merry way around New York City, while the soft pretzel kindly (because pretzels can be kind, just like humans and cats) warms your fingers, as your other hand hides in your coat pocket from the gelid winter breeze.
Ingredients for New York-Style Soft Pretzels Recipe
There aren't many components to this recipe other than a bit of patience and some basic pantry ingredients you might already have on hand.
Active dry yeast – I find this works best here. You can use instant yeast; you might want to cut the amount of yeast in half and keep an eye on how quickly the dough rises if you do. If you feel inclined, you can do a cold rise.
Salt – you'll need both fine-grain sea salt for the dough and pretzel salt to top the soft pretzels with. Because I know pretzel salt is not something everyone has on hand all the time, I find that coarse-grained sea salt or kosher salt works great here.
Granulated sugar- white or natural cane will work here. This is just to add that tiny bit of sweetness to the dough and to help activate the yeast to ensure a perfect rise.
Water – Luke-warm water is necessary here. You'll need the water to be between 100ºF and 110ºF (37ºC and 43 ºC). Too hot and you can kill the yeast. Too cold and the yeast might not activate.
Flour – you will need a combination of both all-purpose flour and bread flour. It creates a perfectly chewy soft pretzel, without being too much like a bagel. It's all about the perfect balance of gluten here!
Unsalted butter – you'll need just a little bit, but this not only adds incredible flavor to the dough, it also keeps the soft pretzels soft and helps the dough become a little easier to work with.
Oil – any neutral-tasting oil will do here… Canola, sunflower, safflower, peanut, vegetable, or soybean oil all work.
Baking soda – you will need quite a bit here, about 1/4 cup (72 g). This shouldn't be omitted as it gives the soft pretzels their unique color. Science is amazing!
Egg – this gives the soft pretzels a beautiful shiny glaze that also allows the pretzel salt to stick to the top of them.
How to Make New York-Style Soft Pretzels Recipe
It all begins with activating the yeast. You'll need to mix together the yeast, sugar, sea salt, and the luke-warm water and let it sit until foamy. This is perfect after about 10 minutes.
After that, it's all about making the dough. The dough starts with a small amount of unsalted butter that is cut into two kinds of flour– all-purpose flour and bread flour. This combination is crucial to making the perfect chewy New York-style soft pretzels.
Once the butter is cut into the flour and it resembled coarse crumbs, the yeast mixture is poured into the flour and a dough is formed.
The dough is kneaded on a lightly floured surface for about five minutes until smooth and no longer super sticky.
A bowl is coated with oil and the dough is placed and rolled around in the bowl to coat it with some oil as well. From here, the soft pretzels dough is left to rest, covered with plastic wrap, for about an hour.
After resting, the dough is naturally deflated when dividing it into 12 equal pieces. I like to use a bench scraper to do this.
Then, roll each piece of dough into 18-inch long ropes. Form a U shape with 1 rope, cross both ends over one another, then twist the ends together twice.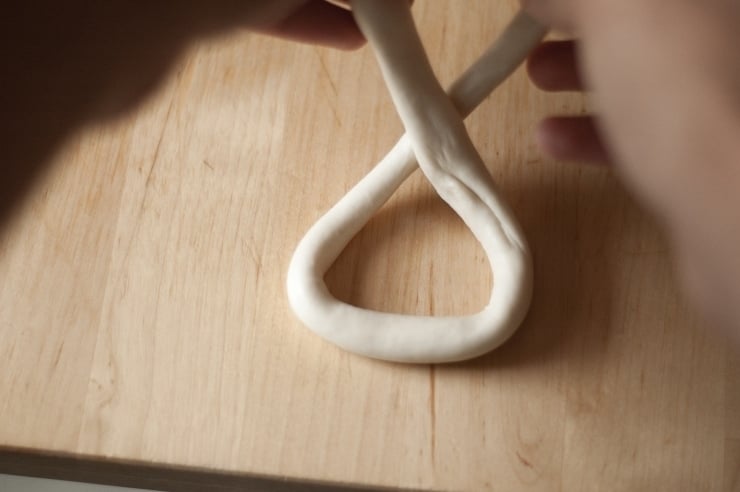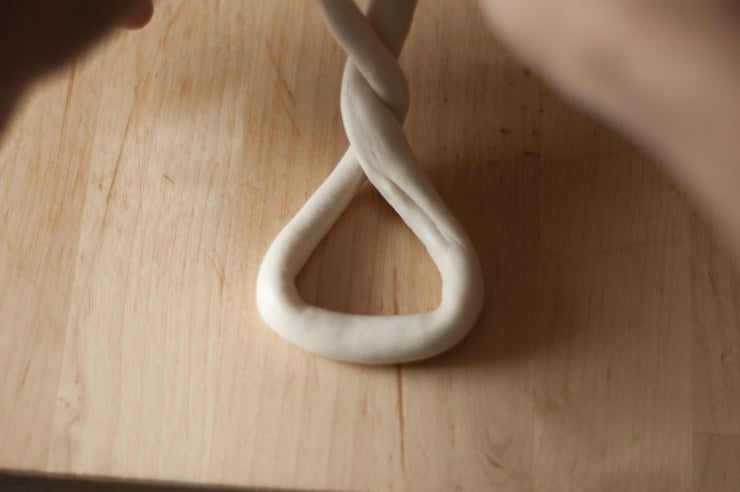 Fold the twisted portion toward yourself to form a pretzel, then gently press the ends of rope onto the soft pretzel dough to seal the shape.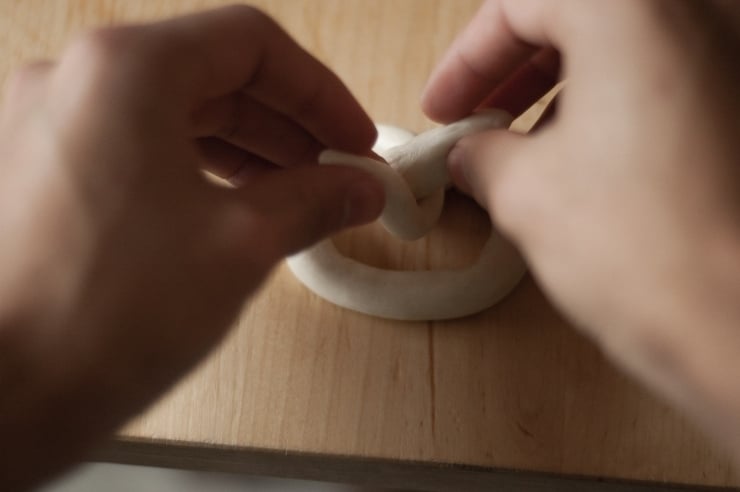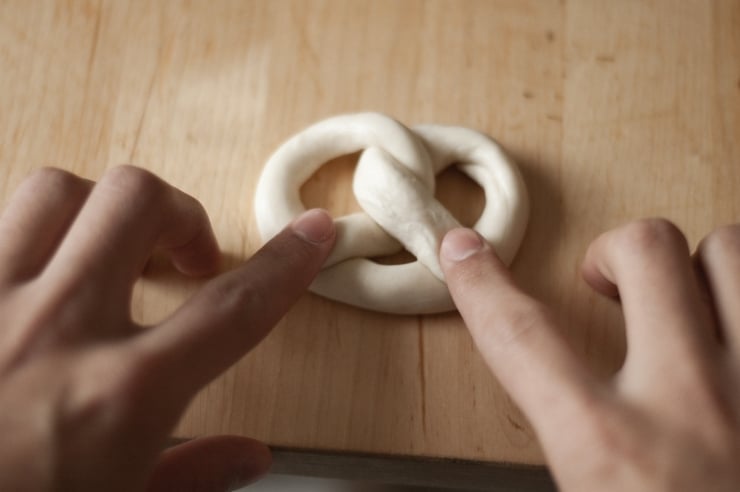 Transfer the formed soft pretzels onto a liberally oiled baking sheet and allow them to rise for 20 minutes. In the meantime, this is the time to preheat the oven and bring a large pot of water to a boil.
Yes, you heard that right… We are boiling the dough.
Wait, You Boil Pretzels?
Like New York-Style bagels, soft pretzels also have to take a quick bath in some boiling water. The only difference here is that this water is heavily "seasoned" with baking soda. This is what gives the soft pretzels that signature pretzel color.
Once the boiling water has been seasoned, lower the flame just a bit and boil the pretzels in batches until puffed and slightly shiny. This takes only about 30 seconds per side.
Allow the pretzels to drain on wire racks. After draining, place the soft pretzels on a well-oiled baking sheet and prepare the egg-wash.
Glaze the tops of the boiled soft pretzel dough and sprinkle on your pretzel salt or coarse grain sea salt (or kosher salt).
After that, it's a waiting game… Bake the soft pretzels for about 15 minutes until golden brown, and serve them right away. As we all know… soft pretzels taste best when they are warm!
How to Serve Soft Pretzels
After craving New York soft pretzels, I decided that it was time to re-create this soft pretzels recipe at home, but with less salt. And I was quite pleased with the results. The color and the taste were spot-on.
I like serving the soft pretzels with a variety of mustards- yellow and brown, but these New York-style soft pretzels are incredible served with a cheesy dipping sauce (maybe use the béchamel in this recipe as a starting point and add more cheese).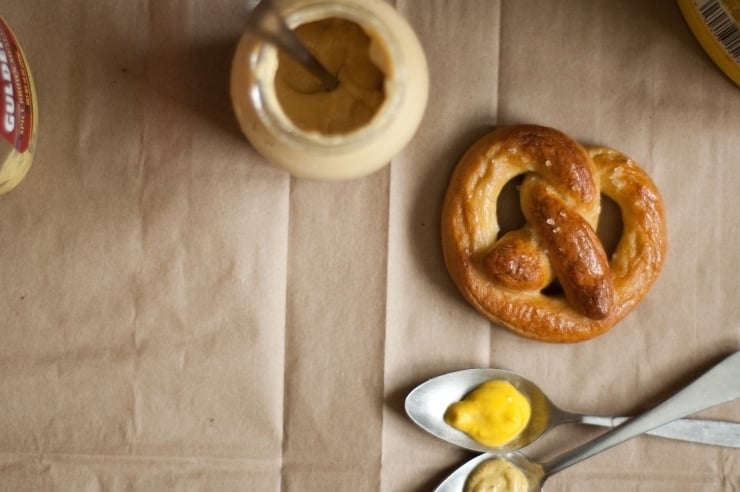 Other Recipes You Will Enjoy