A cinnamon sugar pretzels recipe. Delicious soft and chewy pretzels covered in cinnamon sugar and a drizzle of coffee glaze. They're sure to bring a smile to anyone's face!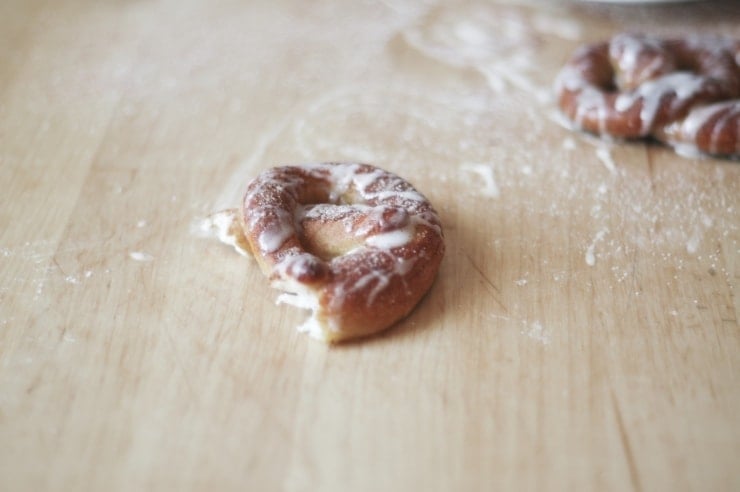 Last week, I decided to take a couple day off to relax with family. That did not end up going well, because I had my nose in work. Before I knew it, it was Sunday, and I had to go back home. I missed the train to get home by two-minutes; I was stuck in Penn Station for an hour. Thank goodness for Cinnamon Sugar Pretzels.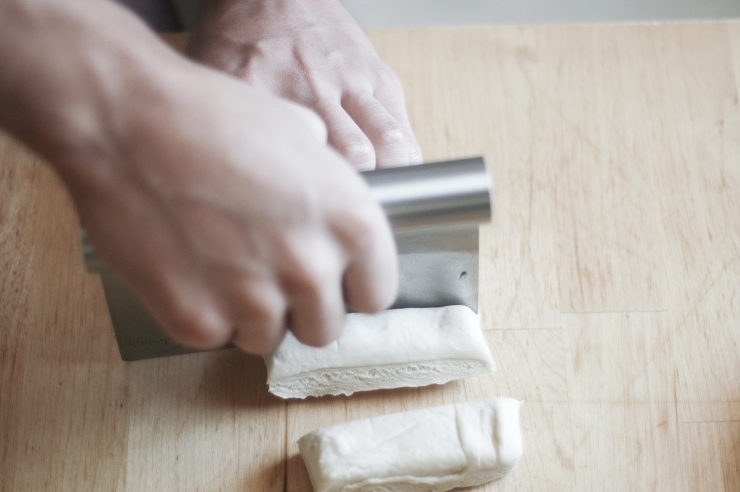 When I got to the main waiting area at Penn Station, I let out a sigh of relief; it was practically empty. Practically two-hundred empty seats for me to sit on; I found a seat, then rummaged through the mess of my suitcase for my planner. I wrote down a few events, checked things off my to-do list, and closed my planner to look up and find a woman sit a seat away from me in the middle of an empty waiting area (I had pretzels on my mind).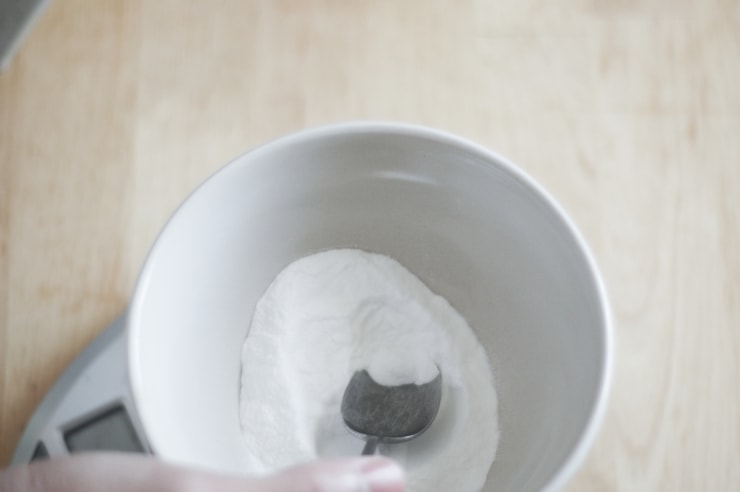 The woman sat a seat away from me; after opening my planner back, as though to show her that I was not suspicious as to why she sat next to me in a practically empty waiting area. She pulled out a can of Pepsi from the inside of her purple coat, opened the can, took a sip, let out a burp, and placed the can on the seat between us (goodness, where were my cinnamon sugar pretzels?)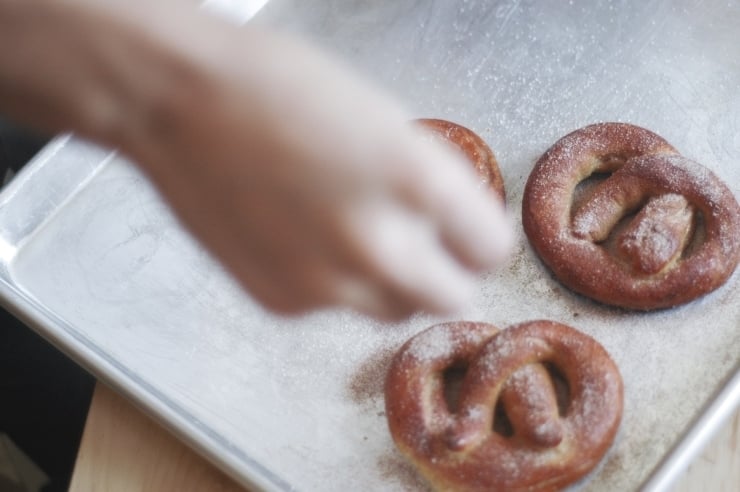 A minute or so passed and the waiting area was bombarded with people; a younger woman sat next to me with the music on her iPod as loud as a jet engine. Then I smelled it. I smelled dirty feet. Purple coat lady took her shoes and socks off, and placed them right next to her can of soda. It's rude of me to call her "Purple Coat Lady;" from here on we'll call her June. The young woman sitting next to me sniffled, and I felt the hairs in my nostrils begin to shrivel into complete nothingness.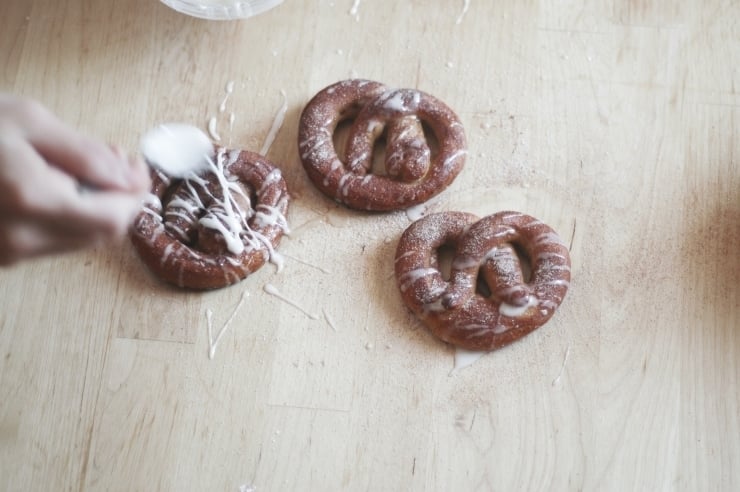 I got up politely, as to make it seem as if I was not offended by the smell of her feet. With my backpack weighing me down, and the weight of my suitcase practically pulling my arm out of its socket, I walked to the Amtrak area to find something to snack on (I could hear my stomach shout at me) while waiting for my train to get home. I passed a Krispy Kreme, a couple of deli's, and decided on cinnamon sugar pretzel nuggets from Auntie Annie's. When hunger strikes, even foods I would never eat, taste better than I would normally think they tasted. To my mind, those pretzel nuggets and the icing package that came along with them were the best things I had ever eaten (dare I mention that it was the first time I ate a cinnamon sugar pretzel?). After finishing my $4 investment, I felt guilty.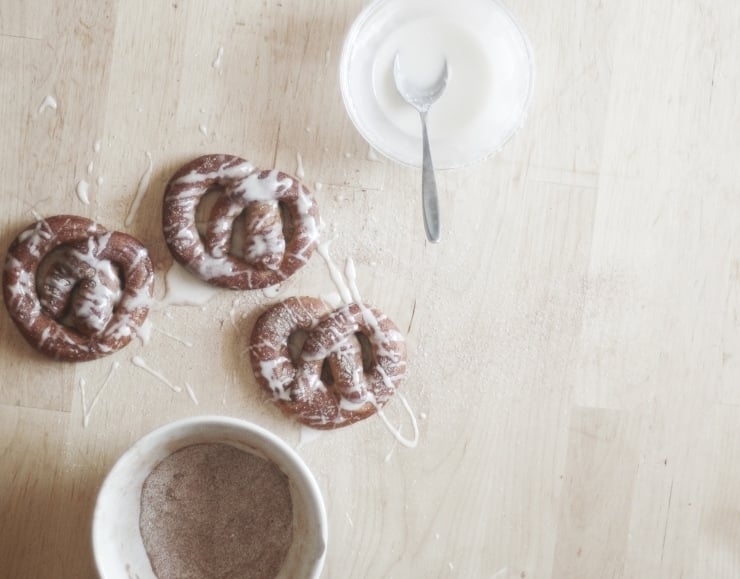 After convincing myself that it was better of me to spend $4 on cardboard than spend more money at a dirty fast food joint (Auntie Annie's had an A for cleanliness!), the idea to re-create a better and tastier version of the cinnamon sugar pretzels at home hit me.
So, my dear friends, thanks to Purple Coat Lady June, I'm sharing a recipe for Cinnamon Sugar Pretzels with you today. Yes, I know- I've recently shared pretzels with you, but you'll thank me for this small burst of warmth in your home. Oh, and if you are feeding your kids this- put them in a cage first and leave them in there until the sugar high is gone. I am only kidding. Sorta.