This Dominican Tostones recipe (patacones) is what dreams are made of. These crispy twice-fried green plantains are served with an easy homemade cilantro garlic sauce and a delicious garlicky pink sauce that is so addicting, you'll want to make tostones on a regular basis!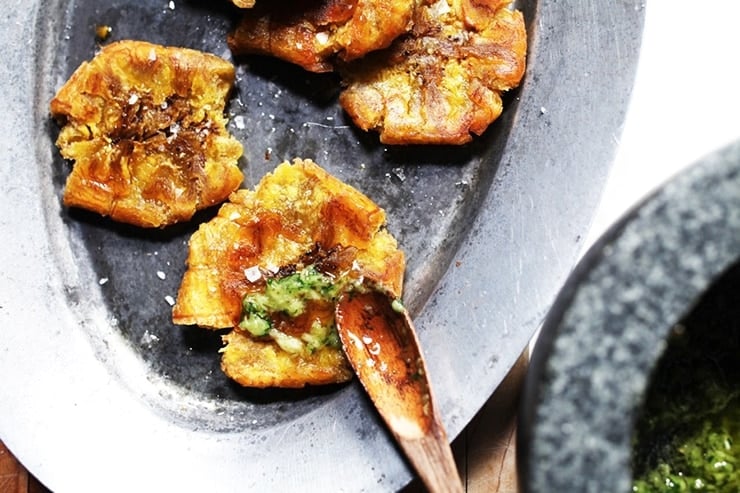 This crispy tostones recipe (twice-fried green plantains) transports me back to childhood summers spent in the Dominican Republic with my family at my Tia Kika's home. She is my late grandfather's sister and one of the last siblings left from his generation.
It has been nearly a decade since I have been back to her home. I can still remember the humidity on my skin, the old metal porch swing, ice-cold raspberry sodas served in tin cups, and crispy fried tostones sprinkled with sea salt.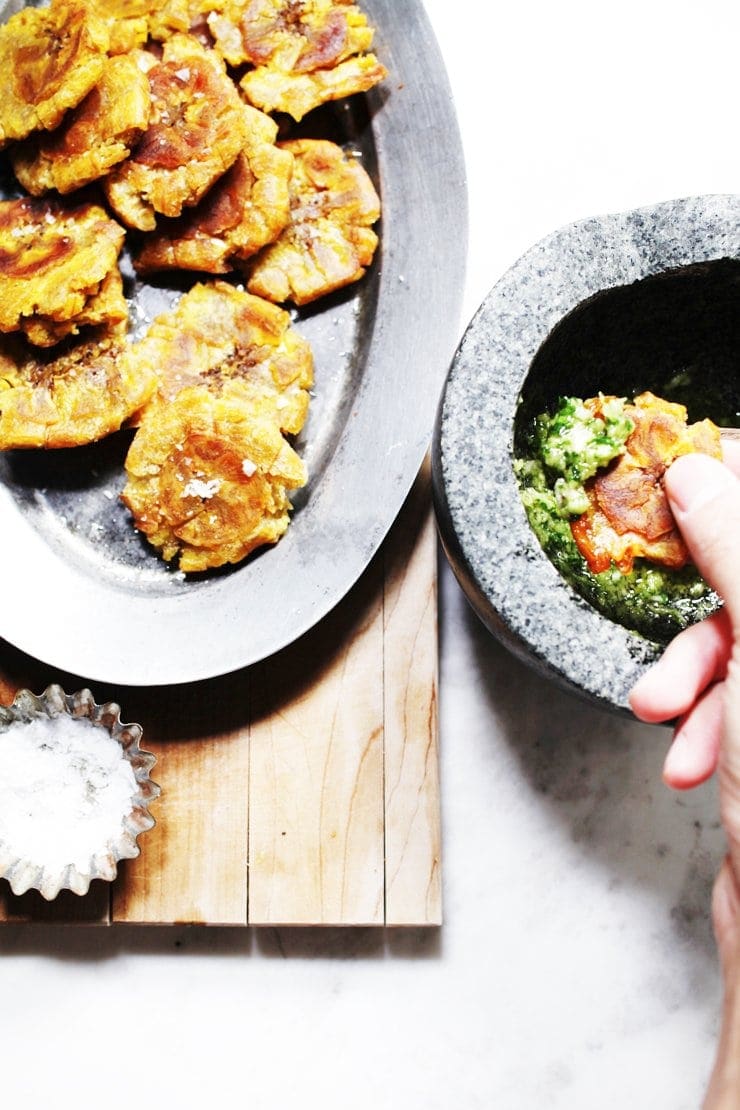 Spending the day at her house always meant we would be exposed to some of the best Dominican cooking that would leave a lasting impression on my life (tostones being one of them!).
Three generations of women would come together in her large kitchen to prepare lunch and dinner for the small crowd. Tia Kika and my grandmother would carefully orchestrate the meals together. Sure enough, each meal always consisted of a rice dish and plantains (my favorite being twice-fried green plantains, tostones).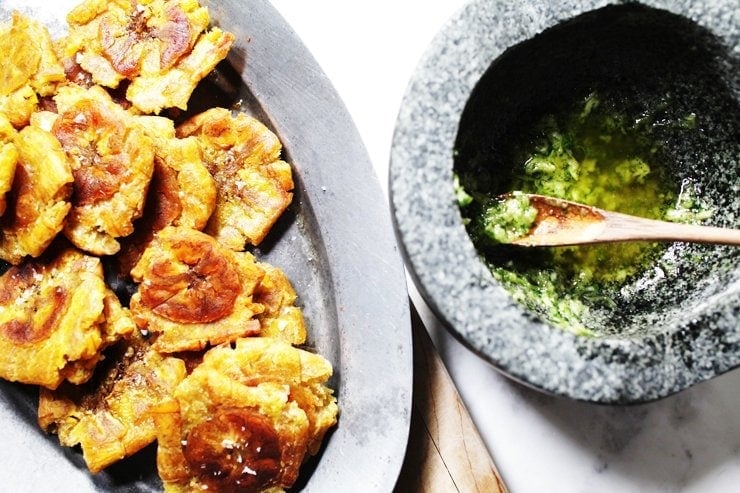 A metal folding table with chairs from the turn of the century was set up beneath the fruit trees that lead to the steps of Tia Kika's home. That table meant an intense game of dominoes was about to happen between my grandfather, my Tio Umberto, Tio Ramón, and occasionally my Tia Milagros. The dominoes chips would clack against the metal table as the men would shuffle them and yell at each other. I would watch and listen to everyone's strategies and the stories they told around that old metal table. Occasionally I would make my way into the house and ask my mother if we'd be having crispy tostones– I was obsessed to say the least.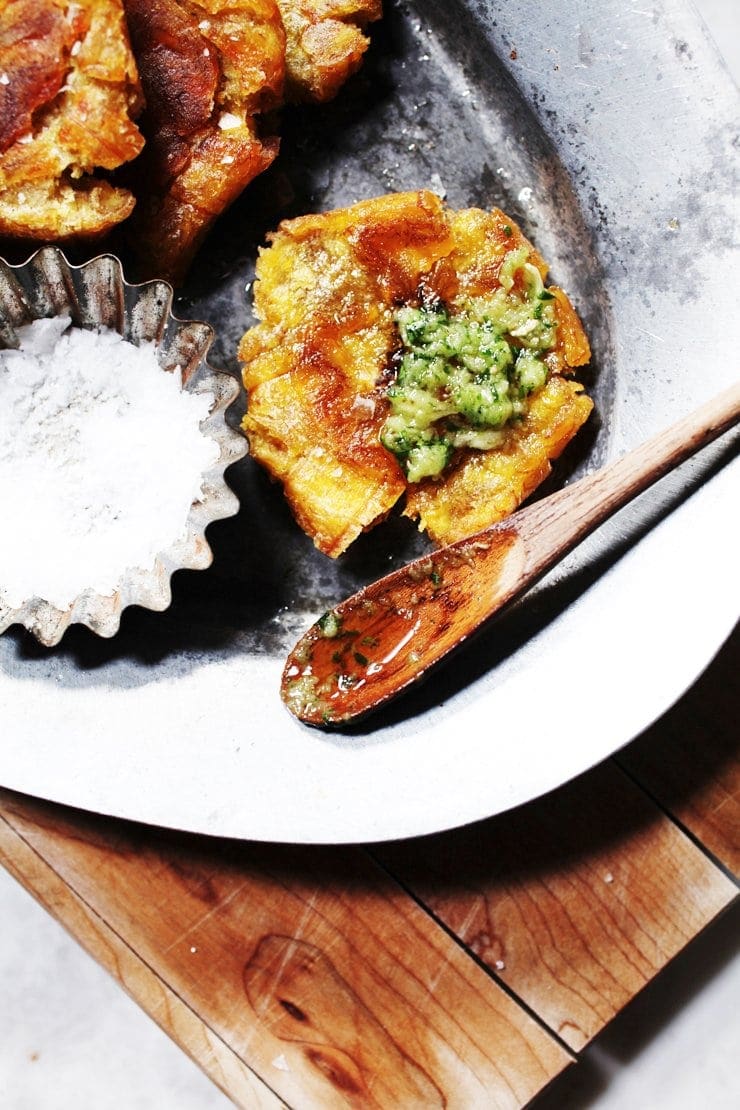 Dominicans consume plantains regularly- the main ingredient for tostones– they are an essential food found throughout Dominican cuisine and a lot of Latin American and Caribbean cuisines.
Tostones (also known as patacones) are just one of the many ways that Dominicans cook and eat plantains. For example, they are often found as crispy chips, as a mash, in stews, fried when their skins are a deep black to make sweet maduros (fried sugary sweet plantains), or they are double-fried to make deliciously crisp tostones. Plantains are used as the heart of many dishes; the way in which they are prepared and cooked is what makes them so authentically delicious.
Tostones require little effort to make. Green plantains are the basis for this dish, and they need to be prepared properly. The green plantains are peeled, cut, and soaked in salted water (sometimes with a couple cloves of smashed garlic), dried off, fried, smashed, and fried again until crisp on the outside and slightly soft in the middle.
Tostones are simple, but can be made to be so utterly flavorful and act as a good accompaniment to any meal or as a delicious afternoon snack.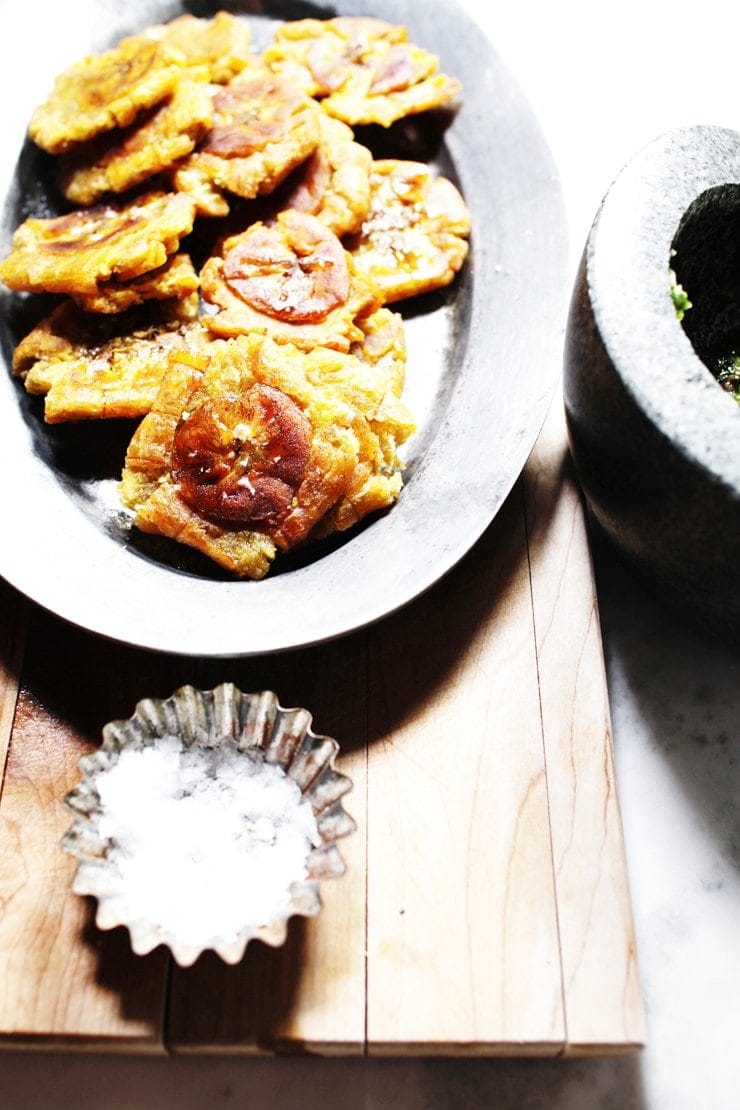 What are Tostones (Patacones)?
Tostones are twice-fried plantains. They are also known as patacones in some Latin American countries in South America. For Americans and some Europeans, potato chips (crisps) or french fries are a staple; for Dominicans and other Latin Americans, tostones are a comparable staple.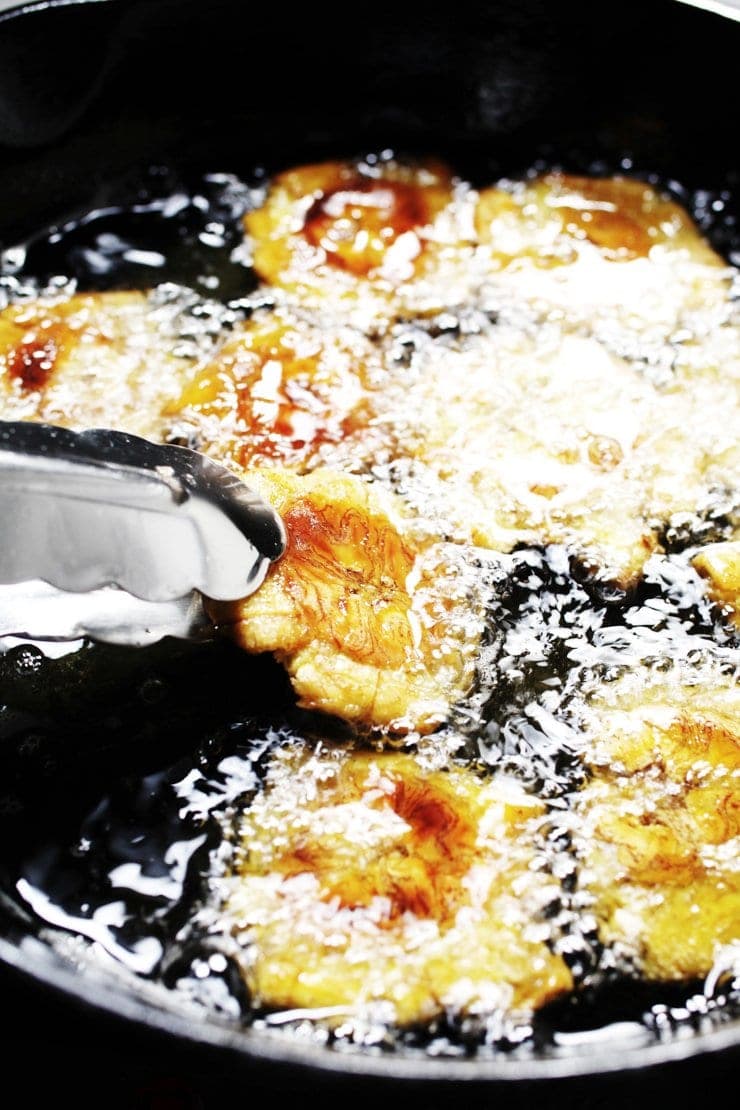 Tostones Recipe Ingredients
This authentic Dominican Tostones recipe consists of two parts: the crispy tostones themselves, and the dipping sauces.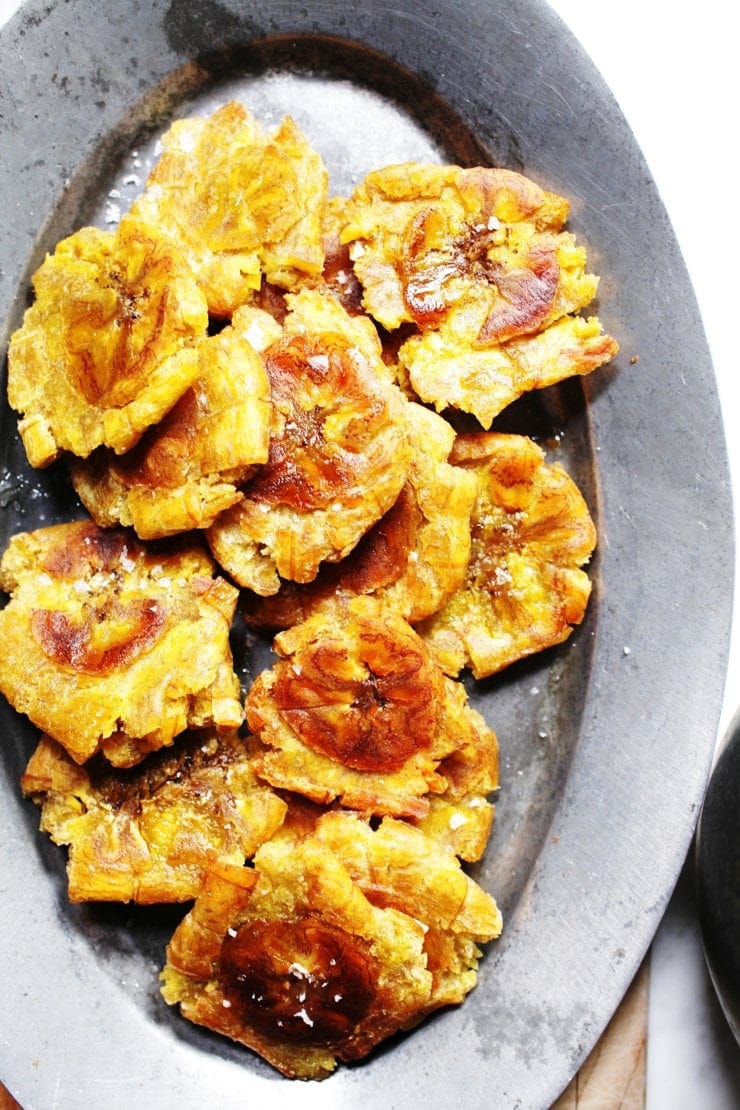 Ingredients to Make Tostones
• Green Plantains– not to be mistaken for bananas, plantains are also found in the produce section of most major grocery stores and health foods stores. For this recipe, you want green plantains. The larger the better, because that means you are getting more bang for your buck as plantains are usually sold individually, rather than by weight.
• Salt– I like to use fine-grain sea salt to flavor the water the plantains will soak in before they are fried. I also like to use crunchy Maldon Sea Salt to top the tostones with to add some nice texture; it is entirely optional, though. Kosher salt works well here too. Use whatever salt you have on hand; keep in mind that the water should be as salty as the sea and that you should season your cooked tostones to taste.
• Water– cold water will do. This is use to soak the cut plantains.
• Oil for Frying– I like to use sunflower oil. However, any neutral-tasting oil like canola, corn, grapeseed, peanut, or safflower oil will work. Feel free to use an olive oil blend– you don't want to use extra virgin as using it for frying will ruin the integrity of the oil.
Dipping Sauces
• Mayo Ketchup (Salsa Rosada)– this is a well-enjoyed dipping sauce for tostones. You simply need equal parts of mayonnaise and ketchup and a clove of finely grated garlic (or more, if you like it garlicky).
I like to use a garlic crusher, but feel free to use a microplane grater, simply make the garlic into a paste with a knife, or use a mortar and pestle.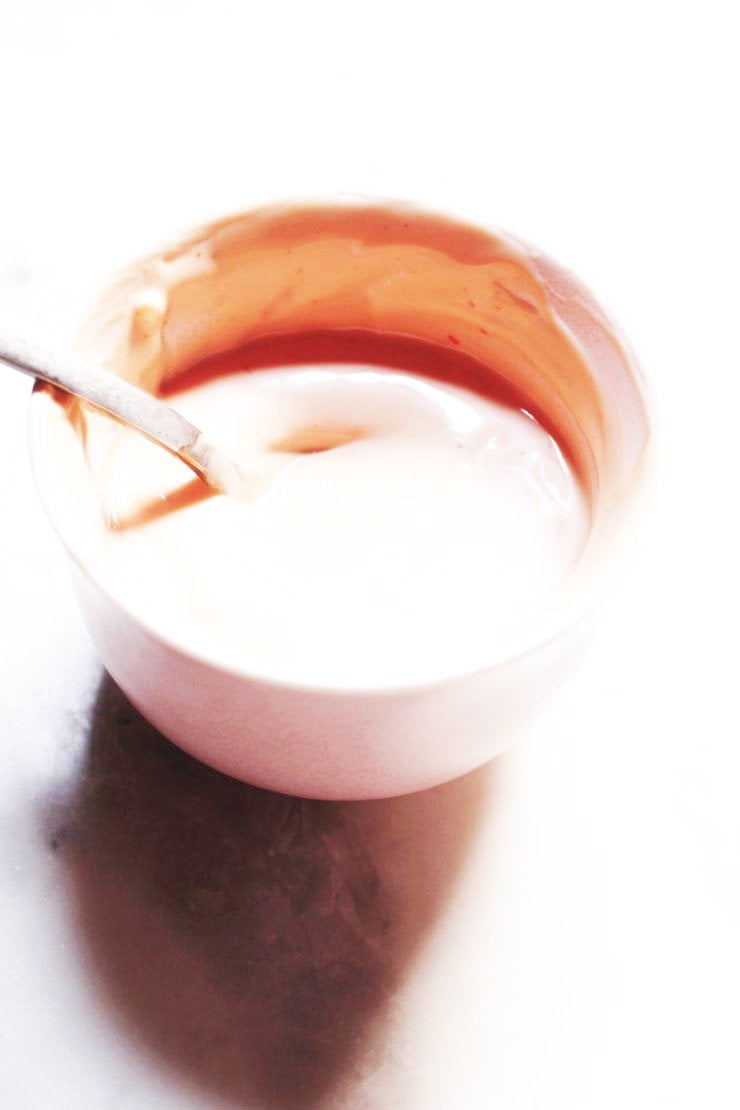 • Ajillo– if you enjoy garlic, you will enjoy dipping your crispy tostones in ajillo, a garlic and oil sauce. It is very simple to make and requires garlic, salt, and olive oil.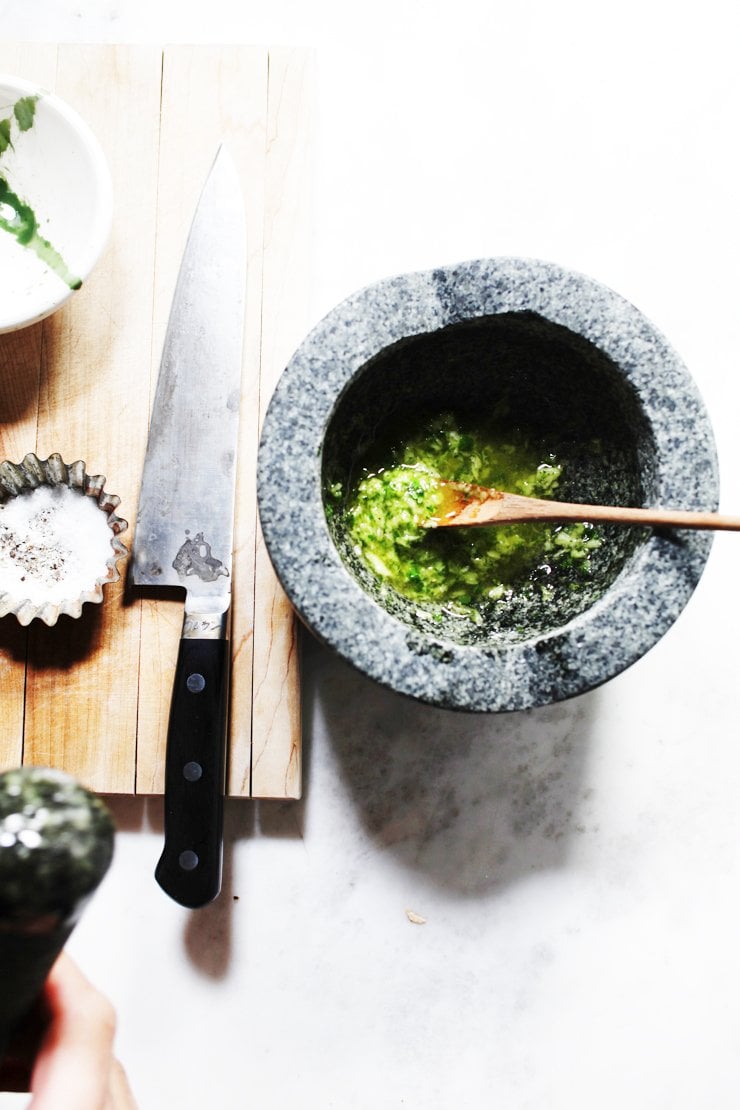 • Cilantro (Coriander) Ajillo– this is for those who love cilantro. I like to add a bit of cilantro to my base ajillo recipe, it adds brightness and freshness to the ajillo and compliments the tostones perfectly.
Authentic Dominican Tostones Recipe: Special Equipment
• Tostonera (a plantain press; optional)– most Dominicans, including myself, own a small wooden or metal device, a tostonera, that is used for flattening the plantains after their first fry. The wooden tool not only is helpful when making tostones, it often doubles as wall art.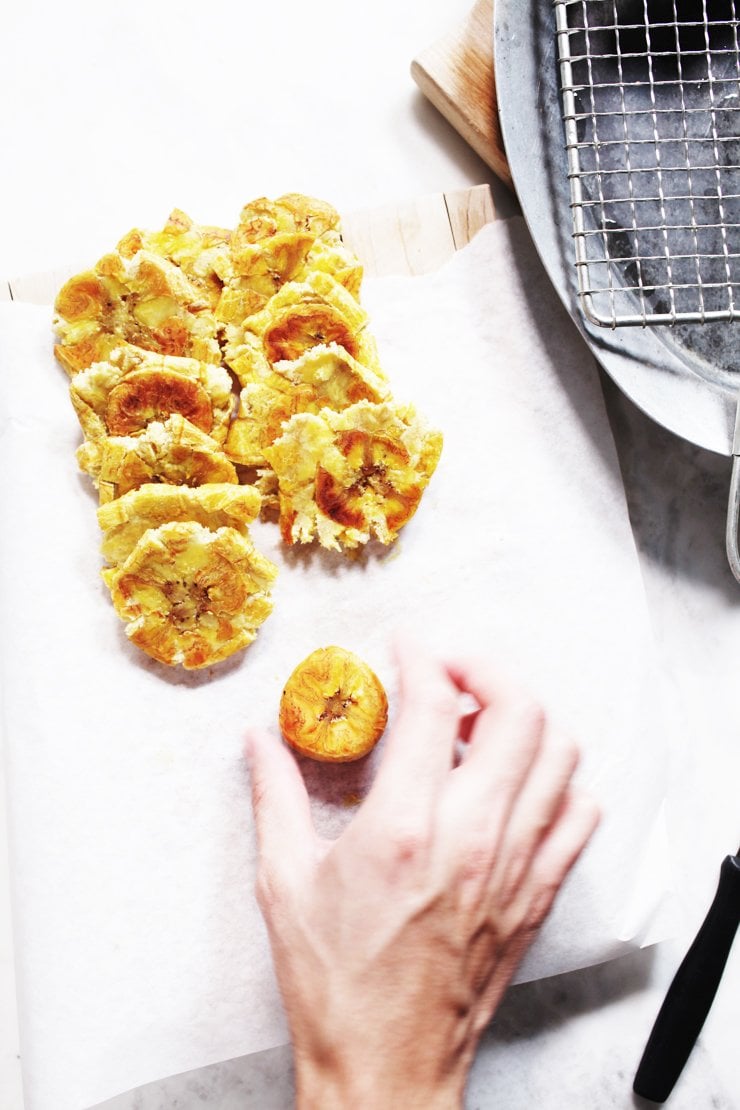 Don't get caught up on finding a tostonera, the flat bottom of a sturdy coffee mug, a sturdy plate, the bottom of a glass, or the smooth side of a meat mallet works great too.
How to Pick and Peel Green Plantains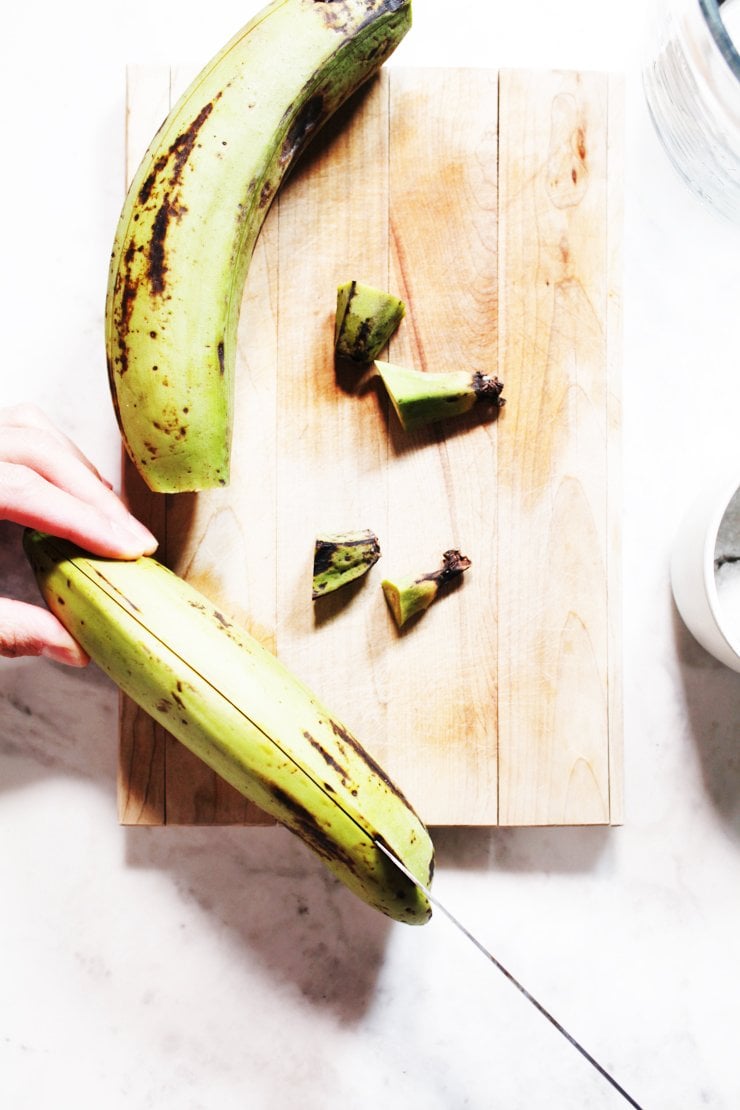 How to Pick Plantains
Plantains should not be confused with bananas. The best kind of plantains for tostones (twice-fried green plantains) are beautifully green plantains that are firm and do not have any yellow on their skins. A yellow plantain means the plantain has already started to sweeten and soften– you don't want that for this recipe (we aren't making sweet plantains here).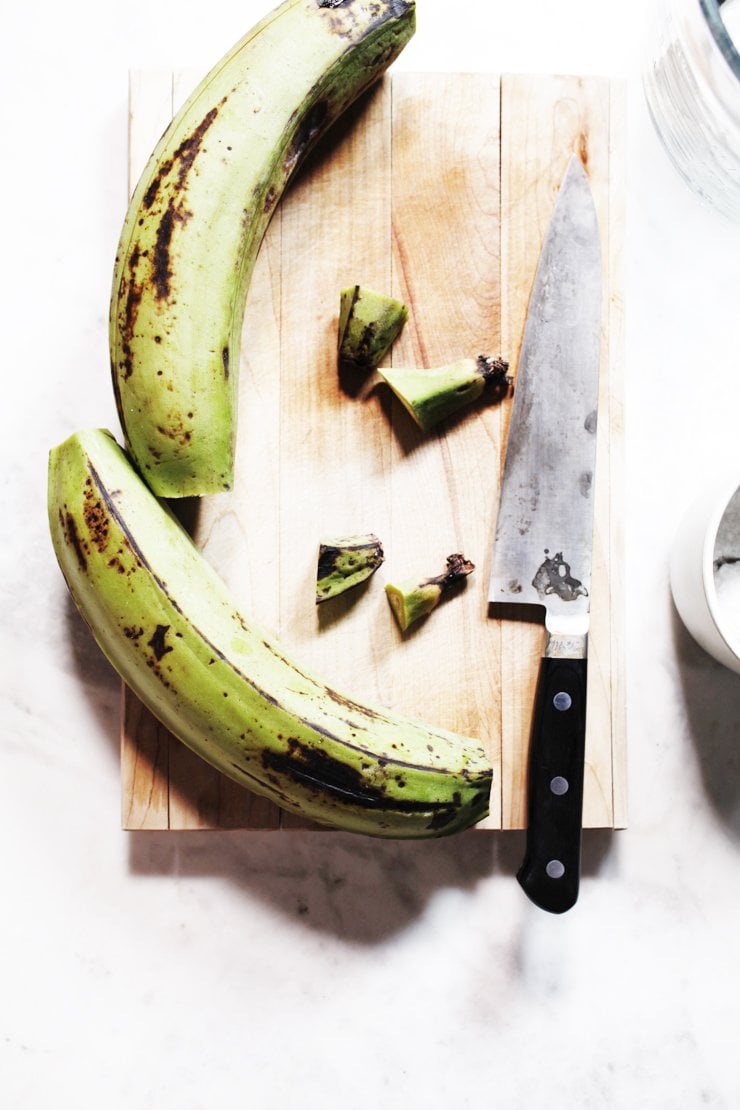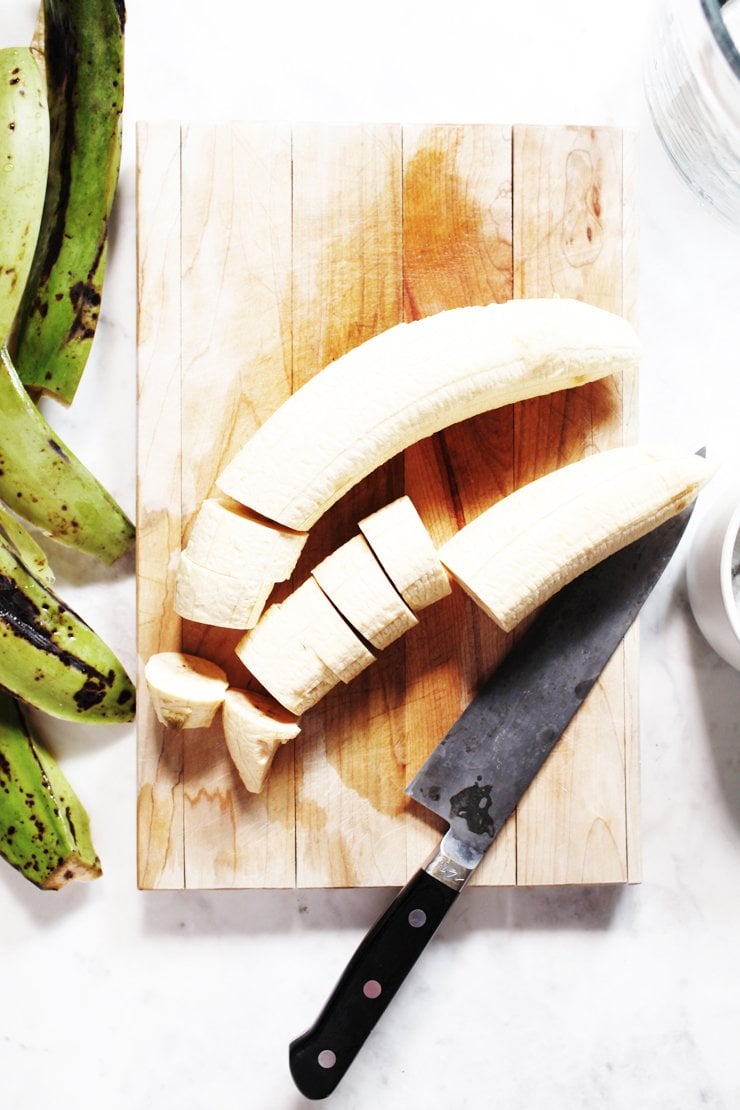 How To Peel Plantains
The easiest way to properly peel a green plantain is under running cold water.
Start by cutting off each end of the plantain.
Make 3 to 4 vertical cuts along the skin of the plantain.
With your thumb, pry the skin away from the flesh of the plantain, under the running water. Alternatively, you can use a dull knife or butter knife to push the skin away from the flesh of the fruit.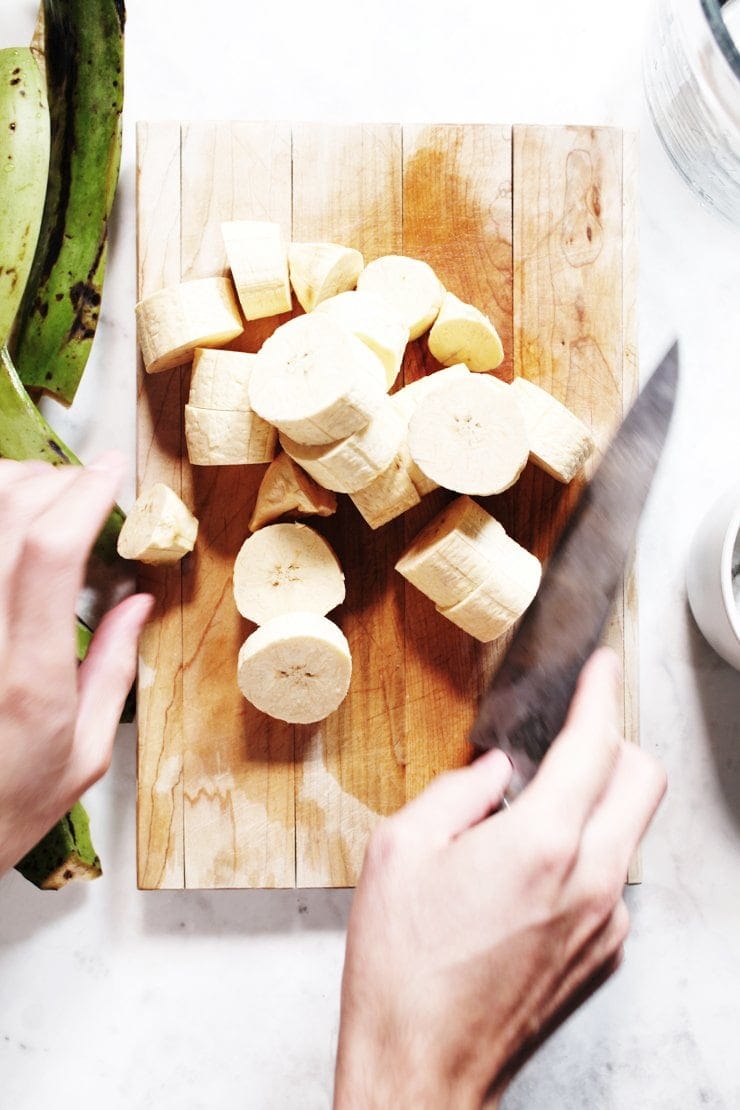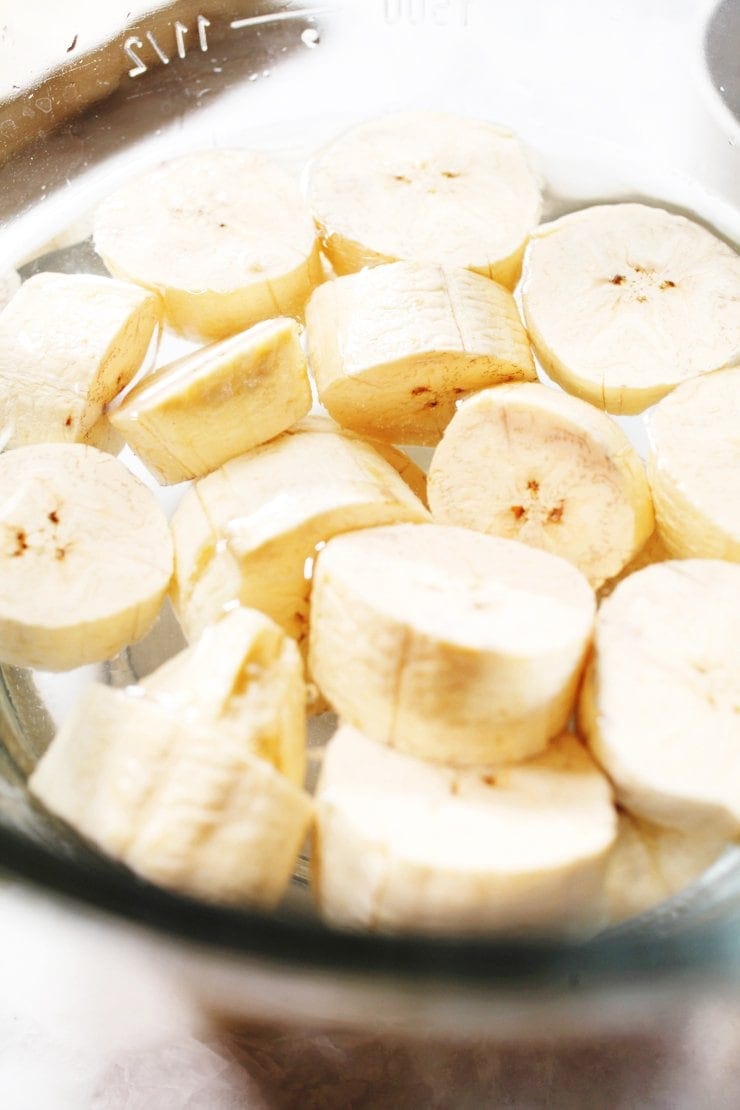 How to Make Dominican Tostones
Tostones are made using underripe green plantains that have been cut into roughly 1-inch pieces. They are traditionally fried. They're cooked until soft and lightly golden brown.
Once fried, the plantains are flattened and returned to the oil to fry until they are tanned and crisp (as mentioned before, they are twice-fried green plantains). The tostones are topped with salt and served with delicious dipping sauces like an ajillo or salsa rosada.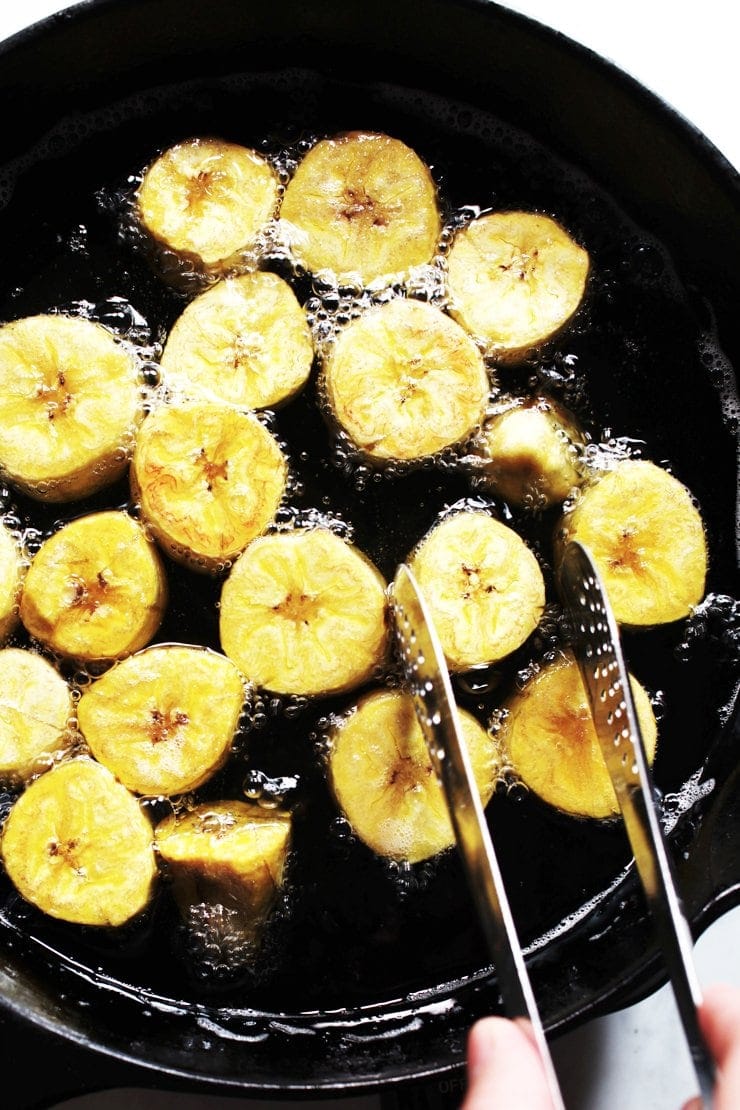 How to Serve Tostones
Many Dominicans and Puerto Ricans will agree that a mayo ketchup (also known as salsa rosada) is a delicious sauce for dipping these delightful crispy tostones– this is also a very popular Puerto Rican dip, as well.
Another accompaniment is a quick homemade garlic oil dip consisting of crushed garlic, a bit of salt, and olive oil (which is sometimes warmed). This simple garlic oil dip is called ajillo. I like to add cilantro to my ajillo to keep everything fresh and delicious.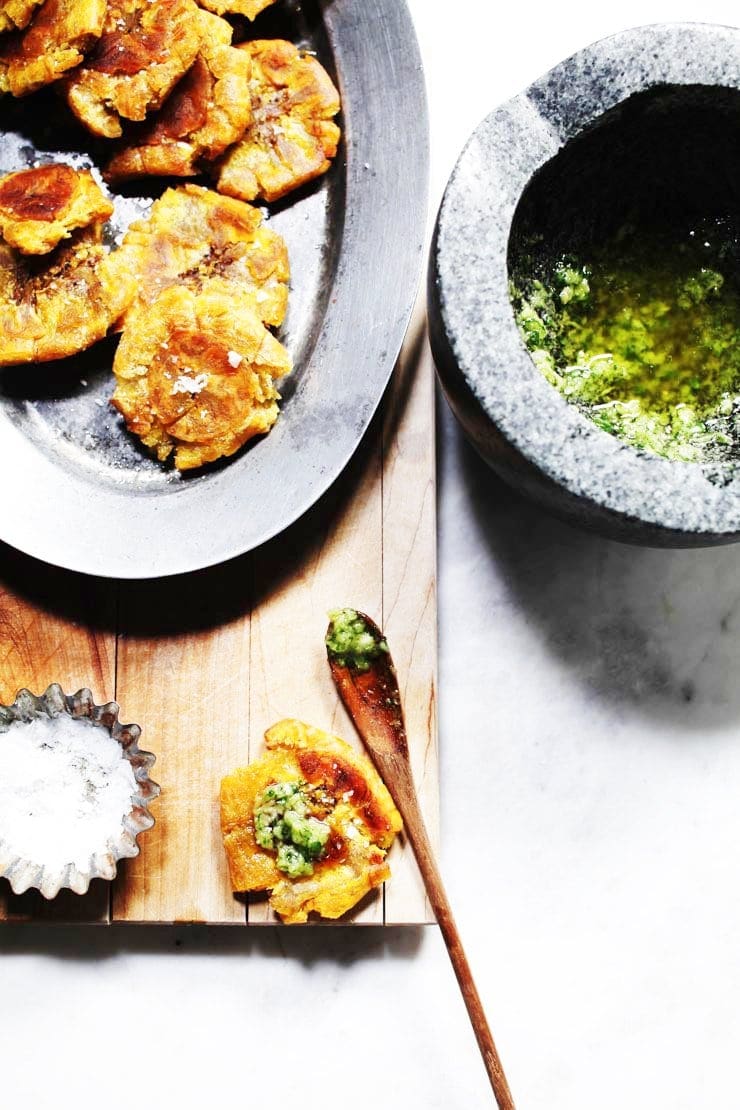 Can tostones be made ahead of time?
It's quite easy to make tostones ahead of time. Going through the complete cooking process for these twice-fried plantains is not recommended, however.
The best way to make these ahead is by frying the unripe plantains once, flattening them, and letting them cool completely on a parchment-lined cookie sheet in a single layer to freeze later on.
Once frozen in a single layer, place the cooked smashed plantains in resealable freezer bags to fry on a whim (they do not need to be defrosted).
If you are looking to making the tostones within 24 hours of doing the first fry, you can also refrigerate them. Once fried, cool the tostones down in a single layer on a parchment-lined cookie sheet or plates, cover them, and place in the refrigerator for later frying.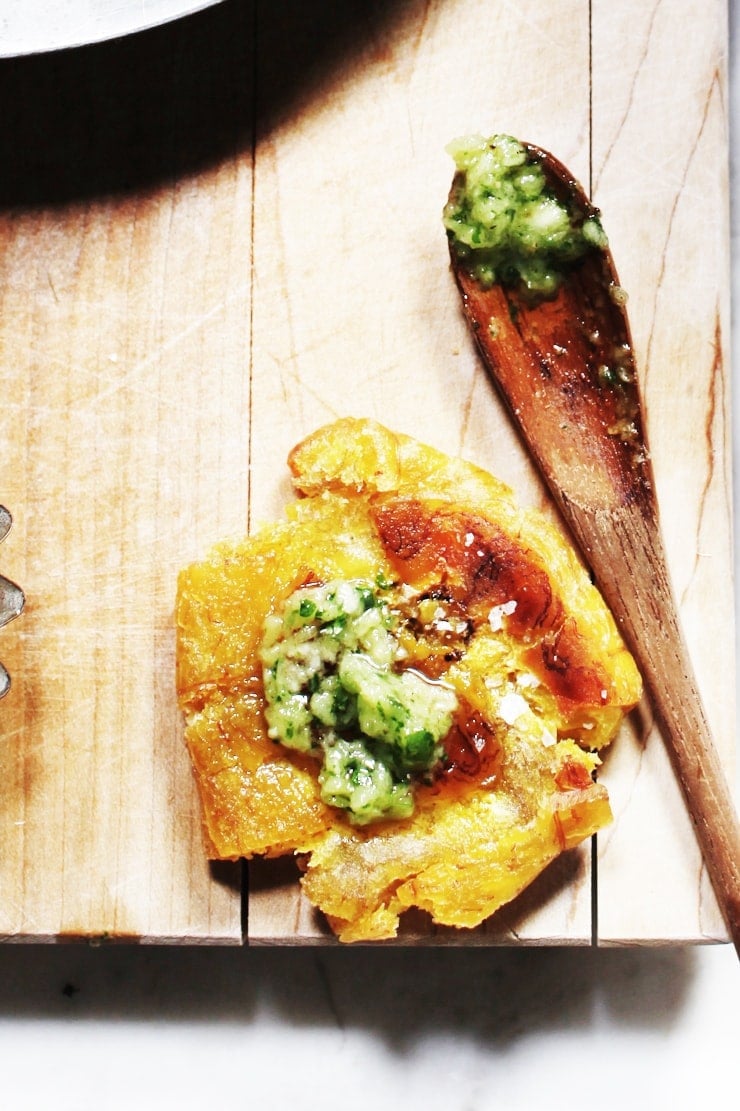 Other Delicious Recipes You Will Enjoy