A gooey, fudgy-bellied, gluten-free brownies recipe. Each delicious, gluten-free flourless brownie is studded with shards of macadamia nuts and pistachios.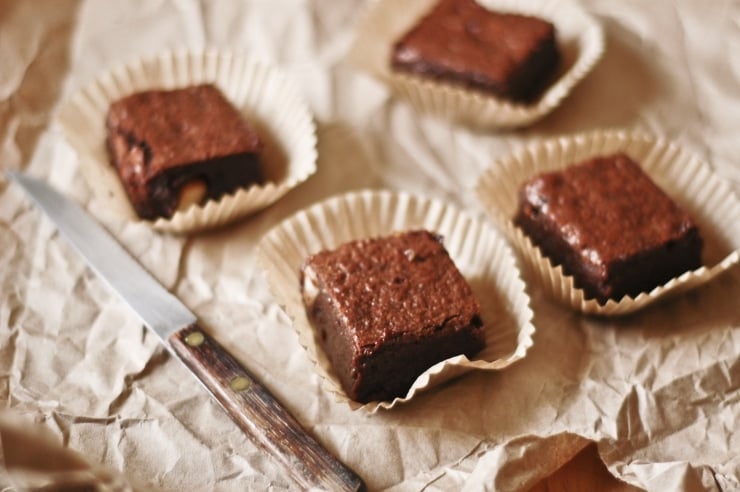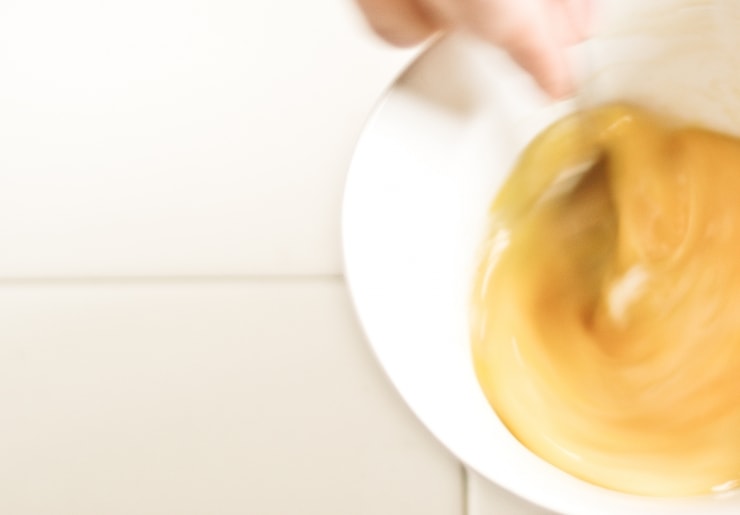 I have to admit, I am the clingy type when it comes to recipes– even a recipe for gluten-free brownies! When I have an utterly extraordinary recipe for something, it usually takes a lot for me to try a new one. Brownies are no exception to this rule, even if I have shared a small handful (this, this, and this) of brownie recipes with you in the past.
Up until mid-April, it was nearly impossible for someone to convince me not to make these cocoa brownies to pop in the freezer for oh-so-convenient snacking. So what happened in mid-April that convinced me that it was time to try another brownie recipe, let alone a gluten-free brownies recipe? Well, it was less than 24-hours until a gluten-free dinner party that I was invited to, and let's just say that I was clueless as to what I was bringing.
I promised everyone I'd bring something with chocolate, and with chocolate, there simply must be a generous amount of dark muscovado sugar to accompany it (I've been obsessed with this stuff). I went through a never-ending list of possible things to make; I eventually settled on gluten-free brownies.
I don't know anyone who wouldn't end a meal without a brownie (Except for my sister who isn't big on eating anything with chocolate. Weirdo.) I threw the gluten-free brownies together, carefully noting the mass of each ingredient and the order they were mixed in. I was aiming for fudgy-bellied morsels of chocolatey goodness studded with shards of macadamia nuts and viridescent pistachio pieces still blushing with their residual rosy skins. Do note, though, that these Gluten-Free Brownies are naturally gluten-free. They're flourless and I love that about these.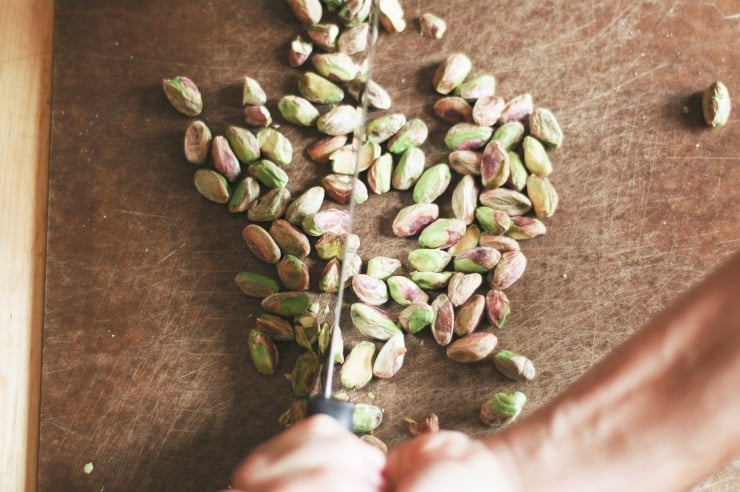 I am sure that brownie purists will likely shoot me down in flames after hearing that I've used dark brown muscovado sugar in these gluten-free brownies. So be it. It's what makes these flourless brownies so good. That amongst several other things (I don't have to list them, do I?)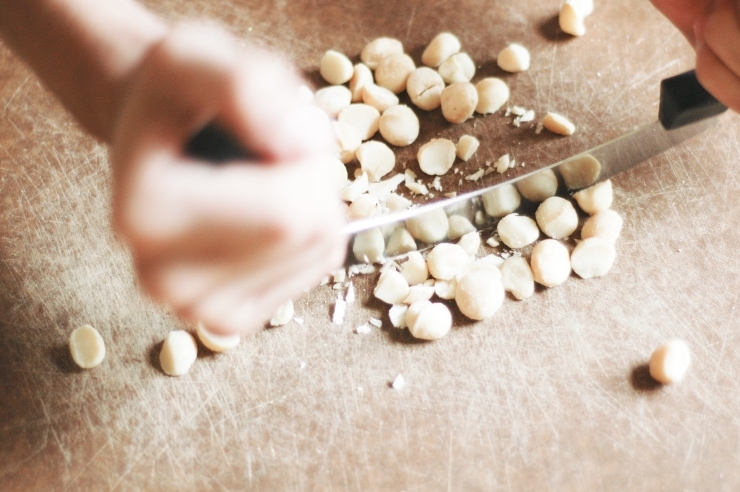 The gluten-free brownies were a hit at the party and I mentioned them to friends and family, who demanded some. I even baked a pan to share with friends at BlogHer Food a couple weeks ago. I must admit, I did test for "quality control" (it's my excuse and I'm sticking to it), carefully eating my way around some of the pan, just to make sure that everything was good enough to share. Oh, who am I kidding? These brownies are too good not to eat. I did manage to hold back on eating more than was necessary; I did want others to try the brownies.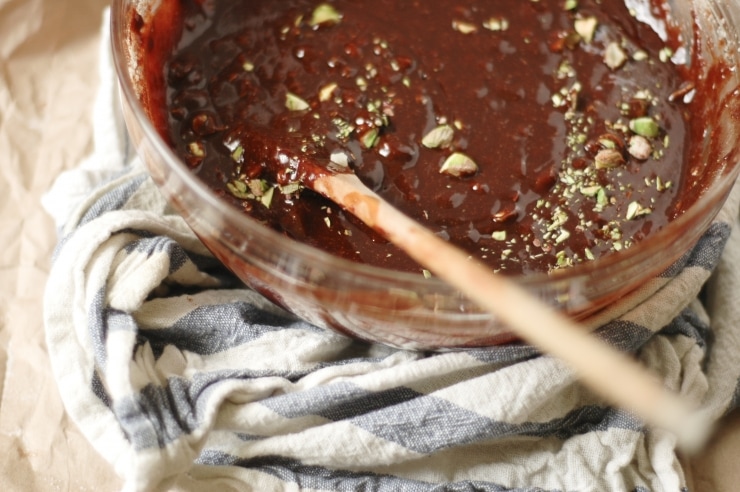 After surviving almost 800 miles in blue chinese take-out containers haphazardly placed in my backpack, they were immediately shared with friends during a mini in-room potluck, and during the next couple days of the conference. People moaned, swooned, smiled, and thanked me for these gluten-free brownies. Some friends went as far as dividing the 2-by-2 gluten-free brownies into several pieces to share with others. It was a lovely feeling to see friends and strangers enjoy them.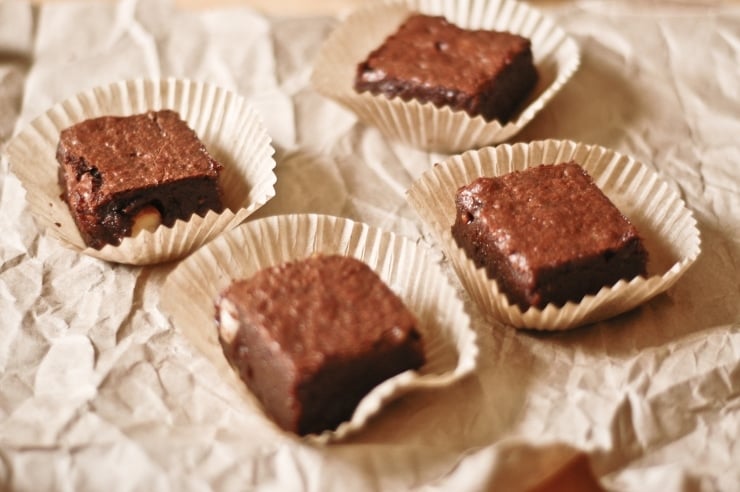 Elissa, Hannah, Lauren, and Tessa insisted that I mail them each a shoebox filled with these gluten-free brownies. We'll be working out the gluten-free brownie situation soon, but until then, my dear friends, I insist that all of you run (don't walk) into the kitchen and prepare a pan of these bad boys. You'll thank me. I promise.