The easiest and best Cocoa Brownies recipe you'll ever make. All you need is a bowl and good cocoa powder for this easy brownie recipe!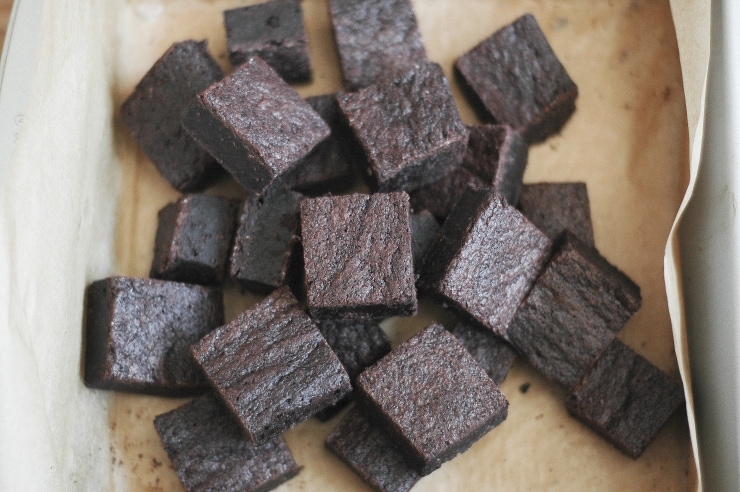 You're either thinking that I am out of my mind when it comes to paying attention to the fat content on my recipes, or you're thinking that I am really mean for posting a cocoa brownies recipe that are not helping you stick to your diet. I know, I know- I've gotten probably 15 emails about this "issue" over the past week, and let me tell you- just continue to read. I promise, you'll feel better about this entire thing.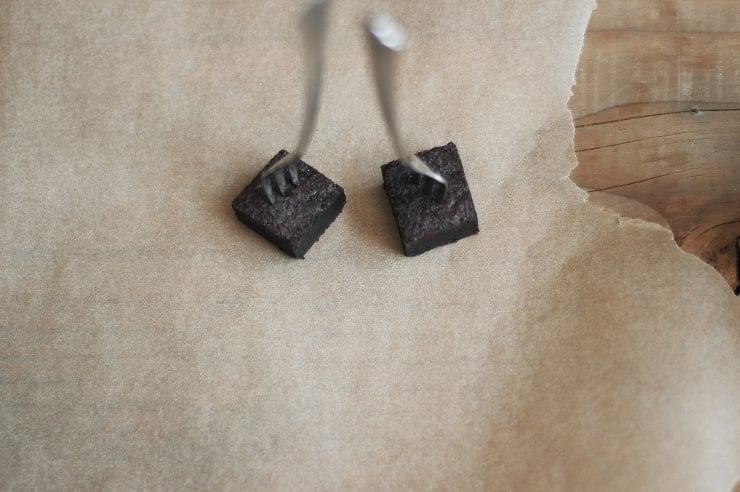 This cocoa brownie recipe has been bouncing around the internet for a while. It's been adapted in various ways, and lord knows that there's probably no point of adapting a recipe that doesn't need much of any fixing. But you know what? I took a challenge. I fixed the recipe, and I'm pretty sure (well, I can only hope) that Heidi would give me a pat on the back for my efforts to make this recipe a bit more healthier. I also think that you'd thank me for making this recipe healthier (if you're turned off by healthy brownies- just keep reading). I told you that you'd start feeling better about this recipe. Now, give me a hug you- you- work out machine!
I must add that these brownies are no way near health food, but compared to the original recipe- they probably are, but I am no dietician. If you're looking for a Weight Watchers or a South Beach Diet recipe, you are on the wrong site. I don't know how many points these are considered to be, and we both know that regardless of how small I insist that you to cut these brownies and how much you're trying to "eat in moderation;" you'd probably eat the entire pan within two hours of it coming out of the oven while watching re-runs of your favorite television show, Bones. Wait. I was describing myself. Moving on . . .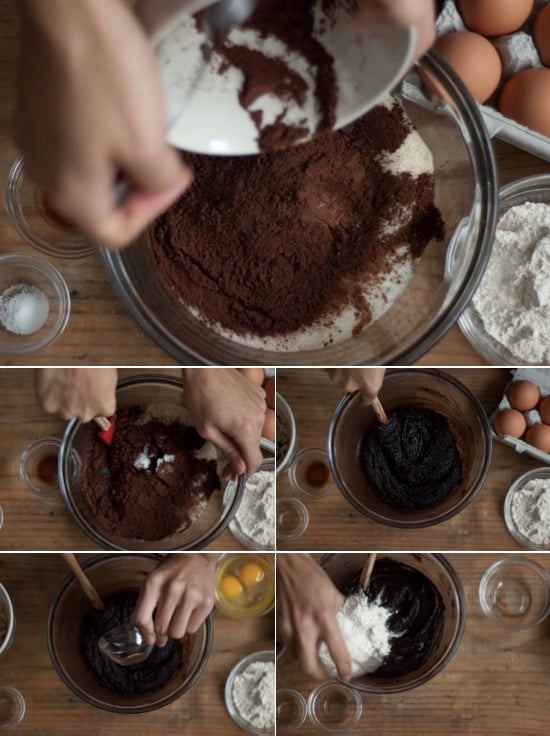 So, you're either still reading, or you're turned-off by the fact that I've made these brownies healthier. By no means do they lack in taste. When you bite into one of these brownies, you will immediately note the almost fudge-like consistency that falls between a cake brownie and a fudge brownie, you will also note how the brownie slowly melts in your mouth, allowing your taste buds to pick up on the luxurious fruity notes of the cocoa. From the texture to the taste- these cocoa brownies are a must make. And have I told you how easy they are to make?
Betty Crocker Brownies (blech!)- step aside. A new sheriff is in town, and his name is The Easiest (and Best!) Darn Cocoa Brownies You'll Ever Make. I am not kidding. Give it a try and tell me what you think.
Best Cocoa Brownies
Adapted from Alice Medrich's Bittersweet via Epicurious
Makes 16-32 brownies

When making these brownies, I tried several different combinations of flour. In the end, I felt that using whole wheat pastry flour gave a texture and flavor to the brownies that couldn't be beaten. In addition to the flour used, the quality of the cocoa powder used when make this recipe makes a big difference. If you can shell out a few extra dollars on good quality cocoa powder, definitely go ahead and do so. For the pictured recipe, I used Valrhona cocoa powder, but I have tested the recipe with Dagoba cocoa powder, Hershey's brand cocoa powder, and Sharffen Berger- all with wonderful results.

The same thing goes for the vanilla extract. Although it seems like such a miniscule amount used in the recipe, trust me- the better the vanilla extract- the better the brownies will taste. I prefer to use Nielsen-Massey vanilla extract for all of my baking. Nielsen-Massey is a bit on the expensive side, and lord knows that I am crazy for spending money I don't have (struggling college student here!) on vanilla extract, but trust me when I say this- it's the best brand out there [I say this because a) they are the best; and b) I hold onto every last drop of N-M vanilla extract with my life. I kid you not.]

Ingredients:

10 tablespoons (1 ¼ sticks or 137 grams) unsalted butter, cut into 10 slices
1 ¼ cups natural cane sugar (or granulated sugar)
¾ cup plus 2 tablespoons (82 grams) unsweetened cocoa powder (natural or dutch-process)
¼ teaspoon fine grain sea salt
½ teaspoon pure vanilla extract
2 large eggs, cold
½ cup (65 grams) whole wheat pastry flour (or all-purpose flour)
⅔ cup toasted walnut or pecan pieces (optional)

Preparation:

Position a rack in the upper third of the oven and preheat the oven to 325ºF. Line the bottom and sides of an 8X8-inch baking pan with parchment paper (can use foil), leaving an overhang on two opposite sides.

Place the butter in a large heatproof bowl. Place the bowl of butter in the microwave until melted (about 1 minute). Once the butter is melted, add the sugar, cocoa, and salt. Mix with a wooden spoon or heat-proof rubber spatula. [Kamran Note: The mixture should be warm, if it is not, set it aside for a few minutes]The mixture will appear to be gritty; it'll smooth out once the other ingredients are added; promise.

[Note: If you don't have a microwave at home, or prefer to use the stovetop, use a large heavy-bottom sauce pan, melt the butter, add in the sugar, cocoa, and salt; the mixture might be hot enough that you want to remove your finger fairly quickly after dipping it in to test, if so, set the mixture aside until warm (about 5 minutes max).]

Stir in the vanilla. Add the eggs one at a time, stirring vigorously after each one. When the batter looks thick, shiny, and well blended (and smooth!), add in the flour all at once. Stir the mixture until you cannot see it any longer, then beat vigorously for 40 strokes (yes, count forty strokes!) with the wooden spoon or rubber spatula. Stir in the nuts, if using any. Spread evenly in the lined pan.

Bake until a toothpick plunged In the center emerges slightly moist with batter, 20 to 30 minutes. (Note The original recipe states 20 to 25 minutes, but it took much longer for the brownies to set; it took mine thirty minutes). Let pan cool completely on a rack.

Lift up the ends of the parchment or foil liner and transfer the brownies to a cutting board. Cut into 16 or 25 or 32 squares. (Kamran Note: I managed to get 32 out of mine, just because these are great for a small snack to share with friends, professors, and family; but 25 is a good number, too. Cutting them into 32 pieces also let's you keep a stash in the freezer for when you have chocolate cravings. Frozen brownies are delicious.)