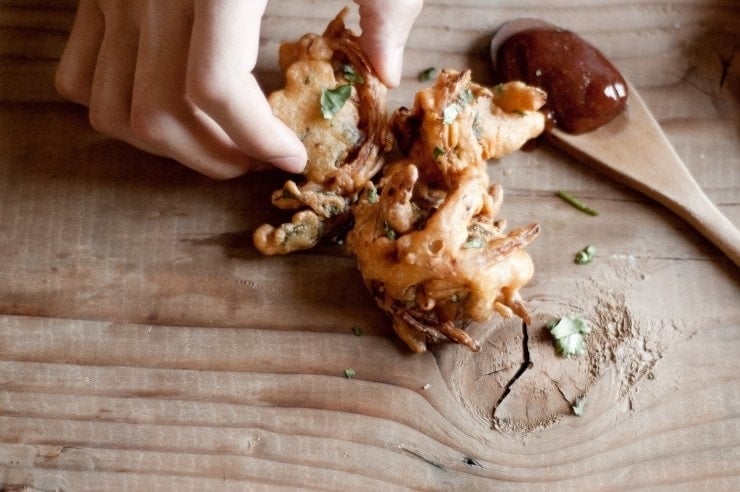 Oh, Pakoras! Last week, I stared at a five-pound bag of Chickpea flour sitting in my baking cabinet (the first thing that came to mind was my mom's Pakora recipe). It cried to be opened. I immediately closed the cabinet, walked away, and within seconds, I ran back into our kitchen, opened the cabinet door, and grabbed the bag of flour off its shelf.
I refused to ignore its cry and started preparing the Pakora batter (also known as Pakoda) for this snack. I made onion pakoras here because it's what I love, but you can use this batter recipe as a guide to make your favorite kind of vegetable pakora.
Pakoras are something I grew up on. We'd eat them as mid-day snacks with a cup of strong black milky tea. I love how how imperfect and rustic they are once out of the hot oil. And I love that they bring brightness to a dreary day. I also adore the sweet and spicy pakora sauce / chutney made from ketchup that is served with them.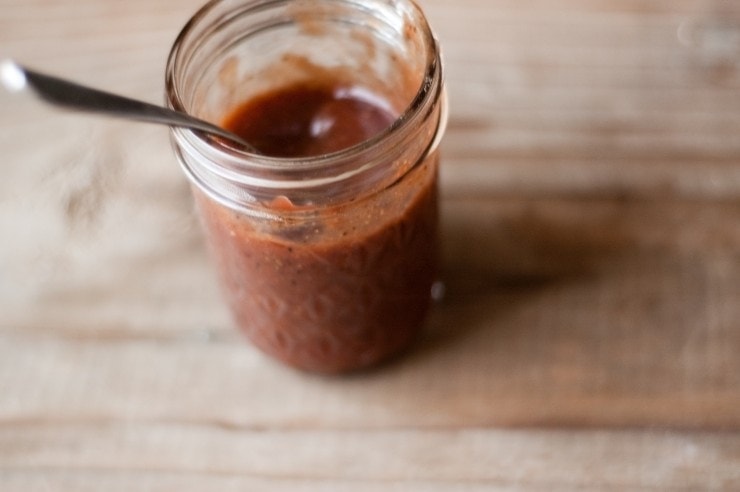 Often, on rainy days, I seek comfort food. I crave savory and sweet. And I adore quick and simple. Although I've held back on this onion pakora recipe for a week, when these were made, I was absolutely sure that it was Spring.
With the small duvet of snow that blanketed the New Jersey area yesterday morning, I am now unsure of what season it is, but I am praying that the snow and rain are not a teaser to something worse. Imagine: snow in May. That'd be interesting. Wouldn't it?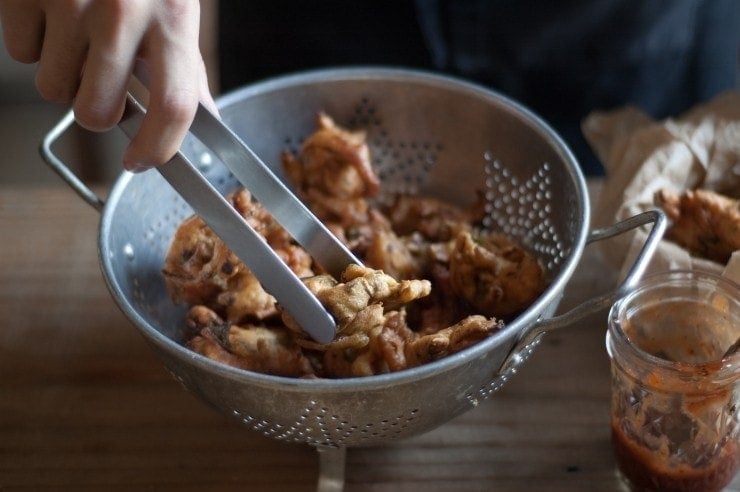 Regardless of what season Mother Nature may have placed us [back] in, these Pakoras call for your attention on any day- sunny or dreary.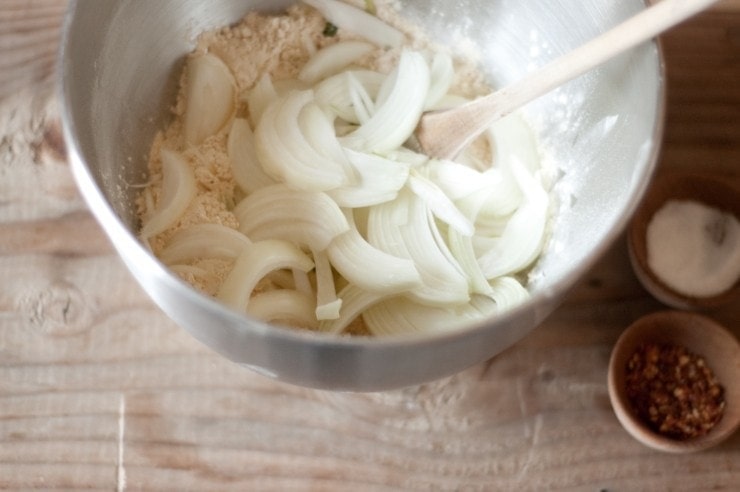 When the idea of making onion pakoras came to mind, my mother and I agreed that making them was quite necessary. You may not consider this to be dinner, but with there being only two people in our house that day, dinner it was.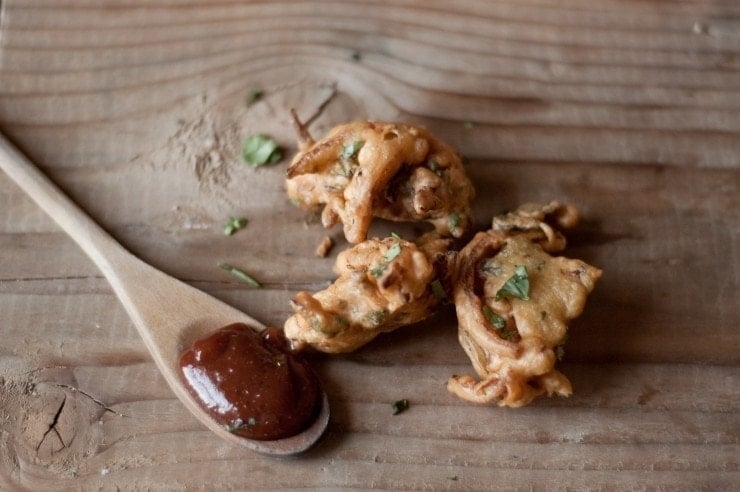 This post has been updated from the recipe archive, originally posted on March 24th, 2011
Onion Pakora & Pakora Sauce Recipe
Makes About 2 Dozen
Serves 4 to 6 (or 2 very hungry adults)
Total time:

It's amazing how we inherit recipes through family. My mother inherited this recipe for crispy onion pakoras through marriage. When she married my father, she learned how to cook Indian food and she's very good at it. She can make a mean pakora and her curried chicken is out of this world. My mother learned this recipe from my aunt S. who is a phenomenal Indian home cook. As mentioned above, feel free to use your favorite quick-cooking vegetables in place of the onions to make a delicious veg pakora. Potatoes and sweet potatoes might not work very well here, unless they're already pre-cooked.

I prefer this ketchup chutney as the pakora sauce, for dipping, buy my grandmother loves eating pakoras with sriracha sauce, which is also lovely. I prefer the Shan brand of chaat masala, which can easily be found at an Indian/Pakistani grocery. If you can't find chaat masala for the pakora sauce, a mixture of ketchup and sriracha sauce tastes just as great.

Ingredients:

Ketchup Chutney:
½ cup ketchup
1 tablespoon water
½ tablespoon chaat masala
½ teaspoon sugar
½ teaspoon salt

Pakoras:
2 cups (250g / 8.8 oz) Besan (also known as: Chickpea Flour or Gram Flour)
1 tablespoon crushed red pepper flakes
¾ teaspoon salt
½ teaspoon baking powder
1 green chili pepper, sliced
½ cup Cilantro leaves, chopped
1 yellow onion, sliced into 1/8-inch half moons

1 cup luke-warm water

Sunflower oil (or any neutral oil like vegetable, safflower, canola, etc.), for deep frying

Preparation:

Make the Chutney

: Mix all of the chutney ingredients together in a bowl.

Make the Pakoras:
Fill an 8-inch cast-iron skillet half-way up with oil. Heat the oil to 360-375ºF.

In a large bowl, mix together the besan, red chili flakes, salt, baking powder, sliced chilli pepper, cilantro, and sliced onion.

Slowly add in the water, while mixing with a wooden spoon or your hands. Vigorously mix for a couple of seconds. The batter should be thick, almost like heavy (double) cream and there should be air bubbles throughout.

Once the oil is heated, carefully place in heaping tablespoonfuls of batter into the hot oil. Try not to overcrowd the oil because it will result in greasy pakoras. Fry until the pakoras are a pecan-brown. Drain on a cooling rack placed over a cookie sheet.

Repeat with the remainder of the batter.

Serve right away, and enjoy.

Nutrition Facts

Serving Size 1

Servings Per Container 24 Pakoras

---

Amount Per Serving

Calories 81

Calories from Fat 44.1

% Daily Value*

Total Carbohydrate 6.5g

2%

---

*Percent Daily Values are based on a 2,000 calorie diet. Your daily values may be higher or lower depending on your calorie needs.
---