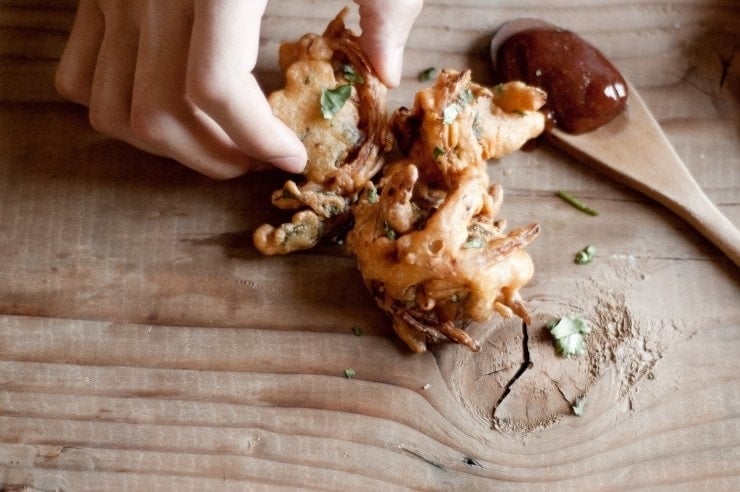 Regardless of the season, this Pakora recipe calls for your attention on any day- sunny or dreary- and on any occasion. They are the best. This is my Mom's Pakistani-Style Onion Pakora Recipe. Last week, I stared at a five-pound bag of Chickpea flour sitting in my baking cabinet (the first thing that came to mind was my mom's onion pakoras). It cried to be opened. I immediately closed the cabinet, walked away, and within seconds, I ran back into our kitchen, opened the cabinet door, and grabbed the bag of flour off its shelf. I refused to ignore its cry and started preparing the pakora batter for this delicious Indian snack.
Often, on rainy days, I seek comfort food. I crave savory and sweet. And I adore quick and simple. Although I've held back on this onion pakora recipe for a week, when these were made, I was absolutely sure that it was Springtime in Heaven. You may not consider this delicious appetizer or Indian snack to be dinner, but with there being only two people in our house that day, dinner it was.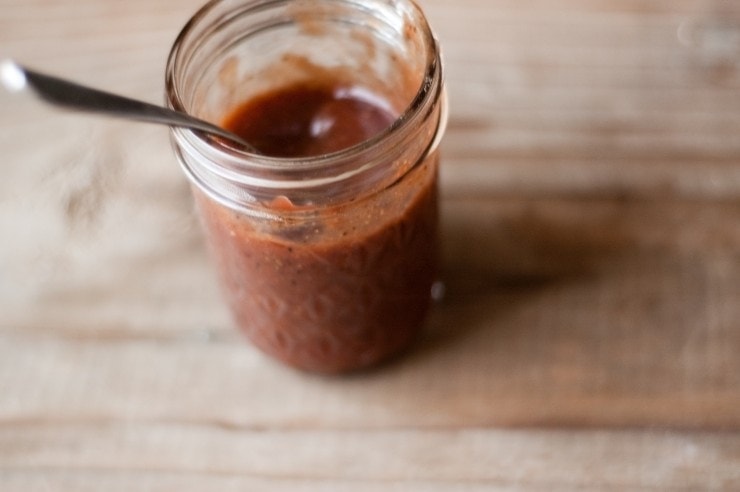 PAKORA RECIPE: WHAT IS A PAKORA?
For those not familiar, Pakoras (pakodas) are a type of savory Indian fritter that is commonly enjoyed as an afternoon snack or as an appetizer. Usually with dips and with a cup of warm tea. For this pakora recipe, I made onion pakoras because it's what I love, but you can use this batter recipe as a guide to make your favorite kind of vegetable pakora (more about veg pakoras in the recipe notes).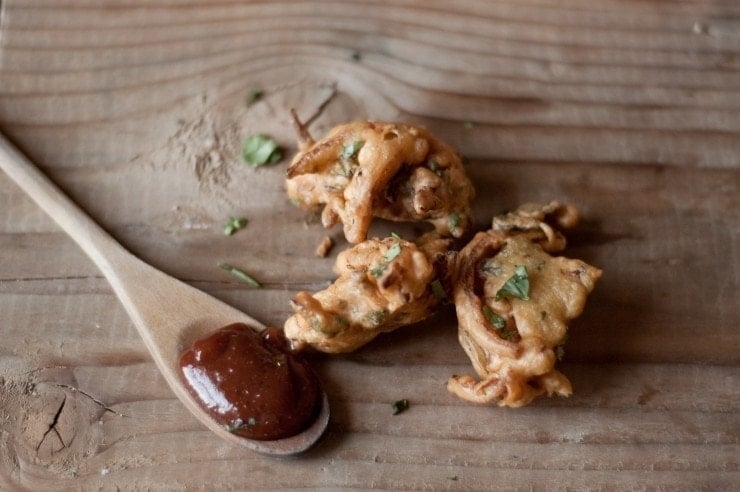 HOW TO MAKE PAKORAS
Pakoras are incredibly easy to make. They require a few components: the chutney, the batter, and the fry.
THE CHUTNEY– The chutney I've shared in this recipe is far from complicated. It is a delicious ketchup chutney; simply mix together ketchup, water, chaat masala, some sugar, and a bit of salt.
THE PAKORA BATTER– Pakora batter comes together in no time, so you'll want to heat the oil up while you're preparing the batter. For the batter: chickpea flour, crushed red chili flakes, salt, baking powder, green chili, cilantro and vegetables (in this case, an onion) are mixed together with water until they reach the consistency of heavy whipping cream.
FRYING PAKORAS– The oil for the pakoras should be between 360ºF and 375ºF when you fry off spoonfuls of the pakora batter. I like the clean flavor of sunflower oil, but any neutral-tasting oil would work perfectly here. When frying the pakoras, make sure to not overcrowd them as they will end up greasy.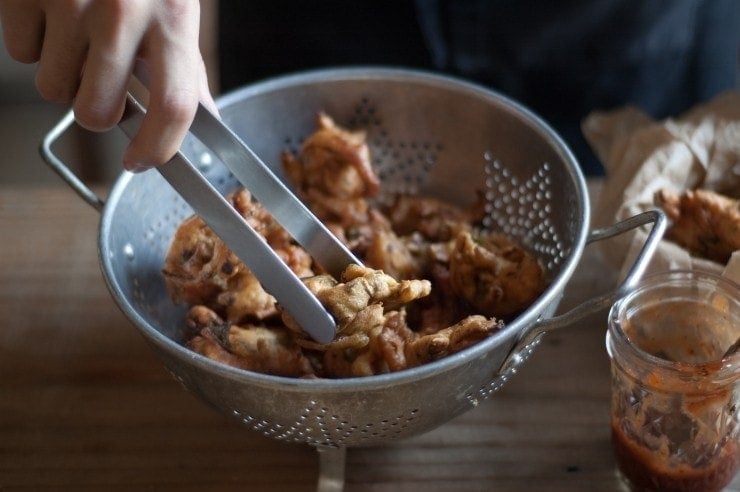 TIPS FOR HOW TO MAKE THE BEST PAKORAS
• Use a candy thermometer– this will ensure your oil is at the perfect temperature before spooning the batter into the hot oil.
• Make sure to not over-crowd the pan– this will lower the temperature of the oil and you might end up with greasy pakoras.
• Don't use paper towel to drain your pakoras– when it comes to fried foods, paper towel simply makes fried foods steam and get soggy. To ensure your pakoras stay crisp, drain them on a cooling rack placed over a baking pan. This will allow the excess grease to drain without making them soggy.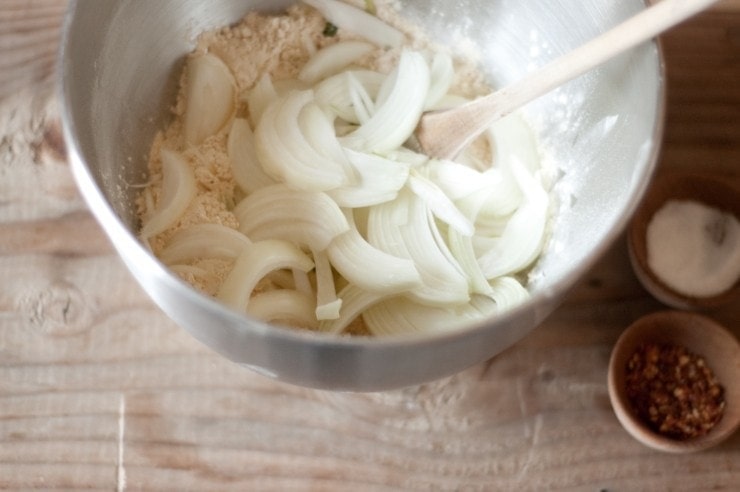 HOW TO SERVE PAKORAS
Pakoras are something I grew up on. We'd eat them as mid-day snacks with a cup of strong black milky tea. I love how how imperfect and rustic they are once out of the hot oil. And I love that they bring brightness to a dreary day. I also adore the sweet and spicy pakora sauce / chutney made from ketchup that is served with them.
MORE INTERNATIONAL RECIPES

• Chinese Scallion Pancakes
This post has been updated from the recipe archive, it was originally posted on March 24th, 2011.