Learn how to make an authentic Onion Pakora / Onion Bhajis recipe, a crispy fried Indian / Pakistani snack. Pakoras are made with chickpea (gram) flour, onions, and spices you already have on hand. Or make vegetable pakoras with some of your favorite vegetables!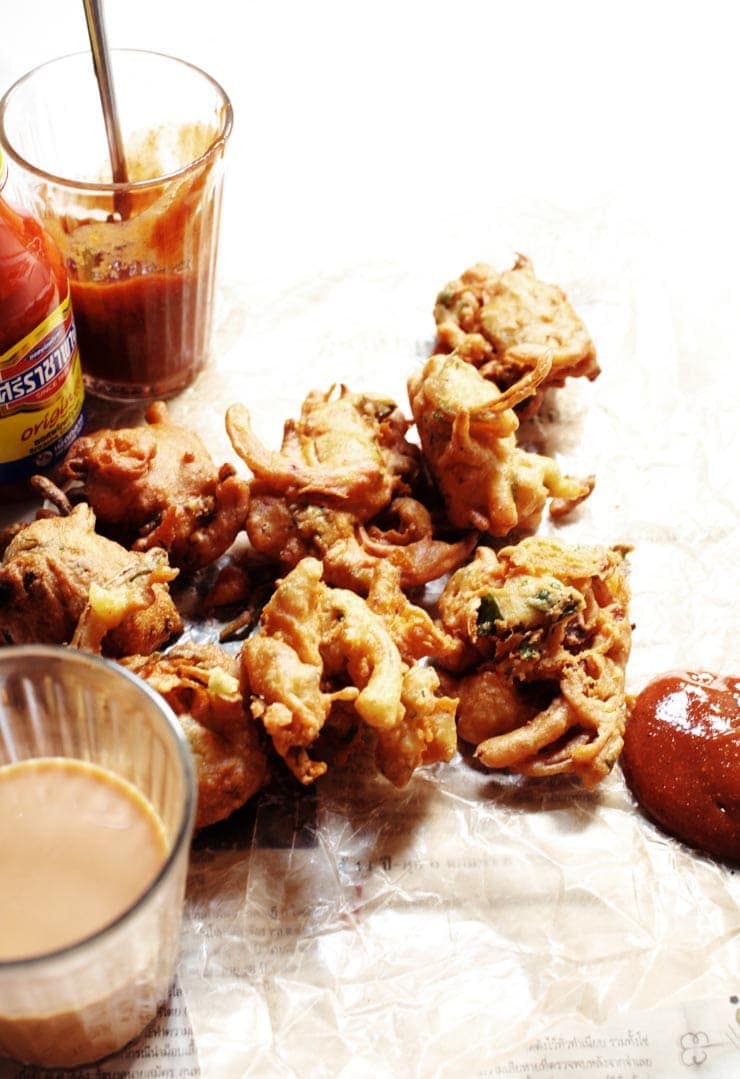 No matter the day of the week or the season, Pakoras (both onion pakoras and vegetable pakoras) always call for your attention on any day. Also known as Bhajis, this pakora recipe results in the most delectable afternoon snack or appetizer as an accompaniment to your favorite Indian or Pakistani dinner.
This is my mother's onion pakora recipe; when she first married into my father's Indian and Pakistani family, she learned from my favorite aunt how to make the best bhajis. This is truly a comforting midday snack meant to be enjoyed with your favorite chutneys and a cup of strong milky tea.
Across India and Pakistan, enjoying cup of chai with a pakora or two is a popular street snack of choice. Onion pakoras are a popular variety, but other quick-cooking vegetables like potatoes, cauliflower, carrots, red bell peppers (capsicum), and spinach make for delicious pakoras.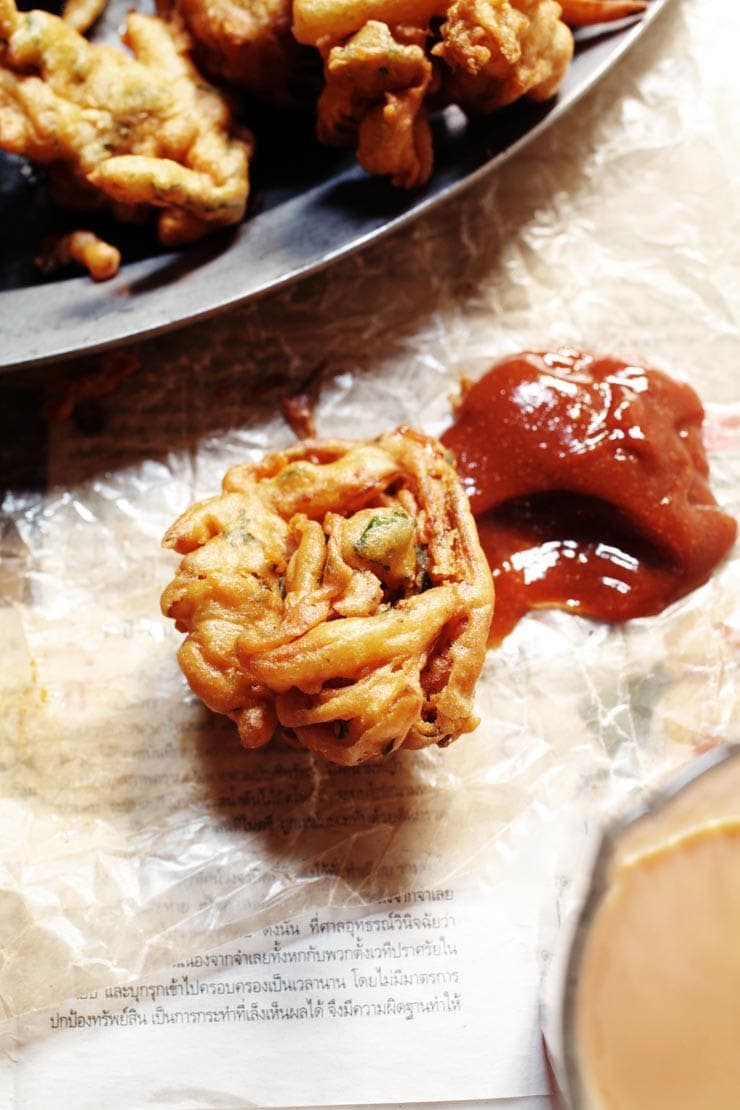 Pakora Recipe: What Are Pakoras?
Pakoras (pakodas) are a savory fried Indian / Pakistani fritter that is commonly enjoted as an afternoon snack or as an appetizer. They are commonly served with chutneys (sauces) and strong tea. For this pakora recipe, I made onion pakoras because it's what I love, but you can use this batter recipe as a guide to make your favorite kind of vegetable pakora (more about veg pakoras in the recipe notes).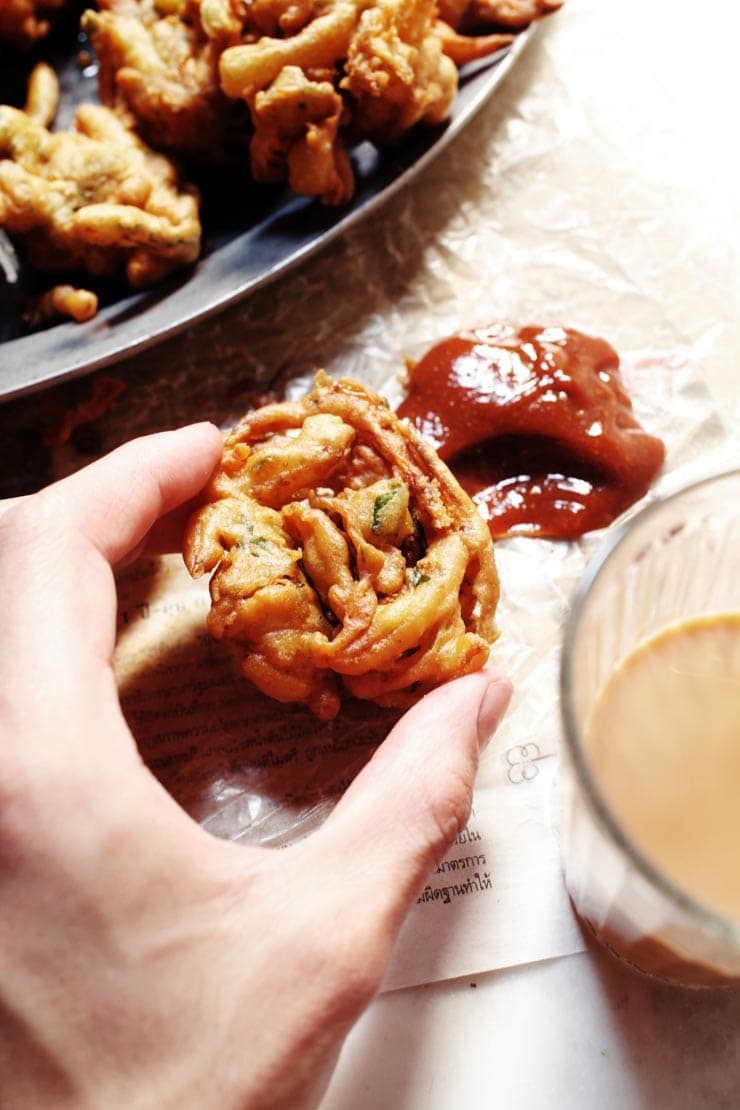 Ingredients for the Best Pakoras
When it comes to making pakoras, it's as simply as mixing everything together. There's a few basic ingredients you'll need for this pakora recipe:
Besan (Gram Flour / Chickpea Flour) – This gives pakoras their signature Indian / Pakistani flavor. I prefer Indian brands of Gram flour as they tend to be superior than many American or European brands; if you shop at an Indian market, this shouldn't be difficult to find. However, any brand of chickpea flour will work in a pinch. Depending on the brand of flour, you might need to add more water (as stated in the recipe) to get a perfect consistency for the batter
Crushed Red Pepper Flakes – these add a nice amount of smokey background heat. The amount in this recipe is not intense, it adds just the perfect amount of flavor.
Fine-Grain Sea Salt – For flavor and to balance out the other flavors in the pakoras.
Baking Powder – This gives the pakora batter a nice airy texture and makes the pakoras airy and delicious once they are fried.
Green Chili Pepper – Just one, with the seeds left in, is the perfect amount of fresh heat and flavor for these pakoras. If you are sensitive to heat, use half and devein and de-seed the chili pepper. Be careful not to touch your face or eyes afterwards! If you prefer more heat, add a little more.
Cilantro leaves (Coriander) – This adds a nice herbal freshness to the pakoras; you will smell its delicious fragrance while you're making the pakora batter.
Yellow Onion / Quick Cooking Vegetables – I love a delicious onion pakora as they are a childhood favorite of mine, but feel free to zhoosh up your pakoras by using your favorite quick cooking vegetables (refer to the recipe notes).
Luke-Warm Water – This makes the pakora batter. You want a batter that is thick like heavy cream (double cream), so do keep that in mind when mixing everything together. The water called for in the recipe is more of a guide– the end result of a thick almost-runny batter is what you should truly keep in mind. This varies due to climate and brand of flour used.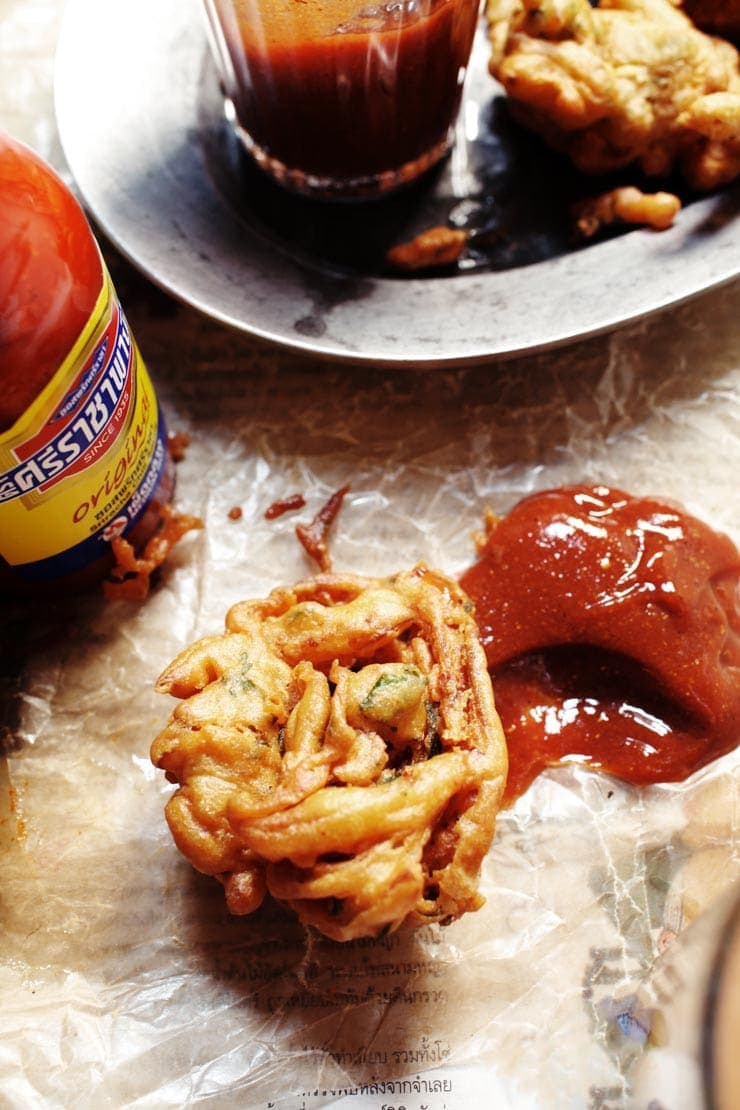 How to Make the Best Onion Pakora Recipe for Crispy Pakoras
Pakoras are incredibly easy to make. They require a few components: the pakora chutney, the pakora batter, and the fry.
Pakora Chutney – The chutney I've shared with this recipe is far from complicated. It is a deliciously modern ketchup chutney; simply mix together ketchup, water, chaat masala, some sugar, and salt, and you have a delicious dip for your pakoras.
The Pakora Batter – Pakora batter comes together in no time, so you'll want to heat up the oil while you're preparing the batter. For the batter: gram flour (chickpea flour), crushed red chili flakes, salt, baking powder, green chili, cilantro (coriander) and vegetables (in this case: an onion) are mixed together with water until the batter reaches the consistency of heavy whipping cream / double cream.
Frying Pakoras – The oil for the pakoras should be between 360ºF / 180ºC and 375ºF / 190ºC when you fry off spoonfuls of the pakora batter. I like the clean flavor of sunflower oil, but any neutral-tasting oil like safflower, peanut, canola, or vegetable oil would work perfectly here. When frying the pakoras, make sure to not overcrowd as each pakora will end up greasy.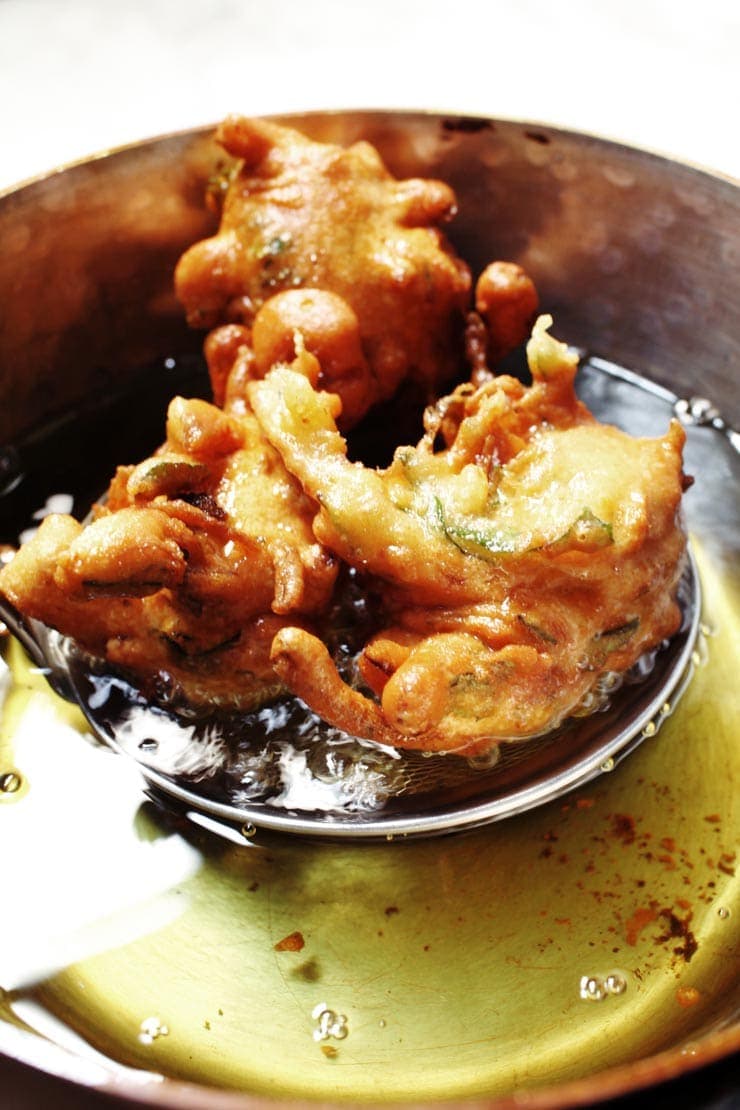 Tips for How to make the Best Pakoras
• Use quick-cooking vegetables for pakoras – While onion pakoras are a delectable treat, feel free to substitue your favorite quick-cooking vegetables here to make veg pakoras. Raw potatoes and sweet potatoes would not work very well here, unless they are already pre-cooked. Boiled potato slices, carrots, red bell peppers (capsicum), cauliflower, or spinach would work beautifully to make delicious pakoras.
• Use a thermometer – using a candy thermometer will ensure your oil is at the perfect temperature before spooning the batter into the hot oil. Alternatively, you can test the oil by carefully inserting the handle of a wooden spoon into the hot oil. The oil should bubble around it when it is ready to be used for frying the pakoras. If the oil bubbles very rapidly, you'll need to lower the heat before spooning the pakora batter into the hot oil.
• Make sure to not over-crowd the pan with pakora batter – this will lower the temperature of the oil and you might end up with greasy pakoras (there's nothing worse than a greasy onion pakora!).
• Don't use paper towel to drain your pakoras – when it comes to fried foods like these pakoras, paper towel simply makes fried foods steam and get soggy. To ensure your pakoras stay crisp, drain them on a cooling rack placed over a baking pan. This will allow the excess grease to drain without making them soggy.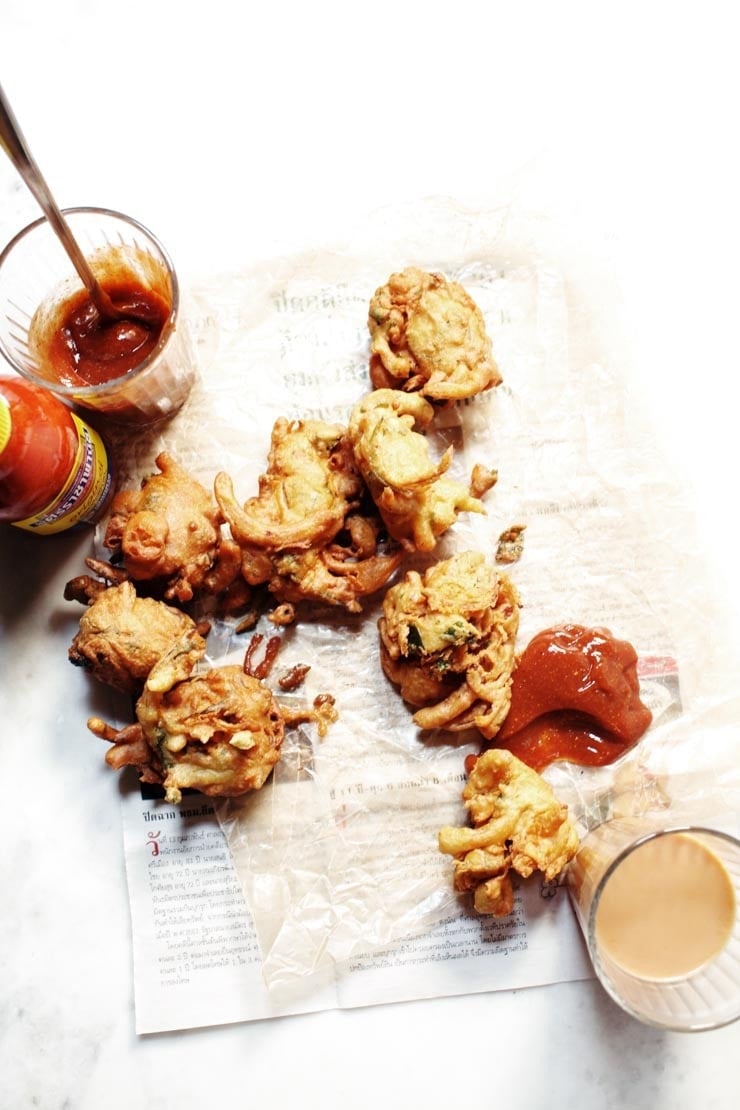 How to Serve Pakoras
I love that pakoras can bring brightness to a dreary day and act as the ultimate comfort food. They're a delicious treat I grew up on. We'd eat them as a midday snacks with a cup of hot masala chai. I love how imperfect and rustic a pakora is once out of the hot oil– it's simply irresistable. Traditionally, pakoras are served with various chutneys (sauces) such as the sweet and spicy pakora chutney accompanying this recipe and a steamy hot cup of masala chai.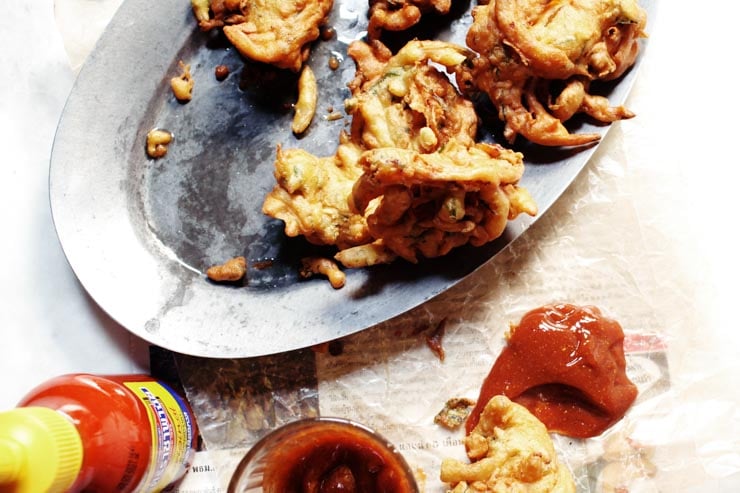 More International Recipes