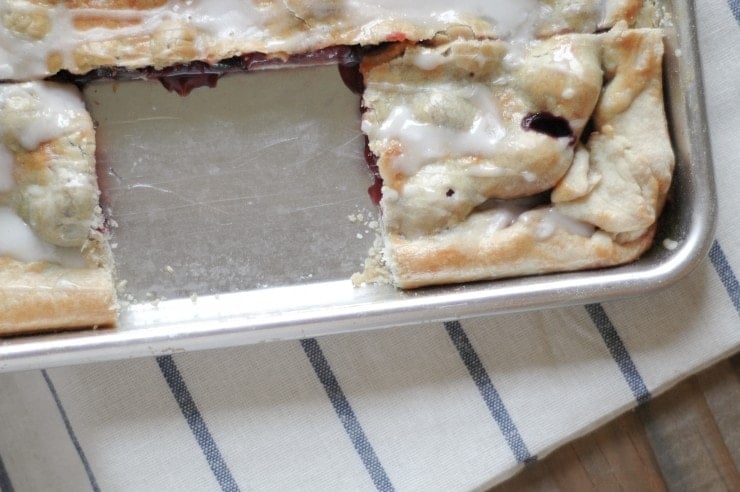 If only I could show you our kitchen after pitting nine cups of cherries! Let's just say that our kitchen looked like a crime scene- my hands and white t-shirt were stained with sweet, red cherry juice, and I now regret persuading myself into not getting a cherry pitter when I was at Macy's last weekend. Regardless of the huge mess I made with the tip from my piping bag to pit all of the cherries with, I can say that the cherry stains were well worth it!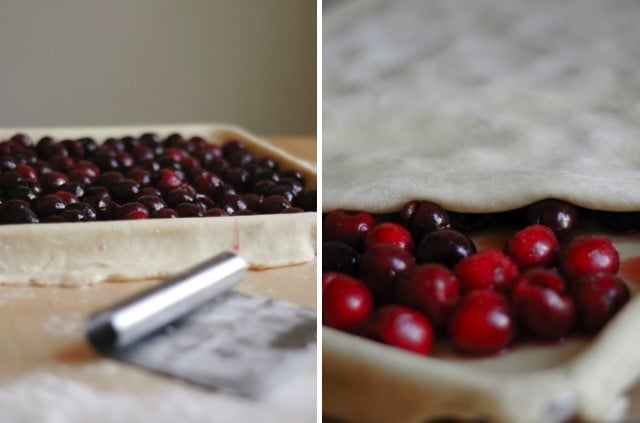 I know- it's absolutely dreadful outside to be baking anything, and you think that I should have shared another amazing frozen yogurt recipe that tastes somewhat like a lassi, but really- I wanted to show my Post-Fourth of July and summer spirit  with some cherry pie! Nothing (well, in my mind) screams summer more than backyard barbecues, great company, swimming, and  great cherry pie!
And when I am speaking about pie, I am not speaking of the kind that comes in a round pan with a beautiful lattice top and beautifully crimped edges (you'll see a few of those in the near future!). I am speaking of it's more rustic cousin- the slab pie. My take on Martha Stewart's sour cherry slab pie, has been boosted to another level of sweet and sour deliciousness!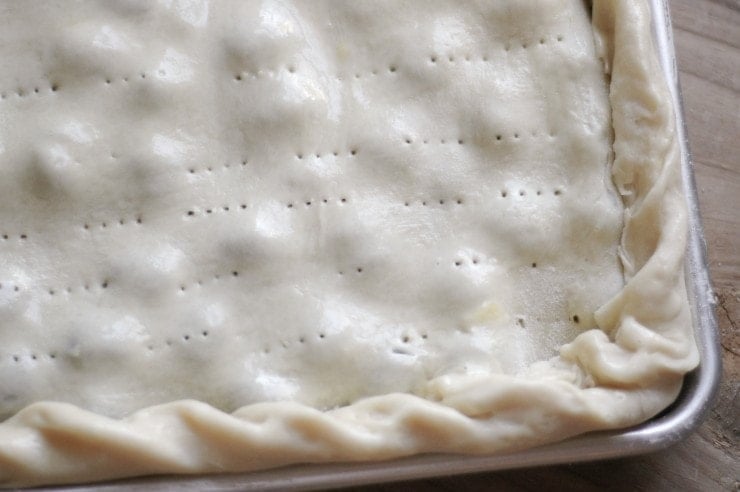 Fear not slow eaters, there'll be enough slices of this pie to go around! Wary pie crust makers, fear not – my pie dough recipe will leave you in complete awe of it's flakiness! Pie eaters unite as we all enjoy a slice (or seven!) of this simple, sweet & sour cherry slab pie (try saying that ten times fast)!
So, while I go finish another slice of this sweet & sour cherry slab pie, I'll let you get to baking for that next summer get-together that you'll be attending!
Sweet & Sour Cherry Slab Pie
Adapted from Martha Stewart's Baking Handbook

For this pie recipe, I wanted to experiment with using a mixture of sweet and sour cherries, and everything came out well! I am going to experiment with using other fruits throughout the year in this slab pie recipe, as it's perfect for any occasion, especially with many people around!

Ingredients:

For the Pie Dough (Pâte Brisée):
4 cups unbleached all-purpose flour
1 teaspoon fine grain sea salt
1 tablespoon sugar
3 sticks / 24 tablespoons unsalted butter cut into 1/3-inch cubes, chilled
1 cup ice water (you won't need all of this…)

For the Pie Filling:
9 – 10 cups fresh sour cherries, pitted (I used a mixture of sweet and sour)
1 – 1 ½ cups granulated sugar (can use less)
1 ½ teaspoons fine grain sea salt
6 tablespoons cornstarch
Juice from 1 lemon

2 tablespoons Heavy Cream

For the Glaze:
1 cup sifted confectioner's sugar
1-2 tablespoons milk

Preparation:

Make the Pie Dough:

Combine the flour, salt, and sugar in a large bowl.

Using your fingertips, quickly rub the butter and flour together. When the butter looks like the size of chickpeas, add the ice water a tablespoon at a time, until the dough comes together.

Drop the dough (it will be a shaggy mess with many large chunks of butter coated in flour) onto a lightly floured work surface.

Using the palm of your hand, smear the butter and flour from one end of the pile of dough to the opposite end. Repeat this step until a structured dough forms (you shouldn't have chunks of butter showing, and it should not be a shaggy mess).

Divide the dough, and form each piece of dough into two squares, wrap in plastic wrap and refrigerate for 15 – 20 minutes, while you make the filling (procedure follows).

Make the Pie:

Preheat oven to 375ºF. If using frozen cherries, defrost and drain. In a large bowl, combine cherries, sugar, salt, cornstarch, and lemon juice. Stir to combine; set aside.

On a lightly floured surface, roll out the larger piece of dough into (about) 1/8-inch thick rectangle big enough to fit the pan (allowing some to hang over the sides of the pan) . Transfer to an 18-by-13-by-1-inch rimmed baking sheet, (pastry will hang over sides of pan). Pour cherry mixture (leaving any liquids in the bowl) into lined baking sheet; set aside.

On a lightly floured surface, roll out remaining piece of dough into (about) 1/8-inch rectangle. Drape over filling. Bring bottom pastry up and over top pastry. Pinch edges to seal. Using a fork, prick top crust all over. Brush with heavy cream.

Bake until crust is golden and filling is bubbling, 40 to 55 minutes. Transfer to a wire rack until just warm to the touch, about 45 minutes.

In a medium bowl, stir together confectioners' sugar and milk until desired glaze consistency is achieved. Use a spoon to drizzle over top. Serve warm or room temperature with a scoop of vanilla ice cream and with a sprinkle of powdered sugar on top.