A delicious mini pineapple upside-down cakes recipe. Indulge in this crowd-pleasing moist and flavorful mini pineapple upside-down cakes. Save the calories and only have one or two of these delicious mini pineapple cakes!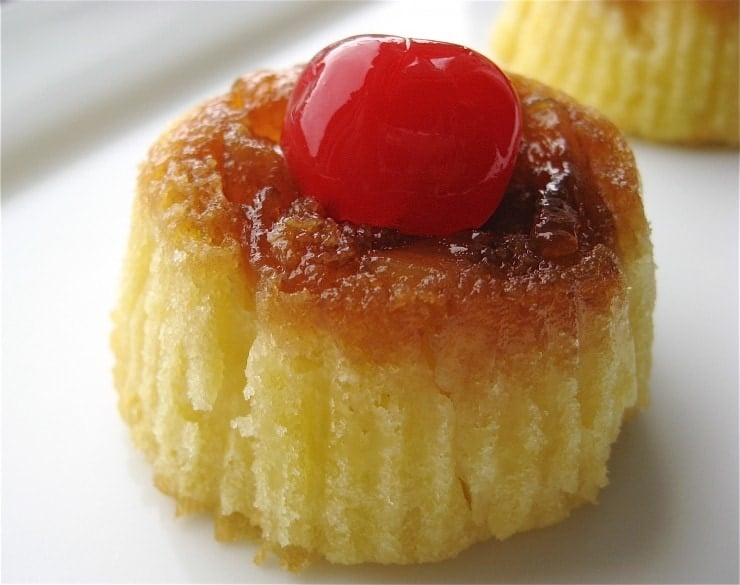 What screams summer more than green grass, grilling, berries, hot weather, and clear blue skies (as if we've been getting much of that lately)? Pineapples and Mini Pineapple Upside-Down Cakes!
Yes, the native fruit of Paraguay and Brazil (if you were wondering, it didn't make its way to Hawaii until the 16th Century). Pineapples are a great summer treat. They're sweet and great in fruit salads, cakes, and just about anything else. Especially in pineapple upside-down cakes!
That being said, today I decided that I was going to make Mini Pineapple Upside-Down Cakes. I used my regular-sized muffin tins and lined them with muffin liners. I ended up making several Mini Pineapple Upside-Down Cakes (I think it was 30- I lost count once I started snacking on them with my mother and sister)
When I baked them, I used fresh pineapple slices, and then I basically segmented the slices with my fingers making them the same consistency of crushed pineapple. If you cannot find fresh pineapple for any reason, I would suggest using pineapple slices and not crushed pineapple (my way gives it a better texture) for these mini pineapple upside-down cakes.
I have adapted this pineapple upside-down cake recipe from a past issue of Gourmet, but I changed many things. Including omitting cardamom. From reading several recent comments, reading the cook's note (and from common knowledge of spices), I read that the original recipe had too much cardamom. Three teaspoons to be exact. So, I decided that I was going to just leave the cardamom out. I also decided to leave the rum out. I don't think it makes much of a difference if rum is in the recipe or not.
This recipe is something that any person (especially someone who's trying to watch their figure) can eat without really feeling awful because a) they're Mini Pineapple Upside-Down Cakes, which means that they're basically portioned controlled, and b) ¼ of of a regular sized cake consists of roughly 4 and ½ mini's. Go figure.
So, without further a due, I present to you one of the greatest pineapple upside-down cake recipes that I've tried so far (thanks to the changes that I made).
Other Recipes You Will Enjoy