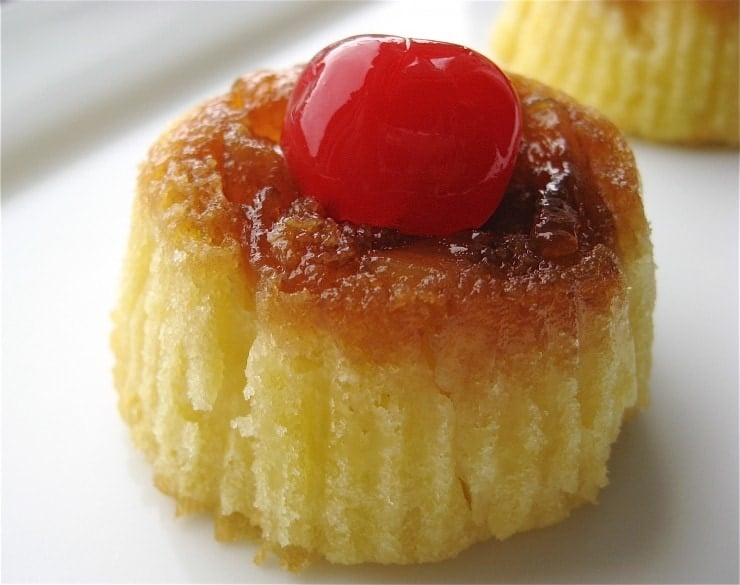 What screams summer more than green grass, grilling, berries, hot weather, and clear blue skies (as if we've been getting much of that lately)? Pineapples! Yes, the native fruit of Paraguay and Brazil (if you were wondering, it didn't make its way to Hawaii until the 16th Century).
Pineapples are a great summer treat. They're sweet and great in fruit salads, cakes, and just about anything else.
That being said, today I decided that I was going to make Mini Pineapple Upside Down Cakes. I used my muffin tins and lined them with muffin liners. I ended up making several Mini Pineapple Upside Down Cakes (I think it was 30- I lost count once I started snacking on them with my mother and sister)
When I baked them, I used fresh pineapple slices, and then I basically segmented the slices with my fingers making them the same consistency of crushed pineapple. If you cannot find fresh pineapple for any reason, I would suggest using pineapple slices and not crushed pineapple (my way gives it a better texture).
I have adapted this recipe from Gourmet, but I definitely changes lots of things. From reading several recent comments, reading the cook's note (and from common knowledge of spices), I read that the original recipe had too much cardamom. Three teaspoons to be exact. Really, were they trying to make a Chai Latte- Pineapple Upside Down Cake? I like to have my Starbucks with my cake, not in it. So, I decided that I was going to just leave the cardamom out. I also decided to leave the rum out. I don't think it makes much of a difference if rum is in the recipe or not.
This recipe is something that any person (especially someone who's trying to watch their figure) can eat without really feeling awful because a) they're Mini Pineapple Upside Down Cakes, which means that they're basically portioned controlled, and b) ¼ of of a regular sized cake consists of roughly 4 and ½ mini's. Go figure.
So, without further a due, I present to you one of the greatest pineapple upside down cake recipes that I've tried so far (thanks to the changes that I made).
INGREDIENTS:
For Topping:
½ medium pineapple, peeled, quartered lengthwise, and cored
¾ stick unsalted butter
¾ cup packed light brown sugar
Maraschino cherries, cut into halves (for garnish)
For Batter:
1 ½ cups all-purpose flour
2 teaspoons baking powder
¼ teaspoon salt
¾ stick unsalted butter, softened
1 cup granulated sugar
2 large eggs
1 teaspoon vanilla
½ cup unsweetened pineapple juice
Special Equipment:
Muffin tins & muffin tin liners
PREPARATION:
Preheat oven to 350°F.
Make topping:
Cut pineapple crosswise into 3/8-inch-thick pieces. Shred the pineapple sliced with your fingers to a similar consistency of crushed pineapple. Melt butter in skillet. Add brown sugar and simmer over moderate heat, stirring, 4 minutes. Remove from heat.
Place muffin liners in muffin tins.
In the mini muffin tins, place roughly one teaspoon of the butter and brown sugar mixture in each liner, just so the bottom of the liner is coated.
Place the shredded pineapple on top of sugar mixture making sure not to mix the butter-sugar mixture and the pineapple together.
Make batter: Sift together flour, baking powder, and salt. Beat butter in a large bowl with an electric mixer until light and fluffy, then gradually beat in granulated sugar. Add eggs, 1 at a time, beating well after each addition. Beat in vanilla. Add half of the flour mixture and beat on low speed just until blended. Beat in pineapple juice, then add the remaining flour mixture, beating just until blended (The Batter may appear slightly curdled. It did for me, it's because of the pineapple juice, don't worry it's normal for this to happen).
Spoon batter over pineapple topping in muffin tins making sure that you do not fill each liner entirely (remember, the cake expands in the oven). Bake in middle of oven until golden and a tester comes out clean, around 15 to 20ish minutes (I really don't time things). Let cakes cool in pan. Turn the Mini Pineapple Upside Down Cakes upside down, and peel the liner off carefully. Place each Mini Pineapple Upside Down Cake on a plate and garnish with the halved maraschino cherries. Serve cake just warm or at room temperature.
Cooks' notes:
• Mini Pineapple Upside Down Cakes can be made a day ahead and chilled, covered. Bring to room temperature before serving.