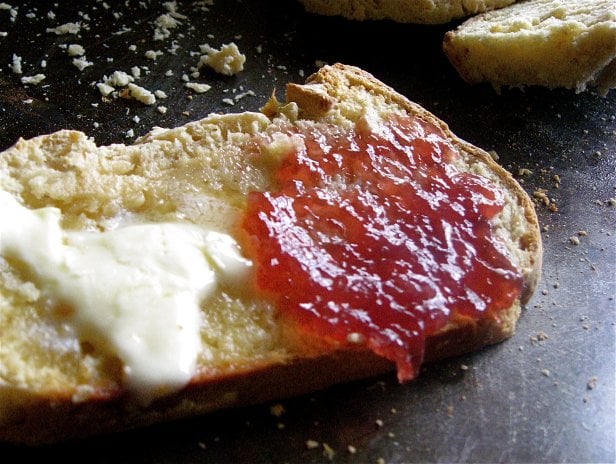 You know it's the end of the world when you're out of bread. Well, it's like that in my house. If there is not fresh bread (or even sliced bread) in my house it's literally the end of the world. Bread is what keeps our family running in the morning (I'm being serious). Some toasted bread, butter (and maybe jam depending upon the person) goes with everyone's breakfast (be it coffee or tea).

Today, we were out of bread. It was about 6:45 in the morning and I discovered that there was no bread (gasp). I was not going anywhere that early in the morning just to go buy some bread. So, I did what my mother wouldsometimes rarely do when we ran out of bread. Bake some more. I wasn't going through the agony of letting my dough rest or making a bread that would require a two or three hundred dollar Le Creuset dutch oven just to bake in. We're poor here. We can't afford that expensive stuff! Yet.
So, I went to one of the easiest bread recipes to make (and it doesn't require yeast!)- Irish soda bread, or as some people like to call it soda bread, or spotted dog (Oh, I know, there's another name too, but I like to keep it PG here). Didn't get my joke? Keep thinking.
This recipe is actually the first Irish soda bread recipe that I have ever tried and the only one that I have ever used. I have to admit, I had never made Irish soda bread until March of this year. Why? Because I'm not Irish, and because my mom decided that we were going to celebrate Saint Patrick's day with my step-dad's family (who all happen to be Irish).
I thought that day would be a big mistake since I had to slave in the kitchen to make several loaves of Irish soda bread because my mother says that she doesn't bake. Just like my aunt says that she doesn't cook. Now, I need an excuse! …Can't use cooking or baking, though. I've got it. I don't speak English.
So, I am going to stop writing so much and just get straight to the recipe:
Irish Soda Bread
Recipe modified from Baking Bites
If you don't have buttermilk on hand, just place 1 cup of milk in a bowl, add 1 tablespoon of vinegar to the milk and let it stand for 10 minutes without doing anything. I know, you'll feel like stirring the milk or something, but just be patient. Those ten minutes are so worth the wait. Trust me. Also, please note that this recipe makes two loaves of soda bread. You can halve the recipe, if desired.
Ingredients:
4 cups of all-purpose flour
2 teaspoons of baking soda
½ teaspoon of salt
2 tablespoons of brown sugar
2 cups of buttermilk
Preparation:
Preheat your oven to 400ºF and line a baking sheet with parchment paper.
Sift the flour, baking soda, salt, and sugar together in a large bowl.
Slowly pour in the buttermilk. You may not need all 2 cups of the buttermilk (you may have a couple tablespoons left, so just discard any extra). After the buttermilk is poured in, mix with your hands until a dough is formed. DO NOT let the dough rest!
Evenly divide the dough into two (if you halved the recipe, don't divide it at all).
On a floured surface, knead the dough ball for a minute or two until it is somewhat smooth. Form it into a ball making sure that the seam is on the bottom. Repeat this step with the other dough ball.
Place both dough balls on parchment-lined baking sheet.
Cut a deep cross (not all the way through the dough, just about ¼ way through the dough) on the top of both dough balls using a sharp knife.
Bake for about 34 minutes, until the top is well browned, the center of the cross doesn't give, and when you turn the dough upside down and "knock" on it, it should sound hollow.
Cool for a couple minutes before slicing the bread.
Spread with room temperature butter and jam, and enjoy!