A moist and delicious strawberry and chocolate cake recipe with a decadent chocolate frosting. This chocolate layer cake is perfect for all celebrations!
Today, dear readers, you will thank me for sharing the best (THE BEST!) chocolate cake recipe in existence- the last chocolate layer cake recipe you will ever need. Let's not argue over who's chocolate cake is best, or what bakery makes the best chocolate cake, or who's mom, aunt, or grandma has the best chocolate cake recipe known to mankind, or better yet- which famous company has the most delicious chocolate cake mix you've whipped together (we'll talk about boxed cake mixes in another post).
Argument is not needed after taking a bite out of this cake. I promise!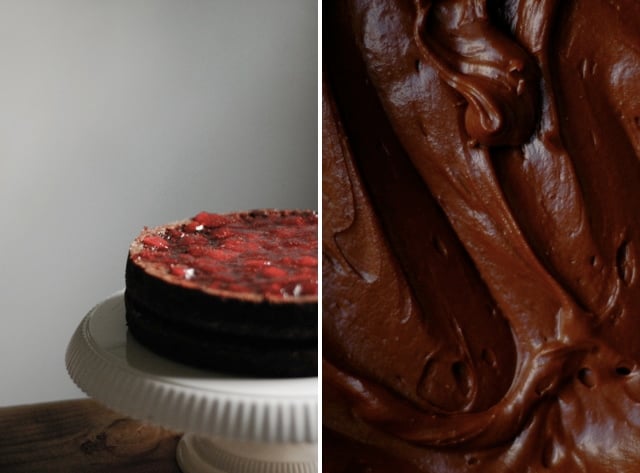 Once the first piece of this chocolate cake hits your taste buds, you will have some sort of unexplainable religious experience- yes, all because of this strawberry & chocolate layer cake recipe.
You see, my birthday was on Friday, and I needed an excuse to post a cake recipe- I know, I just used my birthday as a very relevant excuse to post a cake recipe. Sue me! Oh and before we all go nutzo over me making my own birthday cake- I promise you, I did not make my own birthday cake- A couple of cakes were actually made for me, and honestly, they couldn't even top this recipe. Why? Because the cakes (with the exception of one) did not have a beautiful, moist crumb that would make any cake lover (hell, any baker, as well!) swoon.
You know something? There is nothing worse in the world than dry cake. It makes my inner baker shudder to the nth degree. Dry cake makes me want to cry. Dry cake makes things that you are looking to cheer up with cake, even worse! Take my word on it!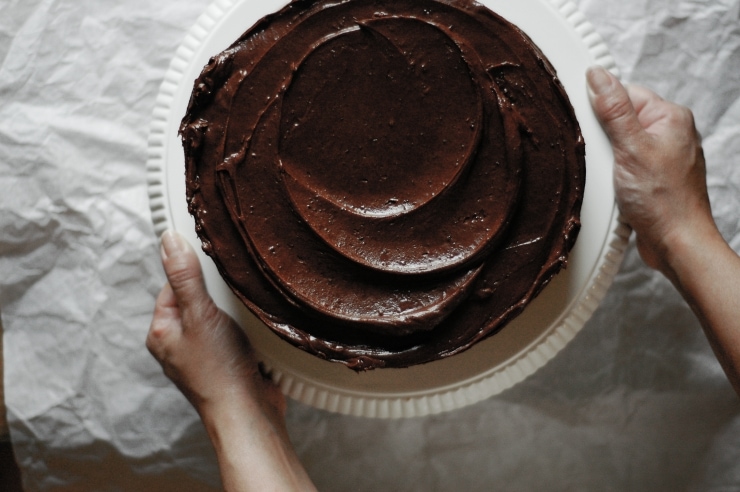 I think some new bakeries (not all of them!) have been plagued with the thought that everyone is looking to enjoy beautiful, elaborately designed layer cakes- cakes that are almost inedible because they are covered with unnecessary amounts of horrid tasting fondant. Bakeries- I don't care how beautiful your cake is, how amazing that fondant is making the edges of the cake look breathtakingly clean, if your cake tastes like you replaced the flour with sand, I wouldn't be a happy camper. Some people might, but that's because they're letting the look of the cake get to them!
I'd rather much have a not-so-breathtakingly-clean looking cake, and have it be the most delicious cake on the planet.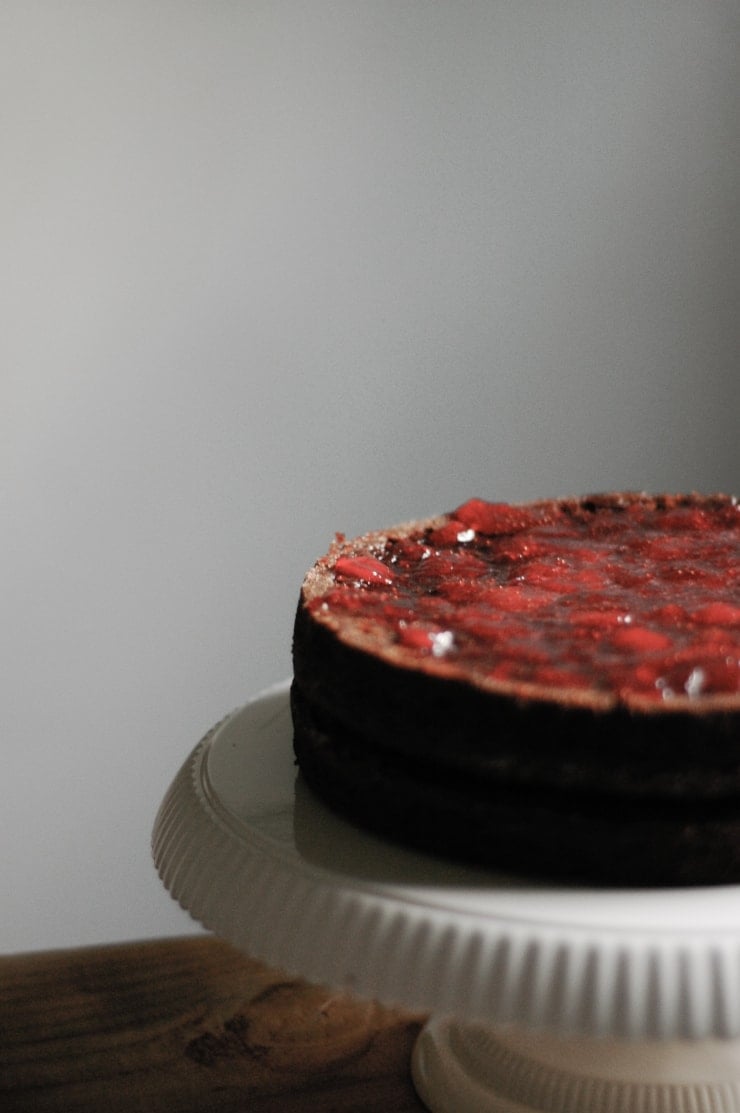 This chocolate strawberry layer cake, will do just what some other cakes don't do- it will make you dance until you drop! It will make your taste buds sing until they can't! It will make you want to kiss the nearest person to you (or your cat)! It will . . . I don't know what else it will do, but it will definitely do this: it will make you happy!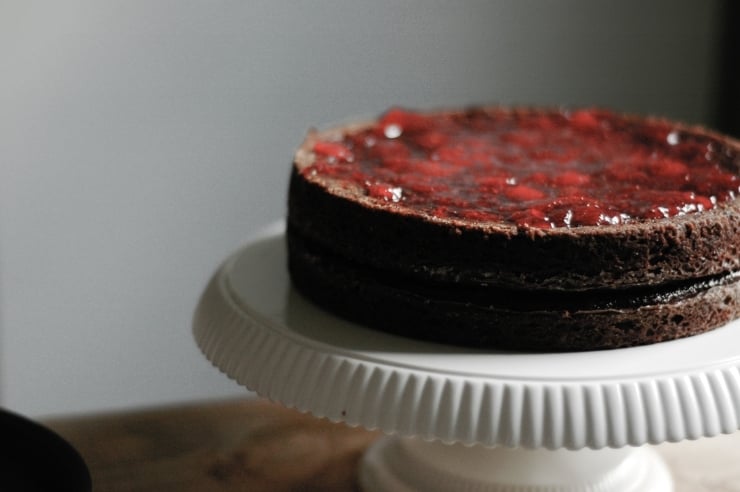 And trust me on this, you'll get a lot of happiness out of this recipe! Layers of strawberry jam, smooshed down by ever-so-moist layers of chocolate cake, and a healthy helping of frosting spread on the cake will make anyone smile- no matter on what occasion it is. I have seen people in the biggest depression go back into a state of happiness because of this cake.
So, enough of my bragging about how amazing this cake is- I'll let you get to baking.