Make something delicious and satisfying with ripe mangos. The easiest and very best recipe for Mango Frozen Yogurt (froyo). It only requires 5 ingredients!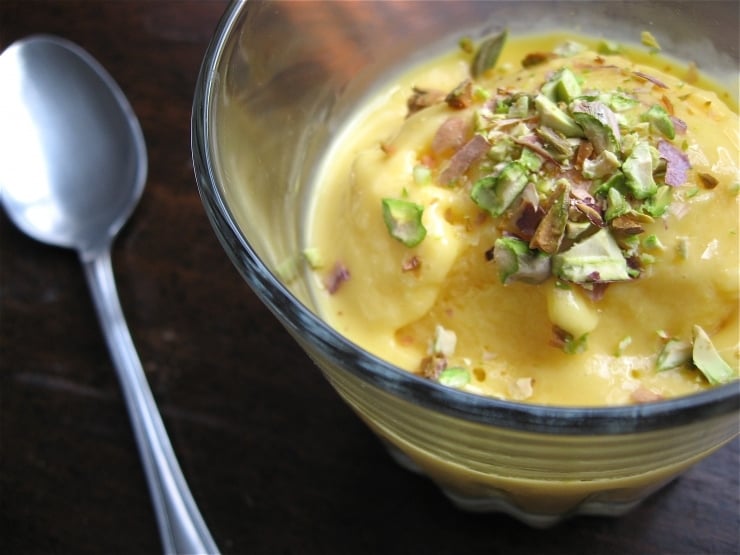 What became Mango Frozen Yogurt started off as, "Oh I don't know what to do with the 5 pound tub of organic yogurt that I have in the fridge… Any suggestions?"
That was my cry out to the Twitterverse about a week ago.
Within minutes, I was tweeted a great deal of ideas (I mean so many that I didn't even bother to count them).
One of my favorite ideas was frozen yogurt. Oh, how I love the stuff.
So, after deciding I would make some frozen yogurt, I had to come up with a mango frozen yogurt recipe. Oh, not just any recipe. A recipe made without an ice cream maker. Yes, I said frozen yogurt without an ice cream maker!
Did I mention this was a mango frozen yogurt? Yep. Not only did I have 5 pounds of organic plain yogurt in the fridge, but I also had about 15 mangos (Dare I say where I obtained both of these things from?). I had to put them to use somehow.
Of course, this recipe does not call for a 5 pound tub of organic plain yogurt or 15 mangos. Don't worry, I didn't use all of that to make frozen yogurt. I promise!
So, what's the secret to making good frozen yogurt without an ice cream machine?
Mix, mix, and mix. Okay, I'll put that into English….
About 45 minutes into freezing, you'll want to whisk the mixture (By the way, I found this method on David Lebovitz' site). 1 hour and 15 minutes into the freezing, whisk again. And 1 hour and 45 minutes into freezing, whisk again. Yeah, I know, a lot of whisking… But this will allow for a creamier frozen yogurt.
Moving on…
As you can see, my frozen yogurt in the photo is not fully frozen. Well, I'll tell you why.
I like semi-frozen ice cream (I guess you'd call it soft…) and frozen yogurt. I am serious. Sometimes I go as far as popping my ice cream in the microwave for a couple seconds just to get it soft and a bit melted.
The other reason is because I took the photo when it was semi-frozen (the photo above) and when it was fully frozen and I liked the results of the semi-frozen photo.
Also, for some odd (but great) reason, my recipe tastes like a frozen mango lassi. Oh, but wait. See those pistachios on top? You have to try this recipe with the pistachios on top! They're divine with this mango fro yo. It gives it such a great crunch when you're eating the ice cream and it tastes good too. Oh, did I mention it looks good on top of the mango froyo? But I didn't have to say that. Did I?
This recipe is so simple that it's kind of like a sin to put up on this blog. Oh, well, this sinful treat is well worth the little effort that you have to put into making it.