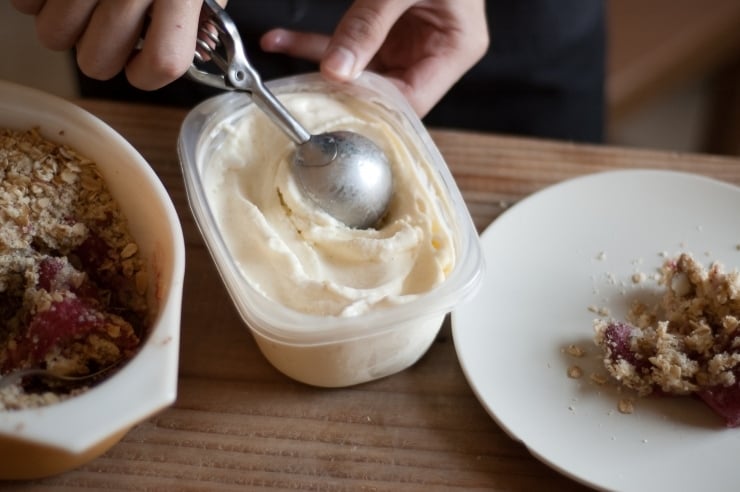 It's not quite strawberry season yet, at least not around these parts, but there are times when I find myself food shopping and I can't help but stare at the joyous, organic, red berries that constantly summon my attention with several winks and a price tag that reads "On SALE!" Sales are my weakness. And so are gorgeous-looking strawberries.
Strawberries are possibly one of my most favorite fruit. Although they are available practically all-year-long in supermarkets and grocery stores across the country, when they're not in season–usually–they're practically good for nothing. They're sometimes vile- both crunchy and sour, and lack in any strawberry flavor. Some will disagree about my last statement but I did say usually; there are a handful of companies that do have great tasting organic strawberries year-round.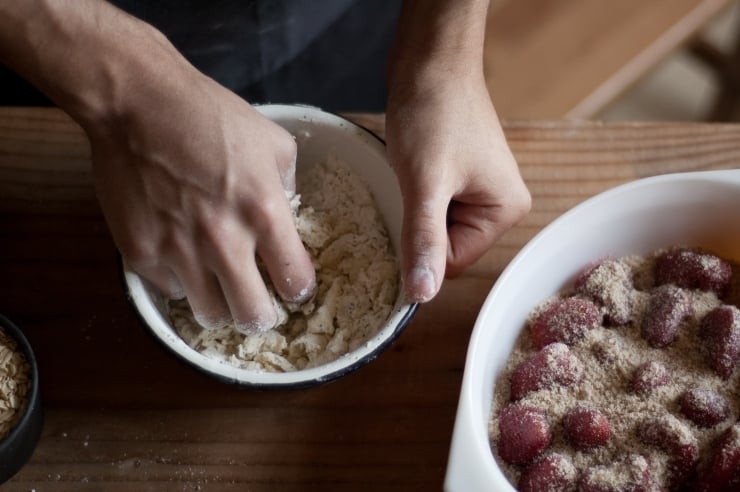 When I do find myself picking up a package or two of these glorious red berries that are lacking in the taste department, I most-often find myself baking them. During strawberry season, rarely am I every interested in baking the marvelously sweet strawberries that I pick up from the farmers' market– I'd much rather munch on them, toss them into a summery salad, or make jam to preserve their magnificent taste for when I need a burst of strawberry goodness during the dreary winter months.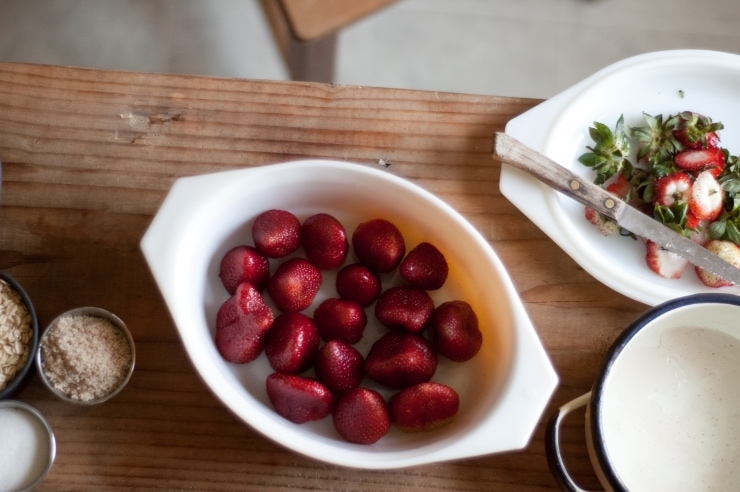 Although this crumble is made with abominable, store-brought strawberries, the berry flavors are enhanced as they bake under a blanket of ground almonds, oats, and a buttery crumble topping freckled with poppy seeds. You may think that the berries might turn out as mushy, red-tinged sludge, but they don't. Instead, they are baked into succulent, strawberrily-intense explosions of flavor.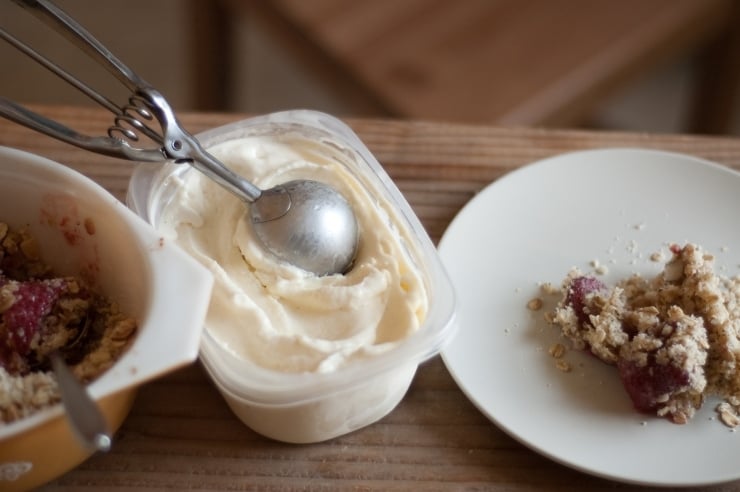 When the crumble makes its way out of the oven, I try to amass all of my patience and let it cool on the counter for a few minutes before it makes its way onto the table, or into the refrigerator, where I let the flavors mingle for an hour or two. If my patience is nowhere to be found, I serve it straight out of the oven with a scoop or two of homemade vanilla gelato, and hope that the cool ice cream prevents mouth-burning.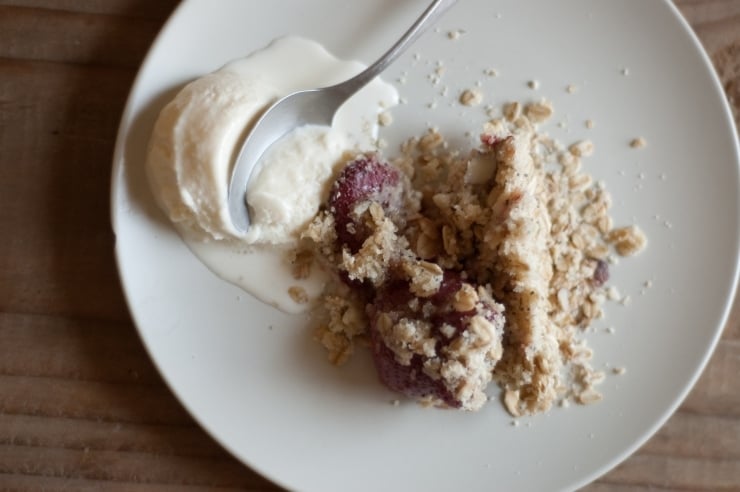 When there's some leftover, I spoon the rustic crumble into Weck jars and keep them in the refrigerator for midnight-snacking. Oh, how I adore this crumble.
Strawberry Crumble Recipe
Adapted from: Nigella Kitchen by Nigella Lawson
Serves: 4-6

If you are making this recipe at the peak of strawberry season, I'd cut down on the vanilla sugar by a lot, depending on how sweet the berries are on their own.

If you don't have any vanilla sugar on hand, use granulated sugar or natural cane sugar and a healthy splash (about 1 tablespoon) of vanilla extract when covering the strawberries in almond meal.

Serving this with soft, billowy peaks of whipped cream, or a healthy scoop of vanilla ice cream is necessary when it's served straight out of the oven. When served cool from the fridge, a glug of heavy (double) cream does the trick.

If you are lucky enough to have leftover crumble, spoon the remainder into small jars and place the jars in the refrigerator for midnight-snacking over the next couple of nights (if you can resist the urge to indulge).

Special Equipment:
This recipe requires 1 ovenproof pie dish (or cake pan) approx. 8-in by 2-in deep (about 1 1/4 quarts capacity). For the photos in the post, I decided to use a vintage pyrex baking dish that snugly housed all of the strawberries; the baking time was still the same, so if you have the same dish, feel free to use it.

Ingredients:

1 lb (about 500g) Strawberries, hulled
3 ½ tablespoons (50g / 1.75 oz) Vanilla Sugar
¼ cup / 25g / .9oz Almond Meal / Flour

Crumble Topping:
⅔ cup (110g / 3.9 oz) Unbleached All-purpose flour
½ tablespoon (4g / .15 oz) Poppy seeds (optional)
1 teaspoon Baking Powder
¼ teaspoon Fine Grain Sea Salt
5 tablespoons (75g / 2.65 oz) Cold Butter, Cubed
1 cup (122 g / 4.30 oz) Rolled Oats
¼ cup (18g / .65 oz) Sliced Almonds
5 tablespoons (75g / 2.65 oz) Turbinado / Demerara sugar

Preparation:
Preheat oven to 400F / 200C / Gas 6. Place the hulled strawberries into your baking dish and sprinkle on the vanilla sugar and almond meal (I simply took ¼ cup of almonds and processed them in the food processor until they looked like sand). Give the dish a jiggle to mix the ingredients a bit.

Crumble Topping:
Place the flour, poppy seeds, baking powder, and salt, in a mixing bowl and rub the butter into the flour mixture with your finger tips, until the mixture resembles pale oatmeal. With a fork, stir in the rolled oats, sliced almonds, and turbinado sugar.

Assemble the Crumble:
Tip the Crumble topping over the strawberry filling, being sure to evenly cover the strawberries.

Set the dish on a cookie sheet and bake for 30 minutes. When the crumble is ready, the topping will be a slight bronze color and will be blushing with pinkish-red juices at the edges.

Serve warm or cold with generous scoops of vanilla ice cream, a heaping dollop of softly whipped cream, or a generous glug of cold heavy (double) cream. Enjoy!