A cinnamon sugar soft pretzels recipe. Delicious soft and chewy pretzels covered in cinnamon sugar and a drizzle of coffee glaze. They're sure to bring a smile to anyone's face!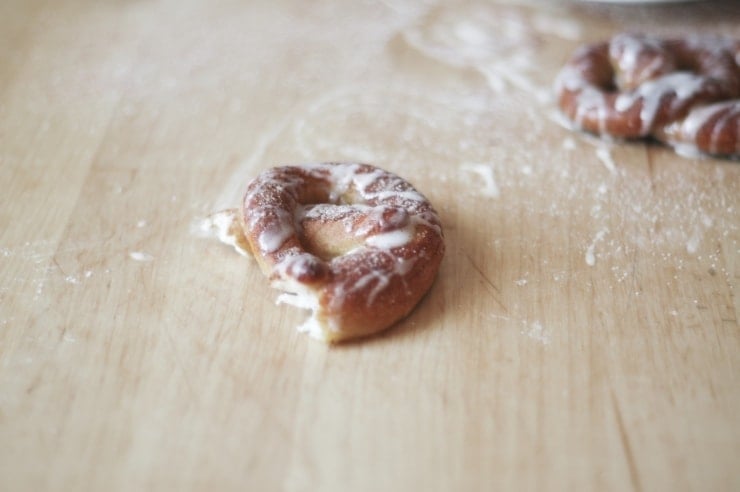 Last week, I decided to take a couple day off to relax with family. That did not end up going well, because I had my nose in work. Before I knew it, it was Sunday, and I had to go back home. I missed the train to get home by two-minutes; I was stuck in Penn Station for an hour. That event inspired (thank goodness) this cinnamon sugar soft pretzels recipe.
When I got to the main waiting area at Penn Station, I let out a sigh of relief; it was practically empty. Practically two-hundred empty seats for me to sit on; I found a seat, then rummaged through the mess of my suitcase for my planner. I wrote down a few events, checked things off my to-do list, and closed my planner to look up and find a woman sit a seat away from me in the middle of an empty waiting area (I had pretzels on my mind).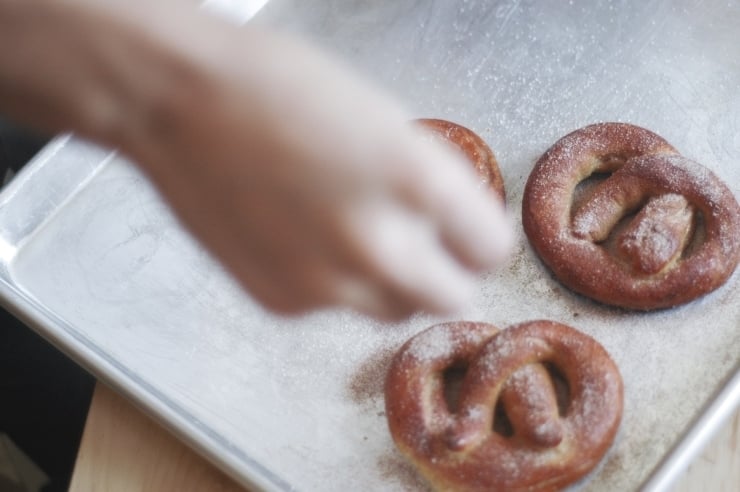 The woman sat a seat away from me; after opening my planner back, as though to show her that I was not suspicious as to why she sat next to me in a practically empty waiting area. She pulled out a can of Pepsi from the inside of her purple coat, opened the can, took a sip, let out a burp, and placed the can on the seat between us (goodness, where were my cinnamon sugar pretzels?)
A minute or so passed and the waiting area was bombarded with people; a younger woman sat next to me with the music on her iPod as loud as a jet engine. Then I smelled it. I smelled dirty feet. Purple coat lady took her shoes and socks off, and placed them right next to her can of soda. It's rude of me to call her "Purple Coat Lady;" from here on we'll call her June. The young woman sitting next to me sniffled, and I felt the hairs in my nostrils begin to shrivel into complete nothingness.
I got up politely, as to make it seem as if I was not offended by the smell of her feet. With my backpack weighing me down, and the weight of my suitcase practically pulling my arm out of its socket, I walked to the Amtrak area to find something to snack on (I could hear my stomach shout at me) while waiting for my train to get home. I passed a Krispy Kreme, a couple of deli's, and decided on cinnamon sugar pretzel nuggets from Auntie Annie's. When hunger strikes, even foods I would never eat, taste better than I would normally think they tasted. To my mind, those pretzel nuggets and the icing package that came along with them were the best things I had ever eaten (dare I mention that it was the first time I ate a cinnamon sugar pretzel?). After finishing my $4 investment, I felt guilty.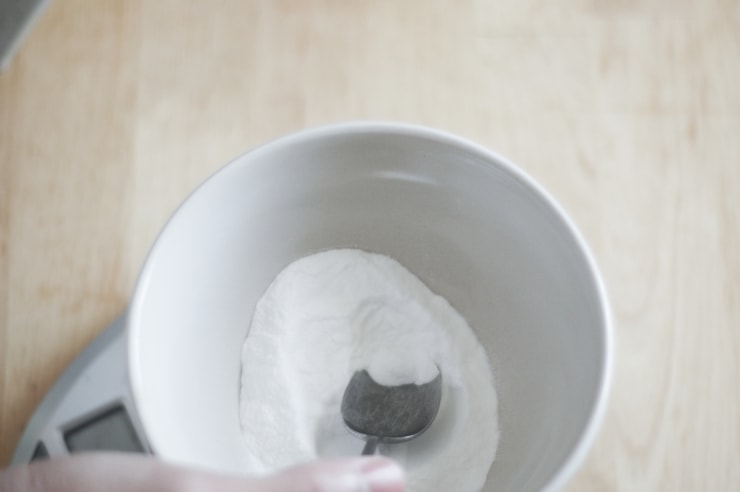 After convincing myself that it was better of me to spend $4 on cardboard than spend more money at a dirty fast food joint (Auntie Annie's had an A for cleanliness!), the idea to re-create a better and tastier version of the cinnamon sugar pretzels at home hit me.
So, my dear friends, thanks to Purple Coat Lady June, I'm sharing a recipe for cinnamon sugar soft pretzels with you today. Yes, I know- I've recently shared soft pretzels with you, but you'll thank me for this small burst of warmth in your home. Oh, and if you are feeding your kids this- put them in a cage first and leave them in there until the sugar high is gone. I am only kidding. Sorta.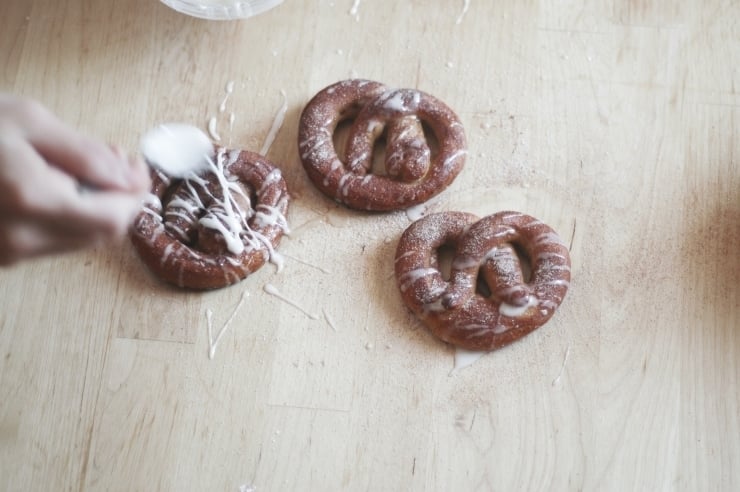 What you will need to make this cinnamon sugar soft pretzels recipe
The components to cinnamon sugar pretzels are far from extraordinarily difficult to find. You might already have many of the following things on hand!
Digital kitchen scale – As always, the first thing I recommend when doing any baking is a digital kitchen scale. Unlike years ago, they continue to get cheaper in price as demand goes up. You can find great kitchen scales online for quite a bargain! If you don't have a scale, no worries– I've provided cup measures for the recipe.
Active dry yeast – this is to help make the cinnamon sugar soft pretzels rise to their fullest potential. If you want to use instant, go ahead. Simply cut the amount of yeast in half and keep an eye on the soft pretzel dough while it's rising.
Salt – table salt or fine-grain sea salt will do.
Granulated sugar – feel free to use white or natural cane here. I find natural cane to have a nicer flavor, especially when making the cinnamon sugar for these soft pretzels
Luke-warm water – it's crucial to use water that is at a temperature between 100ºF – 110ºF (37ºC – 43 ºC). Too warm and the yeast could die. Too cold and the yeast might not activate properly.
Flour – you'll need both bread flour and all-purpose flour for this recipe. It's the perfect amount of gluten for these cinnamon sugar soft pretzels. However, if you prefer something a little less chewy or more chewy, feel free to use all of either kind of flour.
Butter – this makes the dough nice and soft and flavorful, but you'll also need some to brush on the tops of the soft pretzels before sprinkling on the cinnamon sugar.
Baking soda – this is what gives the pretzels their unique color. You'll need quite a bit of this, so make sure you've enough to spare!
Ground cinnamon – the fresher the better. We've all been known to hold onto a jar of cinnamon for way too long. You don't need a special variety here, unless you prefer it.
Strong coffee – it doesn't have to be fresh; it can be from breakfast time. This is for the glaze, so you want something that you enjoy tasting
Milk – any kind works here, this is just to mix into the coffee to achieve a perfect glaze
Powdered sugar – there is no substitute for this; this is what literally makes such an immaculate coffee glaze to be drizzled on top of these cinnamon sugar soft pretzels.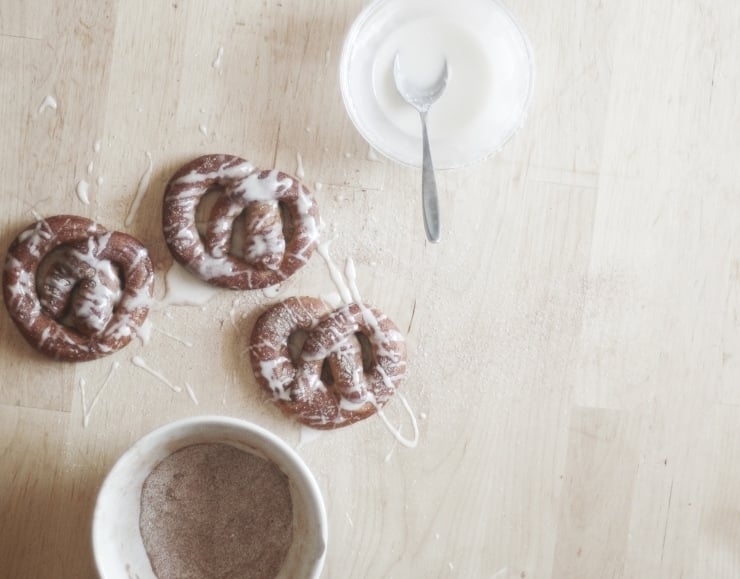 How to make cinnamon sugar pretzels
It all starts with proofing the yeast. You'll need to mix together the yeast, sugar, sea salt, and the luke-warm water and let it sit until foamy. 5 to 10 minutes should do the trick.
After that, it's time to make the soft pretzel dough. The dough starts with butter that is cut into two types of flour– bread and all-purpose flour. This combination is crucial to making the perfect chewy cinnamon sugar soft pretzels, but feel free to use one or the other if you have textural preferences (use bread if you want it chewier).
After the butter is cut into the flour, the yeast is poured into the flour a dough is mixed together.
The soft pretzel dough is kneaded on a lightly floured surface for about five minutes until it is smooth.
A bowl is coated with oil and the dough is placed in the bowl and turned to coat it with the oil. The soft pretzel dough is left to rest, covered with plastic wrap, for about an hour until doubled in size.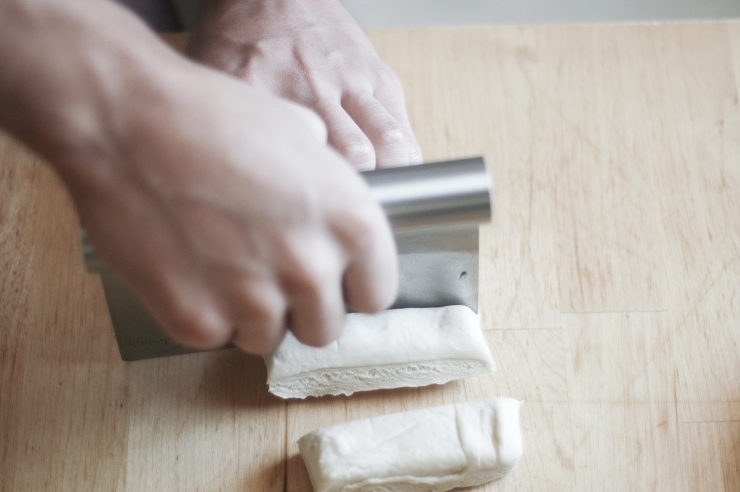 After rising, the dough is deflated when it is divided into 12 equal portions.
Each portion is rolled into 18-inch long ropes. Form a U shape with 1 rope, cross both ends over one another, then twist the ends together twice.
Fold the twisted portion toward yourself to form a pretzel shape, then gently press down the ends to seal the shape.
Transfer the formed soft pretzels onto an oiled baking sheet and allow them to rise for an additional 20 minutes. In the meantime, this is the time to preheat the oven to 475ºF and bring a large pot of water to a boil.
Yes, you heard that right… We are boiling the dough.
Add some baking soda and sugar to the boiling water lower the temperature of the water just a bit and boil the pretzels in batches until puffy. This takes only about 30 seconds for each side.
The boiled soft pretzels are drained and then transferred to a liberally oiled baking sheet to bake for about 15 minutes, until golden brown.
While the soft pretzels are baking, in the last 5 minutes of baking, the cinnamon sugar is prepared and the butter is melted.
The melted butter is brushed onto the soft pretzels and the cinnamon sugar is liberally sprinkled onto each soft pretzel. To take the cinnamon sugar soft pretzels to even greater heights, a coffee glaze is mixed together quickly and drizzled over the tops of each of the pretzels. You can also opt to use the coffee glaze for dipping. It's delicious.
You'll want to eat these right away. The match might not survive, especially if you're sharing. However, refer to the recipe card below for storage options!
Other Recipes You Will Enjoy