This carrot cake recipe is filled with ruby red cranberries, orange zest, and coconut. It's flavorful, textured, and delicious!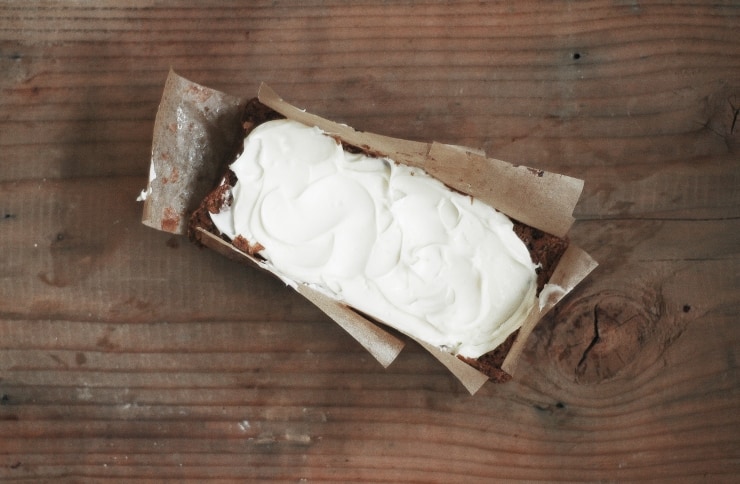 On Wednesday morning, white, billowy snow blanketed our neighborhood like a mother settling her child into bed. The snow was untouched; unbothered. It softly summoned children of all ages to play outside, but the cold wind was enough for people to go back into the warmth of their home. A brief glance at the snow was enough for me to brew up some tea and bake a couple loaves of carrot cake (onto the carrot cake recipe in a minute) to keep warm. My family slept in; I answered a few emails while sipping tea and reading the New York Times. It was the start to a perfect morning.
After settling into the morning, I quietly made my way into the kitchen and flipped through the pages of my journal. My journal is full of recipes, recipe ideas, and post ideas (Yes, my life screams "food blogger" except the bags of Swedish Fish that hide in the baking cupboard. You didn't hear that from me.) It's where I go when I am in need of inspiration in the kitchen. Wednesday morning was in need of a little inspiration, and after flipping a few pages into the journal, orange flecks of dry carrot stuck on one of the pages immediately caught my attention. On the page: a recipe for carrot cake. Immediately, my memory took me back to 2009 when the recipe was written down. I grabbed the carrots out of the refrigerator, the box grater from the cupboard, and immediately began to grate the carrots for this carrot cake recipe. Sure, the grating can be done in a food processor, but why wash more dishes than needed? Plus, the simple motion of grating carrots is quite therapeutic, if you ask me.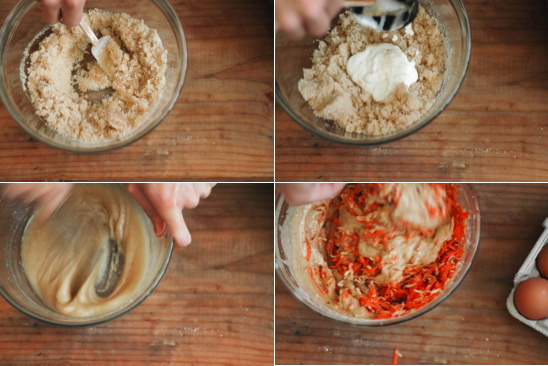 The first time I bit into this carrot cake (over two years ago), the crumb, and the moistness immediately made my mouth bellow out for several more bites. The cake is bejeweled with ruby red dried cranberries, orange zest, toasted walnuts and pecans, coconut (for some flavor, texture, and for a bit of natural sweetness), and of course, a warm heaping teaspoon of cinnamon (for the warmth that any snowy winter day beckons for).
The cake is quite basic, and requires no machinery whatsoever, which is perfect for mornings that require you to make very little noise in the kitchen, while your family sleeps. Don't you love the sound of silence?
The list of ingredients for this recipe is rather large, I will admit. Five of them, including: the orange zest, coconut, walnuts, pecans, and dried cranberries, can be easily left out and will make a lovely cake. In fact, sometimes, I prefer the cake unadorned with a generous amount of sweet, zingy cream cheese frosting (which I think it's one of best features of this particular type of cake).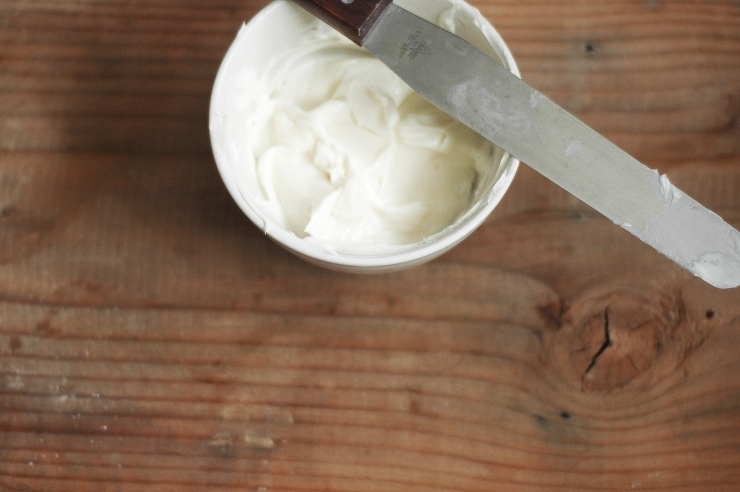 After baking the cake, you should let the cake cool. I have very little patience for the cooling process, so I just pop the cakes (in their tins) in the freezer for approximately 15-30 minutes until they are cooled. See? It's like magic!
Once the cakes are cooled and frosted, I like to cover them with plastic wrap (in their tins) and keep them in the refrigerator for 24 hours, so that the flavors amalgamate with one another. Try not to be impatient (I know I am) and slice into the loaves ahead of time. Everything tastes great the same day, but trust me on this- this cake tastes best the second day.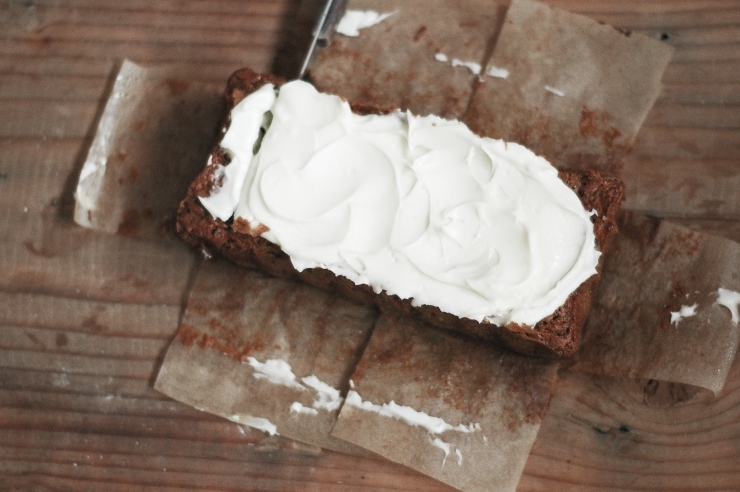 Once the second day comes around, you will thank me. Now that you have a recipe, my friends, have fun baking and remember that patience is a virtue, but if you don't have any patience (like me), don't worry, the cake still tastes great!
Carrot Cake Recipe
Inspired by Dorie Greenspan's Baking: From My Home To Yours
Makes two 8×4-inch loaf cakes or a two-layer 8-inch cake

This carrot cake tastes best after it is frosted, covered, and chilled in the refrigerator overnight or for 24 hours. It even tastes great cold. Oh yes, cold carrot cake is a religious experience- the juxtaposition in the temperature and flavor of the cake is simply extraordinary.

Once again, I am utilizing Whole Wheat Pastry Flour and Natural Cane Sugar in the recipe, it gives the cake a quality and taste that I love, but I have easily used All-Purpose Flour and granulated sugar (or a combination of granulated sugar and light brown sugar) to make this recipe- and both versions taste great.

The recipe calls for sunflower oil, but you can easily use any neutral tasting oil (i.e. Safflower, Corn. Canola, Vegetable. . .)

The frosting is enough for the tops of two 8×4-inch loaf cakes. It may not be enough for an two-layer 8-inch cake, so doubling the icing recipe maybe necessary. Additionally, the frosting recipe is very flexible. If you want more of a citrusy frosting going on, simply leave out the butter, add in two teaspoons of orange juice and some orange zest (I wouldn't use too much, but if you want something with a lot of punch, use as much as you'd like).

Ingredients:
Cake:
1 cup (128 grams) Whole Wheat Pastry Flour (or All-Purpose Flour)
1 teaspoon baking powder
1 teaspoon baking soda
1 heaping teaspoon ground cinnamon (preferably freshly ground)
Zest of one orange (optional)
Scant (a little less than) ½ teaspoon (2 grams) fine grain sea salt
1 ½ cups (135 grams) coarsely grated carrots [I use the coarser side of the box grater or the food processor fitted with the shredding blade]

½ cup + 2 tablespoons (54 grams) shredded coconut (sweetened or unsweetened) (optional)
¼ cup coarsely chopped pecans (toasted or un-toasted) (optional)
¼ cup coarsely chopped walnuts (toasted or un-toasted) (optional)
2 tablespoons (16 grams) dried sweetened cranberries, finely chopped (optional)

¼ cup sunflower oil (refer to headnotes for alternatives)
1 cup (220 grams) natural cane sugar (or granulated sugar; or a combination of granulated and light brown)
¼ cup organic plain whole milk yogurt

2 large eggs

Cream Cheese Frosting (for an alternative; read headnotes):
1 cup powdered sugar
2 ½ tablespoons butter
8 ounces cream cheese

Preparation:

Preheat the oven to 350ºF. Butter and flour (or use parchment paper) two 8×4-inch loaf pans (or two 8-inch round cake pans).

In a medium bowl, whisk together the flour, baking powder, baking soda, cinnamon, orange zest and salt. In another bowl, mix together: the carrots, coconut, pecans, walnuts, and dried cranberries.

In a large bowl, with a spatula or whisk, combine the oil and sugar together (until all of the sugar has been coated with oil). Once the sugar and oil have been combined, whisk in the yogurt until the mixture is smooth [Kamran note: if you rub a small amount of the mixture between your fingers, everything might still be gritty, but once the eggs are added, it should smooth out]. Add the eggs, one at a time, beating until the batter is smooth.

Add the flour mixture to the egg mixture and stir evenly. Gently fold in the carrot mixture, and divide the batter among the baking pans.

Bake for 30-45 minutes, until well-risen and firm to the touch (the cakes will have began to slightly separate from the sides of the pans), or until a cake tester or a thin knife inserted into the centers comes out clean.

Cool the cakes (in their pans) on cooling racks (or place in the freezer for 15 – 30 minutes) [Kamran Note: The cakes (alone) can be wrapped well in plastic wrap and kept in the freezer for about a month or two]

Meanwhile, combine the cream cheese, butter, and confectioners' sugar in a medium bowl, and beat until smooth.

Frost the tops of the cakes, cover with plastic wrap, place in the refrigerator for 24 hours . [Kamran Note: If you are making a two-layer 8-inch round cake, be sure to double the frosting recipe. To frost the layer cake, use an off-set spatula, spread a thin layer of frosting over the top and sides of the layer cake. Let the frosting set in the refrigerator for 20 to 30 minutes; then, spread a thick coat over the base coat.]

After 24 hours, serve the cake and enjoy!