A hearty, moist spiced Apple Loaf Cake Recipe bejeweled with apples, oats, walnuts, and ruby red cranberries.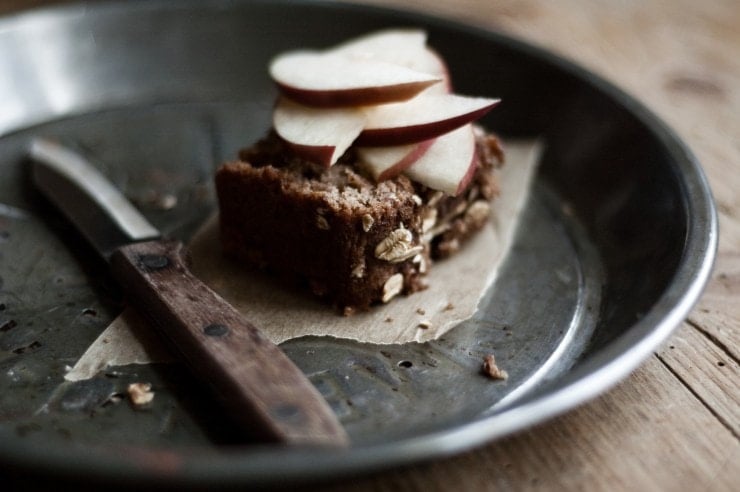 Everyone has a story. Everything has a story. This Apple Harvest Loaf Cake has a story, but it's not one that requires you to step away for a moment to grab a couple mugs of tea, and say, "Uh-uh" to assure me that you are listening, as you multitask in the kitchen. The story to this loaf cake isn't exactly a story that requires you to sit up, slide to the edge of your seat, and pay close attention to each word I share with you, however, I do ask you to listen because I know somewhere in all of my rambling, there'll be something that makes you say, "Makes sense!" Or "Phew! I'm glad I'm not the only one!" or even, "I needed this."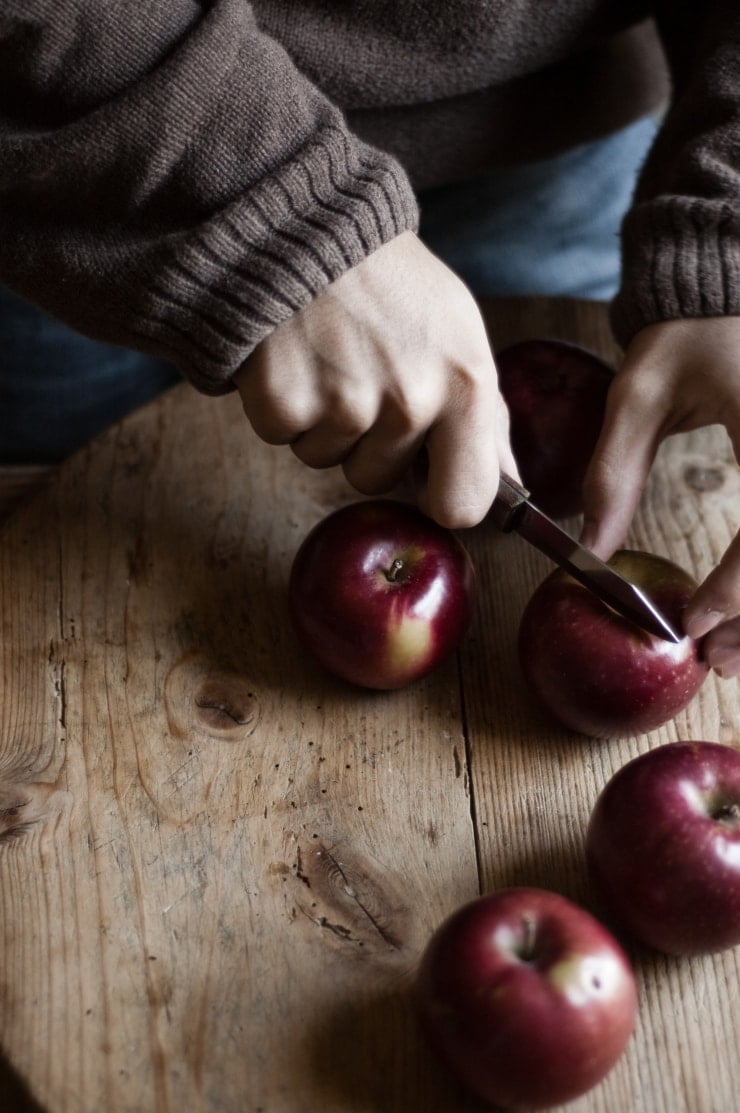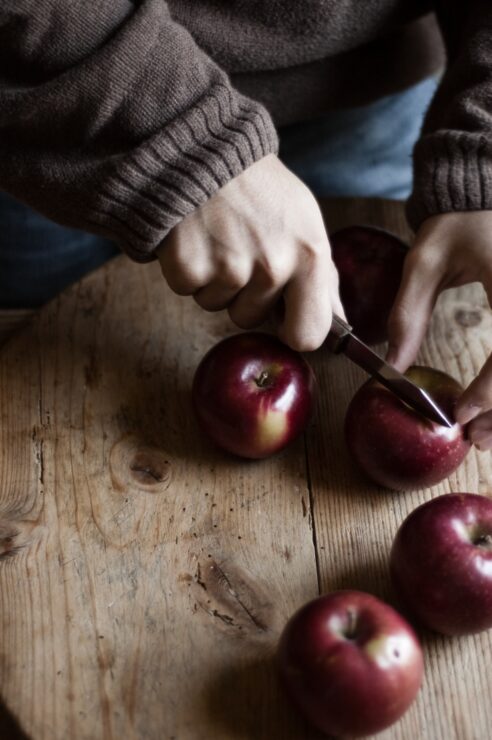 The story behind this autumnal apple loaf cake is one that reminded me of something I'd forgotten. I'd forgotten about feeling. I was lost in "I think"s and "however"s, for months- since the beginning of the year. Everything since then has been about my thoughts; in the midst of constant thinking, I'd forgotten the most important part of life- feeling. I'd forgotten to ask myself how I felt about certain situations, and at times I'd break down, hold my head, and on some days, I'd want to stay in bed the entire day, sulking and trying to forget everything. On some days, I did just that- I sat in bed, waiting for something to happen, passing time reading novels and blasting Indie hits on my headset trying to forget about everything.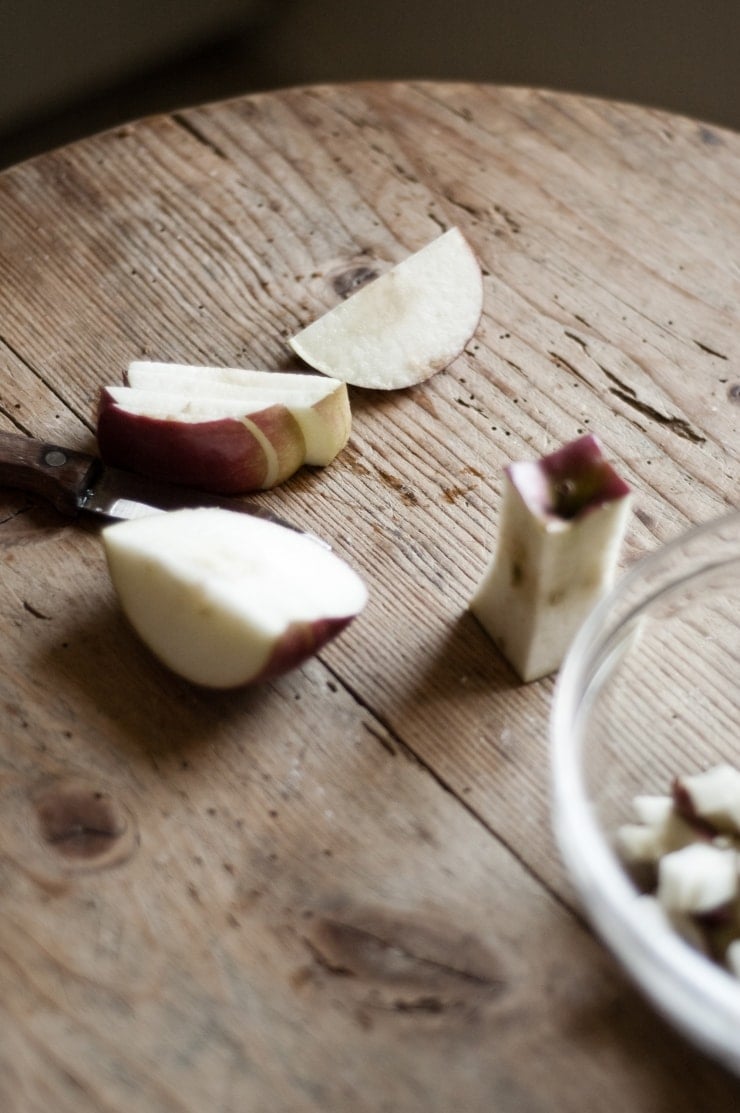 I think it's natural for us to have these moments of melancholy once in a blue moon; there are times for cheeriness and there are times that require laying in bed in your favorite sweater and doing nothing. At the end of your melancholic state, or at least, when you try to put an end to it, a good friend always comes in handy. Not a friend that is only great to hang-out with, but one who listens and does kick you in the butt to remind you to live life. I have a good friend (hi, Lauren!) like that, and recently, in the middle of chaos and worry, and wanting to sit in bed with the covers over my head, Lauren reminded me to "just do what feels right" and to let life turn the pages on its own. So, I did, and I am. And I slid out of bed with my favorite sweater, and baked an apple loaf cake.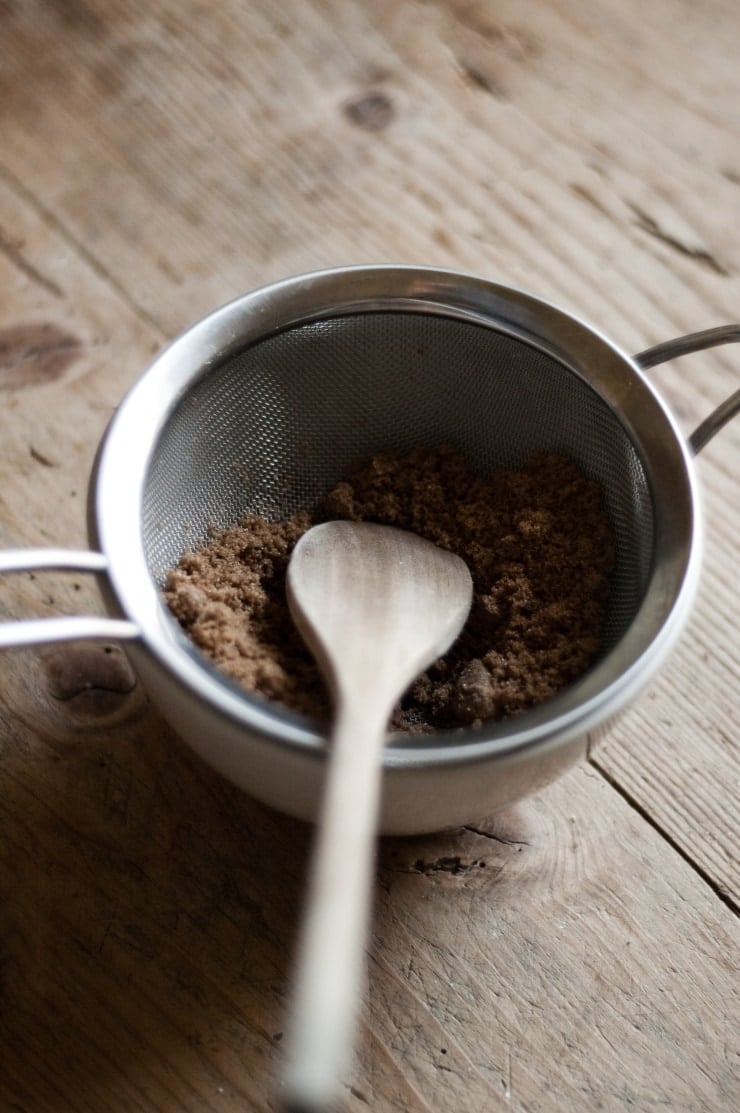 It's just after 10PM here in New Jersey, and I first anticipated to share this apple loaf cake with you a few weeks ago, but each time I sat down to write, the words just couldn't find their way onto the page, and I remembered, "just do what feels right." It's simple, yet, so powerful. And because of this- and everything around me, I am inspired.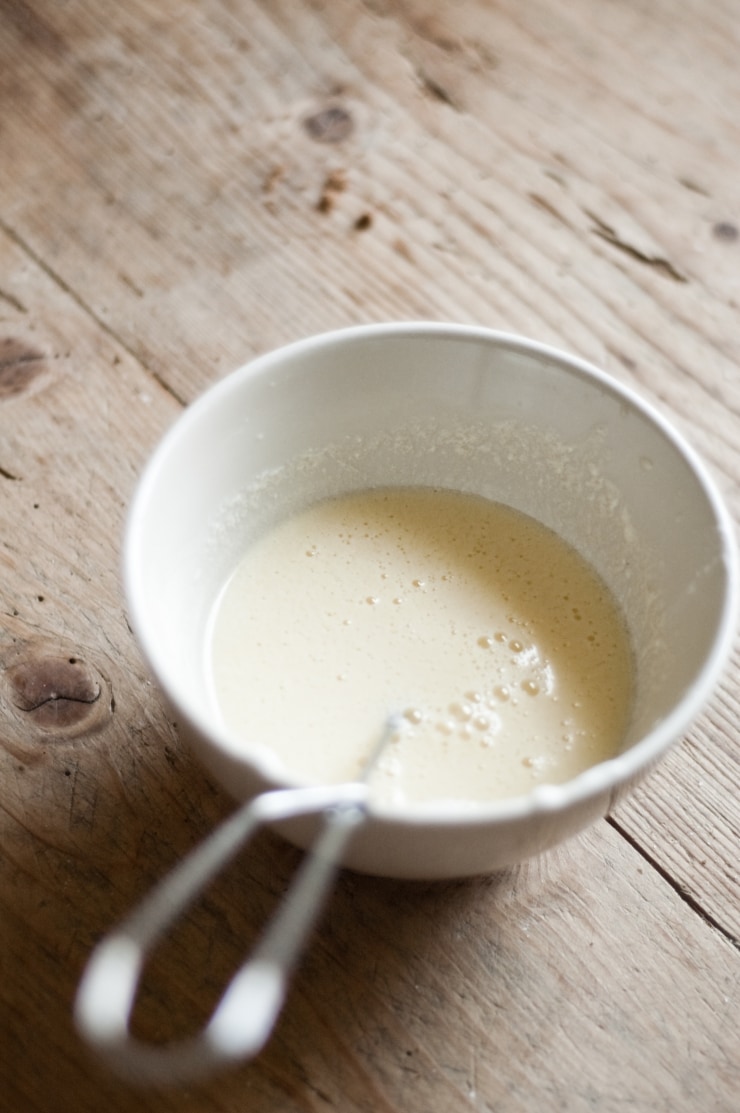 For this apple loaf cake, I was inspired by the leaves pirouetting around the dark parking lot outside my bedroom windows. By the soft dying days and the maturing sun. By the wind that whispers in its sleep. By the russet red and copper-tinged leaves that hang from aging trees and cover the ground. By the branches of apple trees bent with the hectic red fruit.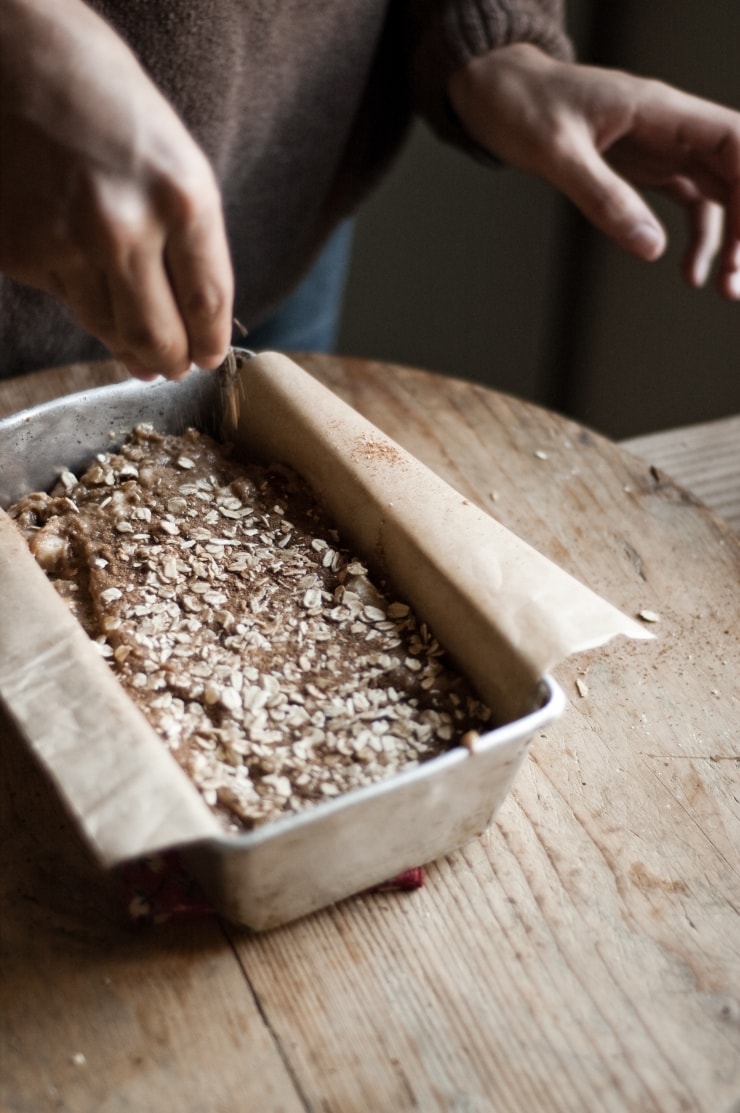 Most of all, I am grateful. For friendship, and for living in a place where I can experience all four seasons. I do have my moments of displeasure with Winter's frosty kisses and dark days, the (what seems like) never-ending rain that welcomes Spring, the dreadfully muggy days that come chained to Summer, and the flashes of hot and cold that we experience throughout Autumn's visit.
Criticisms aside, during each season there is always something to look forward to. During the Winter time, there are the several mugs of orange-flavored hot chocolate. There's also the beautiful citrusy cakes and lip puckering lemon tarts, buttermilk biscuits, and hand made breads, all cranked-out by an oven working over-time. Beautiful verde asparagus and scallions ring in Springtime, making for sensationally simple and quick meals. Summertime welcomes in azurro blue skies, punnets of beautiful berries, and peaches so fragrant-fleshed and juicy, that rolling up your sleeves and standing in front of the kitchen sink is obligatory. Autumn is the tender voice that welcomes in silvery and misty blue skies, earthy foods, burnish red & viridescent blotched apples, sweater wearing, and loaf cakes.
I look forward to Autumn each year for these very reasons, silvery skies and all. Throughout the year, farmers' market bins are packed with apples, and rarely are they one of the highlights of the season. Come Autumn, they are at the center of attention, and rightfully so, if you ask me.
While the trees lilt to the wind's cooling autumn song, while copper toned leaves continue to fall onto the drying earth, while pine cones blanket forest floors, and while days seem to end earlier and earlier, I think it would only be appropriate to share this autumnally aromatic apple harvest loaf cake recipe with you. It is a perfect time for apple anything, after all!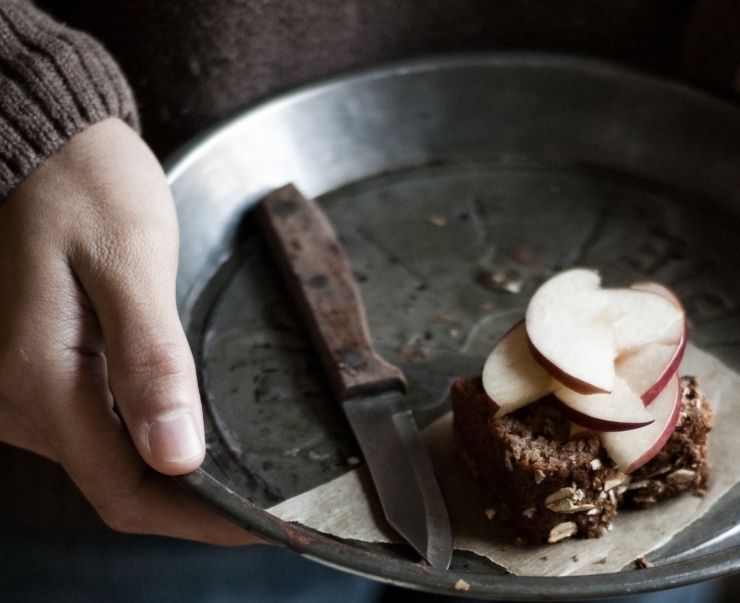 So, here's the deal. This apple loaf cake recipe is hearty, and because of this- it does require quite a few ingredients, but the method to prepare it is as simple as mixing everything together in a large bowl, but there is a small catch, but before I even get to that, I will encourage you to bake this cake once you come home after a long day (or a couple hours before heading off to bed). Take your shoes off, change into comfortable clothes, set iTunes to shuffle, and get to baking.
How To Make Apple Loaf Cake Recipe
The apple loaf cake starts off with mixing the topping ingredients in a small bowl: oats, rich light muscovado sugar, earthy cinnamon, a pinch of nutmeg, and pinch of fine grain sea salt. That is set aside, and the dry ingredients for the batter are mixed together.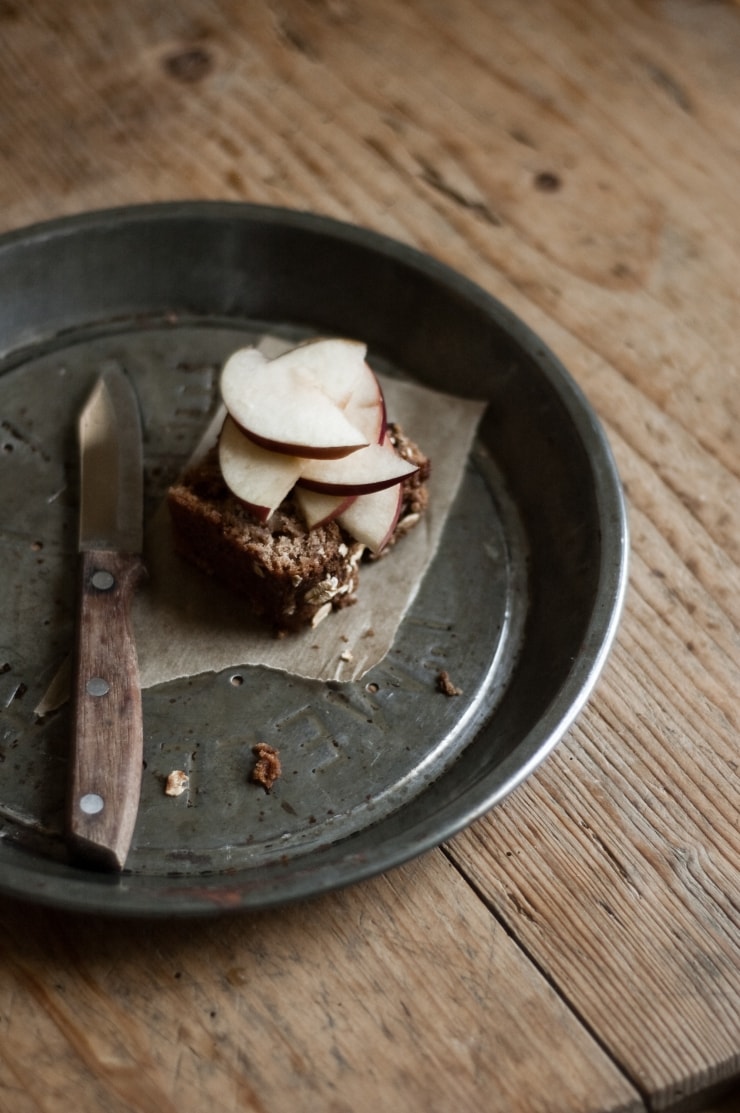 The batter for this apple loaf cake recipe starts off with mixing together flour, natural cane sugar, toasted wheat germ, and almond meal in a large bowl. The almond meal is followed by an earthy snowfall of sifted light muscovado, added for richness, moisture, and sweetness. Baking powder and salt are mixed in.
After that, the earthy spices for the loaf cake are added- cinnamon, ground ginger, and nutmeg- along with a good handful of rolled oats (for texture and flavor). The bowl is set aside, and another bowl is pulled forward. In that bowl, yogurt, milk, melted butter, and an egg are briefly whisked together.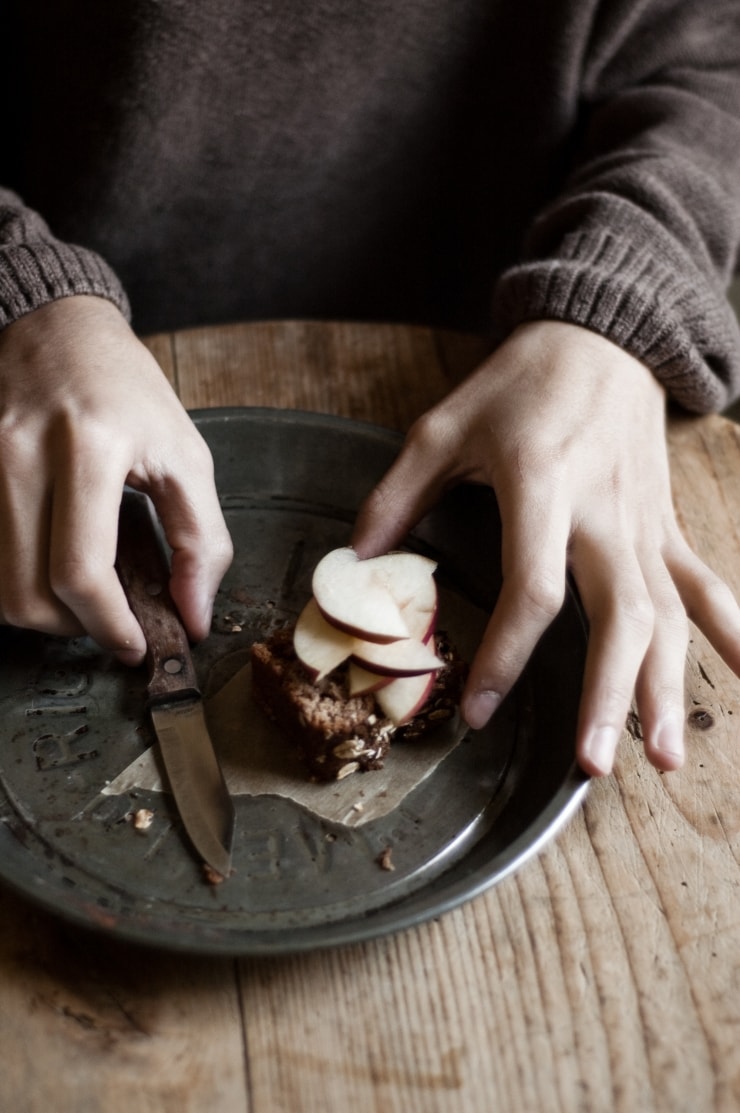 Once the vanilla colored liquid is whisked, it's then poured onto the dry ingredients, and everything is mixed with a wooden spoon until the flour is no longer visible, and the smell of spices for this apple loaf cake dances to your nose- it happens instantly. Then, chopped apples, toasted walnuts, ruby red cranberries, and raisins as golden as a copper sunrise, are tossed into the batter, and mixed-through just until they're evenly distributed throughout.
The batter for the apple loaf cake is then encouraged into the waiting loaf tin, the magical topping is sprinkled from a height, and the loaf makes its way into the oven for a little less than an hour, until a cold home is warmed by the sweet smells of autumn.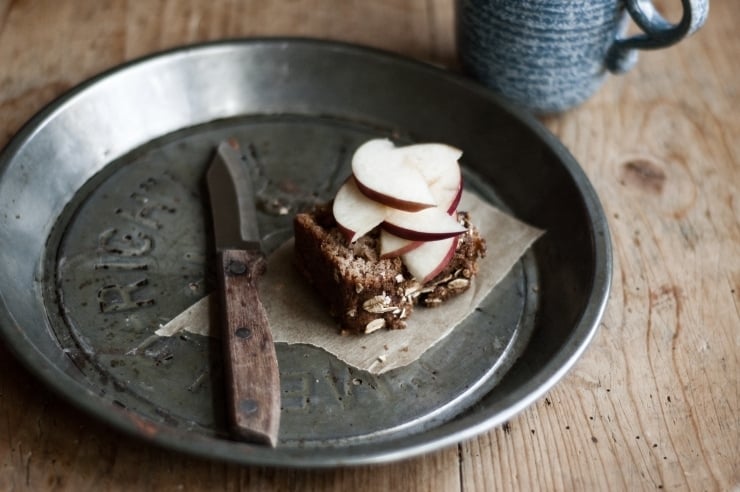 Once out of the oven-here's the catch I was talking about earlier- the loaf pan is immediately covered with aluminum foil, and set to cool overnight (about 8-12 hours give or take). This will not only make the cake exceptionally moist, but it will allow the flavors in the loaf to mingle together into something absolutely heavenly. This is why I encourage you to bake this after work, or a couple hours before heading off to bed because you'll be able to enjoy the loaf with a cup of coffee, tea, warm cider- whatever, in the morning. And boy, having this for breakfast is a good start to any hectic day. Now, I know that not all of us have the patience for this, and trust me, while I even tried to follow my own directions, sometimes my patience got the best of me, and I had to slice right in… So, if you're short on time or just lack the patience to wait (I know I've had many of these moments), let the cake cool in the pan for about 20 minutes or thereabouts, and then slice right in. I like slicing the cake right in the pan, then carefully pulling the entire loaf out using the parchment, for ease and less mess, but feel free to do whatever floats your boat.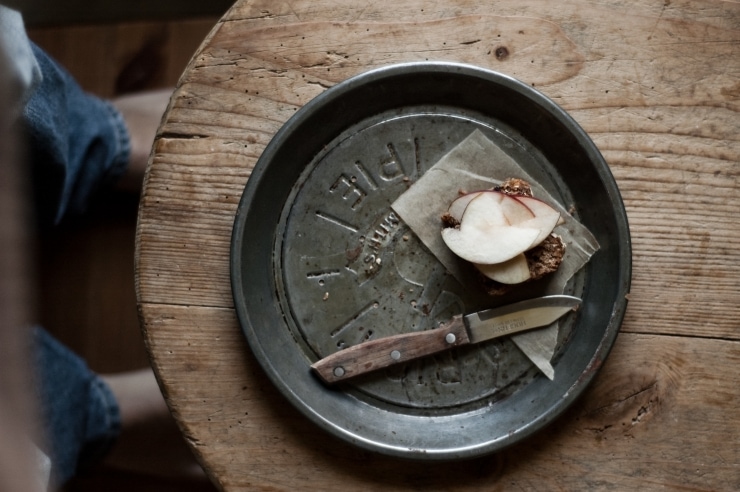 For serving, I schmear the apple loaf cake with a bit of salted butter, bedeck it with a few thin slices of apple and serve it with a good cuppa tea. I do suspect, however, honeyed almond butter and apple slices, or just butter alone, would be simply irresistible.
So, enough of my yapping, you've got an apple loaf to bake! :)
Other Great Recipes You'll Love