Incredibly chewy, old-fashioned oatmeal raisin cookies that are topped with cinnamon sugar once out of the oven. Just like grandma used to make!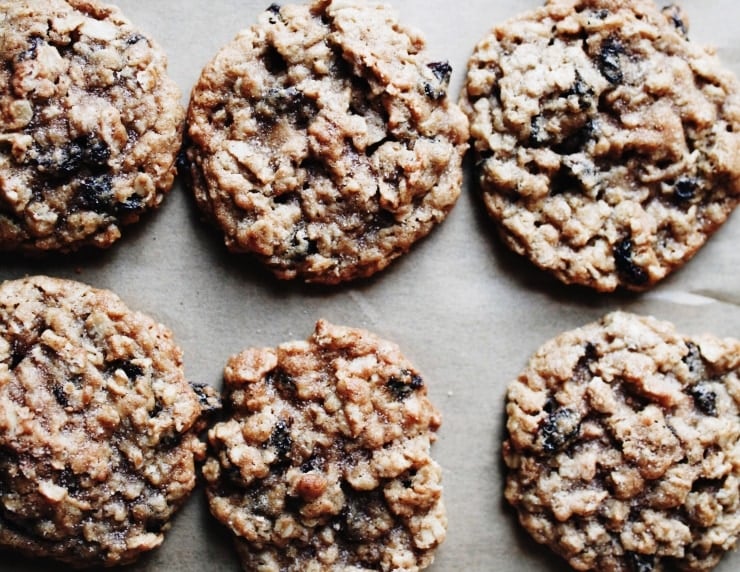 There is nothing that I love more than good oatmeal raisin cookies. Yes, I know, I don't have many cookie recipes on the blog, but there's a reason for that. If I had mostly cookie recipes on this blog, my blog probably wouldn't be called "The Sophisticated Gourmet." The blog would probably be called "The Cookie Monster Gourmet." And we don't want that, do we? Of course not!
Anyway, oatmeal raisin cookies are great for just about any time of the day; except for lunch and dinner- that's when popcorn comes in. Just kidding! I promise! Maybe.
One of my ultimate favorite cookies are oatmeal raisin cookies. They are just amazing!
I woke up two days ago, psyched that I had the house to myself for a couple hours, just so I could bake and take photos. Oh, how pleasant it was!
Oh, this recipe that I'm going to share with you will have you jumping in your pants! Why? Well, the best thing about this recipe, is that is super yummalicious, and it's super versatile. For example, if you think that raisins remind you of "dead", ugly, and decrepit grapes (or if you just don't like raisins because of their taste), you can omit the raisins in these oatmeal raisin cookies. Omitting the raisins allows you to add your own mix on things… You can make oatmeal craisin cookies, just plain 'ol oatmeal cookies, oatmeal raisin and walnut cookies, oatmeal chocolate chip cookies… You should understand what I mean by now- there are endless possibilities for this recipe (and I bet there are for other great oatmeal cookie recipes out there, as well).
This recipe is super simple to make and to make these even more awesome, sprinkle some cinnamon sugar on top of them, right after they come out of the oven.