A quick and easy one-bowl southern buttermilk biscuits recipe. A great recipe and great tips for making perfect Southern biscuits.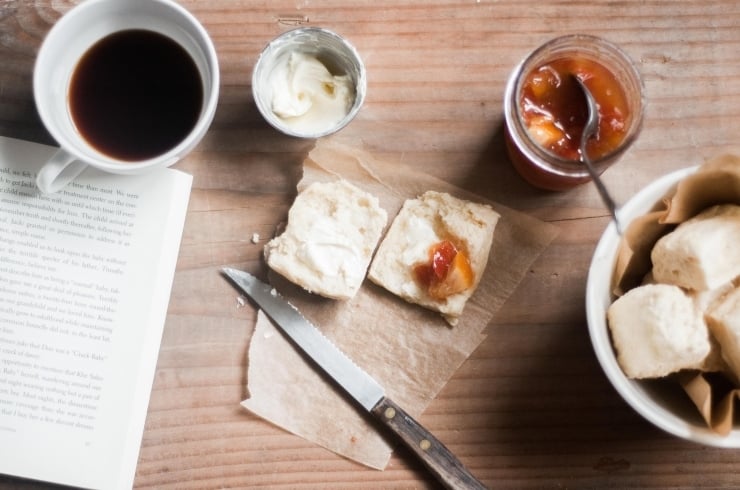 At one point in my life, I spoke with a southern accent and made Buttermilk Biscuits everyday for two weeks. Why? Because I thought it was cool. I often try to convince myself that I was switched as a baby; and my real mother is from the South (I only do this because I have nothing better to do). Sadly, I burst my own bubble by staring in the mirror to always come to the same conclusion, "Eh, you couldn't have been switched- you have a 'Siddiqi' nose!"
Although I may not be from the south (Hi, My Imaginary Southern Mom!), my appetite screams for southern cookin', y'all (okay, I'll stop). To me, southern food is pure American comfort food without a lot of fuss and a sink full of dishes.
At the center of it all are my favorite anytime-of-the-day quick breads- buttermilk biscuits. Soft, tender, buttery, and purely delicious. I may be a Yankee, but I think I know biscuits pretty darn well. I am a very picky biscuit eater and I only believe in soft-sided biscuits. Some southerners are either agreeing with me and some are probably saying, "What the heck? Crusties are where it's at!" It's your personal preference.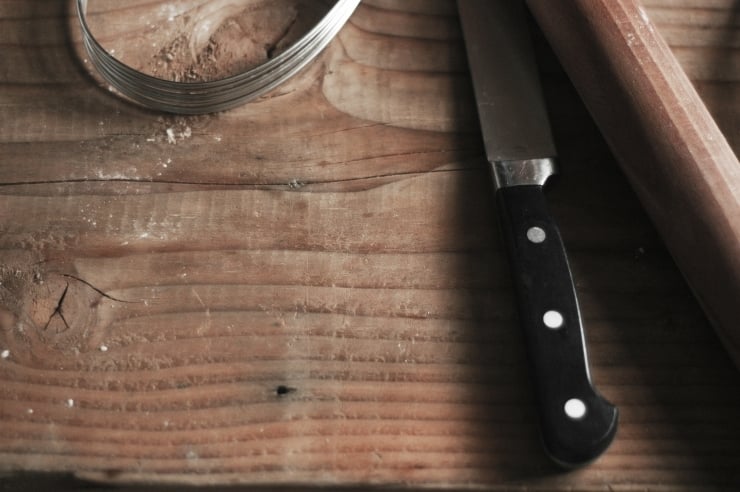 Here are some tips to making great biscuits:
• Make sure all of your ingredients are chilled (translation: chill the bowl and all of the ingredients you will be working with)
• The flour used when making biscuits (including buttermilk biscuits) is crucial. You'd think that it really doesn't matter, but it does. Many great biscuit makers swear by the oh-so-famous White Lily brand; I rarely find find White Lily anywhere, so I use a combination of bleached all-purpose (unbleached has too much gluten in it) flour and cake flour (I prefer the Softasilk brand). Yes, it's not the same, but as they say, "Necessity is the mother of invention" and when I have a biscuit craving, I need quick and fast; looking for White Lily in New York and New Jersey is like looking for a needle in a haystack– not my idea of a good time.
• Cold, Unsalted Butter is a necessity in my world. It's delicious and adds a lot of flavor to the biscuits. I prefer using unsalted butter when making biscuits. Some might argue that salted butter is much better, but salted butter A) has less fat content than unsalted butter (which means that it has a lot more water content = less flavor [fat = flavor] and less tender biscuits). B) salted butter is not always fresh– the salt in it acts as a preservative; the last thing I want to eat is preserved butter. And finally- C) I prefer to control the salt content of anything I bake; most bakers do, but if salted butter is all you have on hand, use it, just keep in mind that you will have to cut back on the salt used in the recipe.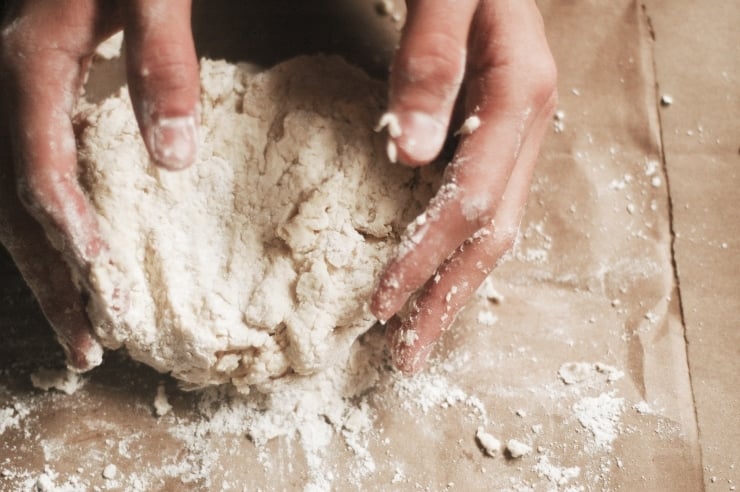 • Unsalted Butter is not your only choice! There's also shortening and lard (and dare I say duck fat?). Many people prefer using shortening or lard to make their biscuits because they make for very tender, flaky biscuits– it's all a matter of preference. If you are one of those people that likes using shortening, lard, or duck fat- go for it!
• Make sure whatever fat you choose to use is cold (or frozen, if need be).
• Use aluminum-free baking powder. The other kind is made with sodium aluminum sulfate and it makes baked goods taste bitter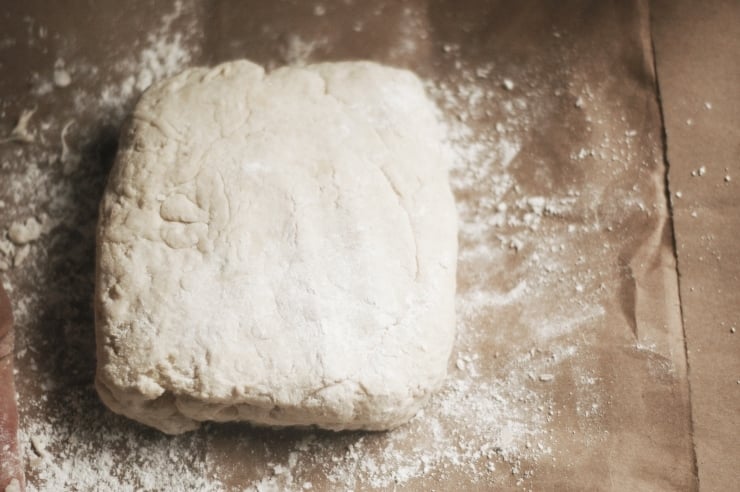 • A light touch is essential. The less you touch the dough and worry less about uniformity- the better your biscuits will come out. Touching and working your dough too much melts the butter, and develops the gluten in the dough, making for tough biscuits.
• Biscuit cutters (or the rim of a glass)make for uniform, beautiful biscuits, but please oh please- flour your biscuit cutter and DO NOT twist the biscuit cutter when cutting into the biscuit dough- cut straight down. Twisting the biscuit cutter prevents your biscuits from puffing up to their full potential. If you are lazy like I am (and prefer more rustic-looking biscuits), simply cut your biscuits using a sharp knife (remember- cut straight down, no sawing back and forth!).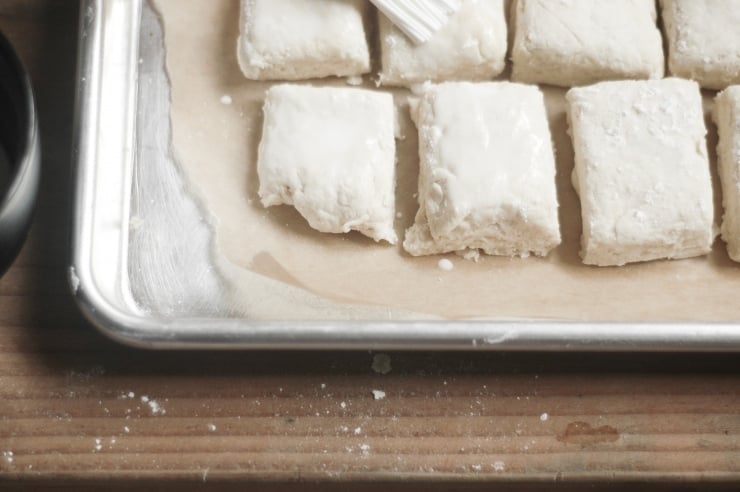 • Docking (pricking with a fork) is entirely optional, it's traditional, but it's up to you. I am an occasional docker; it really depends on my mood.
• For soft-sided biscuits, crowd those babies on the pan, like it's nobody's business.
• For biscuits with a bit more crust, space each of the biscuits evenly.
• Once the biscuits come straight out of the oven, serve them immediately- there is nothing as sad as a cold biscuit. Sure, you can keep them overnight in an air-tight container, or a re-sealable bag, and then re-heat them in the oven, but it really isn't the same.
Easy One-Bowl Buttermilk Biscuits
Adapted by various sources including: Here, Here and Here
Makes about a dozen biscuits

Chilled ingredients, a light touch, and the proper ingredients are crucial to making buttermilk biscuits. I prefer a soft-sided biscuit, so I place the biscuits very close together on the cookie sheet. If you prefer more of a crust on your biscuits, simply place each of the biscuits farther apart from each other. If you are using a biscuit cutter to cut your dough, try to cut each biscuit as close to the other as possible. You can re-roll the dough to make additional biscuits, but it won't have the same puff as the others have; I would avoid rolling the dough out more than once.

Biscuit dough freezes exceptionally well, after cutting the dough, simply place the biscuits on a cookie sheet and freeze them. After they have frozen, place them in an air-tight re-sealable bag and bake them as needed. There is no need to defrost them, just take them from freezer to oven (add on a couple extra minutes onto your baking time)

If you do not have White Lily flour or cake flour on hand, you can use 2 cups of bleached all-purpose flour; it won't make for a near-perfect biscuit, but the flavor and puff should still be there. If you plan on using White Lily flour, simply use 2 cups plus 4 tablespoons in place of the all-purpose flour and the cake flour.

Ingredients:
1 ¾ cups (224 grams or 7.9 ounces) bleached all-purpose flour
Scant ⅓ cup (32 grams or 1.15 ounces) cake flour
4 teaspoons (18 grams or 1.65 ounces) aluminum-free baking powder
2 teaspoons (9.5 grams or .38 ounces) granulated sugar
¼ teaspoon (1.5 grams or .05 ounces) fine grain sea salt
1 stick (½ cup, 113 grams or 4 ounces) unsalted butter, cut into 16 pieces, chilled
⅔ cup (5 fluid ounces or 150ml) buttermilk

Preparation:

Center a rack in the oven and preheat the oven to 400ºF / 200ºC / Gas Mark 6.

In a large bowl, whisk together the all-purpose flour, cake flour, baking powder, sugar, and se salt. Add in the cold butter (shortening, lard, or duck fat) and toss the butter in the flour. Using your finger tips or a pastry cutter, quickly cut and rub the butter into the flour mixture until the mixture resembles pea-size pieces (or oats); it's okay if the pieces are not uniform, that is what you want.

Pour in the buttermilk. Using a fork, mix everything until it just comes together (it'll look like a shaggy mess). Lightly dust a work surface with cake flour or White Lily flour. Turn the dough out, lightly dust the top with flour, and gently knead the mass until it comes together.

Using a rolling pin or your hands, quickly flatten the dough out into a rectangle. Fold the short ends over the middle (like a letter) to make three layers. This is the first turn. Give the dough a quarter turn and flatten into a rectangle once again repeating the folding process. Repeat the flattening and folding once more.

Shape into a rectangle ½-inch thick. Using the tines of a fork, dock the dough. This is entirely optional. If you are in a docking mood, go for it- if you aren't in a docking mood- simply proceed to the next step.

Cut out the biscuits using a 2 to 2 ½-inch biscuit cutter (being careful not to twist the cutter as you are cutting the biscuits) or using a sharp knife, cut the biscuits into squares.

Gently move each biscuit to a parchment (or silicone mat)-lined baking sheet and place about 1-inch apart for biscuits with a crust or place the biscuits close to one another about ½-inch apart. Lightly brush the tops of each biscuit with some milk or buttermilk.

Bake for 10-15 minutes until they are tall, puffed and are blushing with a lightly golden brown color around the edges. If you intend on making smaller biscuits, check on them around 9 minutes of baking.
Serve immediately.