A delightful vanilla ice cream recipe swirled with homemade strawberry sauce. Silky Strawberry-Vanilla Swirled Ice Cream positively transforms any warm summer day.
I think it's safe to say that most of us seek congruity in our lives- harmony and peace– whether it's through watching re-runs of our favorite television shows, by standing shoulder-to-shoulder in a small kitchen sharing laughs with our loved ones, by writing in complete and utter silence, or by opening the curtains on a summer morning, only to discover a picturesque day waiting outside the window. I found it in this strawberry-vanilla swirled ice cream.
For me, peace is the feeling that you get when you wake up early on a Saturday morning, ready to take on the day. It's the sound of people snoring, and the hubbub of the over-sized air conditioner in the living room struggling to cool the entire house. It is the feeling of standing barefoot in a small kitchen–covered in grey and blue Jackson Pollocke-d linoleum tiles–wearing basketball shorts that barely fit and an azzurro blue pinstriped dress shirt that could easily accommodate two.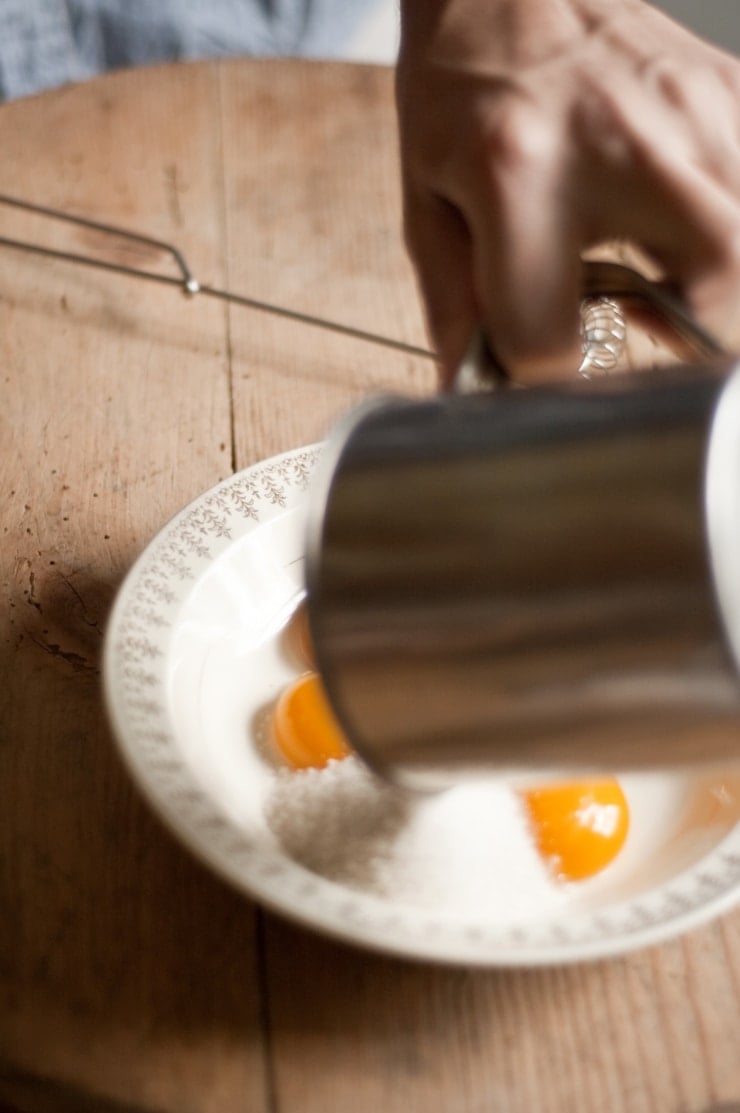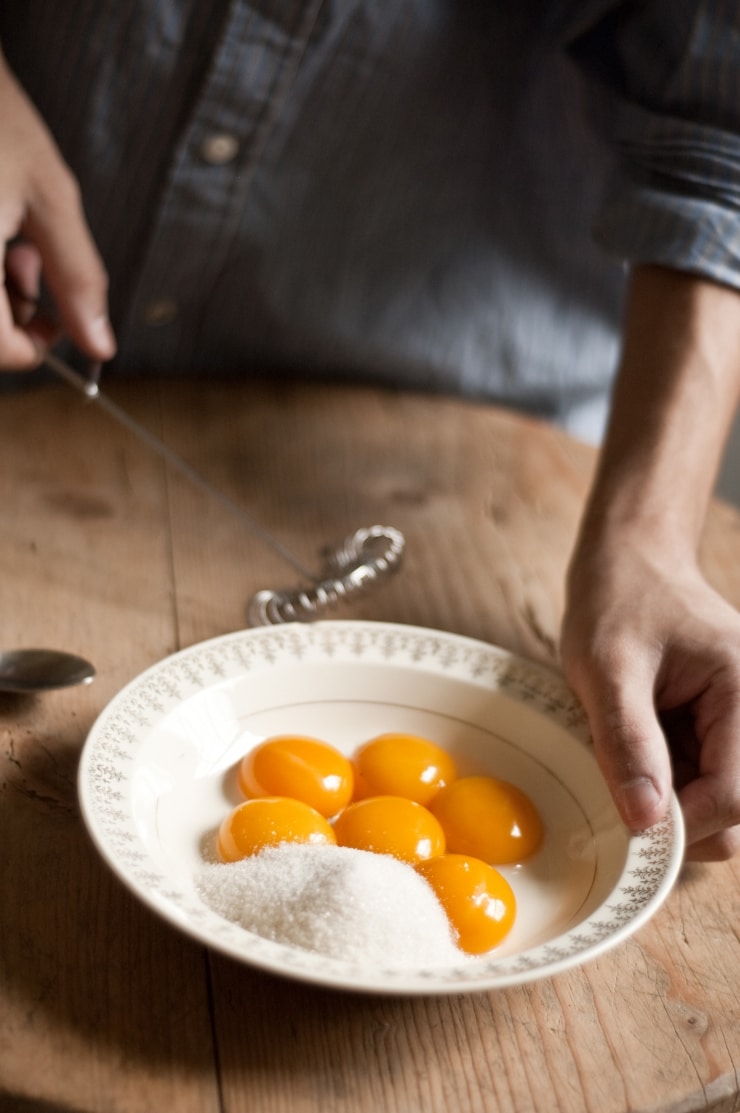 When I awoke early Saturday morning, I felt in peace for the first time in a long time. I haven't been home much, which explains a lot (even my lack of posting). The night before, I planned to push all of my work aside, I turned off my cell phone, and shut down my laptop. I was relieving myself of anything that didn't involve creating in the kitchen.
I had several punnets of strawberries from the farmers' market waiting to be used up. I grabbed a legal pad from my backpack, my favorite pen, and began jotting down what I'd make with the berries. First on the menu– Strawberry-Vanilla Swirled Ice Cream. Three words: To. Die. For.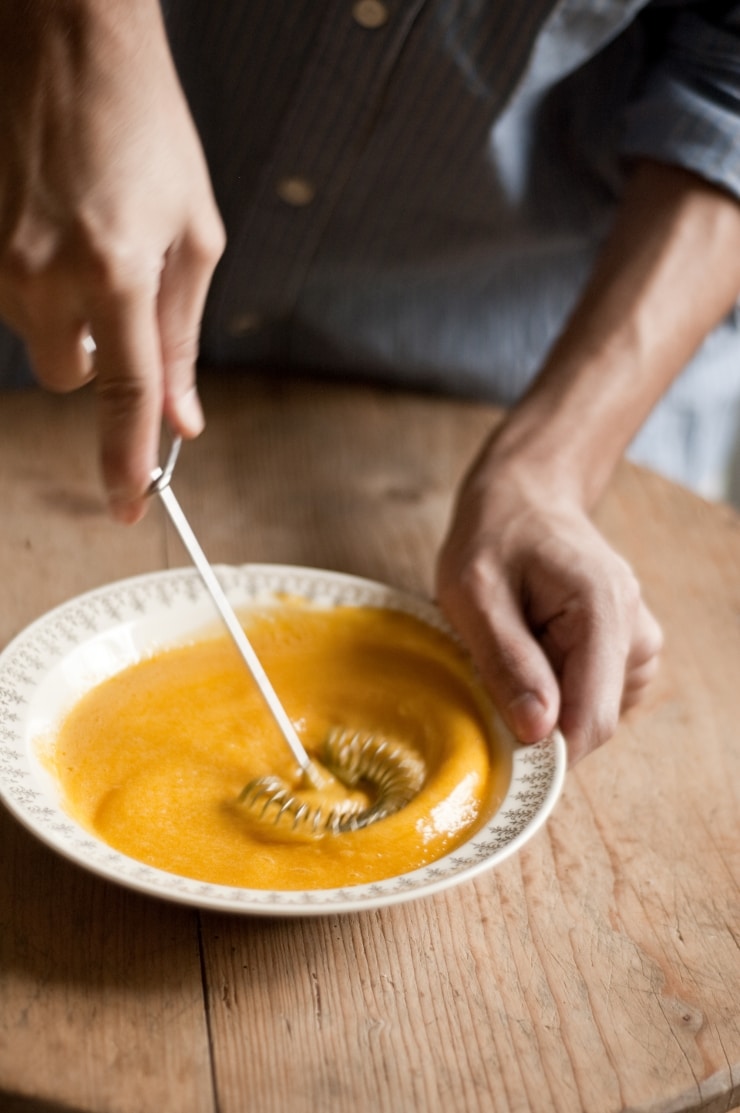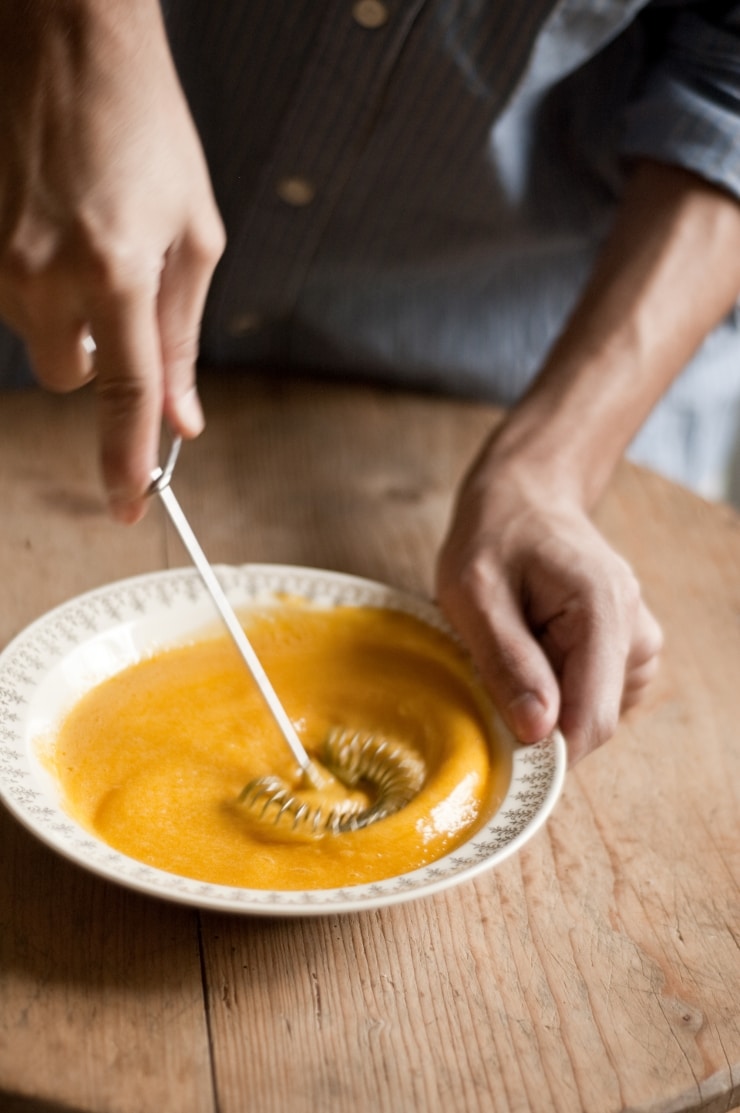 Strawberries are the taste of a rhapsodic wide-skied summer–this ice cream is the essence of that.
It all starts off with a classic vanilla ice cream base- the seeds from a plump vanilla bean are scraped into a pan of simmering cream, milk, and sugar. Half a dozen bright orange egg yolks are then whipped with a spoonful of sugar and a pinch of salt, until they turn a beautiful, pale primrose.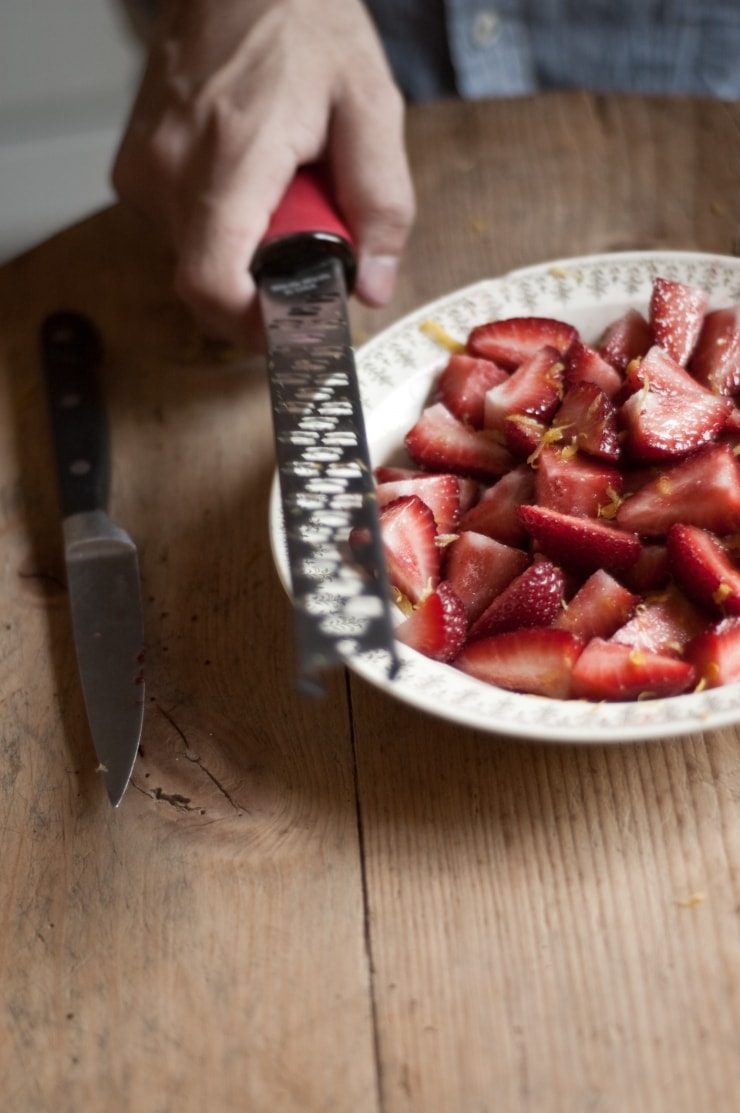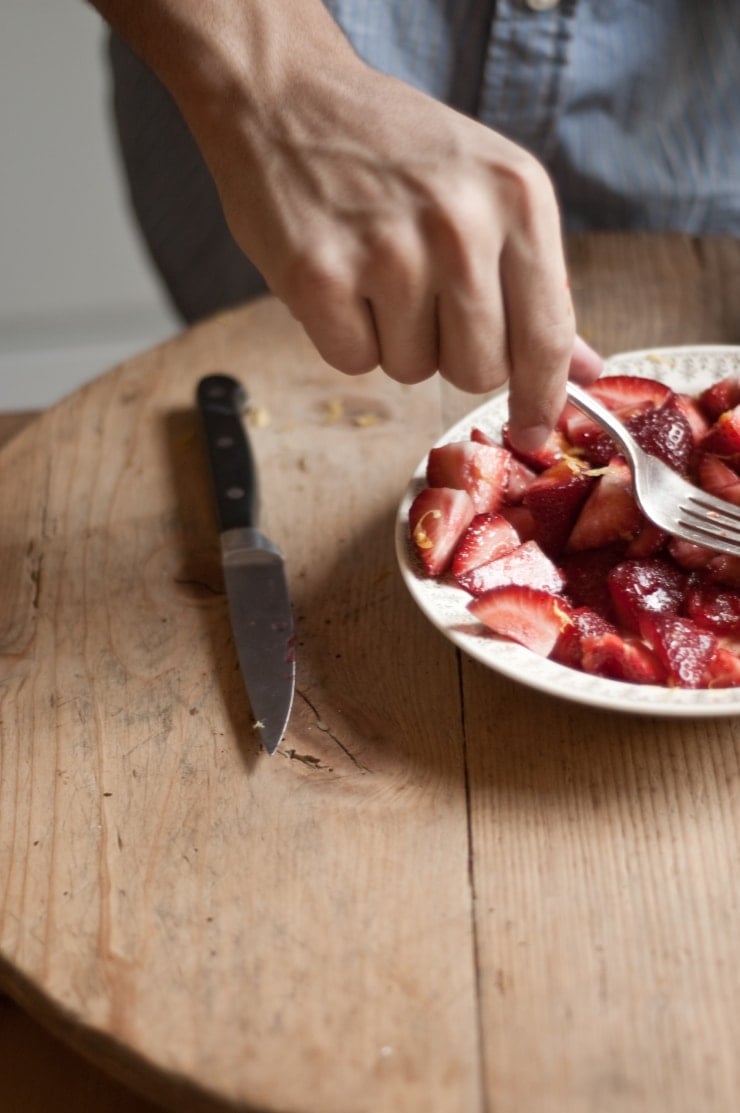 A mugful of the simmered cream is gradually ladled and continuously whisked into the bowl of yolks, until frothy, pale, and light. The warm yolk mixture is then combined into the remaining vanilla-freckled cream, and is set to cook on a gentle flame until it is thick enough to coat the back of a wooden spoon.
While the dulcet elixir is set to cook, a punnet of strawberries is hulled and quartered into a waiting bowl. A lazy snowfall of cane sugar and lemon zest, along with a light squeeze of lemon juice are added, springing the flavors into action. The berries are then squidged with a fork until the entire mixture is nubby and sweet; it is then set to a boil until slightly thickened.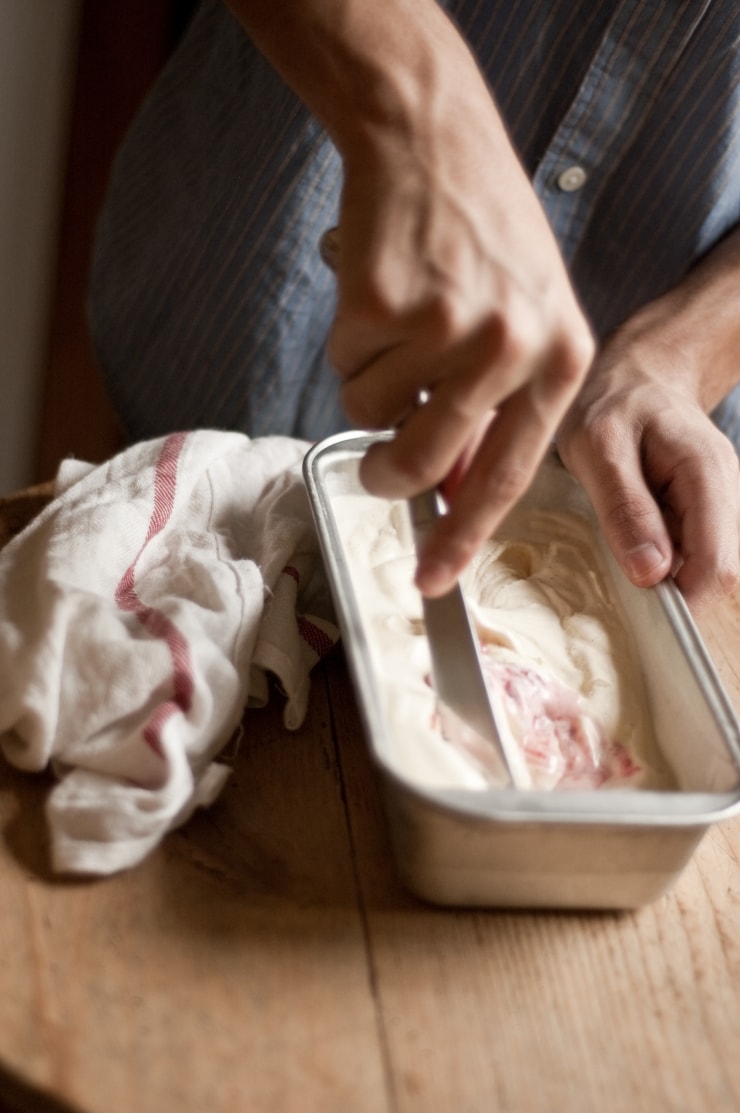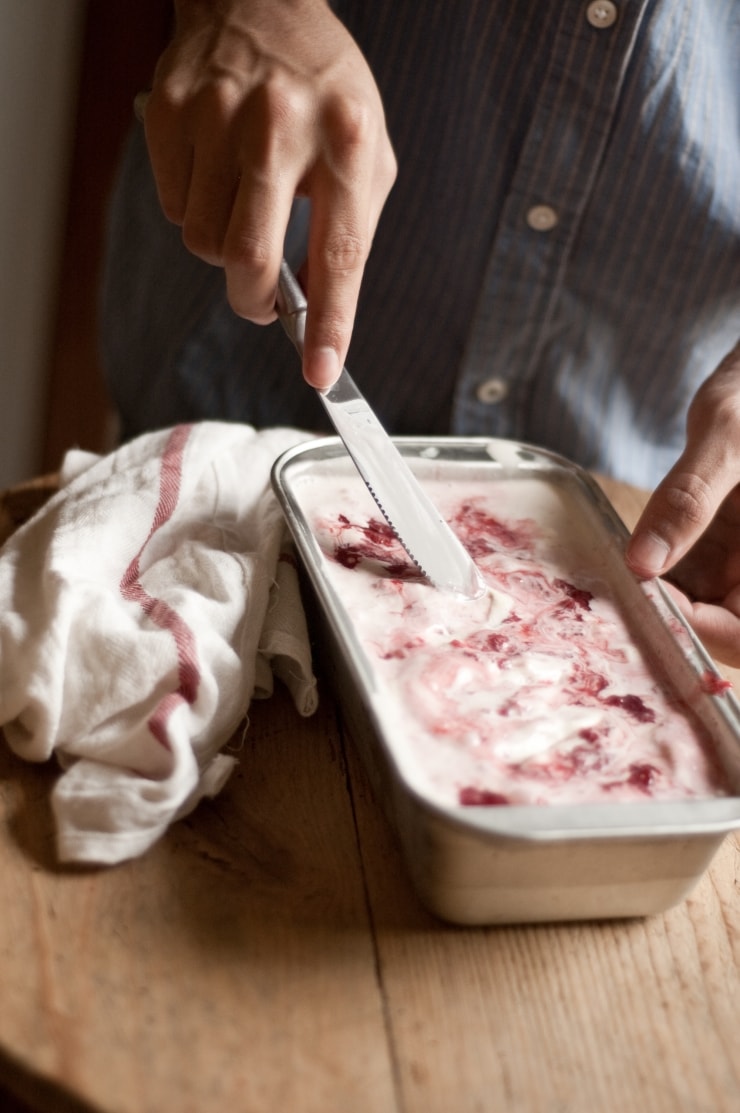 Once both mixtures have been tucked away in the fridge–and the base has settled in the refrigerator– for a few hours, the frosty ice cream bowl is put on its respective base, and the machine is set to churn the vanilla custard into the consistency of soft-serve.
The vanilla ice cream is slid into a container and dollops of the venetian-red berry sauce are swirled into the freckled base. The container is then put in the freezer for a few hours, until it's just firm enough.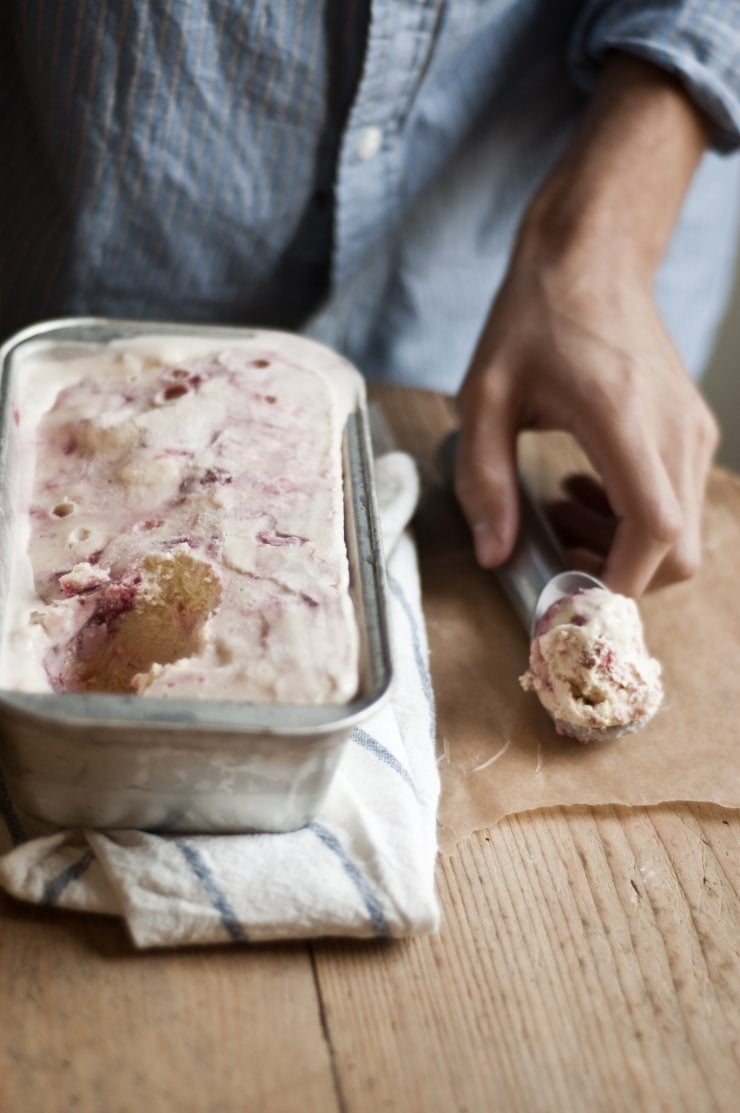 After a few hours of "endless" waiting, you shout "It's time for ice cream!" You hear footsteps racing to the kitchen. Suddenly, bowls, mugs, and spoons bombard the kitchen table, surrounding the homemade ice cream and you- the scooper. Scoops are quickly doled out, and the remaining ice cream is secretly tucked away in the freezer, behind the gallon bag of frozen blueberries for days that long for picturesque skies and a sense of peace.