This is the silkiest Roasted Tomato Soup Recipe made with herb roasted tomatoes and a slug of cream. The Roasted Tomato and Thyme Soup is topped with a delicious cheesy bread that is so easy and so delicious!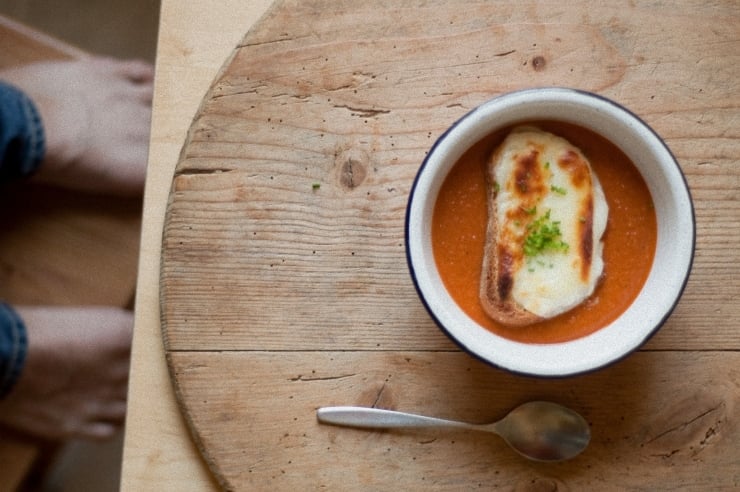 In all honesty, much baking hasn't been done in the past few weeks. There was a lemon drizzle cake, some cookies, and a few other things, but that's about it. Days have become busier, and fall is slowly beginning to settle in. Roasted tomato soup is in the books.
At the very moment that I write about this roasted tomato soup, I sit with a cup of tea, and a notepad filled with notes for this post. Outside, rain collects in small puddles on the cobblestone walkway, clusters of friends gather under umbrellas and walk briskly to class. Some are running to class, and some are walking slowly- balancing an umbrella in one hand, and in the other, a large Starbucks cup.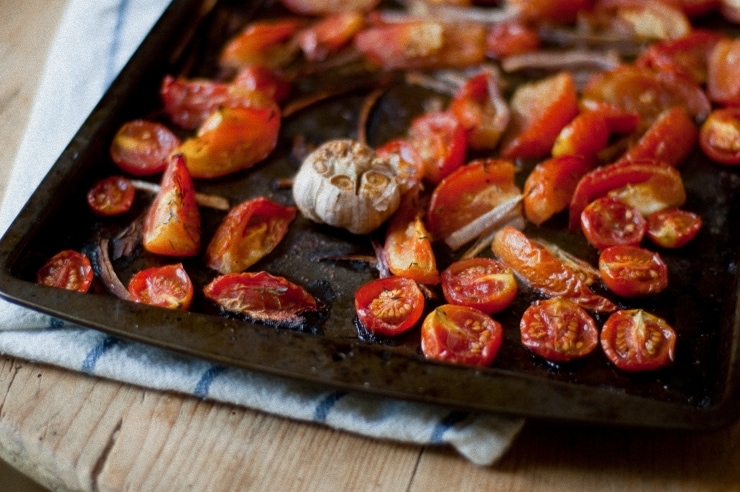 It was like this last month. For an entire week, it rained. That week, if I remember correctly, was followed by a warm week- it wasn't severe, but it did require the air conditioner to be turned on. After that, Hurricane Irene followed.
During the hurricane, all I could think about was the moment I made a this roasted tomato soup for myself, which I had made during the first week of much needed rain. I was home alone, we had a somewhat significant amount of tomatoes waiting to be used up, and the depressing grey clouds that covered the sky made me long for a bit of color in my day.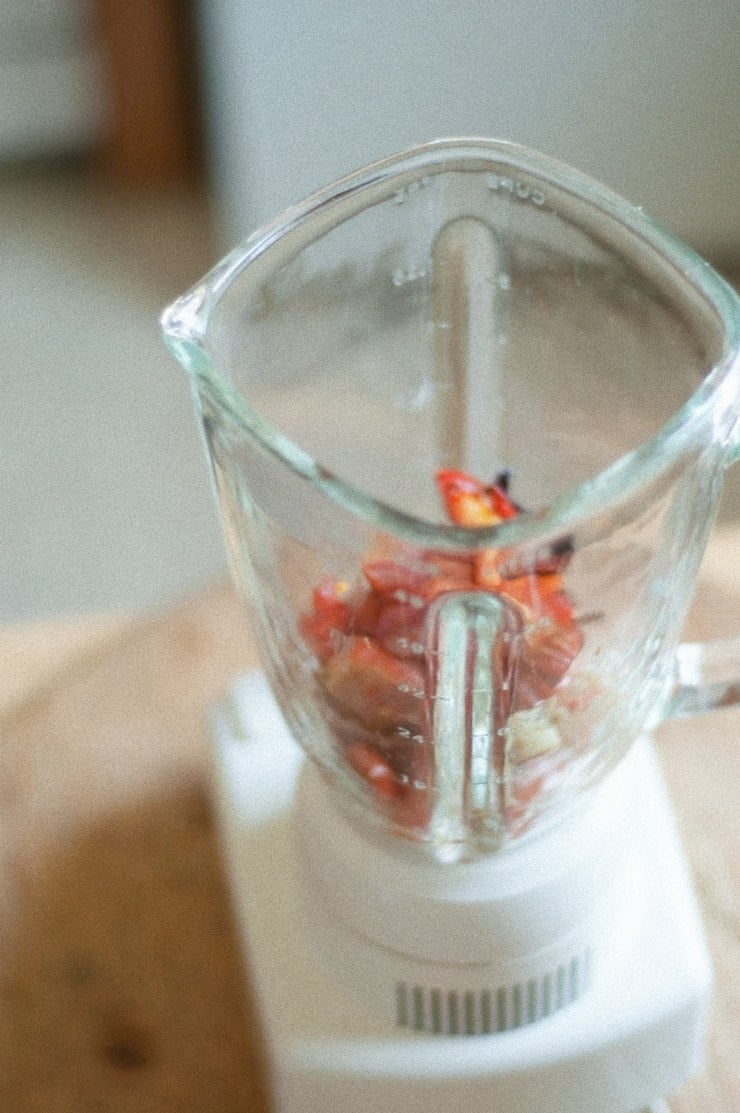 After a few moments of thinking what to do with the tomatoes, I preheated the oven, pulled a baking tray and cutting board out of the cupboard, and began chopping and slicing at onions, a small head of garlic, and the crimson red tomatoes. This soup is reminiscent of my Roasted Tomato Sauce. Everything was mixed on the baking tray with some olive oil (not extra-virgin), a spoonful of sugar- to help caramelize and bring out the sweetness of the red fruit, some salt & pepper and thyme- to accentuate and heighten the flavor.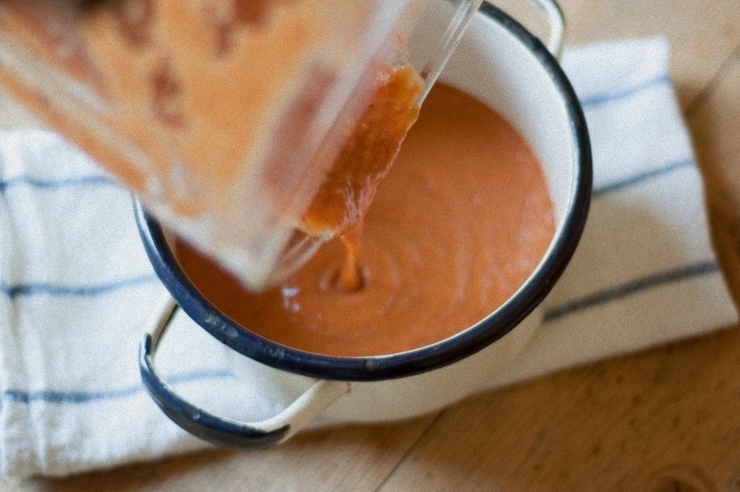 The mixture was heated on a low flame with slug of cream and some chicken stock (homemade or any Organic chicken stock will do– you can use vegetable stock instead to keep this vegetarian); meanwhile, a cast-iron skillet was heated, a generous slice cut from a loaf of fresh sourdough, and was toasted in the pan with butter. Once toasted, fresh mozzarella was torn and veiled over the toasted bread. The pan of cheese-covered bread was put under the broiler until the edges of the bread reached a fine line of golden & burnt, and the melted cheese was golden brown and bubbly.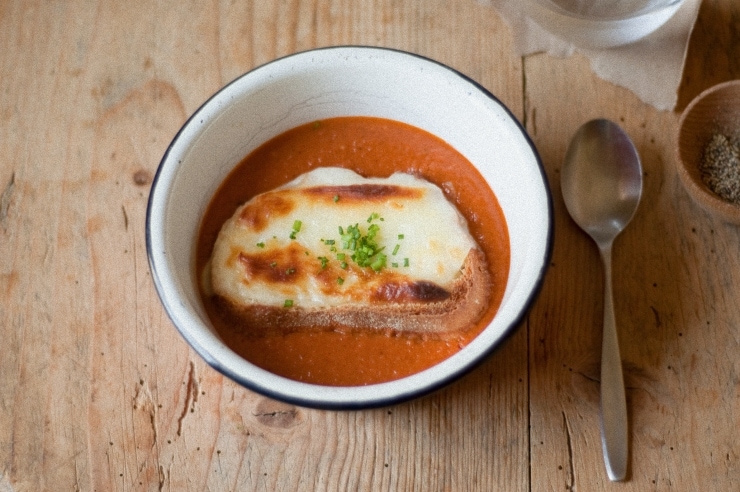 The warm roasted tomato soup was tasted for seasoning and then ladled into my favorite enamel bowl, and the cheese-covered bread was bedecked with chives and set to float on top of the sunset colored soup. Quickly, I sat down, grabbed a spoon and cut into a corner of the crisp bread, making sure to get enough mozzarella, chives, and soup in one spoonful. The soup was creamy, velvety, sweet. The fresh chives added cleanliness; the soup had a slight smoky note from the roasted garlic. And the bread covered in fresh mozzarella that floated in the middle of the bowl completed the entire dish.