Croque madame… the French Grilled Cheese sandwich, with an egg on top! This easy French-inspired croque madame recipe is sure to be a crowd-pleaser during any time of the year. What's not to like?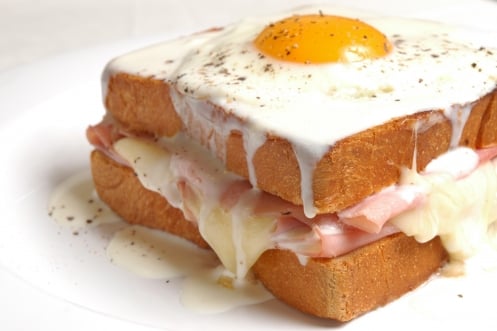 I had a late dinner today. Really late… At about 9:30 I wanted something quick to make, but it also had to be appetizing. I wanted a sandwich, or something of the kind… And then, it hit me. I was going to make the infamous french sandwich: Croque Madame!
What is a croque madame?
For those of you who do not know what a Croque Madame is a crunchy grilled chicken / ham and cheese sandwich topped with an egg sunny side up. If you'd rather exclude the egg in the recipe, you would basically have a Croque Monsieur.
My version of the recipe has some "American" flare to it… Instead of Gruyere Cheese, I decided that I would use some cheddar cheese. I know, shame on me, but I didn't have any Gruyere, so I compromised. I made my own version of the recipe, and I have to say, it sure tasted good!
P.S. I didn't have time to take a picture, so Phil Runion, allowed me to borrow his picture of a Croque Madame sandwich from his blog.
Thanks Phil!
Other Recipes You'll Love