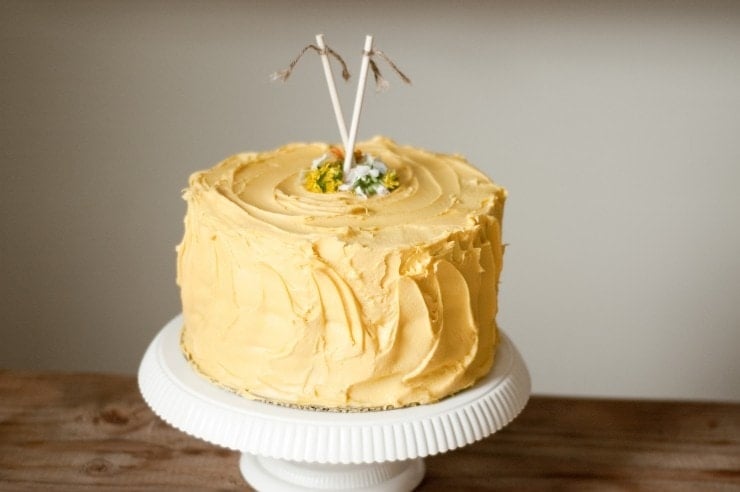 When I originally sat down to write this Yellow Birthday Cake recipe, I was not going to make a big deal that The Sophisticated Gourmet has turned 2 on this very day, but after speaking with friends and realizing that I was being foolish for not making a big deal about it, I had to scrap my old post and hold off on pressing the "Publish" button. Dear readers friends- TSG is 2-years-old today! Can you believe it?!
Before I get to this yellow birthday cake, I want to reminisce… It was just two years ago when I sat down, wrote a few paragraphs, and posted a few recipes on TSG's old home at Blogger.com. I didn't expect the posts to be read, but after making an account with an online food community, FoodBuzz, my life changed that very week. I friended random strangers on the web. The first person I spoke with was my friend, Rachael from Tokyo Terrace. After literally 15 seconds of requesting her as a friend on FoodBuzz, she sent me a message welcoming me to the community; we briefly conversed. I can't remember what the conversation was about, but I did think it was a little weird that some stranger was being so nice to me on the web. I also crossed my fingers that she was not some crazy old lady using a photo she found on Google Images. At the time, I had known the web to be a place of crazy people, pedophiles, teens constantly changing their MySpace and Facebook profile photos on an hourly basis, and parents making fake social networking accounts to "protect" their children.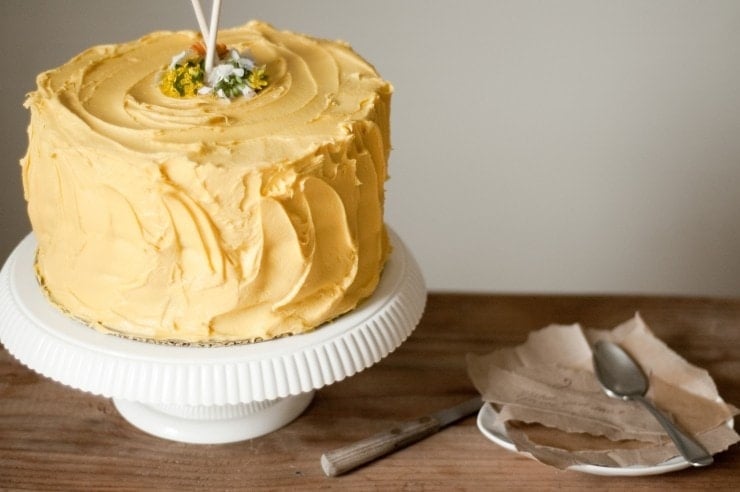 But after a week of conversing with people in a community that immediately felt like home, my views on the internet immediately changed. After friending Rachael, Alice, and several others, I soon learned that the food blogging community was full of kind, caring people who shared the same passions that I do. They understand me, inspire me, and continue to encourage me to share and be a part of a community that felt (and continues to feel!) like home to me.
I soon learned that if I wanted to run a food blog (and how to make exquisite yellow birthday cakes), there simply had to be photos. The thought of taking photos for each of my post sounded like pure hell. Before that very day, I hadn't picked up a camera and expected to come out with decent photos. I always expected cut-off faces, close-ups of peoples' nostrils, and red-eyes. My first camera was the iSight on my MacBook, the same one that I am currently writing this post on. Holding a MacBook upside-down and contorting my body to see if the photo would be decent, was quite an experience (yeah….). The photos were horrible- the graininess and poor lighting made my photos look as if I was taking pictures on a surveillance camera. Horrible photos or not, dear friends and readers poured in and encouraged me to continue to write and share recipes. After a couple months, my mother bought me a Canon point & shoot, and just last year, a dear friend whom I met through food blogging, Olga, gave me the dSLR camera that all of my photos are taken with. Since my iSight days, I think it's safe to say that my photos have gotten much better!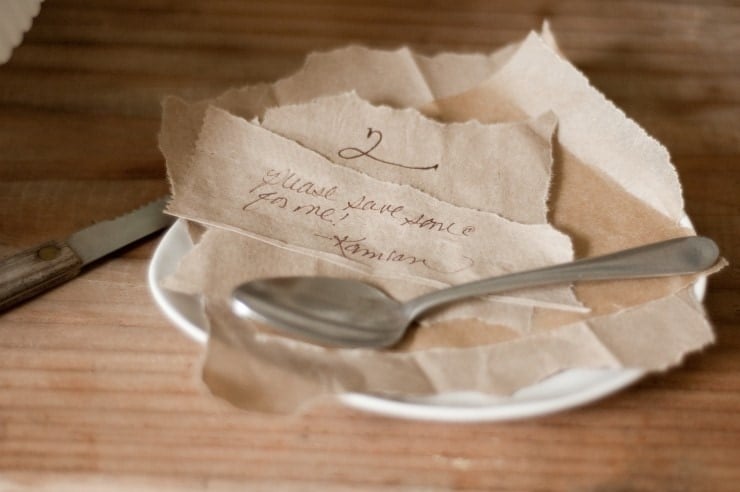 After entering this community, I've made friends that I could have never met elsewhere. There's Jaden, for example, who defended me against several angry bloggers when she let me choose a winner for a trip she was giving away to see the set of Julie & Julia. That night, she told me that having more people know you is both good and bad- that there will always be haters and there will be those who support you through-and-through. What she said is true. I get all sorts of emails and comments. I get hate emails- some of which do ruin my day, but the emails, comments, etc. from single parents, fathers just learning how to cook, friends, and new readers who have tried recipes and loved them- make my days brighter and leave a smile on my face. Every time I get a kind email or comment about a recipe that I've shared; I am honored that someone cooked or baked something from this site and shared it with the people they love.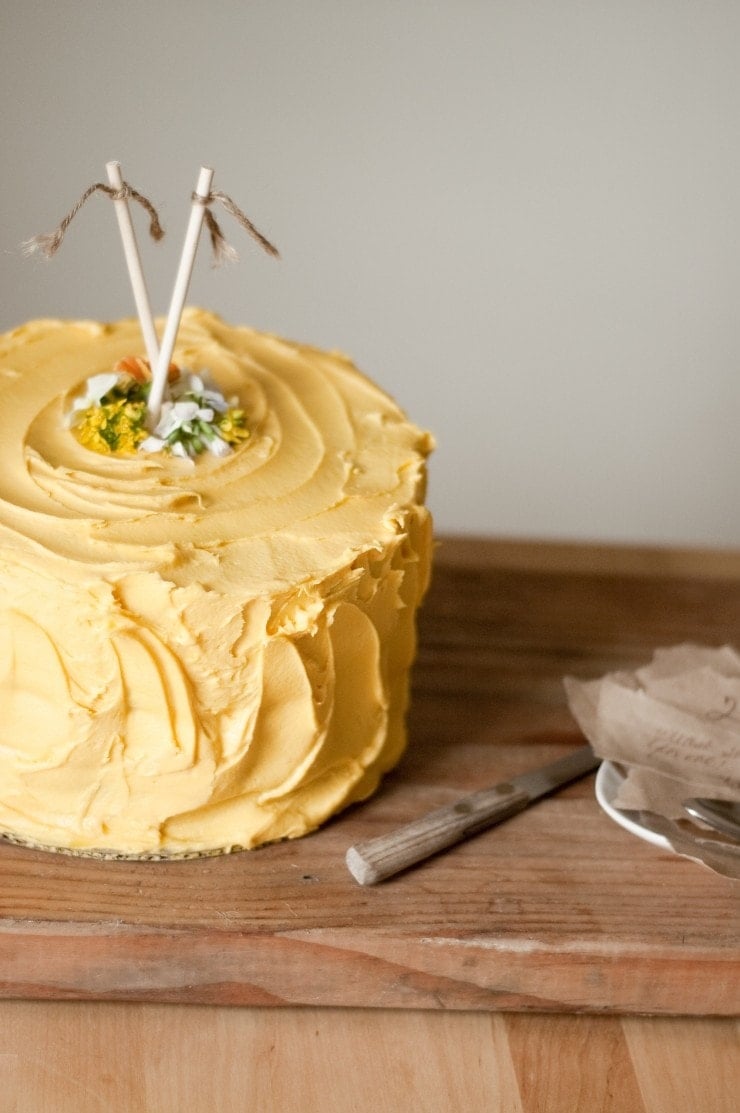 Because of this community, I've been honored to have met so many kind people in person: Alejandra, Alice, Amy, Anna, Ashley, Britt, Cheryl, Chris & Karen, David, Deb, Eliana, Elise, Erika, Gail, Jaden, Jennie P., Jennifer D., Jennifer L., Kristen, Lauren, Maggy, Nancy, Niri, Olga, Pim, Ree, Sara Kate, Shauna & Danny (and Lu!), Stephanie, Tami, Tonya, and soo many more.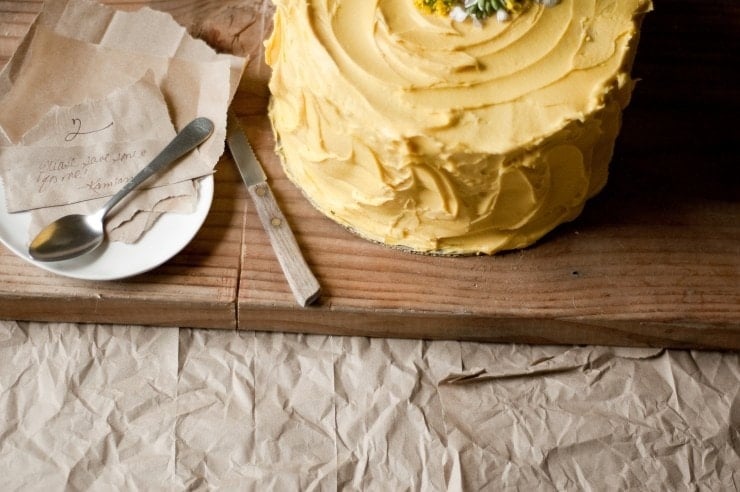 I have yet to meet my partners in crime (Elissa, Hannah, Lauren, and Tessa) in person, but we will next month when we speak on our panel at BlogHer Food in Georgia. I am excited to meet my online best-friends and to create more friendships in the near future.
Most of all- I am honored to have such supportive readers and online friends.
Thank you all for the support, encouragement, and for allowing The Sophisticated Gourmet into your homes. It's been a great two years- here's to many more!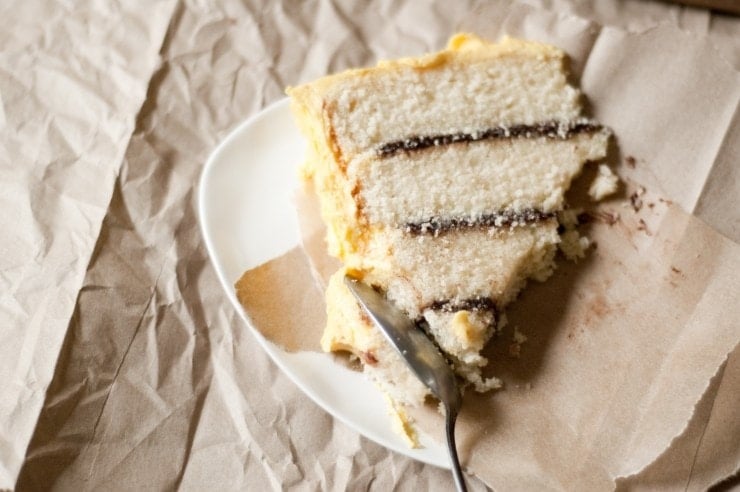 Now, let's get to the yellow birthday cake recipe! This birthday cake is made for people who love traditional things. It's a classic birthday cake. Sort of. This Yellow Birthday Cake has three thin layers of rich dark chocolate frosting sandwiched between four layers of yellow butter cake, which is then covered in a yellow, vanilla buttercream frosting. I promise that there's absolutely no butter in this. And the sugar? Pshh! Who needs that in a cake, right?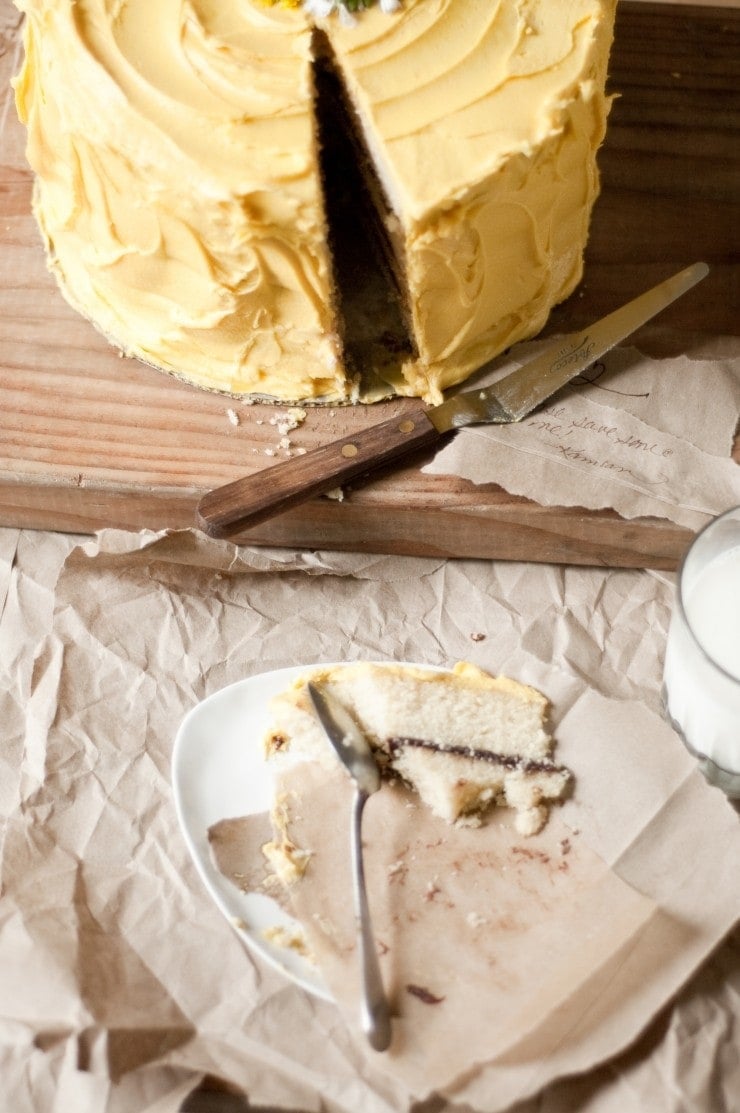 Okay, I am joking a little, but TWO YEARS is something to celebrate and what better to celebrate a birthday than with lots of butter, sugar, and chocolate? If you answered "A salad" we might not be able to be friends anymore. I know, I know, you're trying to get ready for bathing suit season and I'm not helping. Hey, will you really say "no thanks!" to cake? I didn't think so.
So, let's celebrate- let's have some cake. I'll wash the dishes for you. It's the least that I can do.