Monday, June 6th, 2011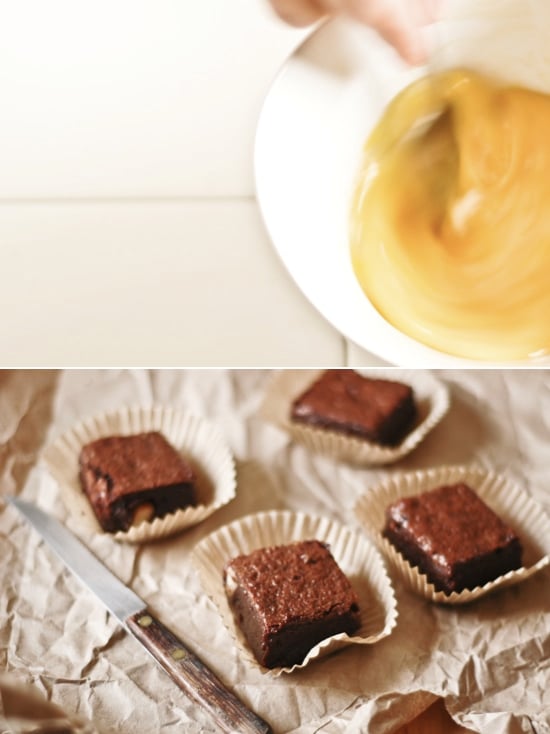 I have to admit, I am the clingy type when it comes to recipes. When I have an utterly extraordinary recipe for something, it usually takes a lot for me to try a new one. Brownies are no exception to this rule, even if I have shared a small handful (this, this, and this) of brownie recipes with you in the past. Up until mid-April, it was nearly impossible for someone to convince me not to make these cocoa brownies to pop in the freezer for oh-so-convenient snacking. So, what happened in mid-April that convinced me that it was time to try another brownie recipe? Well, it was less than 24-hours until a gluten-free dinner party that I was invited to, and let's just say that I was clueless as to what I was bringing.
I promised everyone I'd bring something with chocolate, and with chocolate, there simply must be a generous amount of dark muscovado sugar to accompany it (I've been obsessed with this stuff). I went through a never-ending list of possible things to make; I eventually settled on brownies. I don't know anyone who wouldn't end a meal without a brownie (Except for my sister who isn't big on eating anything with chocolate. Weirdo.) I threw the brownies together, carefully noting the mass of each ingredient and the order they were mixed in. I was aiming for fudgy-bellied morsels of chocolate-y goodness studded with shards of macadamia nuts and viridescent pistachio pieces still blushing with their residual rosy skins.
CONTINUE READING: Amazing Chocolate Brownies, gluten-free »
Font Size: a A |
Print Recipe | 59 Comments