A Middle-Eastern couscous recipe brimming with wonderful Middle-Eastern spices and only takes but a few minutes to make.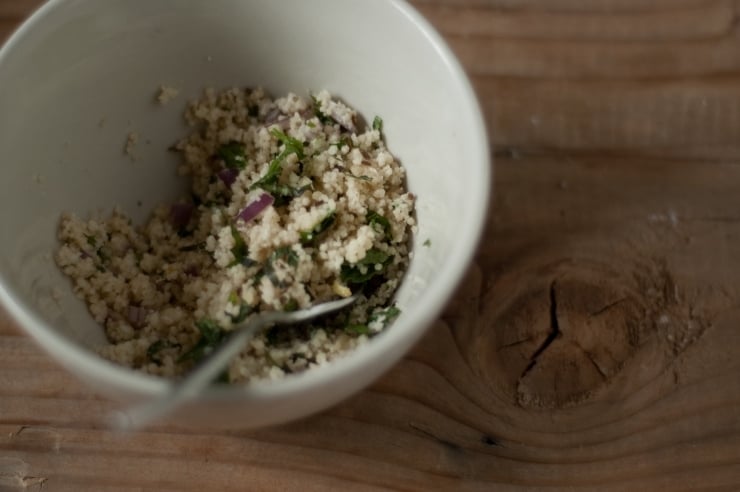 As I write this post for a delicious Middle-Eastern couscous recipe, I am distracted by a beauteous scenery outside. There are patches of fluffed pillows scattered across an azzurro sky. The weather is slightly warmer; its soft voice is encouraging plants to sprout, birds to sing, and people to bask in the afternoon sun.
Mother Nature's "perhaps hand", as E.E. Cummings once wrote, "is arranging a window while people stare arranging and changing placing." This time of the year reminds me of times spent walking through the farmers' market to see what the season has to share. It reminds me of a perfect warmth found in foods we love. It, most of all, reminds me of this couscous.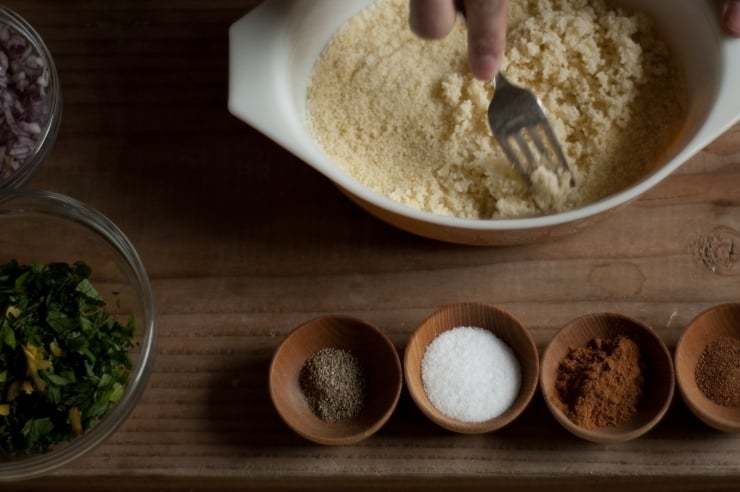 This couscous packs many middle-eastern inspired flavors. It is like a pillow of cool warmth. The spices in produce a sense of warmth. The cold yogurt dressing and the cool temperature at which this couscous is served give off a sense of cool. This salad gracefully welcomes in Spring.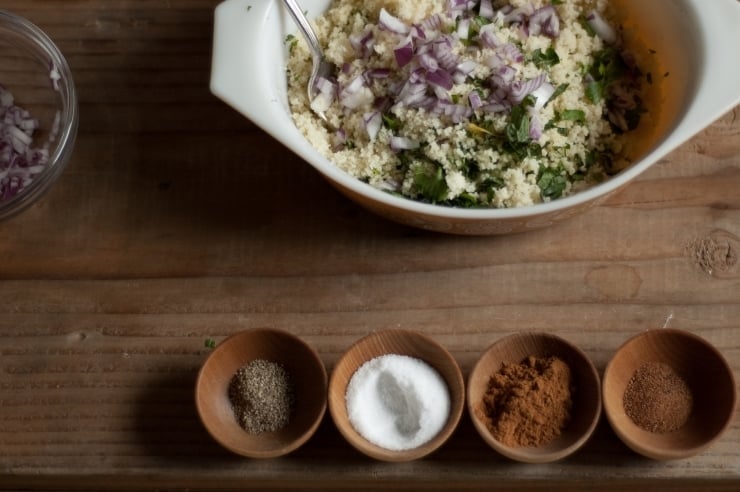 The flavors in this couscous salad are a riff on the flavors of Afghani brown rice, only this takes but a few minutes to throw together and is a lovely accompaniment to my lamb chops.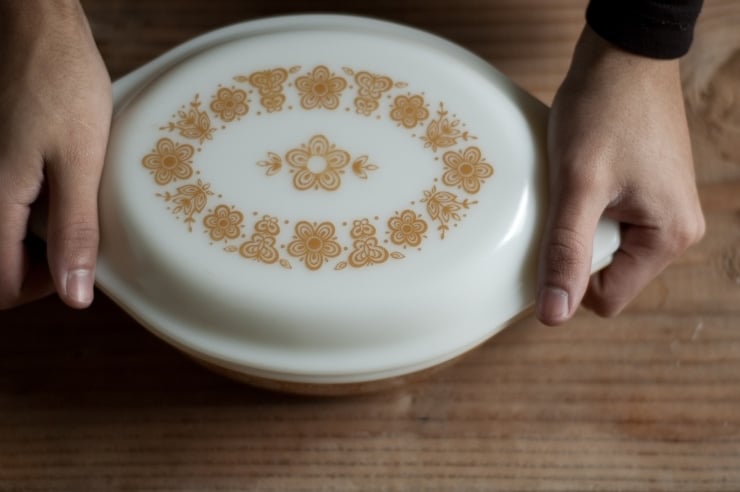 Middle-Eastern Inspired Couscous
Serves 3-5

Although this couscous doesn't need much time to make (Because it's instant. Cough.), it does require quite a few ingredients. The yogurt dressing adds a lot to the salad, and is just enough to tie all of the flavors together without over-powering anything.

Surely vegetable add-ins (i.e. chickpeas) would be lovely in this couscous to make it hearty and very much salad-like. If you prefer to have more yogurt dressing, simply double or triple the dressing recipe (I would leave out the olive oil if you do plan on doubling/ tripling).

Be sure to use a fork when mixing the couscous to avoid clumpy and mushy couscous.

Ingredients:

Dressing:
3 tablespoons greek yogurt
1 tablespoon lime juice
1 tablespoon milk
1 ½ tablespoons olive oil

Couscous:
1 cup cooked couscous**

½ cup (4g / .15 oz) loosely packed mint leaves, chopped
½ cup (7g / .25 oz) loosely packed parsley leaves, chopped
¼ cup (25g / .90 oz) finely chopped red onion
1 clove garlic, minced
1 teaspoon cumin seeds
½ teaspoon freshly ground cinnamon
Healthy pinch of lemon zest
Pinch Nutmeg
Salt & Pepper, to taste

Preparation:

Whisk all of the dressing ingredients together in a bowl. Set aside.

Fork the cooked couscous. Mix in the mint, parsley, red onion, garlic, lemon zest, cumin seeds, ground cinnamon, nutmeg, salt, and pepper.

Mix the couscous and dressing together. Serve cold.

**To cook the couscous: Follow the package directions or place ⅔ cup uncooked couscous in a bowl. Stir in 2/3 cup boiled water. Cover with plastic wrap for 5-10 minutes. Fluff with a fork.