An easy and versatile Twice Baked Potatoes Recipe with cheese and chives. It can't get any better than this.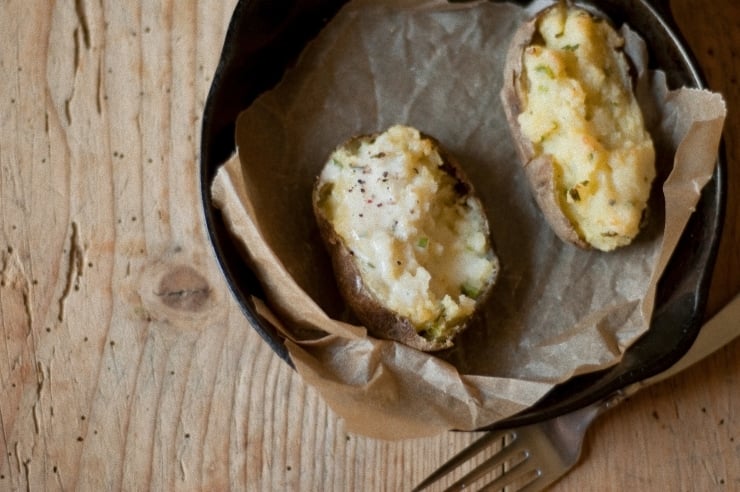 I know baked potatoes aren't something that most people would normally rave over, but I can't find it in myself not to rave over these twice baked cheese & chive potatoes. I mean, really, who doesn't like a baked potato? These aren't your normal baked potato filled with cheese, salt, pepper, and (dare I say?) a liberal amount of ketchup.
When I last made these potatoes, they were all part of a simple meal that went with this roasted chicken. We called the chicken, a simple salad, fresh bread, and these gloriously sophisticated potatoes, dinner.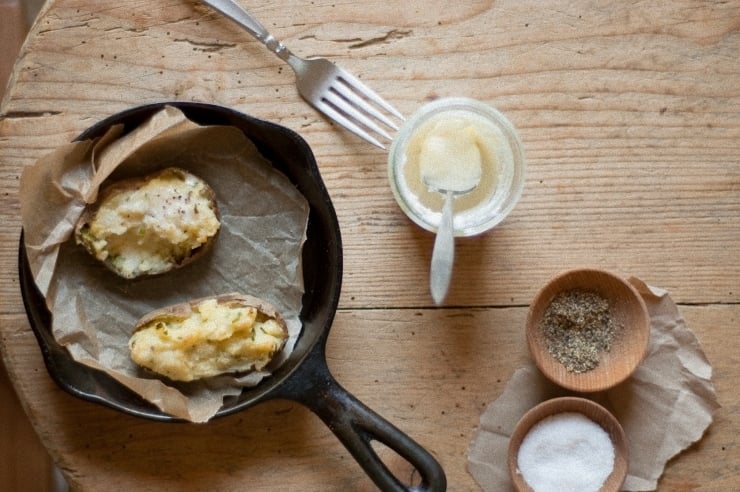 Although I did mention that they are a bit revved-up from your normal twice baked potatoes, I am not stressing that these are entirely sophisticated because in all actuality, my version tastes almost like those ruffled potato chips with cheddar and sour cream that you are secretly obsessed with (okay, maybe it's just me).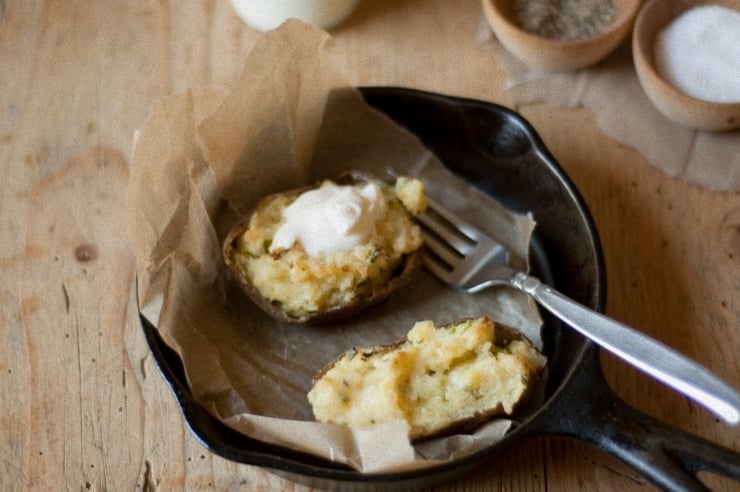 I grew up eating baked potatoes; we never had them the same way twice, and because of that, I'm sure that I can sit here and list hundreds of ways to serve baked potatoes, but honestly- I feel that these are my favorite way to have them.
Potatoes are scrubbed and washed, then thrown directly on the oven rack to bake at 375 degrees fahrenheit for about an hour and a half until the skins are golden brown and crisp on the outside, and they give a little when they are gently squeezed.
Once the spuds are out of the oven, they are immediately split in half, and the fluffy flesh is scooped from each of the halves into a large bowl. In the bowl, a huge dollop of crème fraîche is added to the potatoes along with a snowfall of freshly grated Parmesan, Pecorino Romano, and Gruyère cheeses, sea salt and pepper, and a good handful of chopped chives. A lightly beaten egg is mixed in, which will help transform the pale verde-freckled mixture into a beautifully tanned and crisp filling, while they are in the oven.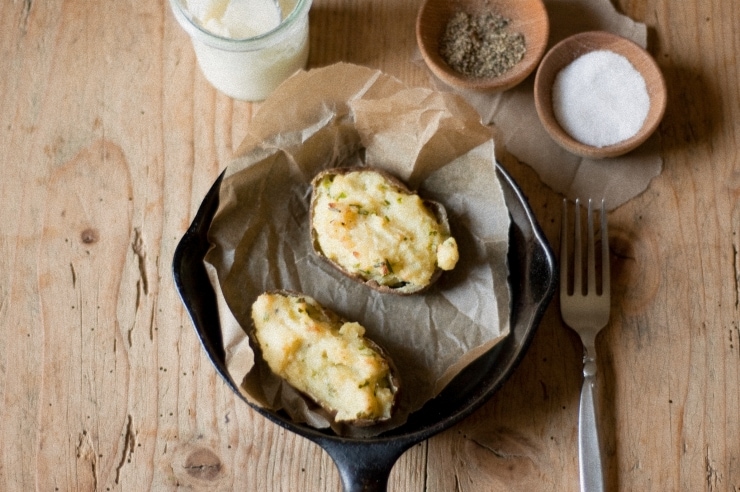 The potato skins are then stuffed with the fluffy cheese and potato mixture, and is bunged back in the oven until they are faintly blushing with bronze and the filling is slightly crispy. If you're roasting this chicken and making these potatoes, both things will be done around the same time, which I find to be quite convenient.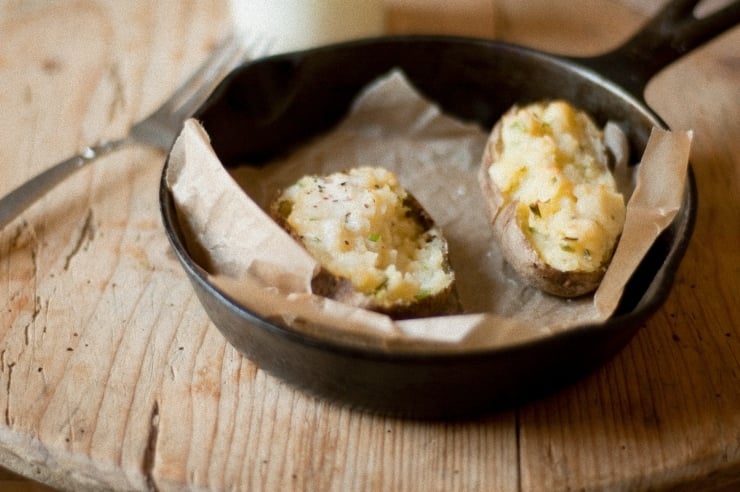 If no one's in the kitchen, I'd hide a couple for midnight snacking because they definitely will not stand a chance at the kitchen table. Thank me later.
Twice Baked Cheese and Chive Potatoes
Makes 10 halves
Inspired by Sophie Dahl

These twice baked potatoes are very versatile. If you don't have crème fraîche, simply use sour cream, instead; I suspect yogurt might work well, too. Just add a couple tablespoons or so of butter if you're using either sour cream or yogurt.

I added around 3 ½ ounces (100g) of cheese to the potato filling; I didn't want the cheeses to be too over-powering, but feel free to add up to 7 ounces (200g) of whatever cheese(s) you decide to use. Parmigiano-Reggiano, Goats' Cheese, Mozzarella, Cheddar, Stilton / any blue cheese (maybe use Rosemary or an other herb, instead?) are just a handful of types that would work well. The possibilities are endless.

If you're short on patience or time, you can "bake" the potatoes in the microwave (I think around ten minutes will do; be sure to poke them with the tines of a fork- you don't want exploding potatoes), then finish them off in the oven.

Ingredients:
5 baking potatoes, scrubbed clean
¼ cup / 60g crème fraîche
Handful of chopped chives (about ¼ cup / 4 tablespoons)
1.75 oz / 50g Pecorino Romano
.9 oz/ 25g Parmigiano-Reggiano
.9 oz/ 25g Gruyère
Salt & Pepper, to taste
1 egg, slightly beaten

Preparation:
Preheat the oven to 375F/ 190C/ Gas Mark 5.

Place the potatoes directly on a sheet of aluminum foil directly on the wire rack of the oven. Bake for 1 ½ – 1 ¾ hours until the skins are golden brown and crisp on the outside, and they give a little when they are gently squeezed.

Take the spuds out of the oven, and using a clean tea towel, split each in half. Scoop the fluffy flesh into a large bowl. Dollop in the crème fraîche, chives, and cheese. Season with salt & pepper to taste, then stir in the beaten egg.

Spoon the potato mixture back into the skins. Put on a baking tray in the oven for about 18 minutes, or until the herb-freckled mixture is beautifully tanned and slightly crisp on top.

Serve with dollops of crème fraîche, salt & pepper. Enjoy!

Note: Will keep for up to 2 days in the refrigerator in a covered container.