This quick and delicious pistachio and mint lamb chops recipe will leave you swooning over the delicious flavors of the Middle East.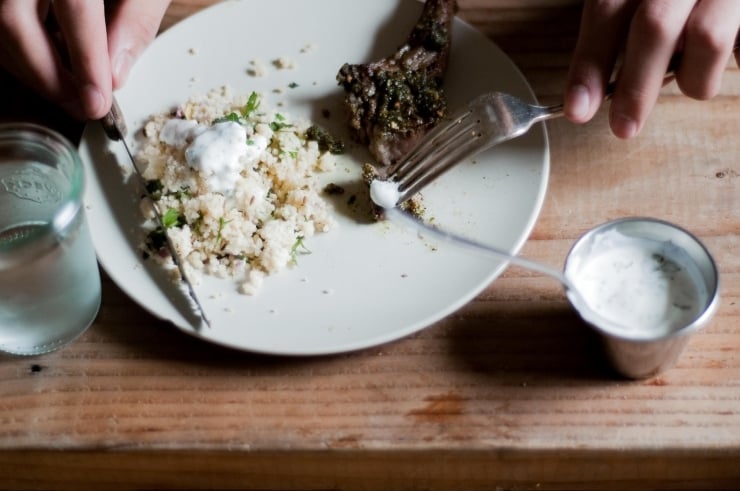 It happened before making these Pistachio and Mint Lamb Chops… This morning, I walked outside to experience the magic of Spring. I looked up to see a sky nearly uninhabited by clouds. I heard birds sing an encouraging song to the trees they now call home. I closed my eyes to wallow in the gentle warmth of the sun and to feel the ever-so-slight breeze brush it's cool hand against my face. Mother Nature, we welcome your magical season of rebirth, inspiration, and hope, with very open arms.
The cool warmth of spring inspired me to share a Middle Eastern-Inspired Couscous recipe with you on Tuesday. Nothing goes better with the couscous than than this recipe for Pistachio, Mint, and Spice Crusted Lamb Chops.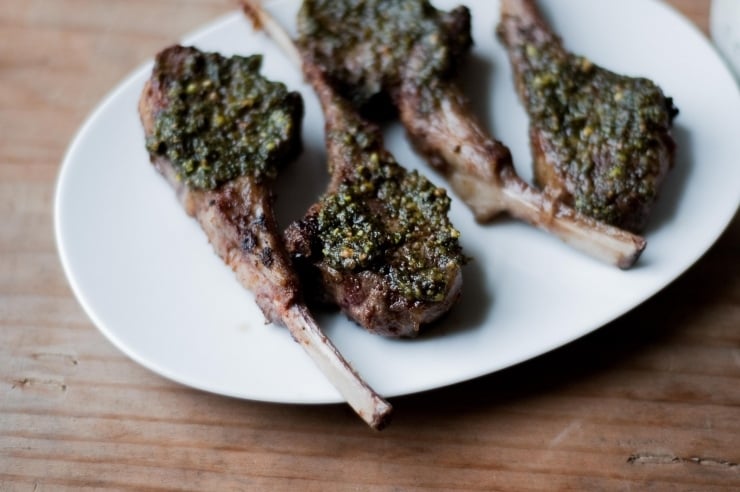 In my last post, I failed to mention that this entire meal took me only about half-an-hour to prepare. Although this meal requires quite a few ingredients, don't be overwhelmed or intimidated by the ingredients list- this recipe is very easy to put together. You'll find yourself doing more chopping and mixing than anything else, which I think is quite therapeutic after a hectic day.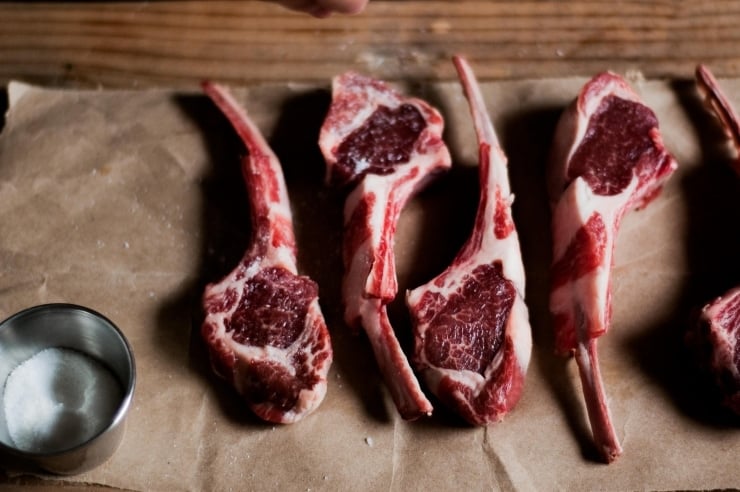 These lamb chops are layered with flavor. They first get a healthy sprinkling of fine grain sea salt and coarsely ground black pepper, then they are massaged with a spice rub consisting of lemon zest, pulverized cardamom seeds,freshly ground cinnamon, and a few other aromatics. The flavor doesn't stop there- after the lamb chops have been beautifully seared in a cast-iron skillet, they're daubed with a coarsely chopped pistachio and mint topping that adds great flavor and character to these lamb chops, and then placed in the oven for five minutes.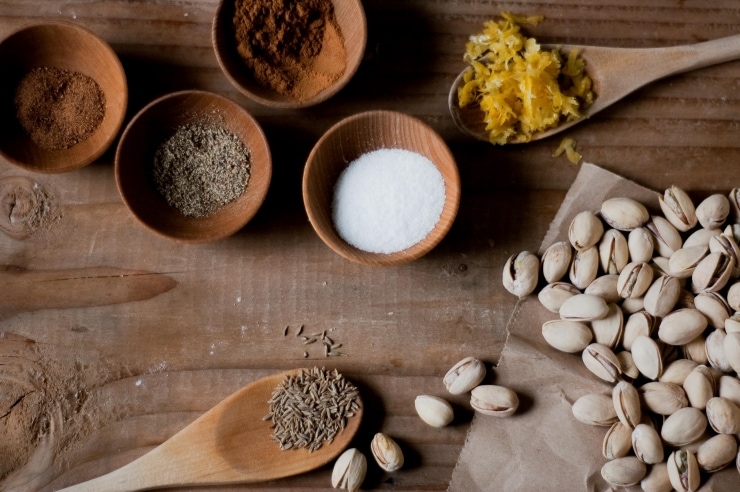 Once the lamb chops are properly cooked, they're served next to a fluffy alp of couscous that has been drizzled with a very addictive yogurt-mint sauce (which, I admit, I like to drown everything in because it tastes so good).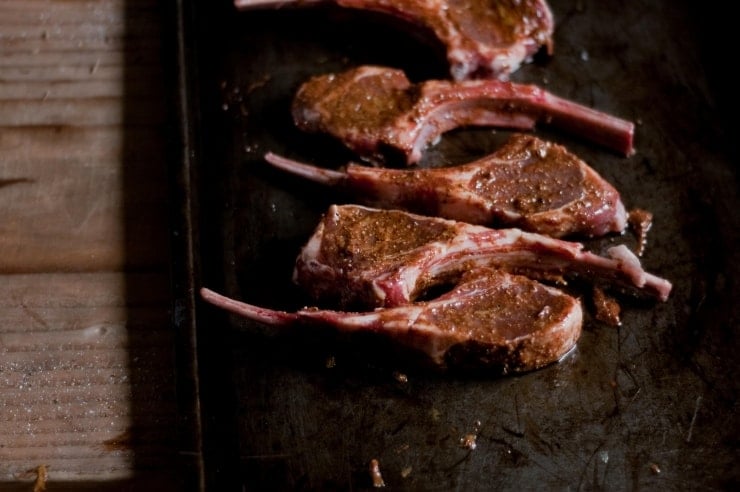 You deserve this meal after a hectic day at work. Within the next few weeks, you should take a walk outside, close your eyes, let the afternoon sun bathe you in its light, and allow the cool breeze to brush against your face. After enjoying what this magnificent season has to offer, put this thirty-minute meal together and wallow in the delicious flavors of the Middle East. You'll thank me for encouraging you to do so.
Pistachio, Mint, & Spice Crusted Lamb Chops Recipe
Makes 6 Servings (Serves 2-3 People)

Although the preparation for these lamb chops is rather quick and simple, you will need quite a few ingredients to make this recipe.

The layers of flavor and texture are what make these lamb chops phenomenal. Served with Middle Eastern-inspired couscous and yogurt-mint sauce, this quick meal encourages you to wallow in the flavors of middle-eastern deliciousness.

The spice mixture used for the lamb chops is rather untraditional, especially because sumac would be used instead of the lemon zest, but trying to find sumac is like is like going on a long treasure hunt.

If you prefer a less tangy yogurt sauce, I would leave out a bit of the lemon juice and add in about a tablespoon more of mayonnaise. If you prefer not to use mayonnaise, you can make this yogurt sauce with greek yogurt, a glug of milk, and the lemon juice [or… just greek yogurt and a glug of buttermilk]. I prefer the sauce to be slightly tart, as it compliments all of the flavors in the lamb and the couscous, but you can adjust the sauce to your taste. I will warn you, however, this sauce is quite addicting.

Ingredients:

Couscous (recipe here; optional)

6 lamb chops (about ¾-inch thick)
Fine Grain Sea Salt & Freshly Ground Black Pepper
Olive Oil

Spice Rub
2 teaspoons lemon zest
Seeds from 3 green cardamom pods, pulverized into a fine powder
1 ½ teaspoons freshly ground cumin
½ teaspoon chili powder
½ teaspoon freshly ground cinnamon
¼ teaspoon freshly ground nutmeg
Juice of ½ lime (1 tablespoon)
1 tablespoon olive oil

Pistachio and Mint Topping
⅔ cup (60g / 2.10 oz) pistachios, shells removed
⅔ cup mint
⅓ cup cilantro
¼ cup olive oil
1 tablespoon finely chopped red onion
1 teaspoon lemon zest

Yogurt-Mint Sauce
Juice of 1 lemon
1 cup greek yogurt
⅓ cup of mint, finely chopped
3 tablespoons mayonnaise

Preparation:

Prepare the couscous.

Generously season each of the lamb chops (both sides) with salt and pepper.

For the Spice Mixture:
Mix all of the ingredients for the spice rub in a bowl. Set aside.

For the Pistachio and Mint Topping:
In a food processor, chop all of the ingredients for the pistachio and mint topping. Process the mixture until it is coarsely ground (not pureed). Set the mixture aside.

For the Yogurt-Mint Sauce:
Put all of the sauce ingredients into a bowl and stir. Keep refrigerated (I'd say for up to two days max).

Cooking the Lamb Chops:

Place the chops in a glass baking dish or on a baking sheet (with a lip), and gently massage the lamb chops with the spice rub. Get in there- cover those babies from head-to-toe with the spice mixture!

Generously douse with olive oil. Allow the lamb chops to sit at room temperature for about 10 – 15 minutes, while you preheat your oven.

Preheat oven to 425ºF / 200ºC / Gas Mark 6.

Heat a large cast-iron skillet or large sauté pan on medium-high heat.

Once the pan has heated, carefully plop the lamb chops (don't bother dripping off the oil from the chops- you need it to cook the chops) into the hot pan and cook for about 2 minutes on each side to brown [Kamran Note: If the skillet begins smoking, lower the heat slightly.] Once the chops are as beautifully browned as roasted chestnuts, remove the pan from the heat and carefully daub each lamb chop with the pistachio and mint topping.

Put the pan of lamb chops in the oven for about 5 minutes until the lamb chops are medium-rare (or well-done, if you're into that).**

Place the lamb chops in aluminum foil, and allow the meat to rest in for 5-6 minutes before serving.

Serve with this couscous. And drown it all in yogurt mint sauce. Enjoy!

** Testing for Doneness: If the lamb is medium-rare it will give when you press the meat with your finger, if it doesn't give- it's well-done.

To be very safe, you can use an instant read meat thermometer to check for doneness. If the lamb is medium-rare, it will register 140ºF-150ºF. If the lamb is medium, it will register 160ºF. And if it is well-done, the lamb should register 165º and above.