A delicious gluten-free, vegan, and sugar-free carnival snack bars recipe made with popcorn, bananas, brown butter, chocolate, and nuts.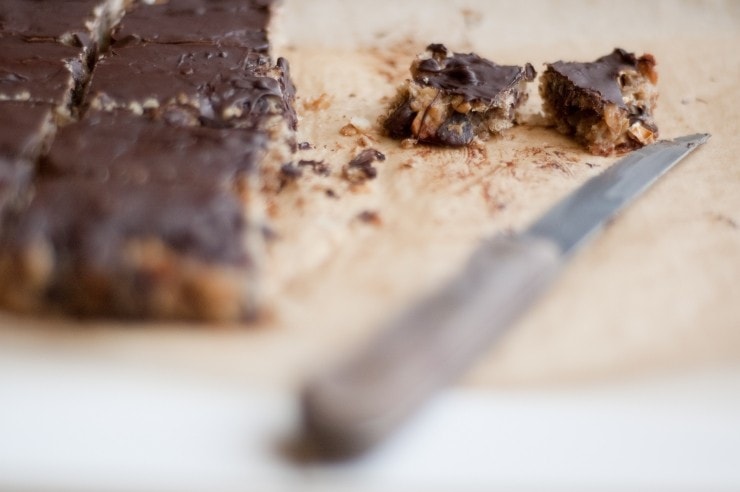 As I write this post, I am surrounded by a sierra of clothing, an unmade bed, books haphazardly flung across my bedroom floor and a checklist as endless as the Mahabharata. I am preparing for my brief trip to San Francisco tomorrow morning (more on that in a later post), and I figured that I'd share a recipe for Brown Butter Carnival Bars before my trip.
This adapted recipe comes from my friend Heidi's newest book, Super Natural Everyday. The book is filled with gorgeous photos, a thoughtful design, and beautifully written recipes. I've had several great lunches and suppers thanks to Heidi's latest book, but these bars have become my addiction. They're like crack. I'm sure others that have made the Carnival Cookies from SNE will agree with me.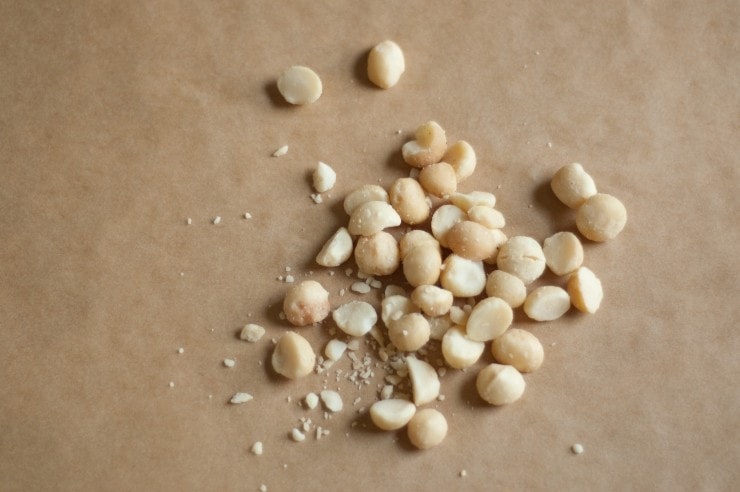 I've slightly modified Heidi's recipe. Allow me to explain: when I planned on making the cookies, the Whole Foods closest to Penn Station decided to have a sale on extra virgin coconut oil. And that lovely sale lead to an empty shelf. There was not one jar of the stuff left when I got to the store. I can spend all day whining how the shelf was bare, but I found an equally delicious alternative that makes having no coconut oil on hand a minor issue. My alternative is not as healthy as extra virgin coconut oil, but it sure is delicious. Can you say brown butter?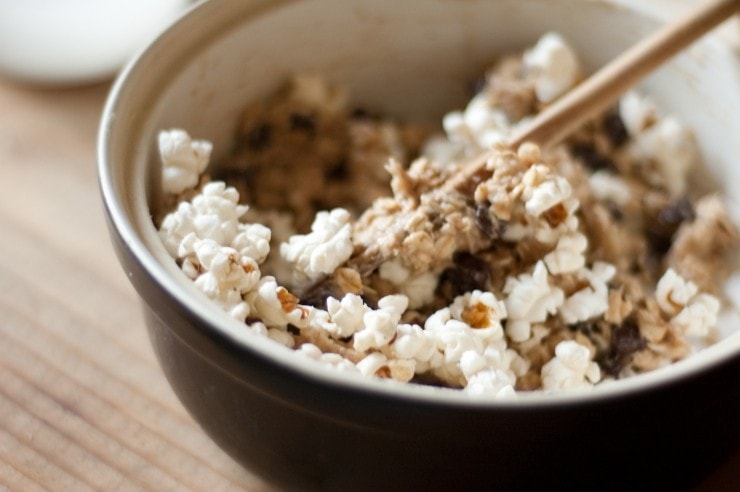 In addition to switching out the extra virgin coconut oil for brown butter, I forgot about the peanuts all together. Instead, I mixed in equal amounts of roughly chopped pistachios and macadamia nuts. My laziness also got the best of me, I smooshed all of the cookie dough into a parchment-lined tart pan and made carnival bars. Of course, I couldn't stop there. The bars longed to be smothered in a glorious blanket of melted dark chocolate.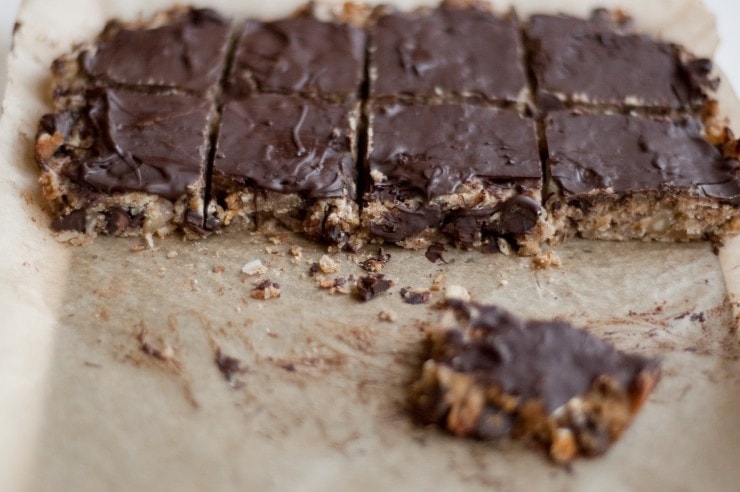 Are you counting the calories? I am pretty sure I lost count after the brown butter was mixed in. Whether or not these have only a few billion more calories and grams of fat than the original recipe, I can't find it in me to apologize about my inclusion of the brown butter. Brown butter is a gift from the heavens (well, it is in my own little world). If you're wary, lazy, or lack time to make brown butter, worry not- I've included an alternative in the headnotes of the recipe.
Brown Butter Carnival Bars

Adapted from Super Natural Every Day (p. 191- "Carnival Cookies") by Heidi Swanson
Makes 20-24 bars

To make your own almond meal, simply drop ½ cup (60g/ 2oz) whole almonds (skin and all) into a food processor until they have a texture of sand. Don't process the almonds too much because you'll then end up with almond butter, and although that is lovely, we don't need that for this recipe.

Instead of brown butter, ¼ cup (60ml) of extra virgin coconut oil (like in the original recipe), or simply- ¼ cup (½ stick / 4 tblspns / 2 oz) butter work just as great.

I used macadamia nuts in the recipe, but feel free to use an equal amount of any other nut, or even a combination. These bars taste especially delicious with a macadamia nut & pistachio combination!

If you'd like to make your own popcorn, like I did, I've included some instructions at the end of the recipe, on how to make your own popcorn in a large pot

Ingredients:

For Carnival Bars:
½ cup (8 tablespoons / 113g / 4 oz) unsalted butter

1 ½ cups (120g / 4.25 oz) rolled oats
½ cup (60g / 2 oz) almond meal
1 teaspoon aluminum-free baking powder
½ teaspoon ground cinnamon
½ teaspoon fine-grain sea salt

1 ½ cups (340g / 12 oz) well-mashed ripe bananas
1 teaspoon pure vanilla extract

⅓ cup (50g / 1.75 oz) macadamia nuts, toasted (or and equal amount of another nut)
⅓ cup (50g / 1.75 oz) unshelled pistachios (or and equal amount of another nut)
1 cup (170g / 6 oz)dark chocolate chips or chopped bittersweet chocolate
1 ½ cups (20g / .75 oz) popped corn

For Chocolate Topping:
Scant cup (142 g / 5 oz ) dark chocolate chips or chopped bittersweet chocolate

Preparation:

Preheat oven to 350ºF / 180ºC / Gas Mark 4. Line the bottom and sides of an 8-by-11-inch [20cm-by-28cm] tart pan (or equivalent) with parchment paper.

Melt the ½ cup butter in a small pot over medium heat until the butter is a hazelnut brown and gives of a nutty aroma. Strain using a paper coffee filter or paper towel over a fine mesh strainer (being sure that the solids are left behind). Measure out ½ cup / 60ml, set aside for 10 minutes (use the extra to spread on toast; you'll thank me).

In a large bowl, combine the oats, almond meal, baking powder, cinnamon, and salt. In another large bowl, combine the mashed bananas, 1/4 cup brown butter, and vanilla extract. Add the oat mixture to the banana mixture. Stir until combined.

Fold in the chocolate, then the nuts, and lastly the popped corn. The dough will be looser than a standard cookie dough, but don't worry about it.

Transfer the dough to the parchment-lined tart pan and smoosh it around to level it off.

Bake for 15- 20 minutes, until the sides are deeply golden. Remove from the oven and allow to cool on a wire rack.

Once cooled, prepare the Chocolate Topping:
Melt the chocolate in a double boiler (or in the microwave) until liquidy and shiny.

Evenly pour the melted chocolate onto the carnival bars and place the entire pan in the freezer for 15-20 minutes, until the chocolate topping has firmed up and the bars are easier to cut.

Cut into 20-24 bars with a sharp knife.

Enjoy!

Making your own popcorn:
In a large, heavy-bottomed pot with a lid, place in ⅓ cup of popcorn kernels and 1 ½ tablespoons of a neutral-tasting oil, just enough to coat the kernels. Place on medium-high heat, joggling and sliding the pan around on the burner. Once the popcorn has stopped popping, immediately remove the popcorn from the pan and place in a large heat-proof bowl.