Learn how to cut and de-seed a pomegranate the easy way. It is quick, effortless, and will leave everything stain-free of pomegranate juice.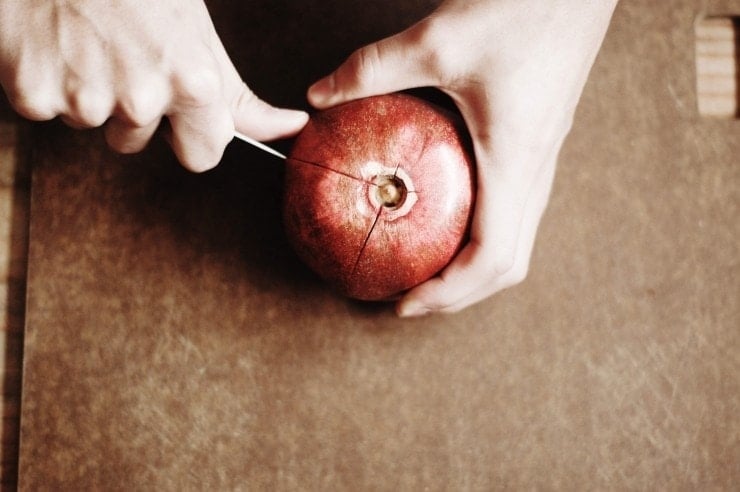 This is how to de-seed a pomegranate the right way. It can be a messy and tedious task, but fear not- here's an easy method. It's quick, easy, and will leave your favorite shirt stain-free. There are many methods for cutting a pomegranate, however, this one ensures you get every delicious seed from the fruit with little to no bruising.
Tools Needed to Deseed a Pomegranate
Aside from the pomegranate itself, you will need a large bowl of water and a small sharp knife that you're comfortable using to score along the pomegranate to start the process of de-seeding.
How to Cut and De-Seed a Pomegranate
Fill a large bowl with cold water; then, slice the small crown off the top of the pomegranate.
After the crown is sliced off, begin to score the skin of the fruit into four equal parts, like a cross.  Be sure only to cut into the skin, and not into the seeds (if a little juice comes out, that is fine). 
Place the scored pomegranate into the bowl of cold water. This is what will prevent stains from happening all over your cooking surfaces and clothing. 
Proceed to separate each section under the water.
Working with one section, (under the water) using your thumb, gently but firmly loosen the seeds from the membrane. Repeat with each section.
Ensure you have a bowl on the side so you can toss away any pomegranate membrane– the white pith from the fruit- it is not appetizing. All of the pith should float to the top and the seeds should will generally stay at the bottom of the bowl. Skim off any white pith from the bowl of water with your fingers or a metal spoon. Place the seeds in a colander, and wash them under cold water before eating.
How to Store Pomegranate Seeds
The seeds will keep for two to three days in an airtight container placed in the refrigerator.
Other Posts You Will Enjoy
Check out our How-To archives for more posts like how to Deseed A Pomegranate! Or check out one of the following posts: