A light, and flaky quick puff pastry recipe (rough puff pastry) made in only 15 minutes! Easy and it takes less than a quarter of the time of the classic stuff.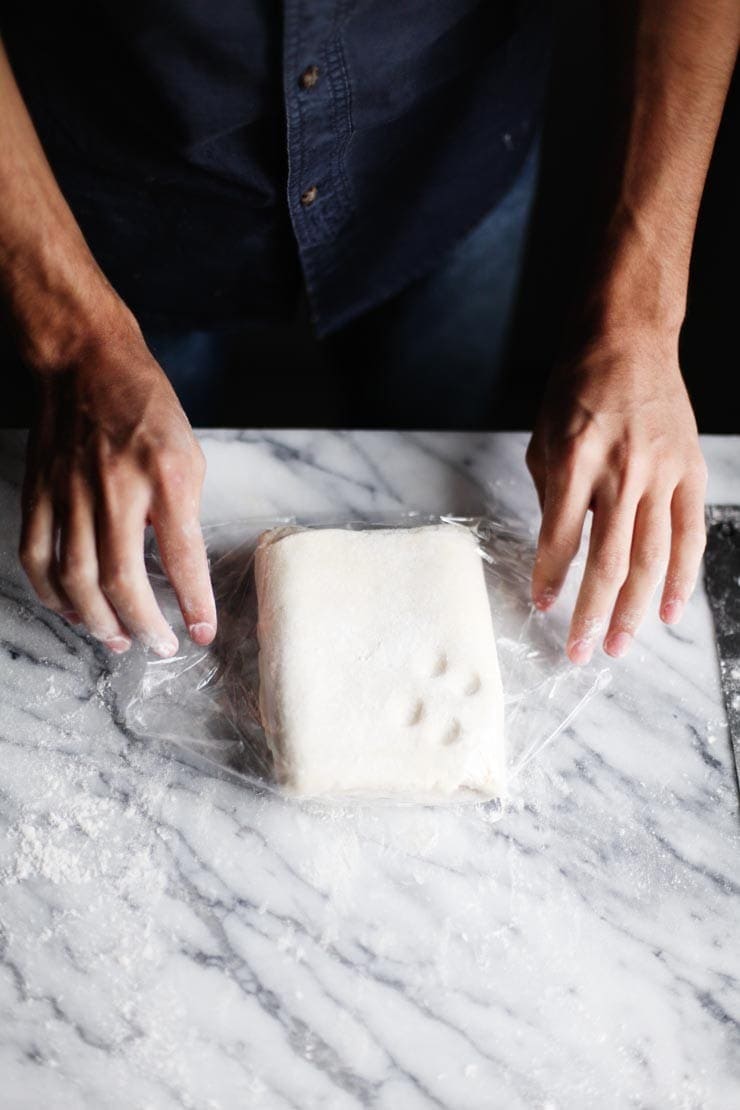 Before I get to this quick puff pastry recipe (rough puff pastry), let's talk… Next week is my big week. I will be heading off to college. It seems as if yesterday was the day that I step foot into the lobby of my old high school, with a cup of Starbucks in my hand, ready to tackle what four years of high school had in store for me.
It seems as if yesterday was the day that I was walked across a warm football field surrounded by thousands of people, ready to accept my high school diploma and see my friends for the last time on that very field.
It feels like all of this happened within the past few days, but it didn't, I constantly think about my last hugs, last fist-pounds, and last words with my friends from class.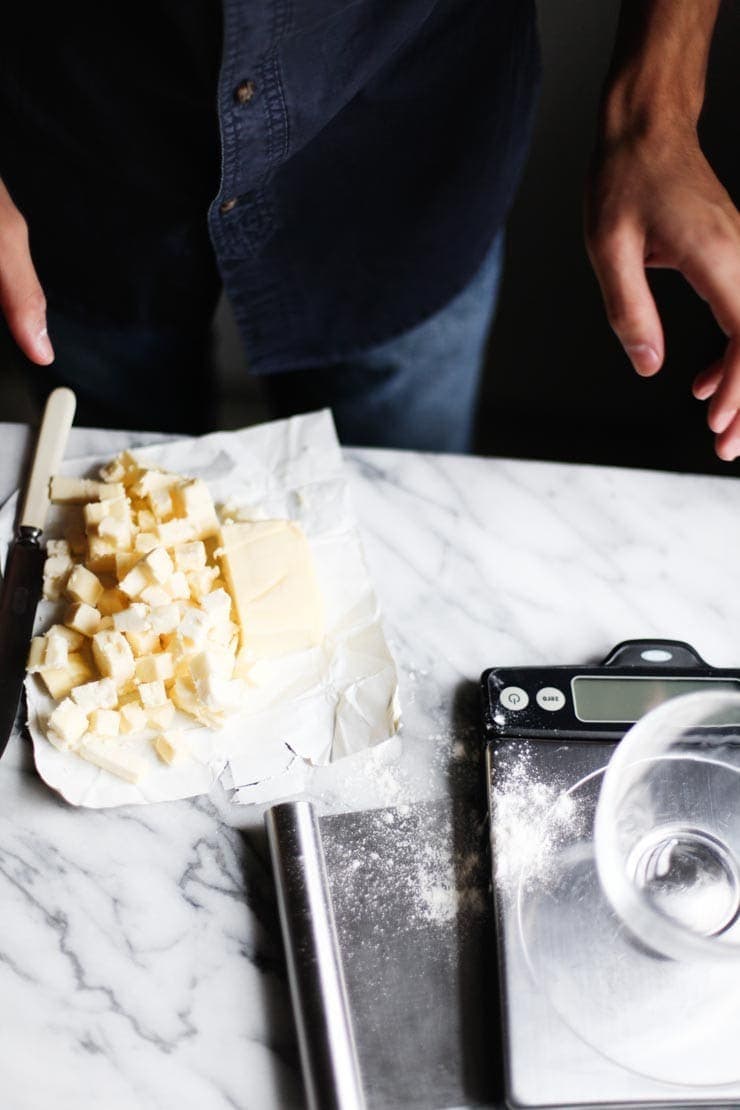 Now that I look back at high school, I can now say that it wasn't as bad as I thought it was. Sure, it had it's ups and downs, and sure- it kept me up until 2AM because I was probably finishing homework for Anatomy and writing last-minute essays for English, but I did meet some awesome people during those four years of my life. I met people who I could spend all the time in the world with, and I met people that I could talk to all day long- and they'd listen.
Those four years of my life were the best and the worst years, but out of all of it- I learned that even though you mess up once, you hopefully won't make the same mistake twice. I also learned that I can tackle just about any difficult project thrown at me, just as long as I have the right state of mind to complete it successfully.
I guess you can say that I have applied that philosophy (or whatever you'd like to call it) to my baking- I am now fearless in the kitchen, and I'd like to share my fearlessness with you.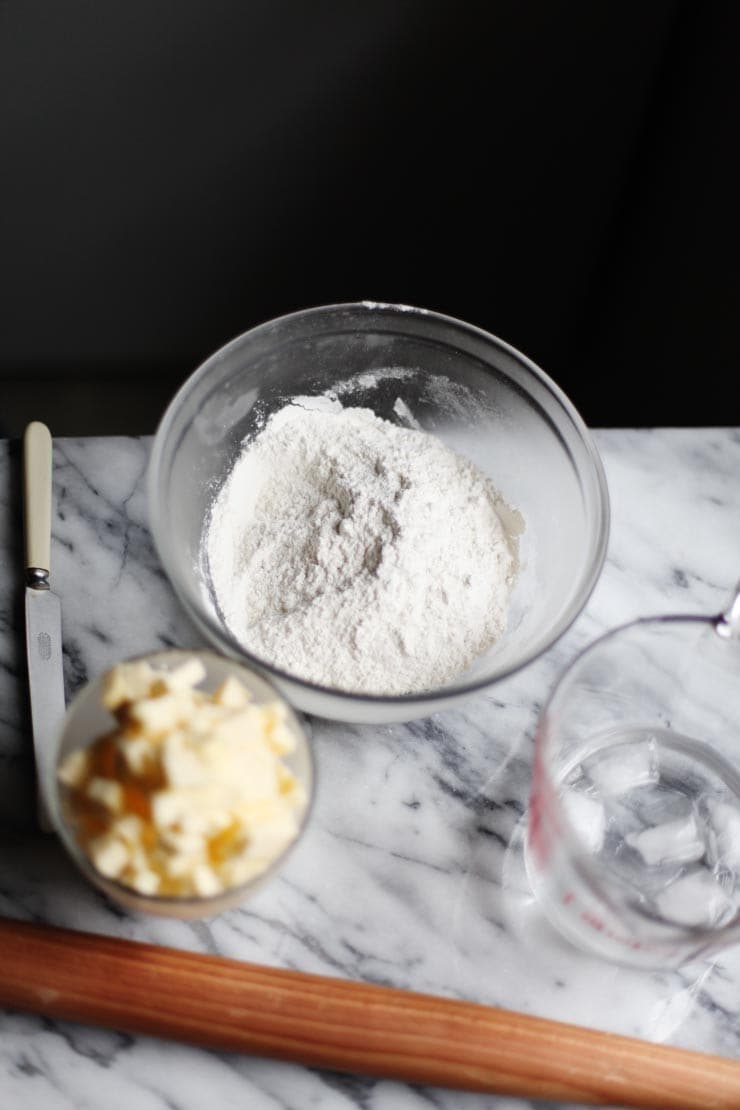 So, today dear readers- I am going to put you onto the right road of kitchen fearlessness with a quick puff pastry recipe / rough puff pastry. A little farther on this road is classic puff pastry (which is definitely worth the effort- trust me!), but we'll start off with something a bit simpler, and it'll leave you with flawless results!
Ingredients for Quick Puff Pastry
There are only a few basic ingredients needed to make homemade quick puff pastry, which is also referred to as rough puff pastry. What makes this recipe special is the care and love you put into folding the dough. One thing to keep in mind to achieve quick puff pastry recipe perfection is to make sure all of your ingredients are properly chilled.
All-purpose flour – bleached is preferable here. This just works and it keeps the dough light.
Fine-grain sea salt – table salt would work here, but I prefer to use fine-grain sea salt in most of my cooking and baking as it is superior in flavor
Unsalted butter – you want the best possible butter that you can afford. I, personally, try to use a European-style butter or French butter from Isigny Sainte-Mère . It is the best for pastry and all baking where good butter is essential. Plus, it has the most exquisite flavor.
Ice water– this is generally self explanatory. You simply want the coldest ingredients possible in order to achieve rough puff pastry perfection.
How to Make Quick Puff Pastry (Rough Puff Pastry)
Making rough puff pastry is perhaps a fear of many home bakers around the globe, especially during the summer months, but come on- we're now walking on a fearless road, so take my hand and I'll guide you to making some awesome quick puff pastry that is just as great (if not- better) than classic puff pastry.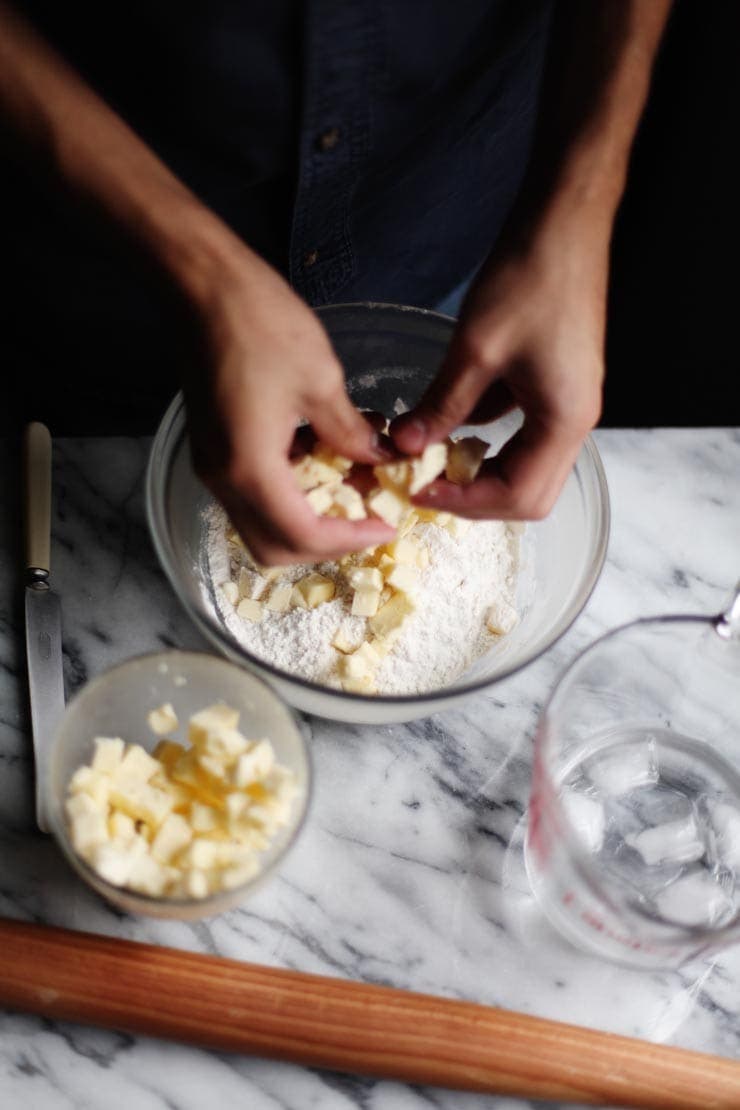 When making this quick puff pastry / rough puff pastry (and any puff pastry- for that matter), you want to make sure that everything is cold. So, once you combine the salt and all-purpose flour into a bowl, and you cut the butter into ⅓-inch cubes (and place it into a separate bowl), chill the bowl of flour and salt, and the bowl of butter in the freezer for 10-15 minutes. Trust me, your freezer is your friend!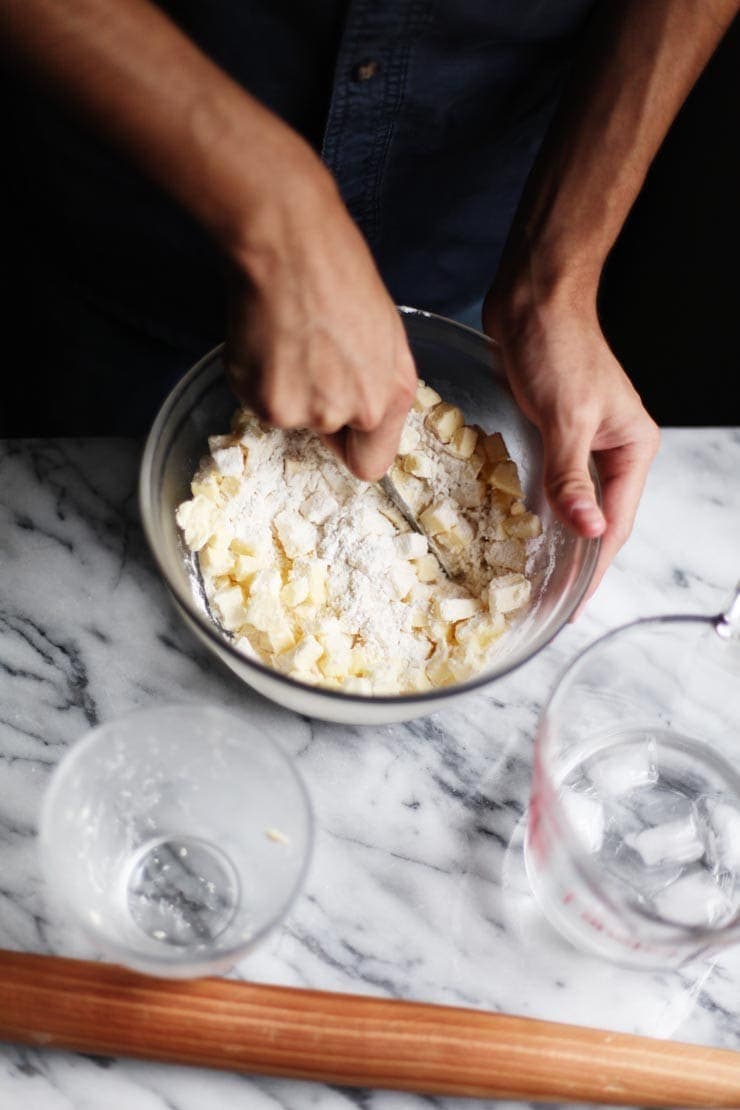 Then, separate the chunks of butter with your fingertips- work quickly, and place it in the bowl of flour.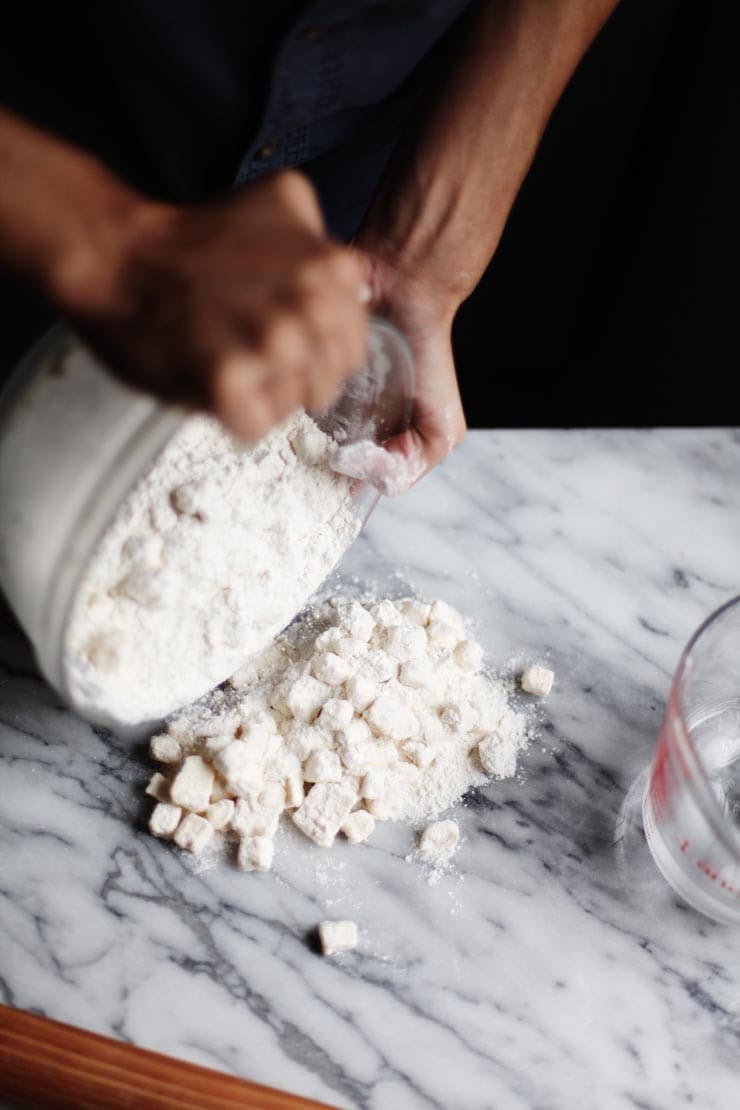 Once all of the butter is in the bowl with the flour and salt, take a butter knife and coat the butter with the flour, and throw in a little chopping action! Not too much chopping, just so every piece of butter is coated.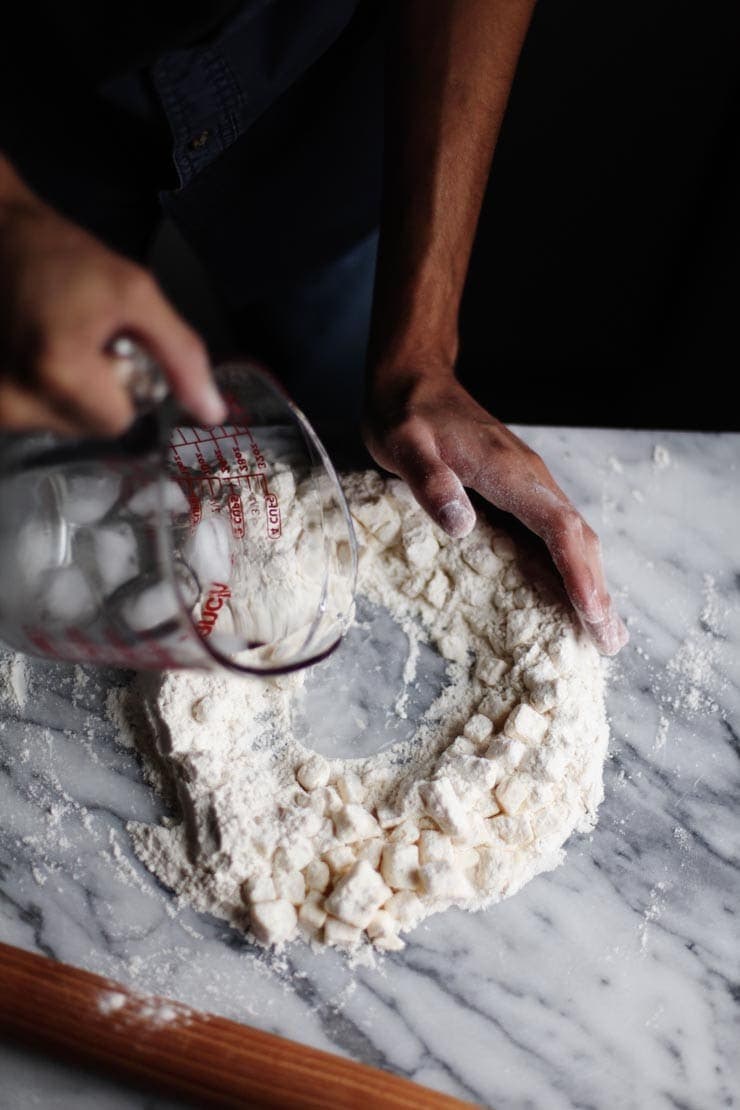 Now, drop the contents of your bowl onto your work surface. Preferably a marble board or metal counter (you can even use a chilled baking sheet), though feel free to use whatever clean work surface you have to make this quick puff pastry. Keep in mind you'll need a lot of flour and you will need to work very quickly.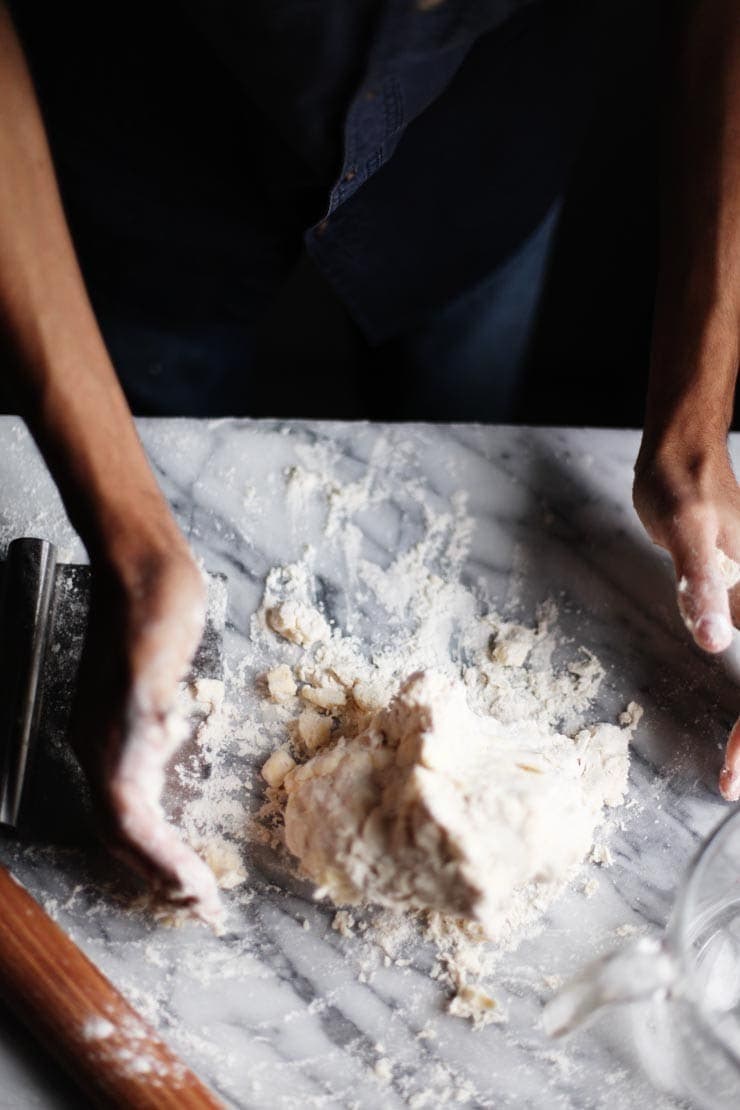 First, form the pile of flour and butter into a well.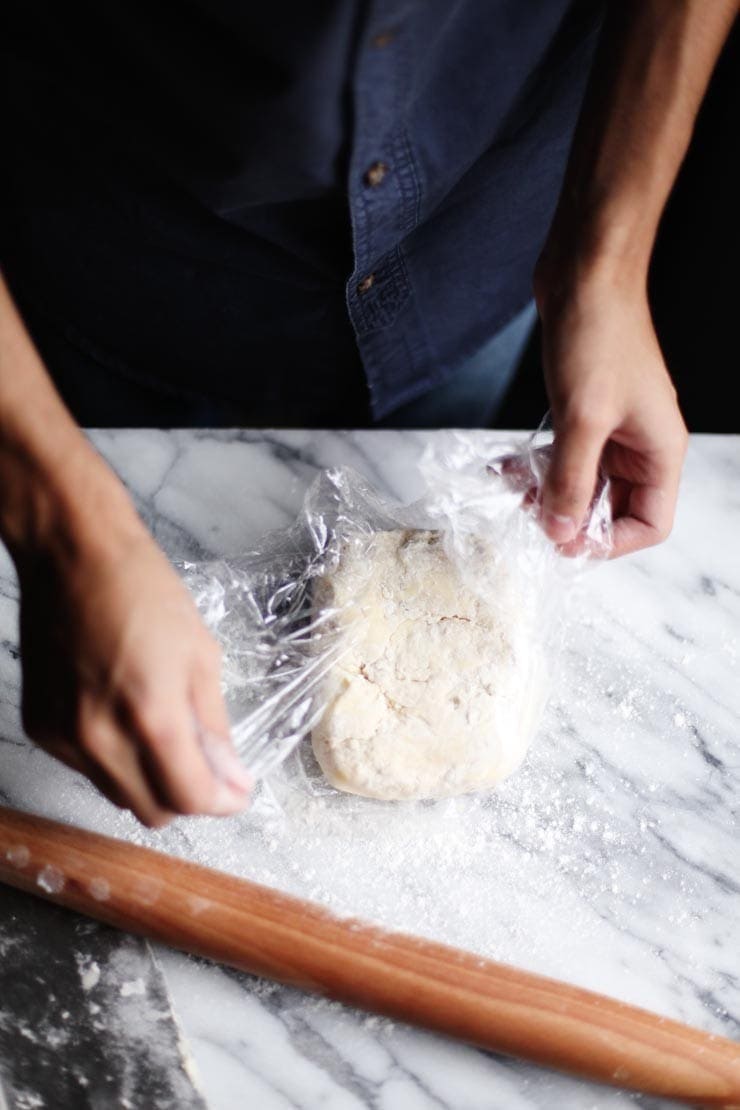 Pour in a few tablespoons of the ice water at first. Mix with your fingertips.
You can test the mixture by gently squeezing a small handful. When it has the proper texture, it will hold together without crumbling apart.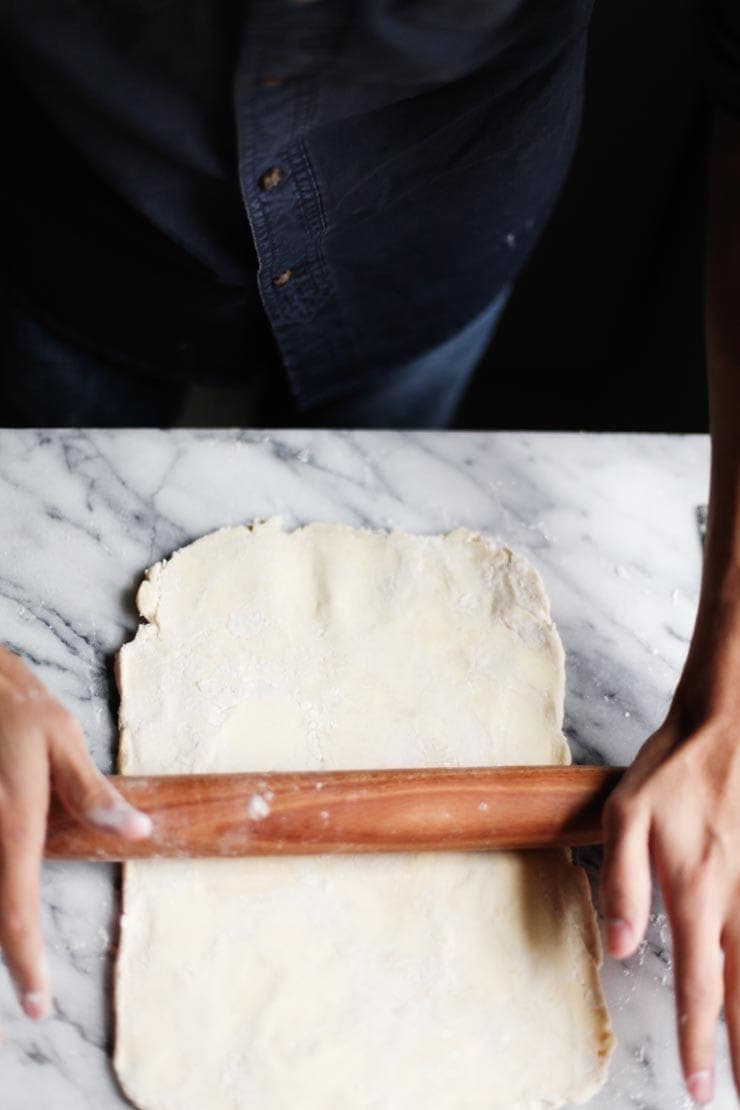 If it doesn't come together, dribble in a few tablespoons more of the ice water until everything forms into a dough. Remember to work quickly and to use your fingertips! You don't want tough pastry! (Note: Depending on the brand of flour you are using and the weather conditions, you will not need all of the water called for in this recipe- I ended up using about 9 tablespoons of water.)
Knead the dough for 30 seconds.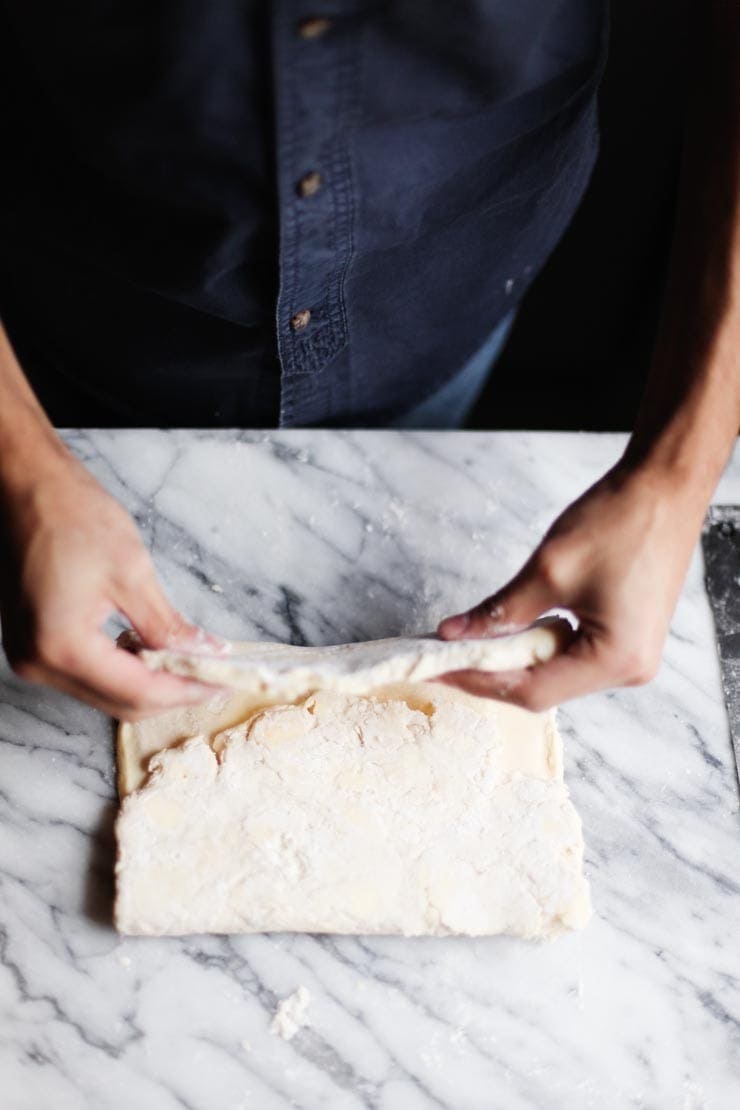 Form the dough into a square. This is when you may want to wrap the square of dough in plastic wrap, and place it in the refrigerator for about ½ hour (until firm), but depending on how hot and humid it is in your kitchen, you may not need to.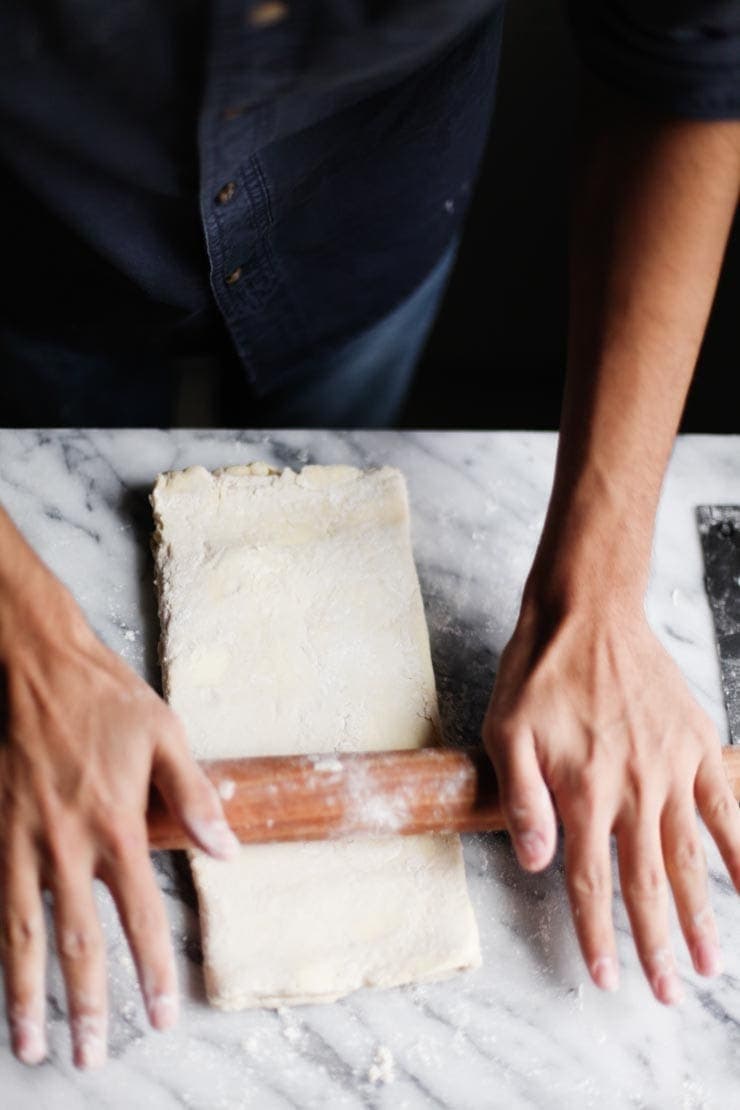 After the dough is formed into a square, roll it out into a 15-by-8-inch rectangle.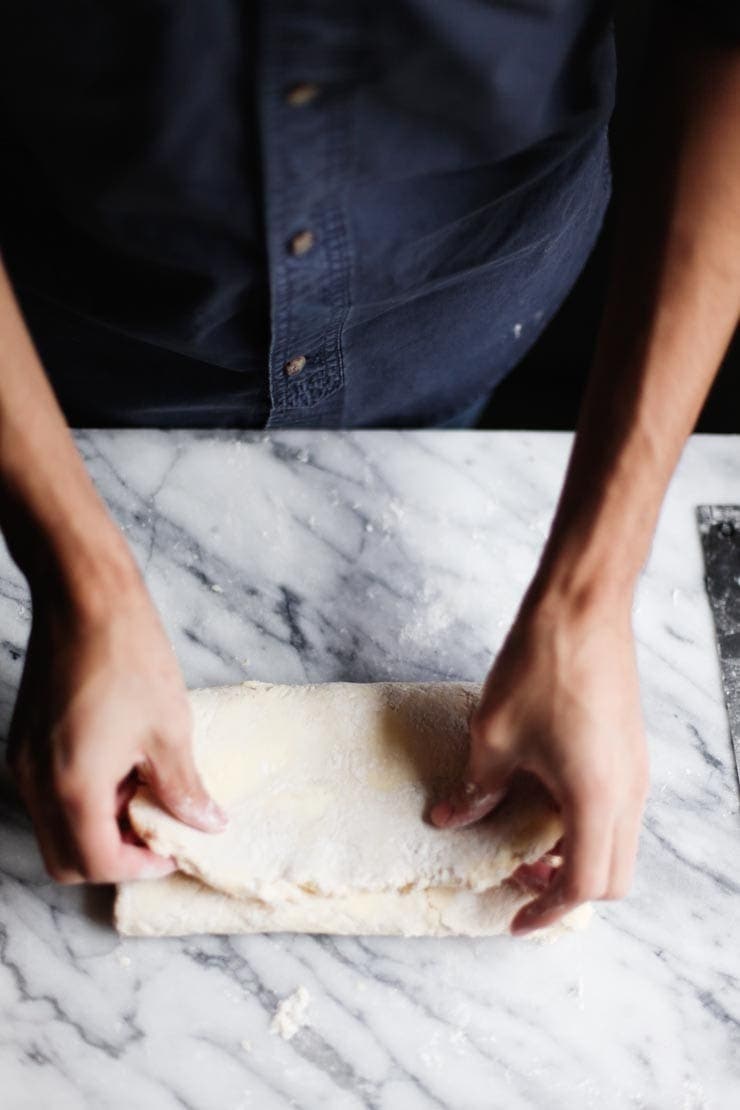 Fold the short ends over the middle (like a letter) to make three layers. This is the first turn.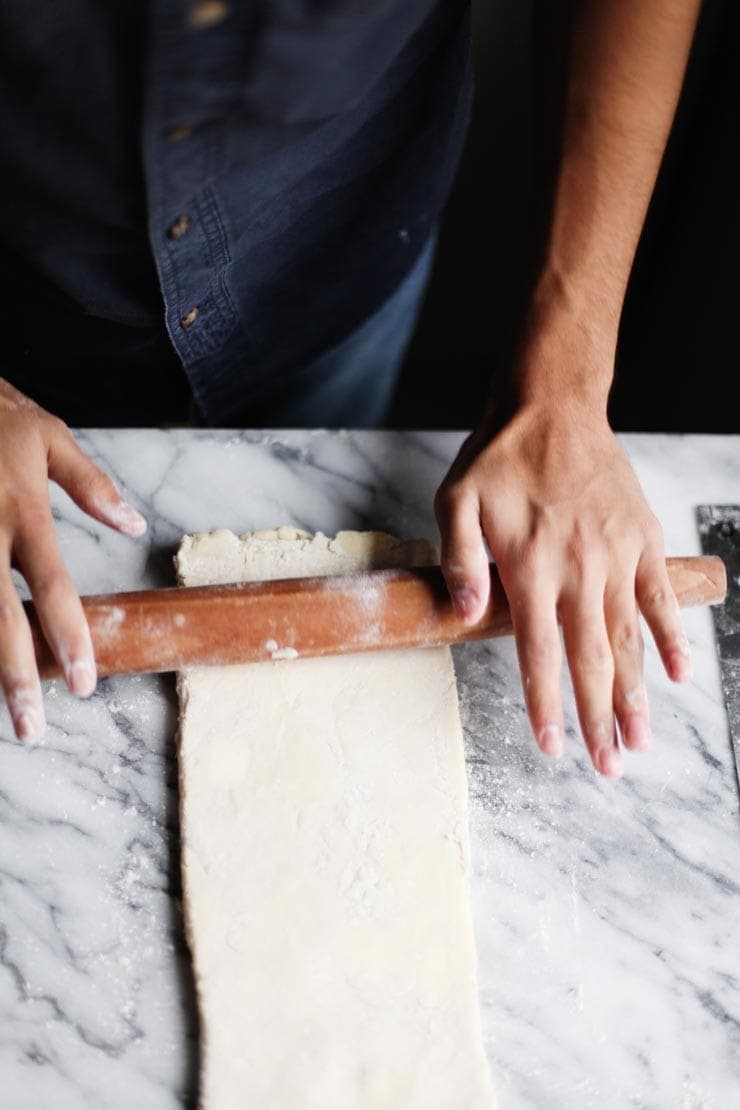 Give the quick puff pastry dough a quarter turn and roll away from you into another 15-by-8-inch rectangle. Fold the short ends over the middle to make 3 layers. This is the second turn. Wrap the dough in plastic wrap; refrigerate for 30 minutes or place the dough into the freezer for 15-20 minutes (again, if it's not too hot in your kitchen and you are working quickly- you can skip the refrigeration step for this rough puff pastry and immediately go to the next 2 turns)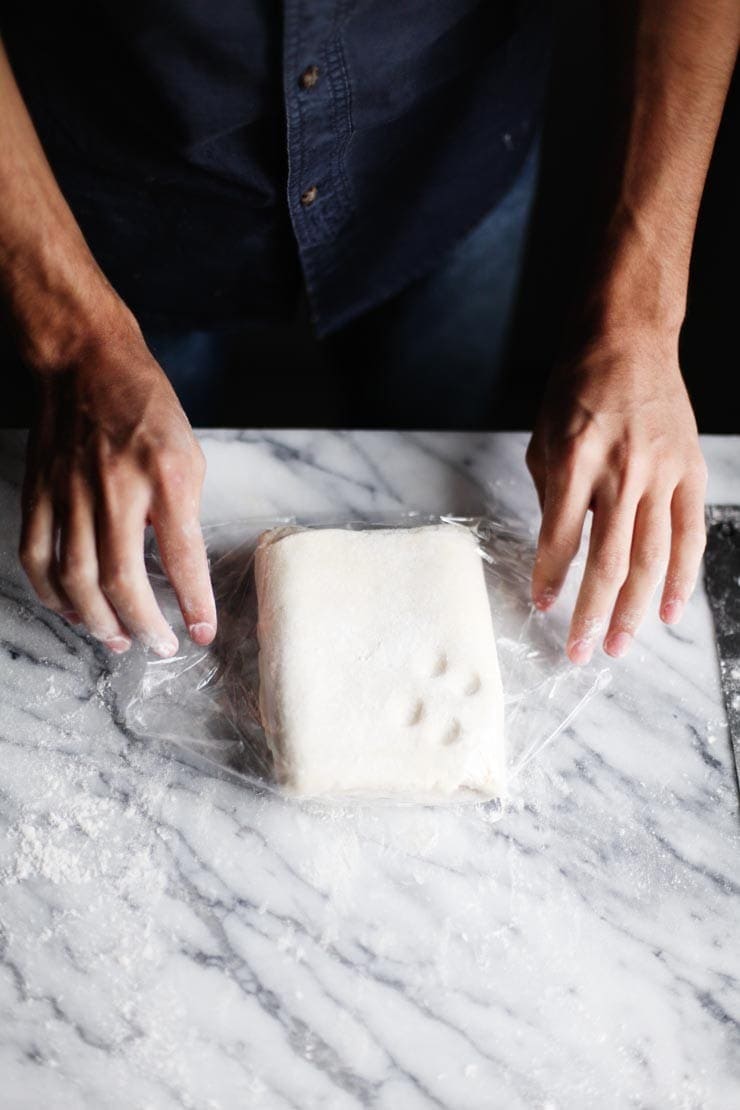 Repeat the process for the steps of folding (and giving the dough ¼ turns) to create the third and fourth turns. Wrap the dough in plastic wrap. Refrigerate for at least 30 minutes before use (or up to 3 days). And you're done with your quick puff pastry!
See how easy that was? Now, keep in mind that the quick puff pastry dough keeps well in the freezer for up to about three months, but with all of the baking I do around here- it doesn't even last a couple days!
Like this Recipe? Here's More!