Want easy, beautiful, and delicious fig tarts in 15 minutes? You must give this Easy Fig Tarts Recipe a try, then!
Getting my hands on fresh figs during any time of year, is like hitting the jackpot. On Sunday evening, my sister, dad, and I were walking past an Arab grocery store, when something caught my eye- figs. I stopped in the middle of the busy street, turned around, and shuffled back. Large sized punnets of fresh figs were on sale for $1.29, "I need to get a few baskets of these!" I felt like I was committing a crime for buying figs for so cheap, but these fig tarts needed to be made.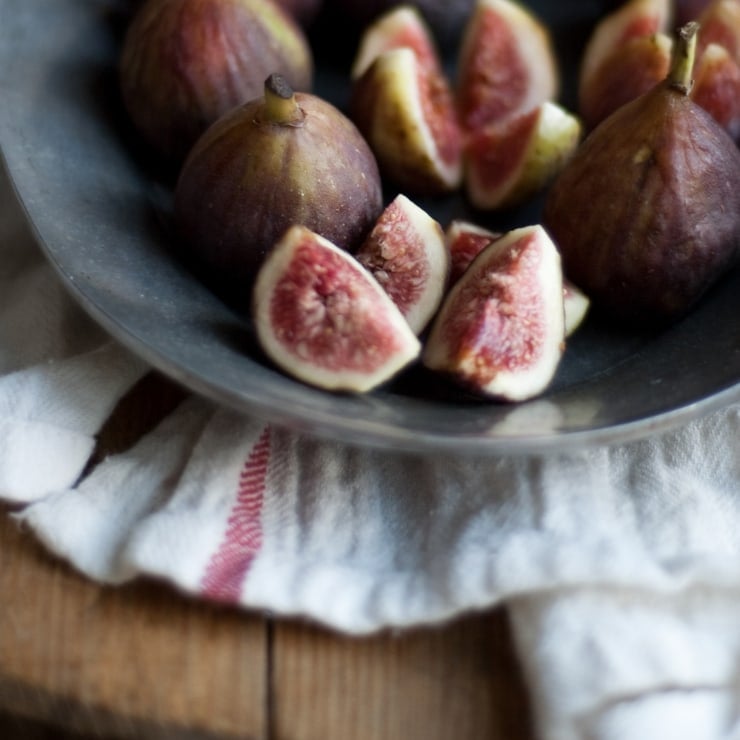 I pulled each transparent-sea green package haphazardly filled with fresh figs out of the chalk-toned wooden crate, and inspected each package. Nearly every container of the figs were squidged from being thrown into the baskets; some had already gone moldy from the heat, but there they were- two baskets of perfectly ripe, dark teardrop-shaped figs, free of any imperfections. I carefully handed the baskets- treating them as if they were rare objects- to the mustachioed clerk behind the counter; he smiled as he bagged the fruit, and said, "I see you found good one's. The baskets have been out there all day, I'm surprised any survived from the heat." I was too.
I had two plans for these deep blackish-purple beauties- to eat them as is, and to bake the rest into-the first thought that came to my mind- fig tarts.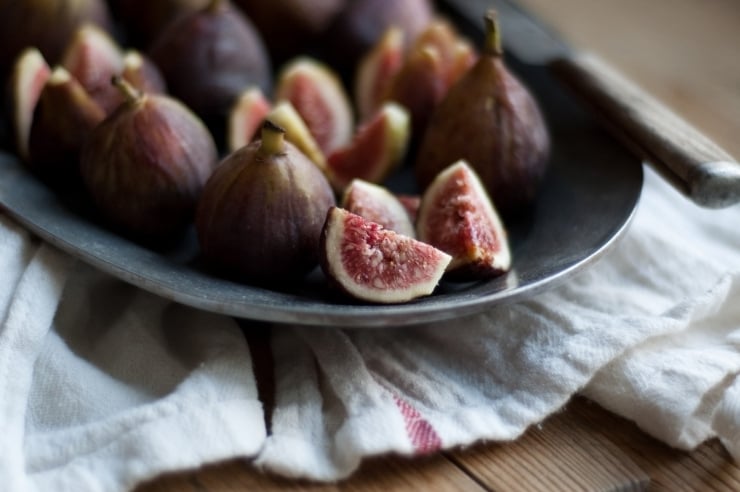 Sunday morning, I rushed home with my two baskets of figs hoping that their overnight stay in the refrigerator slowed them down from spoiling too soon. Once I got home, I ripped open the plastic wrap from the tops of the green baskets. The redolent smell of the fresh figs whirled in the air. My mind danced, and I grinned. I was truly in paradise. These were perfectly ripened. I removed them from the basket, put them on a platter, and let them hang-out in the refrigerator, until I needed them.
My mind was stuck on wanting to make fig tarts, so, I grabbed the butter out of the refrigerator, scooped the flour out of its glass container, and got to making a batch of quick puff pastry.
I know that some of you are rolling your eyes about making your own puff pastry, but trust me- it's not as difficult as you'd think it is; I've not bought puff pastry in over a year because for me, it's faster to make the stuff, than to travel to pick up a package of low-quality factory made pastry. The homemade kind puffs up more than the grocery store variety (and tastes better, too).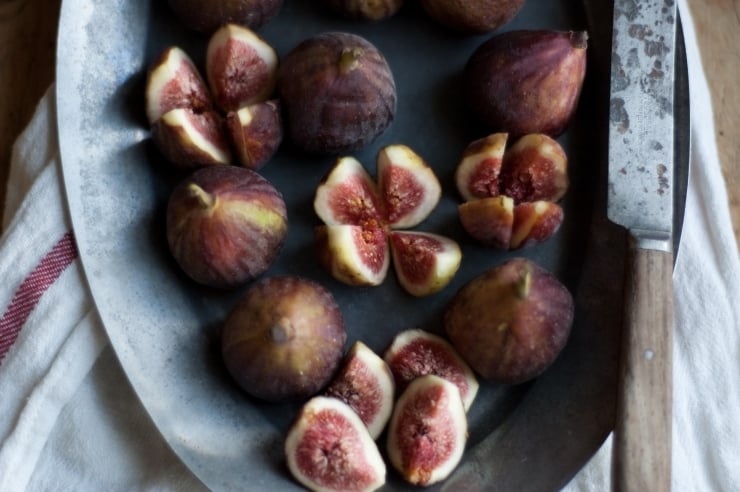 At the end of my mini-project, not one surface in our kitchen was left untouched by my floury hands. Every surface was dusted with flour, and eventually, half of the recipe was rolled out into a ⅛-inch thick rectangle, and then cut into quarters. After that, the quartered pastry was placed on a parchment-lined cookie sheet, and the pan was slid into the freezer for a few minutes.
Meanwhile, four figs were snagged from the platter in the refrigerator and cross-cut, revealing their amaranth-colored flesh. The pastry was removed from the freezer; and each was dusted with the grainy vanilla scented sugar. I couldn't help myself- I picked the jar up to my face and took in the glorious smell of the sugar; "Mmm." A quartered fig, thoughtfully arranged in the center of each pastry, followed. After that, there was a light sprinkling of light muscovado sugar (you can buy some here) atop each piece of fig.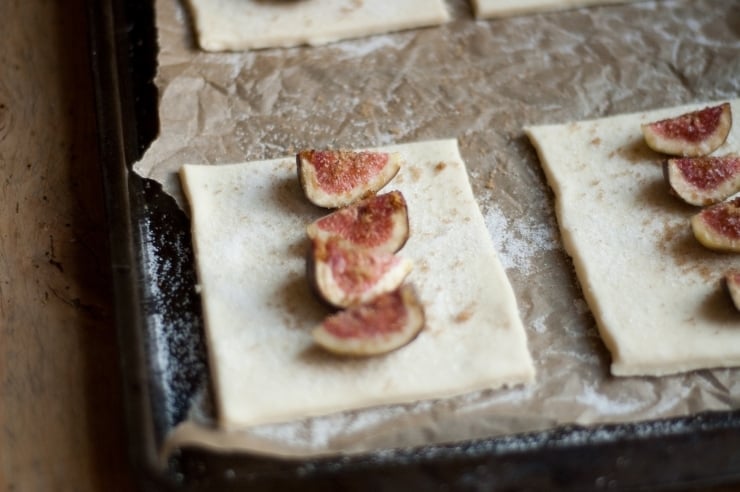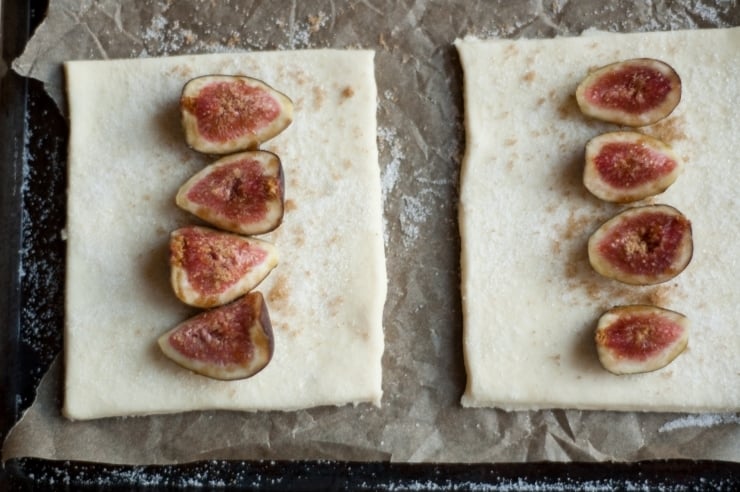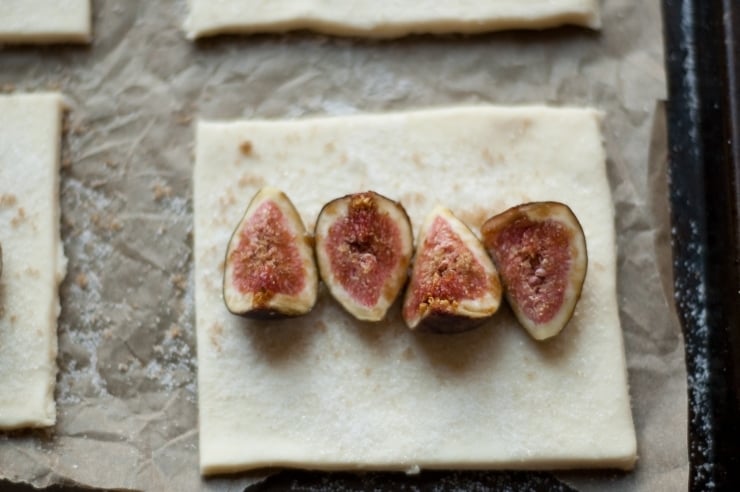 I slid the pan into the preheated oven, and 15 minutes later they were done. The fruit sat atop golden pillows of flaky, buttery pastry with very few small alterations to enhance their dulcet peachy-strawberry flavor. It was perfect, but there was something missing.
I pulled the container of cream out of the refrigerator and a spoonful of confectioner's sugar out of its metal canister, and whisked like mad until the cream was thick and billowy. A quick taste. "Perfect," I unconvincingly said to myself. I grabbed a small handful of pistachios pieces from a bag hidden in the cupboard, and tossed them into the whipped cream. A soft pearl white cloud of cream was now speckled with green. I dolloped a small amount of the cream next to a warm fig tart, and called it a day, and boy, was it a lovely one. I felt like I was dreaming.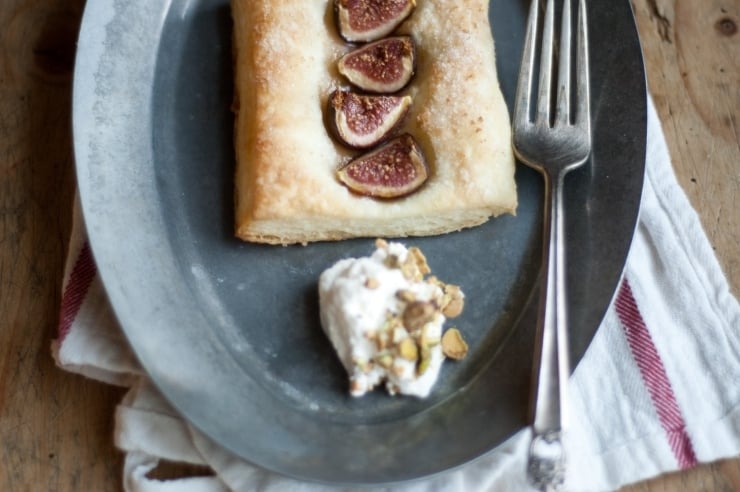 Speaking of dreaming– the title does state that this post isn't only dedicated to these easy fig tarts. I'm happy to share that the About page and FAQ pages have been updated and I've been featured in an article on the Gourmet Live app for the iPad! It's called, "Growing Up Gourmands." The article does require you to have an iPad and and the Gourmet Live app.
But, fret not, my dear friends, I'll give you a run-down- The article talks a bit about me, and contains some very exciting news, which I've been trying my hardest not to spoil, but as my dear friends, you deserve to know.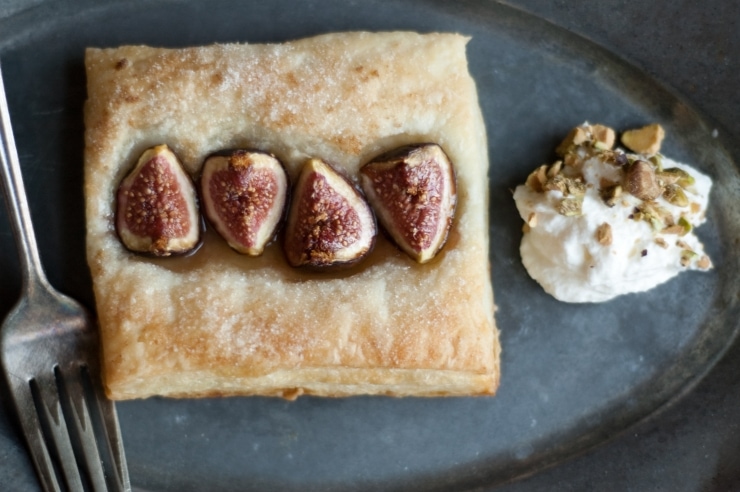 I've been approached by a major publishing company, and I'm developing a book proposal that I hope to sell shortly. I can't believe I just said that.
I feel like I'm in a dream. I can't say more than this, but I will say that I feel blessed, excited, and honored to be working on such a project. My heart and soul are being poured into this, and I only hope that as this project progresses, you'll be around to see how much love is poured into everything I'm working on.
I don't say this enough, but thanks so much for reading, and thank you for all of the support, feedback, emails, comments- everything- you've shared with me over these past two years. It really means a lot to me; I am truly blessed to be part of such a great community.
Now, with the mushy bit aside- get your hands on some figs, and go make these tarts. I insist. :)
Easy Fig Tarts and Pistachio Whipped Cream
Makes 4 tarts

This recipe is fairly straight forward- puff pastry, vanilla sugar, light muscovado sugar (can use light brown sugar), and figs-no measuring whatsoever (well, unless you're planning on making this quick puff pastry for this recipe, like I did).

If you don't have any vanilla sugar on hand, I wouldn't fret, simply use natural cane / granulated sugar, the tarts will taste just as great.

The pistachio whipped cream that I served with this is fairly straight forward, as well- it's just sweetened whipped cream with a small handful of crushed pistachio nuts folded in.

Ingredients:
For the Tarts
½ recipe for quick puff pastry or 1 sheet store-bought puff pastry (pref. all-butter)
Vanilla Sugar (can simply use granulated/ natural cane, if you don't have any)
4 ripe figs, quartered
Light Muscovado Sugar (can use light brown sugar)

For the Pistachio Whipped Cream
½ cup cold whipping cream
1 tablespoon confectioner's (powdered) sugar
1 ½ tablespoons crushed pistachio nuts

Preparation:
Preheat oven to 400F / 200C/ Gas Mark 6. Line a cookie sheet with parchment paper.

Roll the pastry into a rectangle approx. 15-by-8-inches (should be 1/8-inch thick). Cut the pastry into 4 evenly-sized rectangles, then place onto the lined cookie sheet.

Evenly sprinkle the top of each pastry rectangle with the vanilla sugar, and top with figs.

Lightly sprinkle brown sugar over the figs.

Bake in preheated oven for 15 minutes, until the pastry is puffed and golden brown. Allow to cool while you make the whipped cream (next step).

In a medium-sized mixing bowl, with a whisk, beat together the cream and sugar until thickened and holds a soft peak (to determine this, lift the whisk from the cream; if the peak at the end of the whisk holds a droopy curve, it's a soft peak). Serve with tarts.

Enjoy!