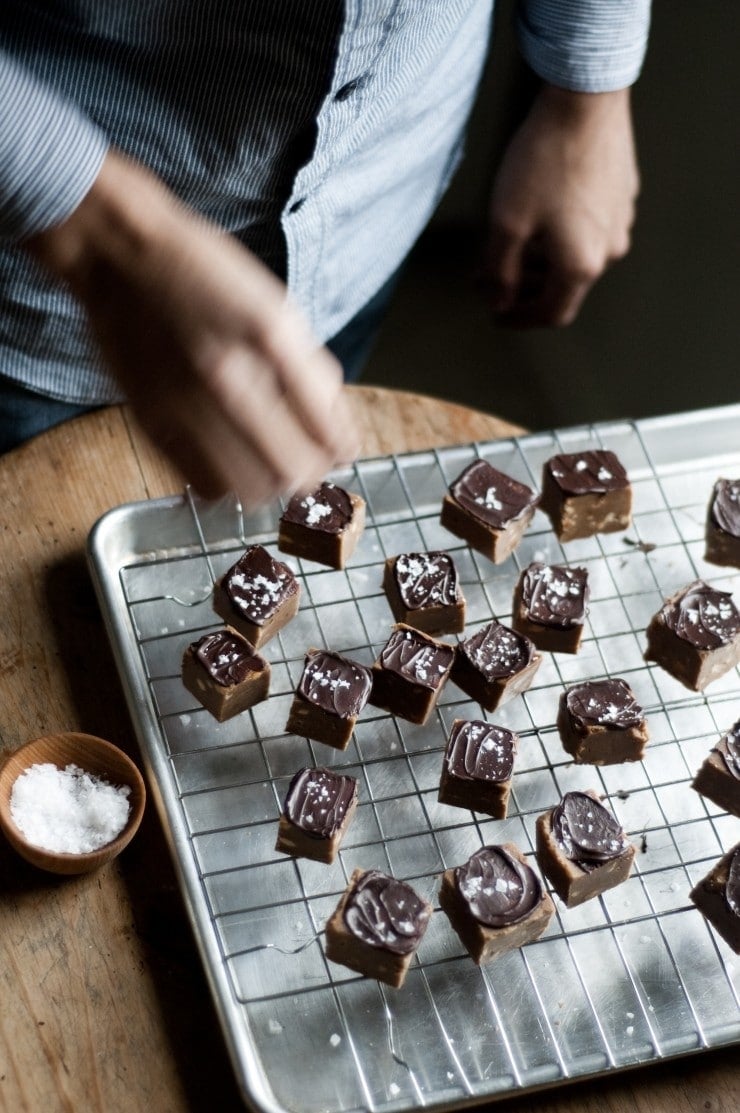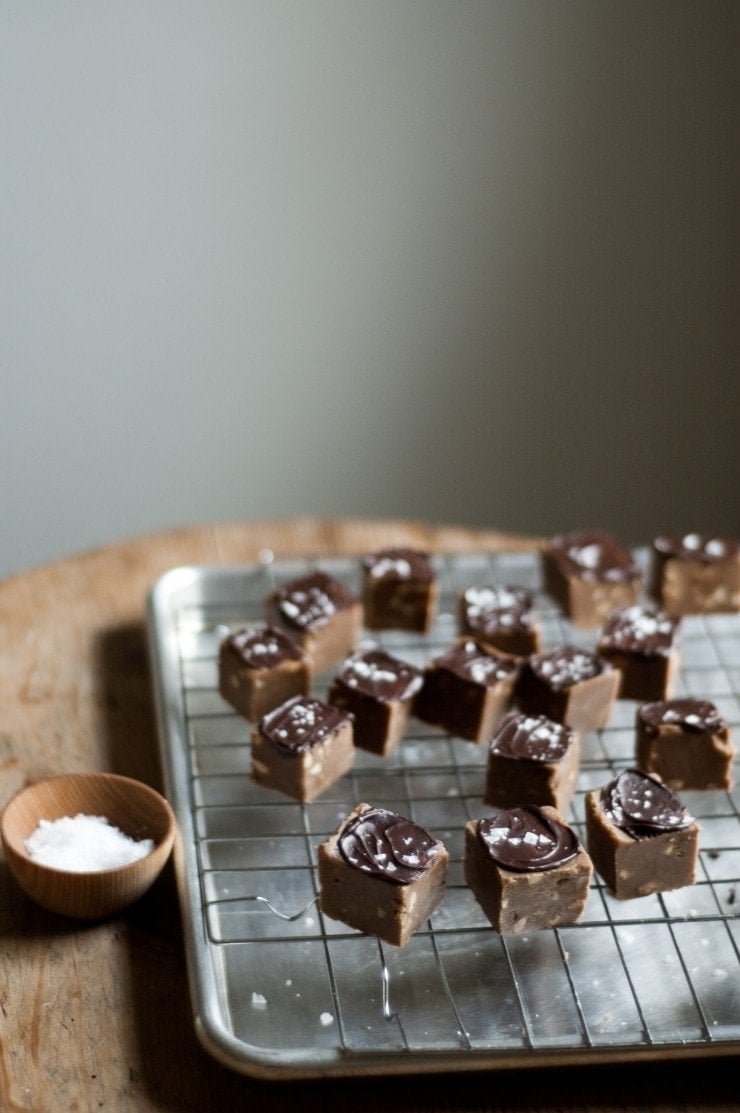 There are times for poetics, and there are times, such as this, where poetry isn't needed. Easy Peanut Butter Fudge. The recipe title pretty much speaks for itself. In the midst of all the last-minute holiday planning (I'm sure many of us are doing), I figured that this would be a good time to share a recipe for some pretty kick-butt peanut butter fudge that is quick, easy, and must I add- doesn't require a candy thermometer? Yeah. It's that good.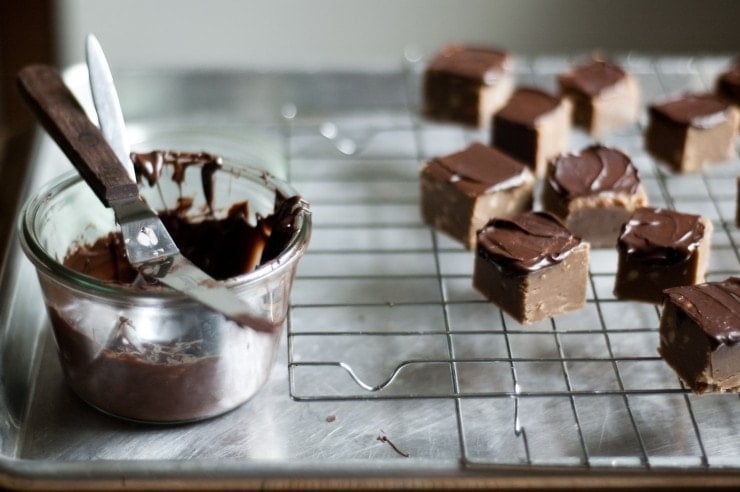 Now, I know what you're thinking- that I want you to make fudge in the midst of all this holiday craziness- I do, but trust me, making this recipe is child's play. Well, sorta. I wouldn't recommend a child work with boiling sugar, but the recipe is quite simple enough for anyone to make (did I mention you don't even need a thermometer?), and dare I say quite delicious? Plus, it's great to share with your friends and family.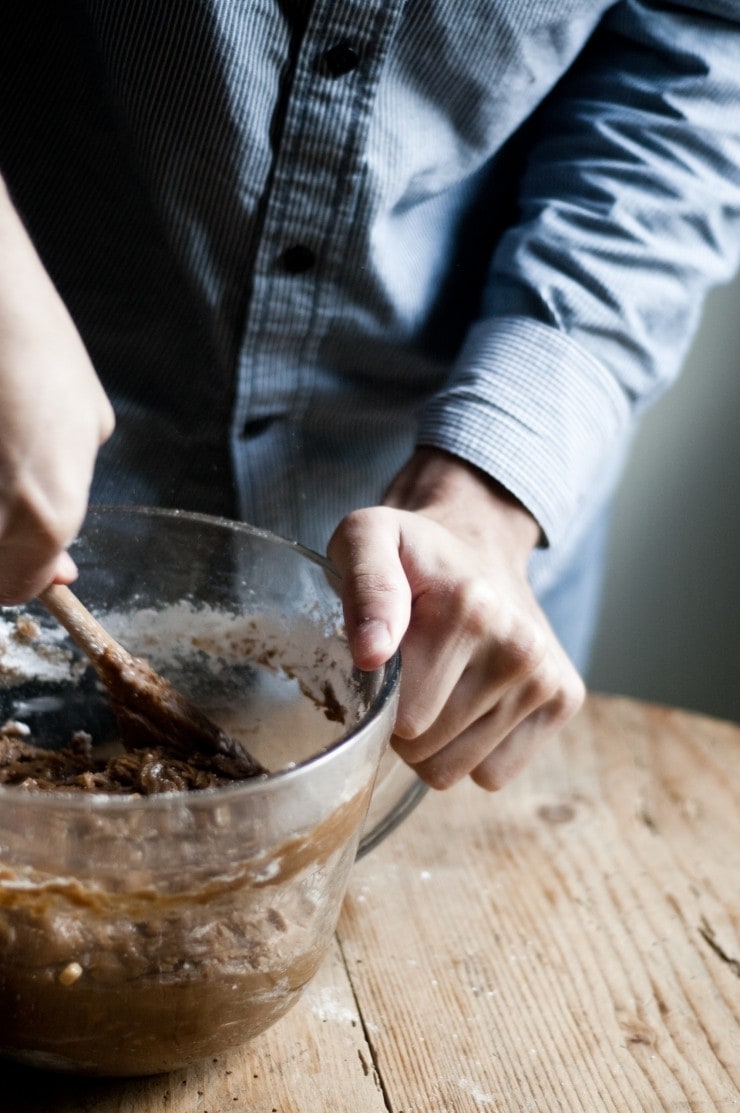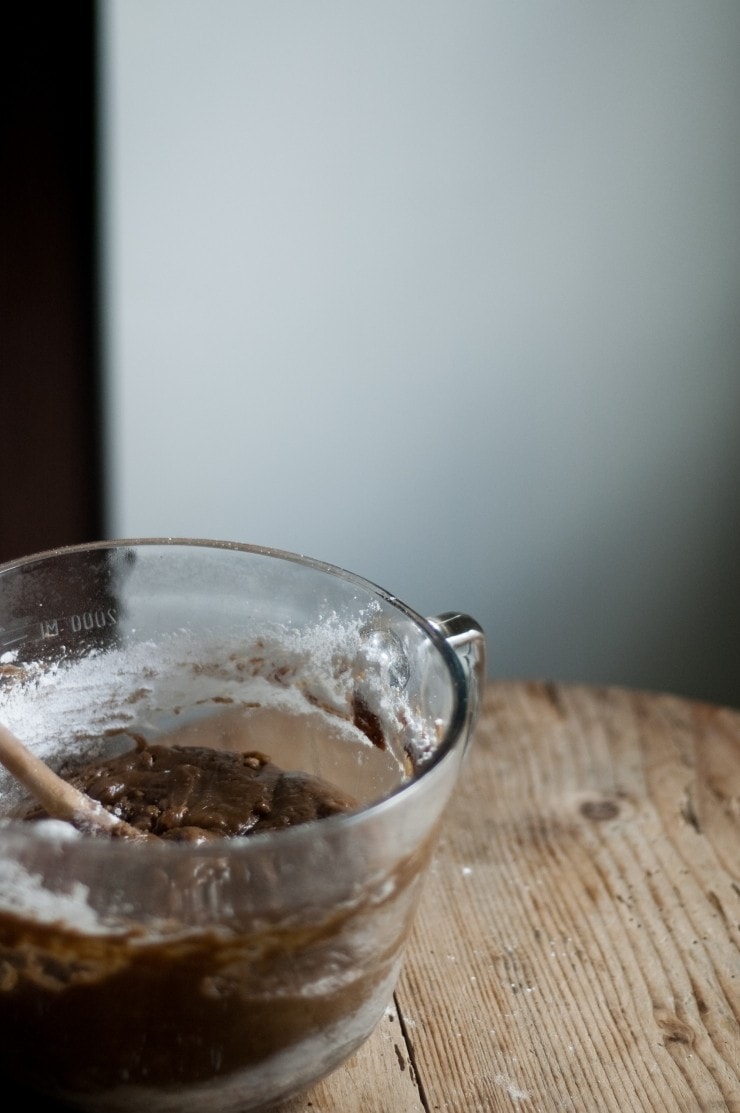 It doesn't take long to make. It all starts off by melting a stick of butter in a saucepan with a pinch of nutmeg. Once melted, milk and an earthy mound of dark brown sugar (quite a lot, I must admit, but one piece is really all that you'll need to satisfy your sweet tooth for the evening) are mixed in. The entire mixture is brought to a boil for 2-3 minutes, without stirring (crucial!). After the mixture has boiled for a couple minutes, vanilla, and peanut butter are beaten in until smooth. After that, the peanut butter mixture is beaten in a mixing bowl with snowy powdered sugar, until smooth and lump-free (Well, free of sugar lumps). It's then poured into an 8-inch square baking pan, cooled slightly at room temperature, and then chilled in the fridge for a couple hours.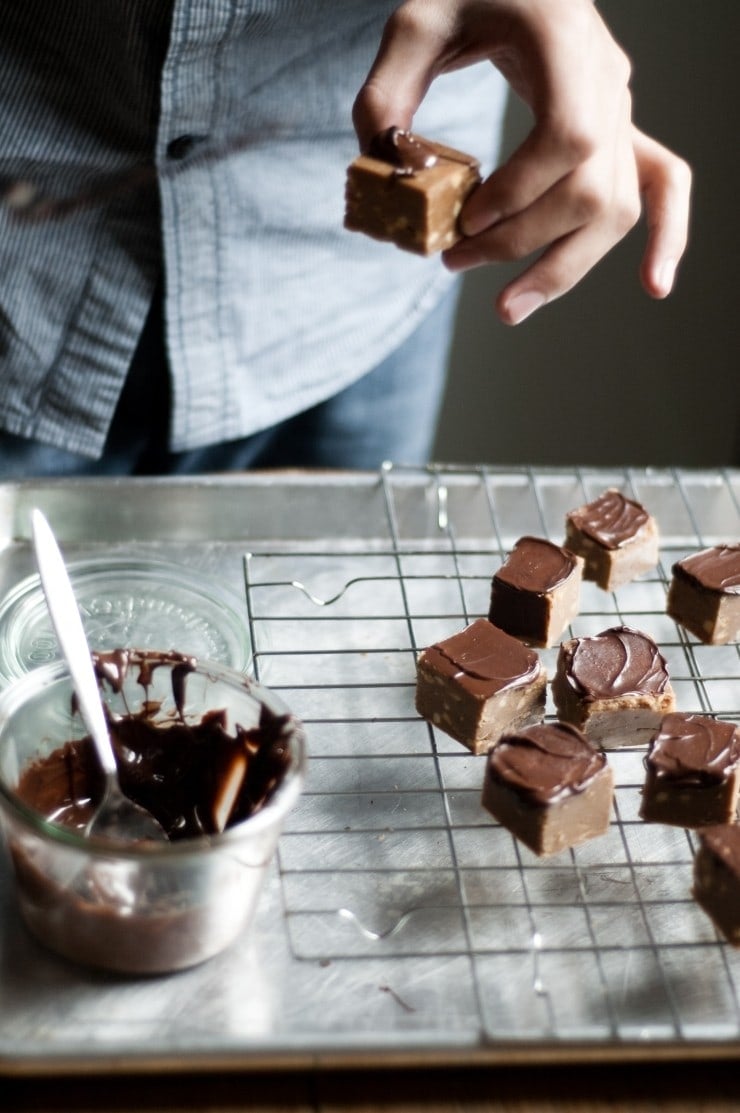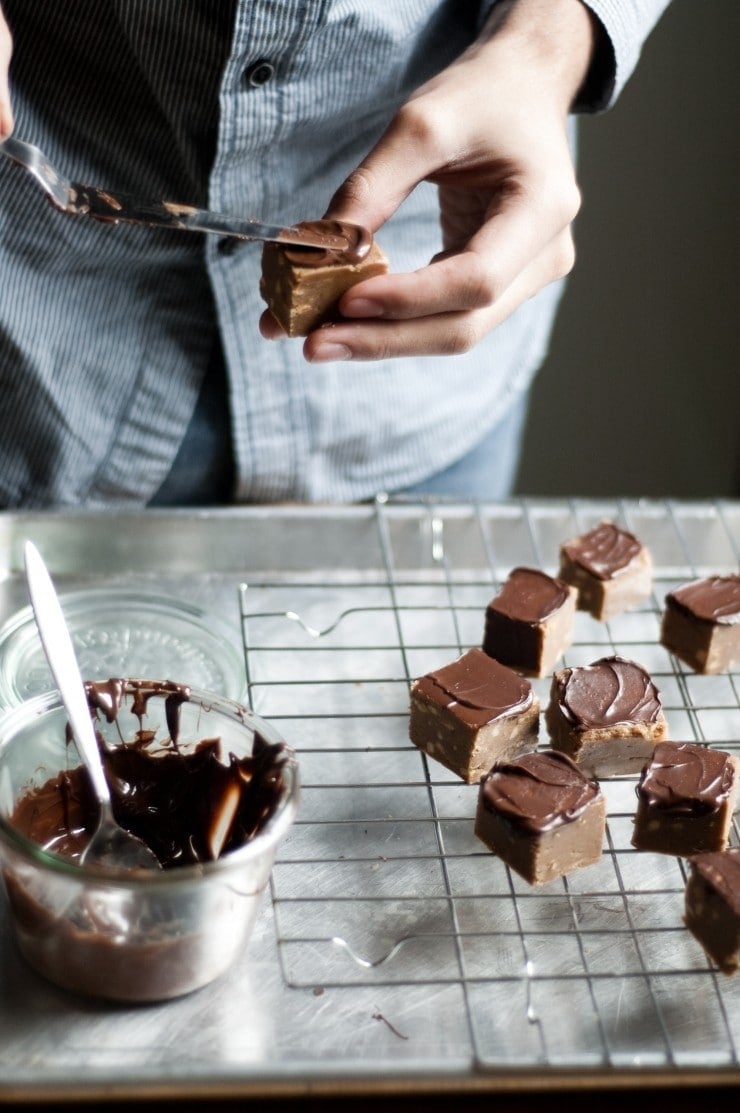 Because I lack any patience to wait (we all know this), I let the fudge cool slightly at room temperature, then it makes its way into the freezer for an hour or thereabouts, until firm and completely cool.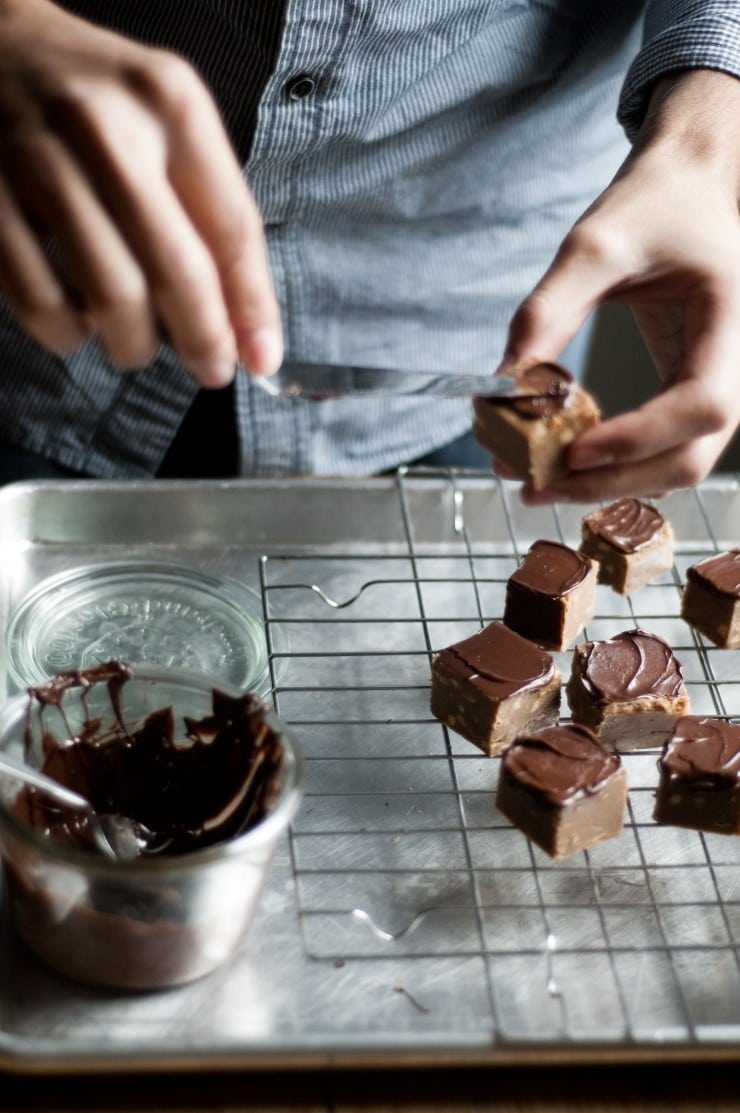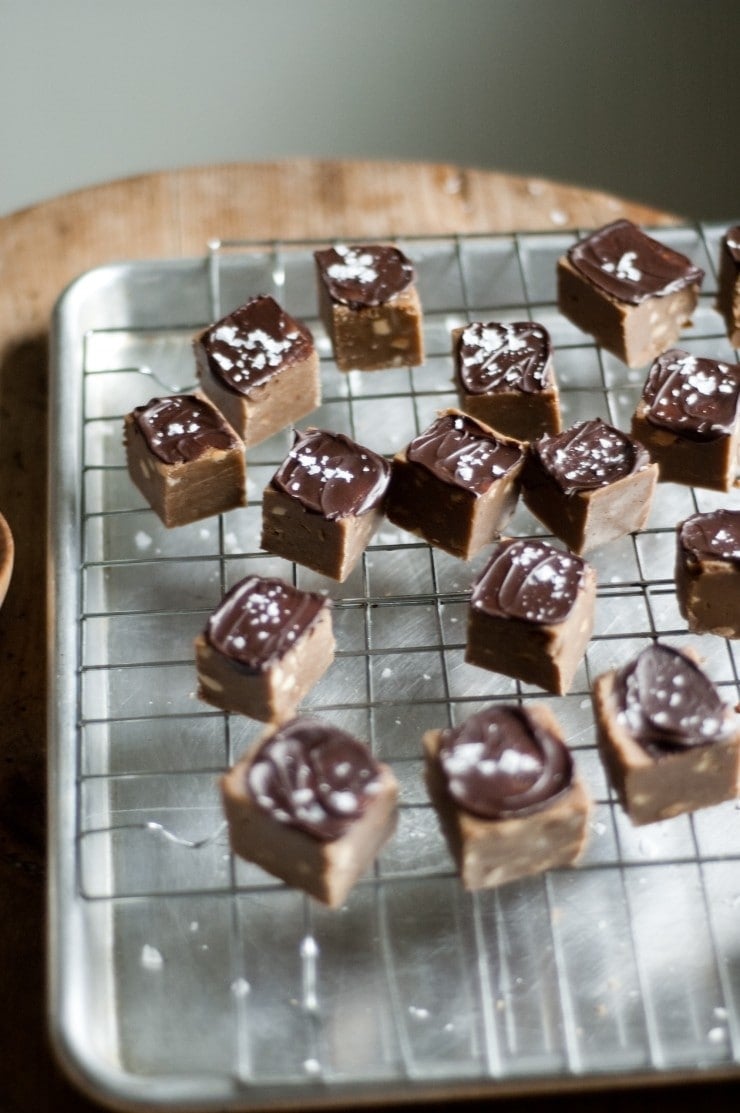 Once cooled, I cut the fudge into 36 pieces, melt some chocolate, spread a thin layer on top of each piece of fudge, and let the chocolate set for a few minutes. After that, here's where it gets a little fancy. Maldon Sea Salt. A nice pinch on each piece of chocolate-covered fudge. Yes.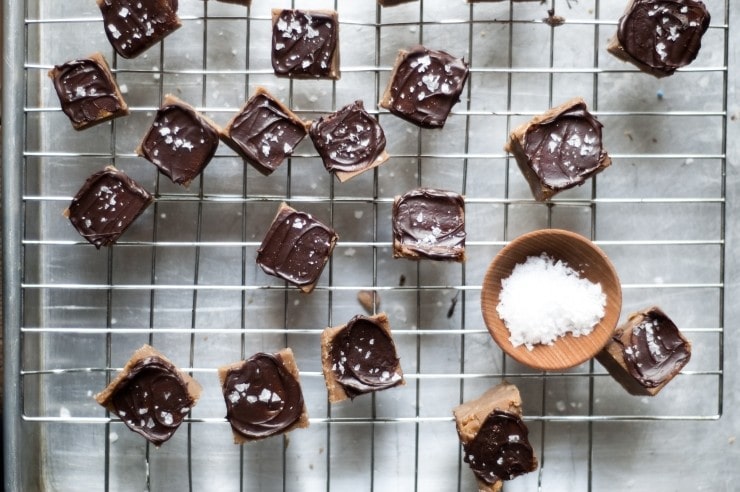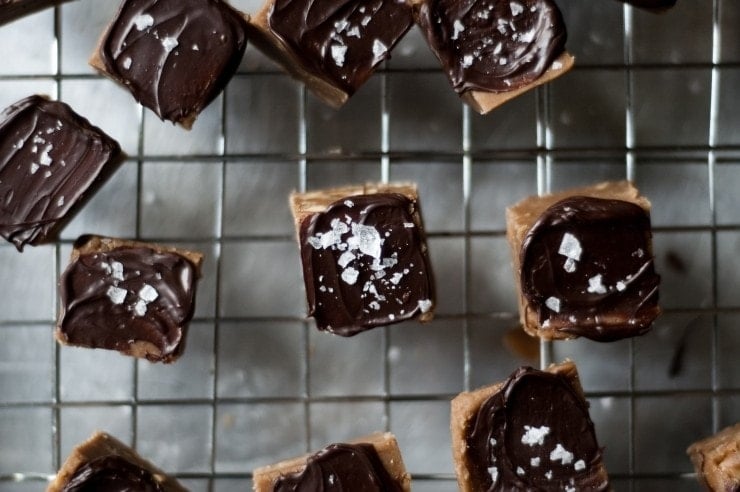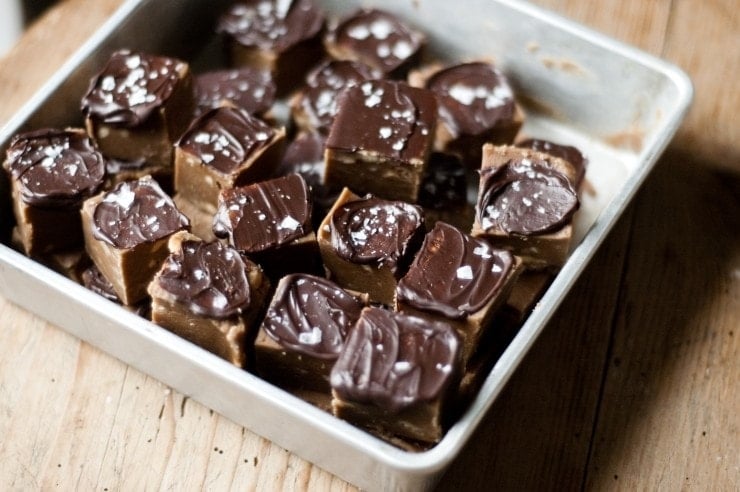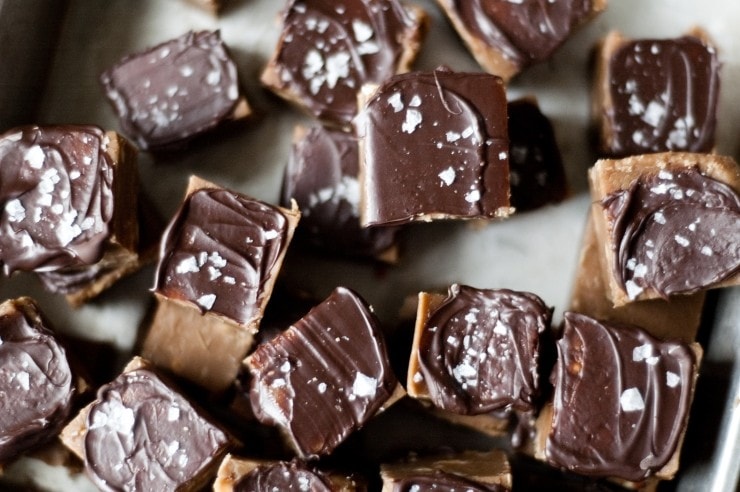 The chocolate is a nice touch, but it's optional. The sea salt, however, is something you must do. Well, the fudge is exceptional without it, but biting into a piece of fudge topped with a bit of Maldon Sea Salt is something you mustn't miss. (Note: Fleur de Sel or even a few grains of fine grain sea salt might work, as well)
Now, go make some fudge for your loved one's! Happy Holidays, my friends!
Easy Peanut Butter Fudge

Tweaked from Here

Makes About 36 Pieces
Prep time: | Cook time:

This recipe is pretty straight-forward. Melt the butter along with some ground nutmeg (it enhances the flavor of the peanut butter, so be sure not to leave this out), add the sugar, and milk, stir in the vanilla and peanut butter, mix with powdered sugar, and place in a pan to cool. I've tested the recipe with dark brown sugar and light muscovado sugar. You can use either.

The melted chocolate for the tops of each piece of fudge is optional, but it is a nice touch. There's no need to go out and buy Maldon Sea Salt or Fleur de Sel for this recipe. Salty and sweet are the perfect thing in this rich fudge, but if you don't have it, don't worry about it. The fudge is just as good. If you have fine grain sea salt, a very small amount of that on top of each piece of fudge would work.

I recommend cutting the fudge into 36 pieces, feel free to make them even smaller. This fudge is sweet, and it's rich- a little goes a long way.

Ingredients:

½ cup (1 stick) / 113g Unsalted Butter

⅛ teaspoon Ground Nutmeg

1 pound / 453g Light Muscovado Sugar (can use soft dark brown sugar)

½ cup / 118 ml Milk

1 tablespoon Vanilla Extract

1 cup / 235g Extra Crunchy Peanut Butter

2 ⅓ cups (308g) Powdered sugar

⅓ cup / 75g / 2.65 ounces Dark Chocolate / semi-sweet chocolate chips (optional)

Maldon Sea Salt / Fleur de Sel, for sprinkling (optional, but recommended)

Preparation:

Over medium heat, melt the butter in a large saucepan along with the ground nutmeg.

With a wooden spoon, stir in the brown sugar and milk, removing any lumps, and bring to a boil for 2-3 Minutes without stirring.

Remove from the heat, and stir in the vanilla, then the peanut butter.

Put the powdered sugar in a large heatproof mixing bowl. Then, pour the hot peanut butter and sugar mixture on top of the powdered sugar, and beat with a wooden spoon until smooth.

Pour into an 8-inch (20 cm) square baking pan, cover the top with parchment, and press down to smooth out the top (I use another 8-inch pan to do this) set aside to cool slightly (10 minutes should do), then place in the fridge to cool completely.

Turn the fudge out of the tin onto the parchment, cut into 36 squares (or smaller, if you prefer)

Melt the chocolate, and add a thin layer to top of each piece of fudge. Allow the chocolate to set, and sprinkle each piece of fudge with a few grains of flaky sea salt.

Store in an airtight container.