Mexican Wedding Cookies, Russian Tea Cakes, Polvorones– whatever you know them as, these delicate cookies are perfect for any occasion.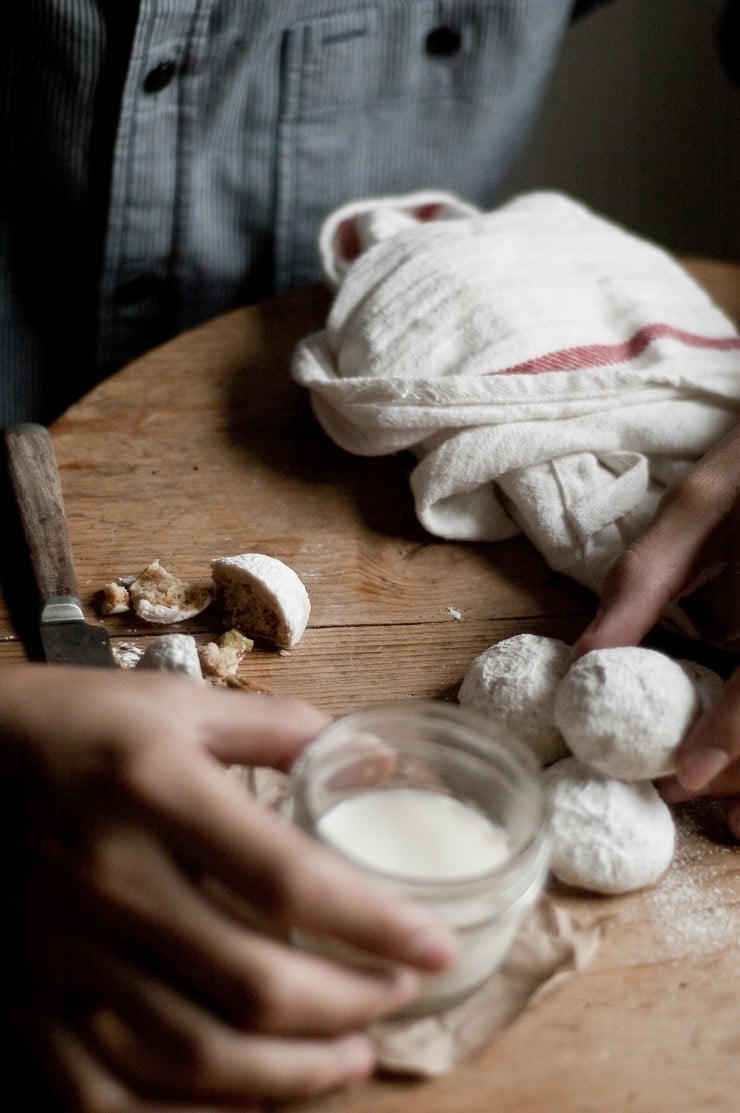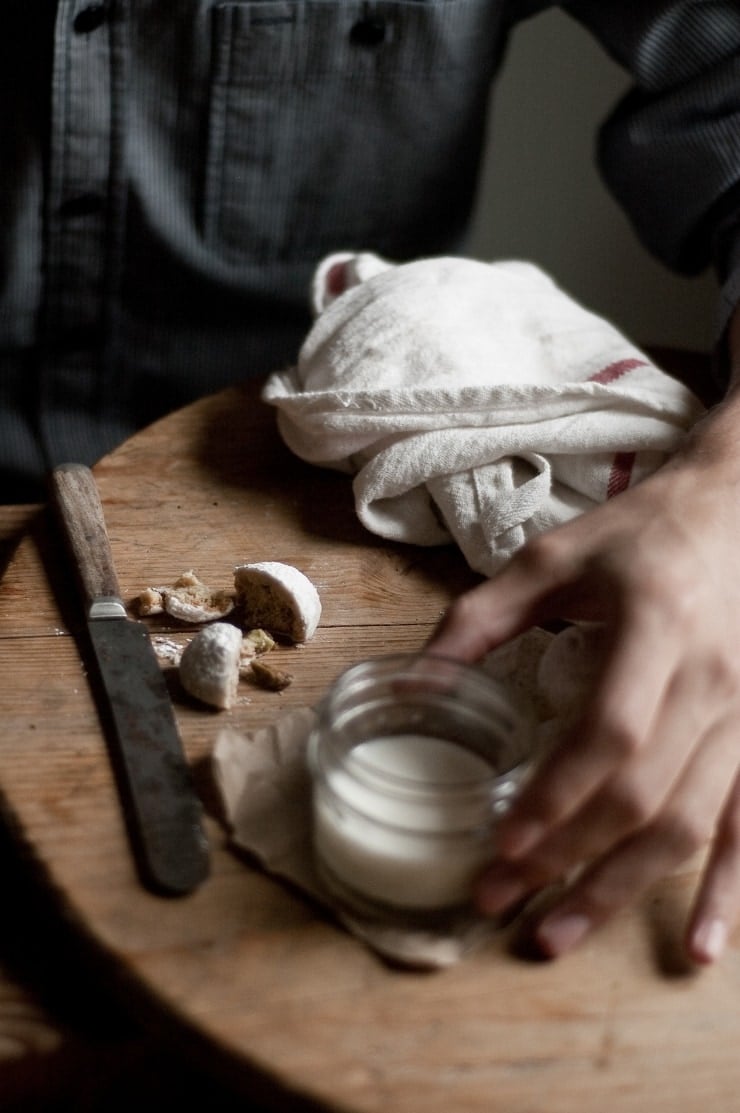 Since we last spoke, I've spent a great deal of my time testing and revising old and new recipes for the proposal, meeting with friends, and more recently- battling the nightmares of food poisoning (Just mentioning it makes me feel like someone's going to say, "Kam- TMI." Sorry.). I won't go on-and-on about how the past several weeks flew by, as I fear there might be just one too many of those posts in the archives. And I'm definitely not going to whine yap about this entire food poisoning experience and how it's basically made up my mind (for the time being) on cutting meat entirely out of my diet. Instead, I'd much rather talk about these pistachio polvorones because in the midst of all this chaos, I took a moment to breath and bake something that can banish any bit of stress at 500 feet.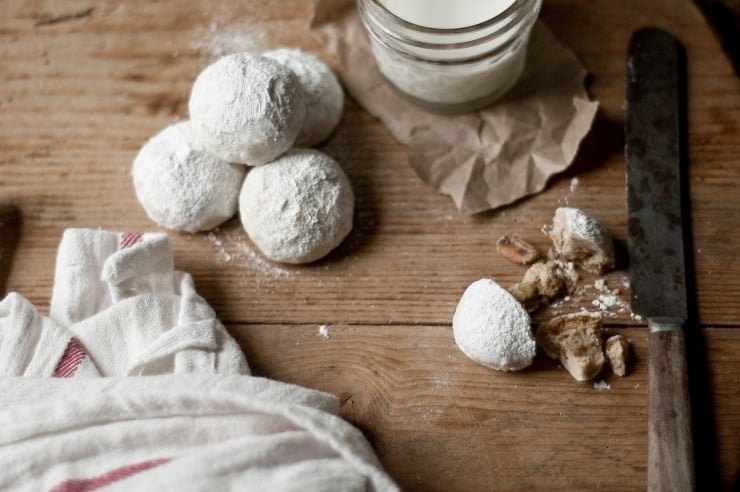 These Pistachio Polvorones are something I've been wanting to share with you since my visit to San Francisco's Tartine Bakery back in April. After ordering a few of their utterly perfect (traditional) version of these cookies, I was inspired to share a recipe for my take on these half-spheres of deliciousness. So, after months of putting this recipe on the back burner, this seems like a better time than any to finally share it.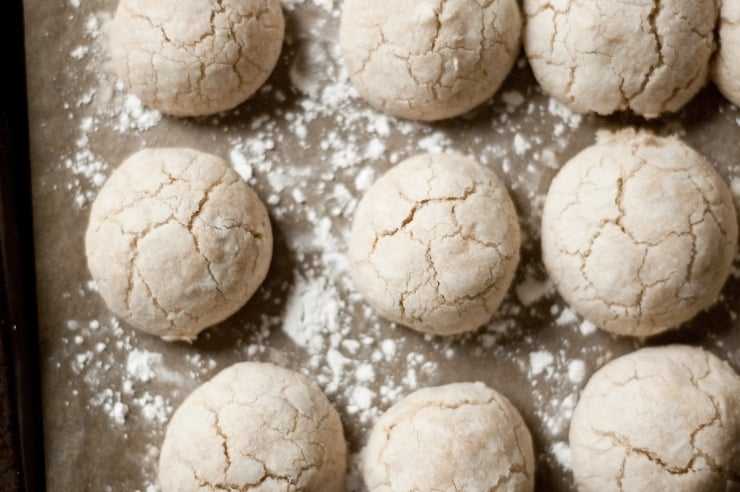 Polvorones are a crumbly Spanish shortbread, which are more commonly known as Mexican Wedding Cookies or Russian Tea Cakes. There are many variations of Polvorones, but ideally, a Polvorón is crumbly, not entirely sweet, and is always mixed with some type of nut, traditionally pecans or walnuts. Although a Polvorón is covered in powdered sugar, I feel that it shouldn't be covered in a dry mountain of the sugar- it just ruins the entire cookie eating experience.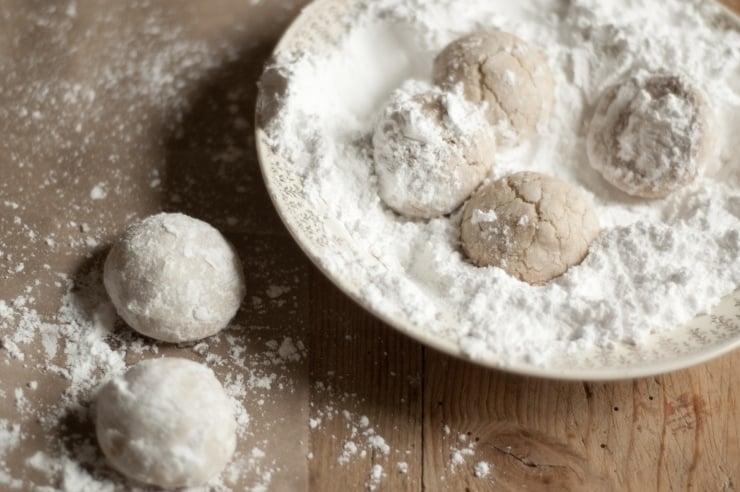 I did take some liberties with the concept of these Polvorones (these are far from traditional), as I do nod to the suspected Levantine origins of these latin cookies by using a mixture of Pistachio nuts and almond meal, which I find to be much more satisfying than the traditional use of pecans and walnuts.
These cookies, I must admit, do require a bit more handling than most cookies, but I personally find the mindless repetition of measuring and rolling cookie dough in powdered sugar quite relaxing.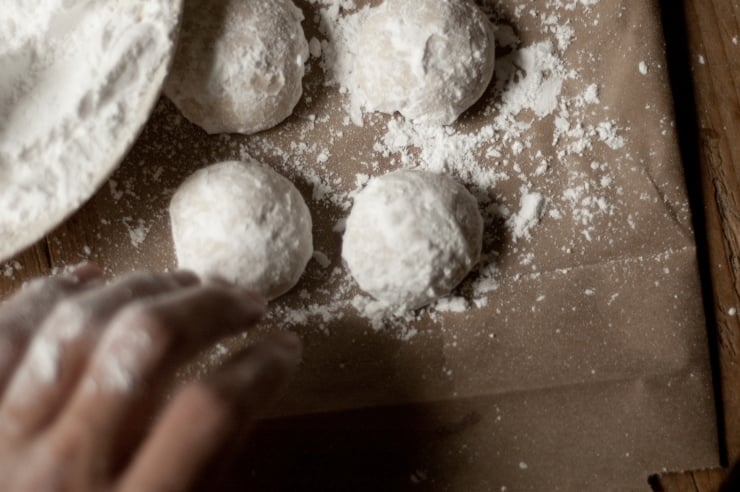 The dough starts off like any basic cookie dough- butter and sugar (in this case- powdered sugar) are beaten until they are pale and fluffy, then a splash of sweet smelling vanilla and almond extracts are mixed in. A mixture of pale all-purpose flour, nutty whole wheat pastry flour, a pinch of sea salt, and a healthy pinch of warm, earthy cinnamon are mixed in. After that, green shards of pistachio nuts are tumbled in along with an aztec mound of almond meal. The bowl of dough is, then, covered and let to set in the refrigerator until cool and firm.
Once the dough has set, tablespoon-sized rounds of dough are rolled in powdered sugar, and then baked until crackly and lightly tanned.
The cookies are set to cool and are dusted in another light coating of powdered sugar. Now, I know that all of this rolling in powdered sugar seems like the cookies will be insanely sweet-they aren't trust me on this.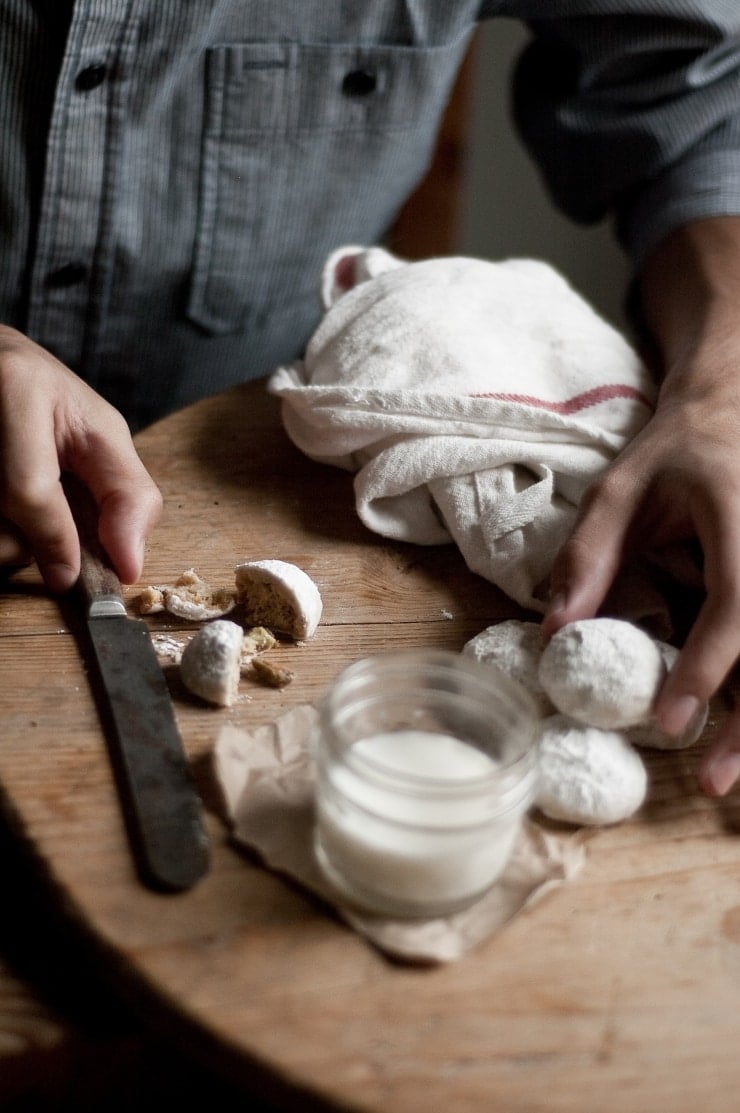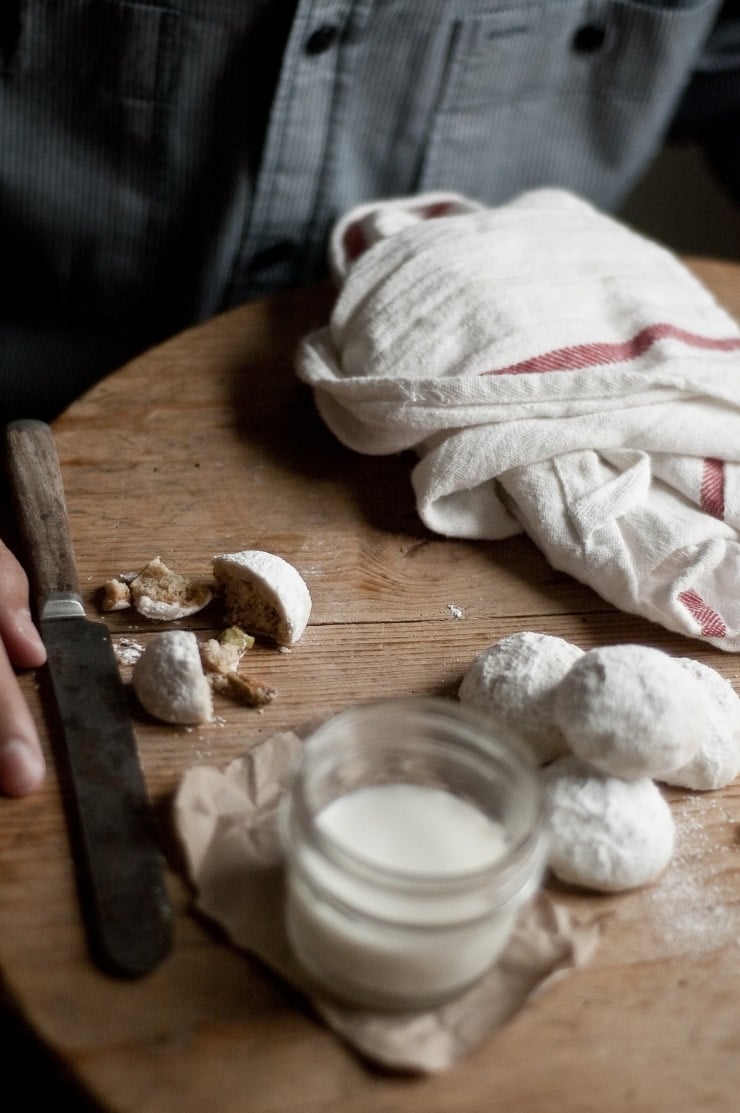 After the cookies have been cooled and dusted in powdered sugar, I usually pile them on a platter, and leave them on the counter for nibbling throughout the day, which I regret to admit is a bad move on my part because they never last this way.
The cookies, are perfect as is or served with a cup of warm black tea lightly sweetened and swirled with a slug of milk, or coffee. I however, always find a glass of milk to be obligatory when eating most cookies, and these sugar dusted bites of happiness are no exception.
Pistachio Polvorones Recipe

Makes: About 3 dozen cookies, after you've eaten a bit of the dough

I do take some liberties with the concept of these Polvorones, as I do nod to the suspected Levantine origins of these Latin cookies by using a mixture of Pistachio nuts and almond meal / flour, instead of the traditional pecans or walnuts , but if you haven't any pistachios, I suspect that an equal amount of roasted pecans or walnuts would work in place of the pistachios, or if you prefer- more almond meal in place of the pistachios. These cookies are pretty versatile.

I use a combination of All-Purpose Flour, and Whole Wheat Pastry Flour; I do so because the WWPF enhances the nuttiness of the cookies, but you can easily substitute the amount of WWPF with All-Purpose.

Make sure to use shelled, unsalted dry roasted pistachio nuts. If you can't find unsalted pistachio nuts, don't worry- reduce the amount of sea salt to ⅛ teaspoon (or if the pistachios are extremely salty- leave the salt out entirely). Salt is crucial in the flavor of these cookies, but too much salt ruins the cookies, and too little makes each bite set off a "these cookies need something" alarm.
Ingredients:

For the cookies:
1 cup / 120g All-Purpose Flour
1 cup / 120g Whole Wheat Pastry Flour (can replace this with All-Purpose Flour)
¼ teaspoon Fine Grain Sea Salt
¼ teaspoon Ground Cinnamon
1 cup/ 226g Unsalted Butter, softened
¾ cup / 75 g Powdered Sugar
1 ½ teaspoons Pure Vanilla Extract
½ teaspoon Pure Almond Extract
¾ cup / 80g Shelled Dry Roasted Pistachio Nuts; half roughly chopped & half finely ground
¼ cup / 20g Almond meal / almond flour

For Rolling:
1 ½ cups / 150g Powdered Sugar

Preparation:

Line a cookie sheet with parchment paper.

In a large bowl, whisk together the All-purpose flour, Whole Wheat Pastry Flour, Salt, and Cinnamon.

In the bowl of an electric mixer (you can use a hand mixer and a large bowl, if you prefer) fitted with a paddle attachment. Whip the butter until fluffy, then slowly add the ¾ cup of powdered sugar (I can't emphasize the word "slowly" enough- the remnants of powdered sugar clouds are not fun to clean up), and whip together on medium speed until pale and fluffy, about 3 minutes. Add the vanilla and almond extracts, and mix until combined.

On low speed, slowly add in the flour mixture until just combined. Briefly mix in the pistachio nuts and almond meal. Leave the cookie dough in the mixing bowl, and cover the bowl well with plastic wrap. Rest the dough in the refrigerator for ½ hour, or until the dough is firm.

Roll the dough into tablespoon-sized rounds, and coat each dough round well in the powdered sugar (you definitely won't be using all 1 ½ cups of the sugar in this step, but you'll need the remaining sugar for later, so make sure not to throw it away at this point). Put each round on a parchment-lined cookie sheet and put in the freezer for 15 minutes. Meanwhile, preheat the oven to 350ºF / Gas Mark 4 / 180ºC, and place a rack in the upper third of the oven.

Arrange the dough rounds 1-inch apart, then bake (being sure to rotate the pan half way through baking) until the cookies are lightly cracked on top and are lightly blushing with gold all around the edges, about 18-22 minutes. Once out of the oven, allow the cookies to sit on the cookie sheet for 10 minutes, then carefully transfer the cookies to a cooling rack to cool completely. Once thoroughly cooled, roll each cookie in the remaining powdered sugar, being sure to shake off any excess powdered sugar.

Storing: The cookies can be stored in an air-tight container in a cool, dry place for about a week (From my experience, each batch will probably be finished after a couple days).