An easy, fool proof old-fashioned banana pancakes recipe that will have you begging for another stack. Just mix everything together!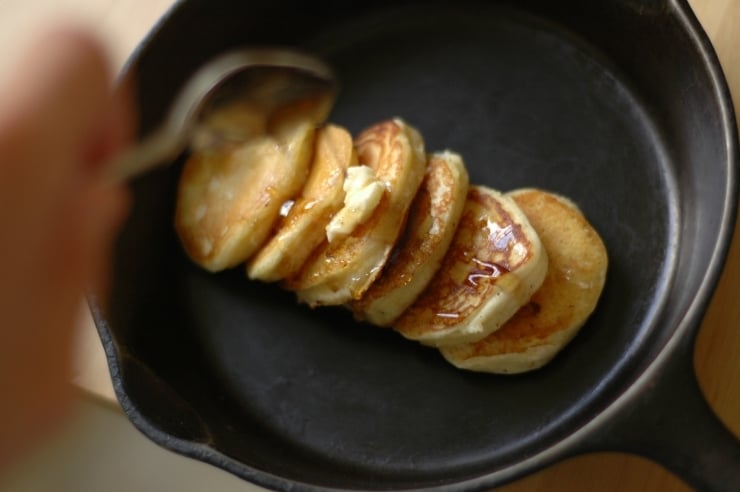 It's been a year. A year of ups-and-downs. A year of fun. A year of confusion. A year of learning. A year full of making new friends. I maybe a few days late (okay, 24 days late), but I would like to celebrate a few things today. I would like to celebrate the birth of this blog, friendship, AND my college decision with some delicious pancakes. Good, old-fashioned banana pancakes!
Just last year, I was sitting on my MacBook, chatting with my best friend, saying, "it seems like people find my recipe posts on my personal blog more interesting than posts about me commenting about my everyday life." Suddenly, I had an epiphany! I wanted to create a food blog! "A blog about food," I said to myself. I liked it. And that's when it all grew from there… I Googled "food blogs", tried to get an idea of what I was getting myself into, then, I decided to create a name for the blog (which was hell!). Creating a sophisticated name for a blog owned by a teenager was kind of pushing it. Being a male teen food blogger was also pushing it.
I was now entering the territory of moms, chefs, and foodies who know just about everything and anything that has to do with food, writing, blogging, and photography. If I was going to make it in this community, I had to prove myself.
I am not sure if I have exactly "proven myself" yet, but I have survived and I did manage to make many friends during this time.
I've made friends with people who's work I constantly drool over. However, I'd like to talk about one friend in particular, my friend Olga. Olga is the genius behind the amazing food blog, Sassy Radish. Olga and I "met" through twitter and through her blog; we've been blogging friends since. Olga's kindness and passion are clearly evident through her personality and through her recipes (and her writing). She is a financial genius by day and a culinary genius by night. Although her job keeps her immensely busy, she always manages to fit food and friends into her schedule. As my history teacher would say, "What a woman!"
I have failed to mention my new camera on the site, due to the fact that I wanted to thank the person who GAVE me their camera (out of the kindness of their heart), by dedicating a post to them. That person, is Olga. One evening Olga Direct Messaged me on twitter, asking me if I wanted her other DSLR camera. I said, "Sure! How much?" That's when Olga corrected my mistake. She said that she was giving the camera to me for free! Yes, free!
Who knew that in a world full of war, hate, maltreatment, and confusion, a person could act so kindly to a teen who only dreamed that he would get something he began wanting since… The day he began taking photos. Who knew that dreams really do come true? Well, now I do!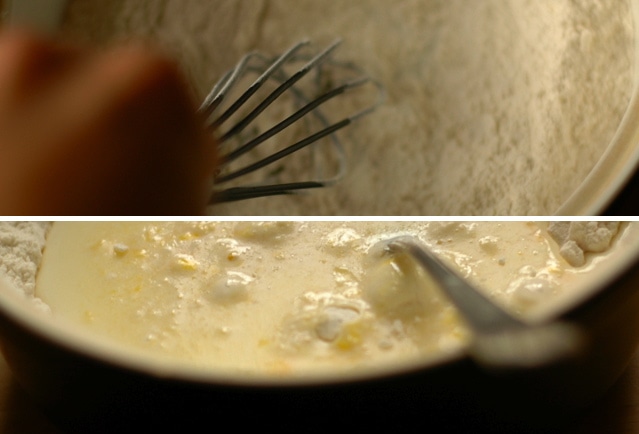 Thanks to Olga's kindness, and faith in me, I have been taking photos with an amazing Nikon D70s camera. I have yet to master how to use my new camera, but when I do, no one will stop me from taking amazing photos! Well, that's my dream, anyway…
Olga, I thank you from the bottom of my heart! I cannot express in words, how appreciative I am of your kind gift. And Happy Belated Birthday, friend! Here's to many more years of great food, great writing, and great friends!
Now, onto my college decision! I've decided to put it off until I made my choice and until the decision deadline was up. All because I didn't want people trying to persuade me to go to another college. It's silly, I know, but there is a method to my madness. I have yet to figure it out, but I'm sure you will before me! Anyway, the college I will be attending during the Fall of 2010 is Seton Hall University. I am going to try not to get into too much about my college decision because I am trying to teach myself about the fine line of "sharing information" and "sharing too much information". But I will say this- I am very excited for college! :)
Also, if my family is reading this, you know, this would be a great gift for me! Hint. Hint. Graduation. Birthday. Hint. Or a really cool vintage typewriter (one that actually works!) would be just as awesome! You know both things won't hurt, either…
So…
To celebrate Olga's birthday, our blog birthday, and my college decision, I've decided to break tradition and share a pancake recipe (instead of a cake recipe) that I've had a penchant for making over the past several weekends. It's an old-fashioned banana pancake recipe that will have you drooling after your first bite. Pancakes are technically cake, after all! Right? OF COURSE!
After seeing this pancakes recipe in the Mad Hungry Cookbook, I had to ask Lucinda Scala Quinn, the author of the amazing cookbook, if I could post an adapted version of the recipe. So, with her permission, here it is. Thanks Lucinda!
Old-Fashioned Banana Pancakes
Adapted from Mad Hungry by: Lucinda Scala Quinn

This simple and basic old-fashioned banana pancakes recipe puts boxed pancake mixes (blech!) to shame. Just put everything together and mix! Lucinda Scala Quinn's basic old-fashioned pancake recipe results in delicious, slightly thick pancakes, that require little to no effort to make.

Ingredients:
1½ cups all-purpose flour
1 tablespoon granulated sugar
1 teaspoon coarse salt (I used 1 heaping teaspoon of fine grain sea salt)
2¾ teaspoon baking powder
⅛ teaspoon cinnamon (optional)
1 large egg, lightly beaten
1¼ cups milk
3 tablespoons unsalted butter, melted, plus more for serving
1-2 ripe bananas, mashed
Vegetable oil, for the griddle
Pure Maple syrup, warmed, for serving

Preparation:
Place a heat-proof platter into a warm oven (at 225ºF or 110ºC)

In a large bowl, whisk together the flour, sugar, salt, baking powder, and cinnamon. Make a well in the center of the flour mixture. Add in the egg, milk, and 2 tablespoons of the butter. Whisk from the center, slowly incorporating the flour. Mix in the mashed banana(s). Rest the batter for 10 minutes.

Heat a large well-seasoned cast-iron skillet, non-stick skillet, or favorite griddle over medium-high heat. Swirl the remaining tablespoon of butter in the skillet (or use oil to coat the griddle) and immediately pour in 1/4 cup of batter for each pancake. When the bubbles rise to the surface, flip the pancakes, slightly reduce the heat (kamran note: skipping this step doesn't really change the outcome of the pancakes), and cook until the bottoms are golden and the centers are cooked, about 1-minute (Rarely does the first pancake work well- it takes a bit of time to get in the groove with the heat, fat, and batter).

As the pancakes come out of the skillet, place them on the warm platter in the oven until ready to serve. Serve a stack of pancakes, topped with more butter and the maple syrup.

Pancake Add-ins:
– Fold in ¾ cup of berries. Blueberries are especially good with banana batter.
– Sauté thinly peeled, cored, and sliced apples in a little butter with a dash of cinnamon. Spoon onto the uncooked side of the pancakes before flipping.
– Replace half of the all-purpose flour with whole-wheat, buckwheat, or rye flour.
– Toast pecans or walnuts, chop, and fold them into the batter. Slice fruit on top of the pancake before flipping.