A very versatile and simple oven roasted tomato sauce recipe. This tomato sauce is perfect served with your favorite bread or pasta!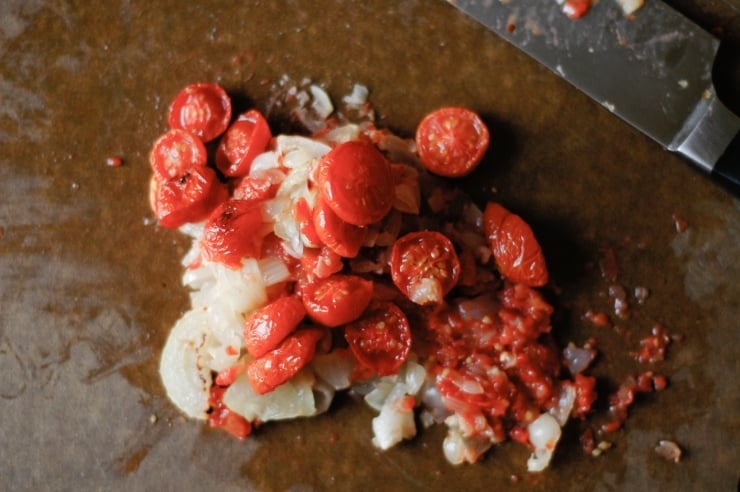 I'll get to this delicious Roasted Tomato Sauce in a minute… But I have to say: since I began college in late August, my life has changed greatly. My day begins at 3:45 in the morning when the alarm on my iPod lets out an incessant sound that could definitely wake the dead. Like a zombie, my arm pushes its way out of the covers; I immediately press "snooze" and pray that I'll be able to squeeze in a few extra minutes of sleep. A couple minutes later, my ears hear the same obnoxious beeping noise that I tried silencing earlier. I grunt, turn off the alarm, and then, open my eyes. I stare into the darkness of my bedroom for a few minutes. I think nothing– until my mind reminds me that I have to get out of bed to get ready for school.
I throw the covers to one side and slowly crawl out of bed. I carefully feel my way through the darkness of the bedroom, grab my towel and clothing. Then, I look for the slippers that are sloppily placed near the foot of my bed. I sigh- my mind reminds me that they are always in the same place. Once I reach the door to my bedroom, I close my eyes while I flip on the light switch, open the door, and I make my way toward the bathroom. Once I walk toward the living room, I am greeted by a welcoming "meow" from each of our cats, and a "Hi, sweetie" from my mom.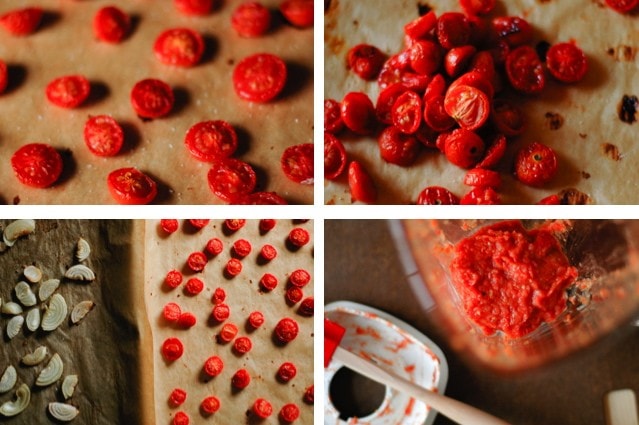 After getting ready, having my morning cup of tea and something to eat (usually a bagel), my day begins to pass by rather quickly. Two-hour lectures seem as if they lasted twenty minutes, and without expecting it, my last class of the day has come to an end. Suddenly, I find myself walking across campus through crowds of other students, to catch the bus to the train station. On my fifty-minute bus ride, my stomach lets out a roar, and my mind can't help but to think of food.
While waiting for the train home, I am still thinking about food. That's when I being to flip through the pages of my recipe journal. Once a recipe catches my eye, I call it dinner. Just like this roasted tomato sauce recipe!
Since I began college, that's how my life has been . . . I simply wake up, commute to school, and think about what I want to make for dinner. It's quite exciting, actually. Monday's are especially exciting because I'll usually have have enough time to make my way to the farmers' market right after class.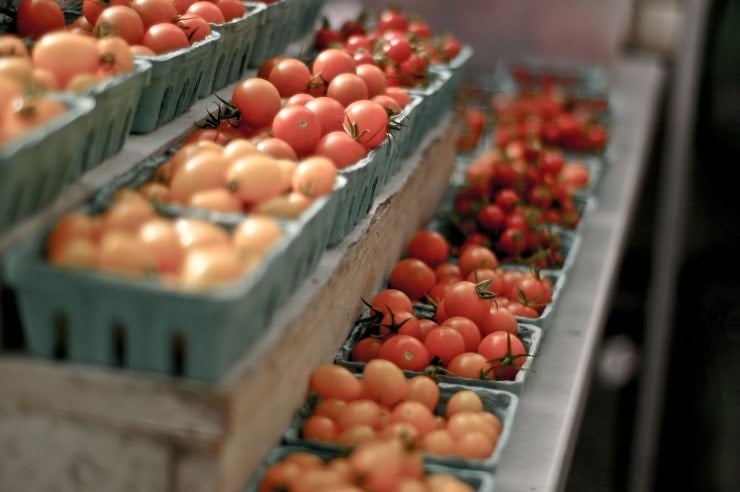 A couple weeks ago, after coming back with a plethora of lovely cherry tomatoes and cipollini onions (along with other great finds) from the farmers' market, I decided that dinner would be roasted cherry tomatoes, cipollini onions, and spaghetti tossed with a generous sprinkling of Parmigiano-Reggiano cheese. After taking a bite out of the roasted tomatoes and slices of onion, my taste buds began singing.
All of a sudden, the flavor of the entire dish smacked me and told me that the roasted tomatoes and cipollini would make into a lovely sauce (or pesto).
I placed the tomatoes and onions in the blender, tasted for salt and pepper, then placed everything into a saucepan. Once the sauce heated up, I added in a bit of pasta water, swirled in a pat of butter, and spooned this lovely sauce over a bowl of warm spaghetti.
I called it dinner.