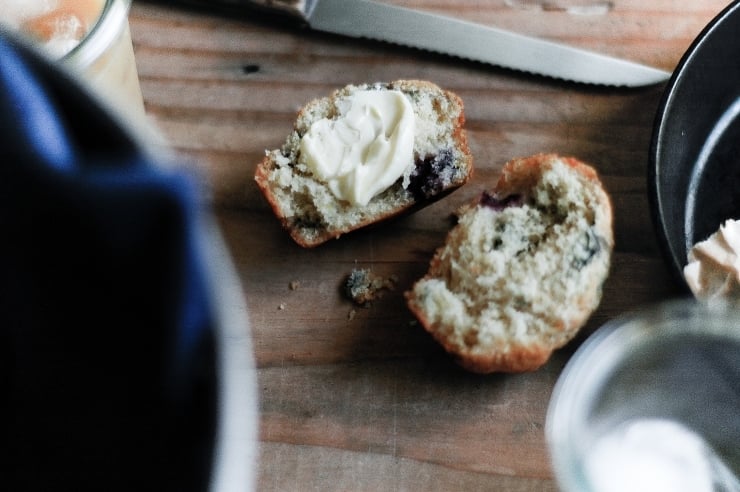 Last Sunday, while the red and yellow leaves gracefully pirouetted to the wind's frigid autumn song, my family and I slept, tucked under our warm comforters, ignoring the daylight that softly pierced our tired eyes. My mother and I were the first to wake; the dirty dishes from Saturday's supper warbled my name in an implausible tone, "Kamran, wash us. Kamran, we need you! Kamran, we'll give you chocolate! Kamran! Kamran . . . ! Kam-." I gave in after five minutes; for the chocolate (wouldn't you?). Once the sink sparkled like no other sink in the New York-New Jersey area, my stomach reminded me that breakfast was my next mission.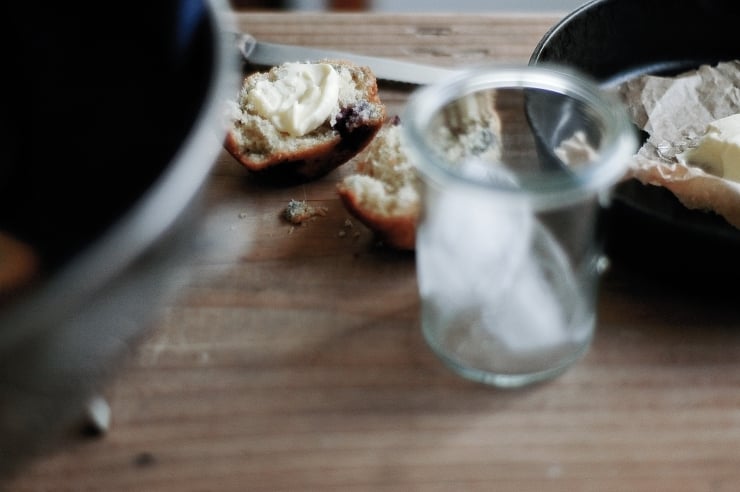 Prune-y hands, grumbling stomach, and all- I scrolled through an endless spreadsheet of recipes for an entire hour. And there it was. It was like the dude upstairs (points up) was reading my mind. A one-bowl recipe for Perfect Blueberry Muffins.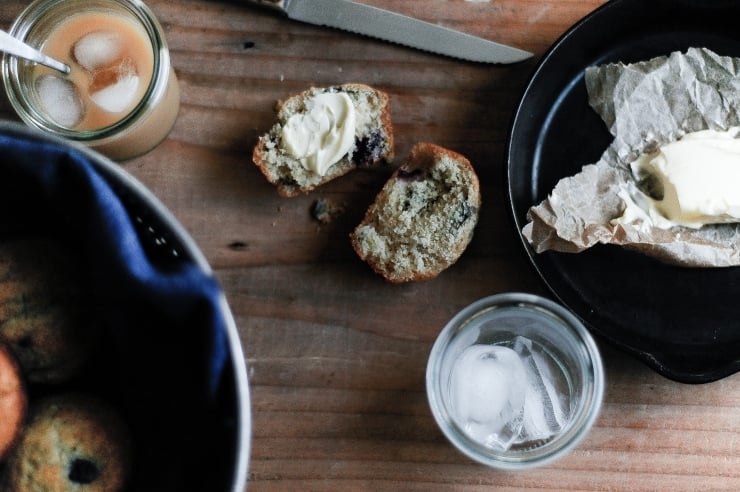 Not having to wash more than a bowl and a few utensils is a gift sent down from the heavens.Everything was as simple as creaming together sugar and butter, and dumping ingredients into a bowl set over a kitchen scale. It was that easy. Honestly.
I did change a few things about the recipe- I replaced ½ cup of the all-purpose flour with whole wheat pastry flour. This gave the muffins a beautiful crumb, which everyone loved! As for the sour cream required in the recipe, I used something a little more "gourmet-ish"- crème fraîche. It made these muffins a little more special, making up for the fact that I used frozen blueberries, but you can easily use sour cream or yogurt if you can't find crème fraîche.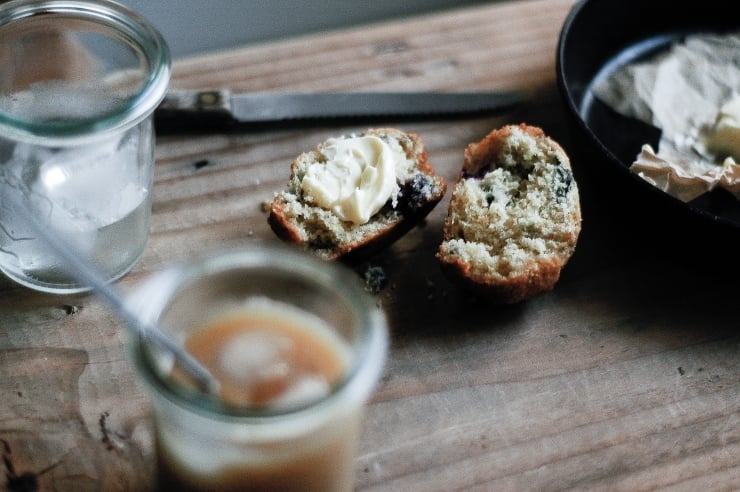 Once these babies came out of the oven, I will admit- I refused to let them cool on a wire rack. I opened one with a fork, and spread on a pat of butter.
Before I knew it, I ate 4 of the 12 muffins that I made before actually calling my family to the table. Whoops!
Perfect Blueberry Muffins
Adapted from Cook's Illustrated and Smitten Kitchen
Makes about 12 standard-sized muffins

These muffins are best served right out of the oven and spread with room-temperature butter. You can substitute the crème fraîche called for in the recipe with sour cream or plain yogurt; buttermilk might work just as well. To prevent the mixture from turning blue, you may want to toss the berries in a tablespoon of flour, or you can fold in the berries when there is a little bit of flour left in from the dough. Both ways work equally well.

5 tablespoons (2 1/2 ounces or 71 grams) unsalted butter, softened
1/2 cup (3 1/2 ounces or 100 grams) sugar
1 large egg
3/4 cup crème fraîche, yogurt, or sourcream
1/2 teaspoon grated lemon zest
1/2 cup (60 grams) whole wheat pastry flour
1 cup (120 grams) all-purpose flour
1 1/2 teaspoon (7 grams or 1/4 ounce) baking powder
1/4 teaspoon (1 gram) baking soda
1/4 teaspoon (2 grams) fine grain sea salt
3/4 cup (3 3/4 ounces or 105 grams) blueberries, fresh or frozen (if frozen, don't bother defrosting)

Preheat oven to 375°F. Line a muffin tin with 12 paper liners, or butter each cup. Using the paddle attachment on your electric mixer, beat the butter and sugar with until light and fluffy. Add in the egg, and beat well. Next, add in the crème fraîche and lemon zest. Put flours, baking powder, baking soda and salt into a sifter and sift half of the dry ingredients over batter. Mix just until combined. Sift the remaining dry ingredients into batter and mix just until the flour disappears (don't over-mix). Gently fold in the blueberries. The mixture will be quite thick (and even thicker, if you used a full-fat Greek-style yogurt), similar to a cookie dough, which is why an ice cream scoop (I used a 1.5 ounce scoop) is a great tool to fill your muffin cups. You're looking for them to be about 3/4 full, nothing more, so you might only need less than 12 cups. Bake for 23 to 30 minutes, until the tops are golden and a tester inserted into the center of muffins comes out clean . Let cool on a wire rack (if you're into that stuff) or once out of the oven, break open with a fork, and serve with a generous pat of butter. Enjoy!