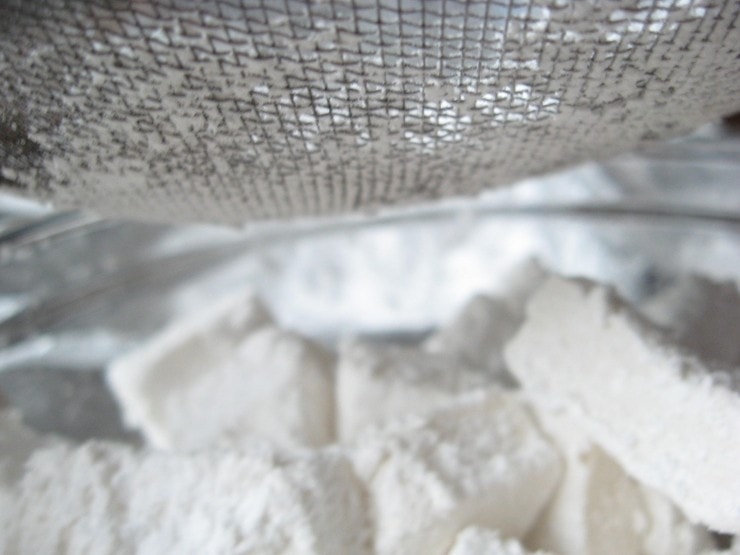 So, I made homemade marshmallows. My mom calls me the messiest cook on the planet. She constantly follows me around with a broom and a dust pan, sweeping up remnants of soon-to be recipes. But it's not my fault. I swear! Sure, I'll admit that I can be messy sometimes, but it's only because our kitchen doesn't have enough room for me. I'm a big boy, and big boys need big kitchens to cook and bake in. And when there's not enough room, things go flying everywhere, regardless if there's a garbage bowl or not.
This weekend, my mother was following me around with that broom and dust pan more than she wanted to; she falls under the category of "obsessive compulsive" clean freak. I was tackling something I hadn't made in forever- marshmallows, and for any of you who've made the stuff, you know how messy the process can be. And boy did I hear it from my mother, "This kitchen better be as spotless as it was before you got in here!"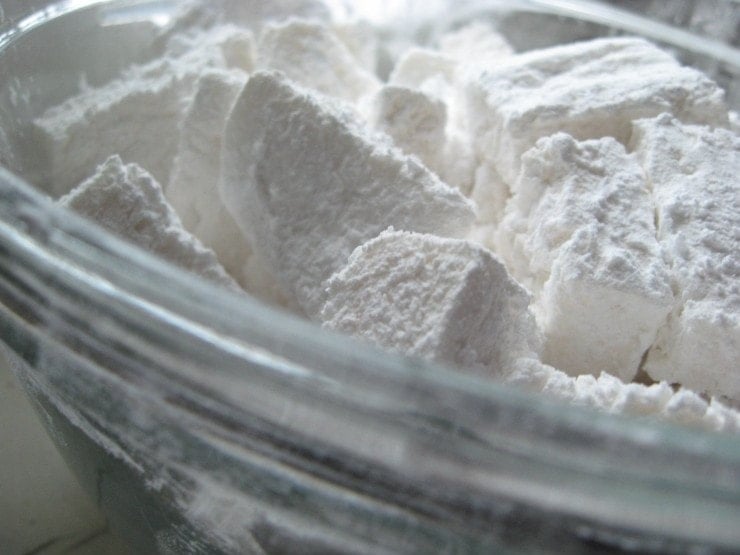 Luckily the kitchen was spotless after I finished wiping down the countertops four times and after washing every single sticky, marshmallow-y dish, wire whisk, spoon, and silicon spatula in the sink. Oh how much I loathe washing dishes… The thought of having to wash the stuff all on my own, every single time I make something, is horrendous! I think every food blogger should be given a nice dSLR camera [with accessories] (I've been eyeing this one and this one for quite a while…), a second Kitchen Aid mixer (because one is never enough!), a huge kitchen, and a personal dishwasher. I should be realistic, but oh if life was like that, I wouldn't be struggling to take half-descent photos with a cheap Canon point-and-shoot camera, and I wouldn't hear any complaining from my mother that the kitchen is an absolute pigsty.
Speaking of camera… Christmahanaquanzadan Santa wasn't good to me this year, he left a gift card, some clothing, a couple checks for my college applications, and a nice pair of shoes. No dSLR camera… And guess what? If Santa wants to see another batch of cookies next year, he'd better know what to come with by my birthday, or his butt is going to be freezing outside next Christmas, while I'm microwaving / roasting marshmallows and Petit Écolier cookies to make the most sophisticated and delicious s'mores that you will ever have in your entire life.
I might give santa some hot cocoa with some marshmallows though, because I am nice, and because he did leave us a nice little kitty on Christmas Eve… Oh, and guess what we named her- that's right, Eve. Isn't Eve adorable?! Oops, almost forgot that I didn't put the photo on here… Well, you'd have to say she's adorable after clicking this link. Sorry peeps, kitty is adorable, but she's very finicky and refuses to let me take photos of her, without moving. And I wasn't going to post a not-so-descent photo on here…
Santa still has until my birthday to get off of my "No Cookies For You!" list. Until then, he's staying on it and might only get hot chocolate next Christmas. Depending on my mood next year, he might get a couple marshmallows too…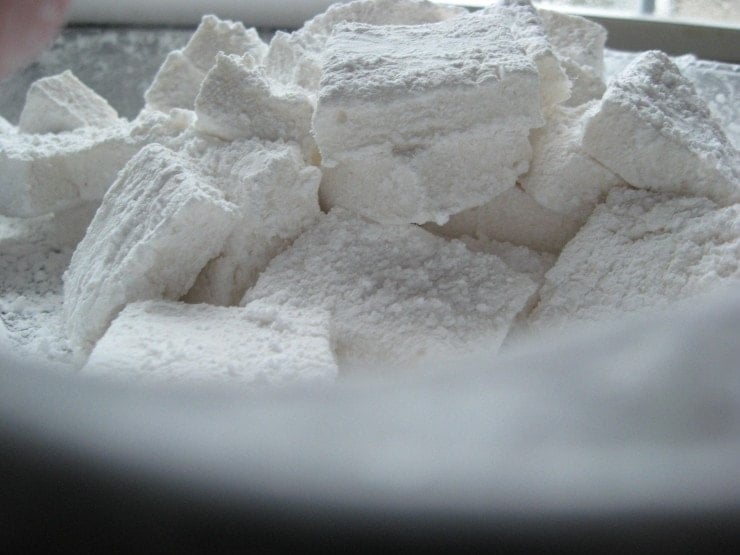 Homemade Marshmallows Recipe
Although these Marshmallows may leave a small mess in your kitchen, they are quite easy to make and are perfect in hot chocolate, or between two Petit Écolier cookies. As a side note, if you only eat kosher or halal, fear not! This recipe can be made with kosher or halal unflavored gelatin. Get to marshmallow-in'! And enjoy!

Adapted From Gourmet, December 1998
Yields about 96 marshmallows

Ingredients:
About 1 cup confectioners' sugar
3 1/2 envelopes (2 tablespoons plus 2 1/2 teaspoons) unflavored gelatin*
1/2 cup cold water
2 cups granulated sugar
1/2 cup light corn syrup
1/2 cup hot water (about 115°F.)
1/4 teaspoon salt
2 large egg whites (or reconstituted powdered egg whites)
1 teaspoon vanilla (or the scrapings of a vanilla bean)**

*Can use kosher or halal unflavored gelatin
** Other extracts, such as almond or mint extracts can be used. In addition to flavor, you can also add food coloring.

Preparation:
Oil bottom and sides of a 13- by 9- by 2-inch rectangular metal baking pan and dust bottom and sides with some confectioners' sugar.

In bowl of a standing electric mixer or in a large bowl sprinkle gelatin over cold water and let stand to soften.

In a 3-quart heavy saucepan cook granulated sugar, corn syrup, hot water, and salt over low heat, stirring with a wooden spoon, until sugar is dissolved. Increase heat to moderate and boil mixture, without stirring, until a candy or digital thermometer registers 240°F., about 12 minutes. Remove pan from heat and pour sugar mixture over gelatin mixture, stirring until gelatin is dissolved.

With standing or a hand-held electric mixer beat mixture on high speed until white, thick, and nearly tripled in volume, about 6 minutes if using standing mixer or about 10 minutes if using hand-held mixer. In a large bowl with cleaned beaters beat whites (or reconstituted powdered whites) until they just hold stiff peaks. Beat whites and vanilla into sugar mixture until just combined. Pour mixture into baking pan and sift 1/4 cup confectioners― sugar evenly over top. Cool marshmallow at room temperature, uncovered, until firm, at least 3 hours, and up to 1 day. (kamran note: the original recipe states to chill the marshmallows, you can do what you find easier. I found it easier to leave out overnight.)

Run a thin knife around edges of pan and invert pan onto a large cutting board. Lifting up 1 corner of inverted pan, with fingers loosen marshmallow and let drop onto cutting board. Take a large knife, oil it, and dust it generously with powdered sugar; trim edges of marshmallow (kamran note: don't throw out those edges! Cut them into small pieces and put some of them into a nice cup of hot chocolate) and cut marshmallow into roughly 1-inch cubes. Sift remaining confectioners' sugar into a large bowl and add marshmallows in batches, tossing to evenly coat.

Marshmallows keep in an airtight container at cool room temperature for 1 week.