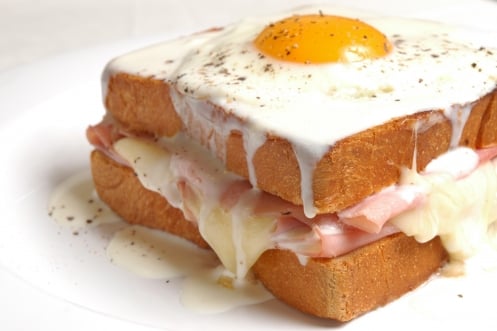 photo courtesy of phil runion
I had a late dinner today. Really late… At about 9:30 I wanted something quick to make, but it also had to be appetizing. I wanted a sandwich, or something of the kind… And then, it hit me. I was going to make the infamous french sandwich-Croque Madame!
For those of you who do not know what a Croque Madame is a crunchy grilled chicken /ham and cheese sandwich topped with an egg sunny side up. If you'd rather exclude the egg in the recipe, you would basically have a Croque Monsieur.
My version of the recipe has some "American" flare to it… Instead of Gruyere Cheese, I decided that I would use some American Cheese. I know, shame on me, but I didn't have any Gruyere, so I compromised. I made my own version of the recipe, and I have to say, it sure tasted good!
P.S. I didn't have time to take a picture, so Phil Runion, allowed me to borrow his picture of a Croque Madame sandwich from his blog.
Thanks Phil!
INGREDIENTS:
4 eggs
12 slices of chicken OR ham (3 slices for each sandwich; I used chicken)
About 2 tablespoons of butter (to butter the bread with)
8 slices of white bread
Parmesan cheese (optional)
For Béchamel Sauce:
2 tablespoons of butter (1/4 of a stick)
2 tablespoons of all-purpose flour
1 cup of milk
salt and pepper to taste
1 cup of diced american cheese
PREPARATION:
1. Collect all of your ingredients
2. Make the Béchamel Sauce
Béchamel Sauce:
Melt the butter (on medium heat) until it starts bubbling. Then, add the flour. Stir. Let the mixture cook for about a minute, or until it smells nutty and looks blondish. Whisk the milk in, then bring it to a bubble. Lower the heat (to low). Add the cheese, salt, and pepper. Cook the sauce until it is thick enough to coat the back of a spoon.
Sandwich:
Heat a skillet on medium heat. Take two slices of bread, and butter each slice of bread (on one side only. Lay one slice down in the skillet, then add a tablespoon or so of Béchamel sauce and the three slices of ham. Place the other slice of bread on top (buttered side up). Brown each side of the sandwich. Repeat with three other sandwiches.
After all of the sandwiches are made, turn your broiler on. Put some aluminum foil on a cookie sheet (for easy clean up). Place all 4 sandwiches on the cookie sheet.
Take about a tablespoon of béchamel sauce and smooth it out on top of each sandwich. Then, sprinkle some parmesan cheese on top of each sandwich (this is optional).
Set the sandwiches under the broiler for about 2 minutes (or less), or just until the top of the sandwiches are browned.
While the sandwiches are under the broiler, fry the eggs (sunny side up).
When the sandwiches are done, top them with a fried egg. Add some salt and pepper to taste.
If there is extra sauce left, add some on top of each egg (this step is optional)
Serve with a nice green salad, or thinly sliced french fries.
Makes 4 Servings