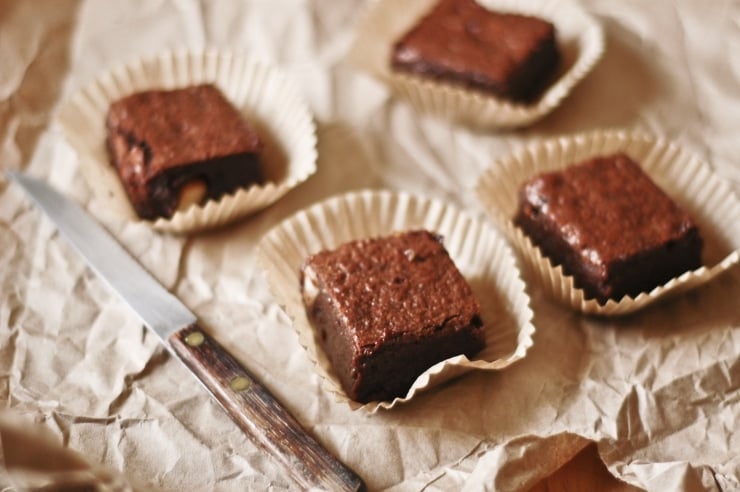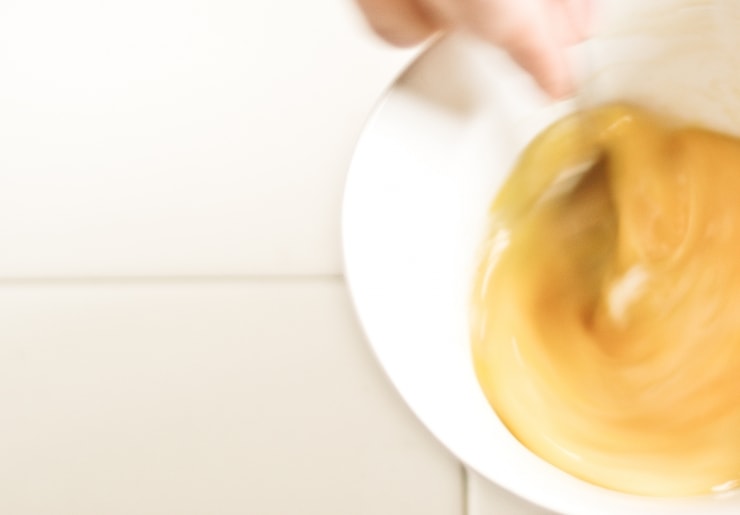 I have to admit, I am the clingy type when it comes to recipes. When I have an utterly extraordinary recipe for something, it usually takes a lot for me to try a new one. Brownies are no exception to this rule, even if I have shared a small handful (this, this, and this) of brownie recipes with you in the past. Up until mid-April, it was nearly impossible for someone to convince me not to make these cocoa brownies to pop in the freezer for oh-so-convenient snacking. So, what happened in mid-April that convinced me that it was time to try another brownie recipe? Well, it was less than 24-hours until a gluten-free dinner party that I was invited to, and let's just say that I was clueless as to what I was bringing.
I promised everyone I'd bring something with chocolate, and with chocolate, there simply must be a generous amount of dark muscovado sugar to accompany it (I've been obsessed with this stuff). I went through a never-ending list of possible things to make; I eventually settled on brownies. I don't know anyone who wouldn't end a meal without a brownie (Except for my sister who isn't big on eating anything with chocolate. Weirdo.) I threw the brownies together, carefully noting the mass of each ingredient and the order they were mixed in. I was aiming for fudgy-bellied morsels of chocolate-y goodness studded with shards of macadamia nuts and viridescent pistachio pieces still blushing with their residual rosy skins.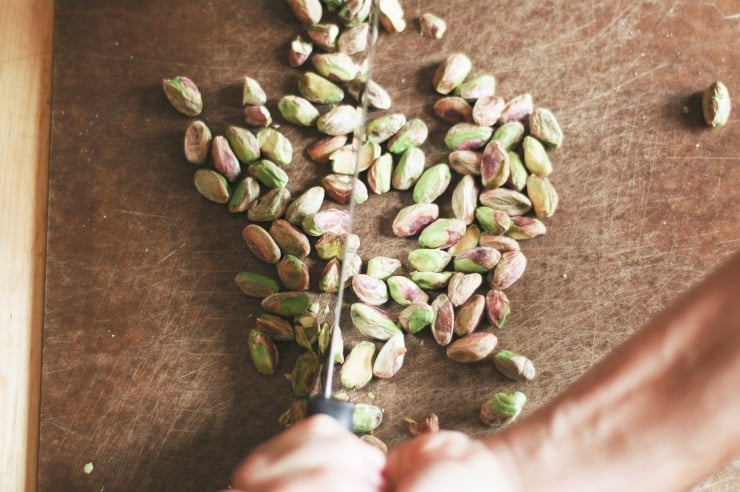 I am sure that brownie purists will likely shoot me down in flames after hearing that I've used dark brown muscovado sugar in these brownies. So be it. It's what makes these brownies so good. That amongst several other things (I don't have to list them, do I?)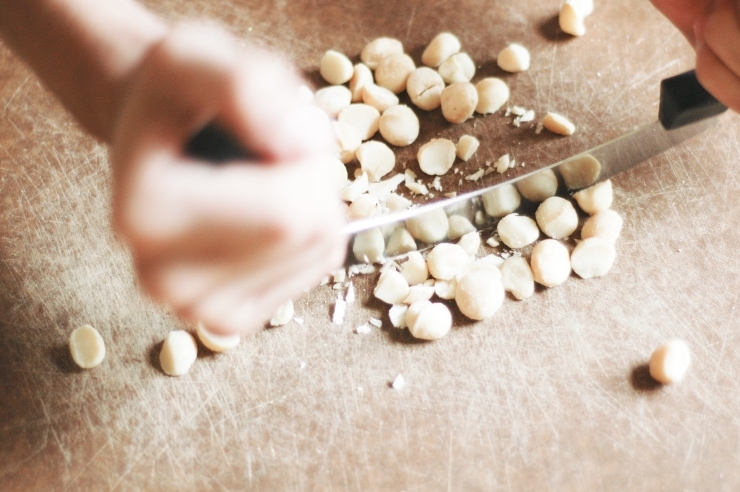 The brownies were a hit at the party and I mentioned them to friends and family, who demanded some. I even baked a pan to share with friends at BlogHer Food a couple weeks ago. I must admit, I did test for "quality control" (it's my excuse and I'm sticking to it), carefully eating my way around some of the pan, just to make sure that everything was good enough to share. Oh, who am I kidding? These brownies are too good not to eat. I did manage to hold back on eating more than was necessary; I did want others to try the brownies.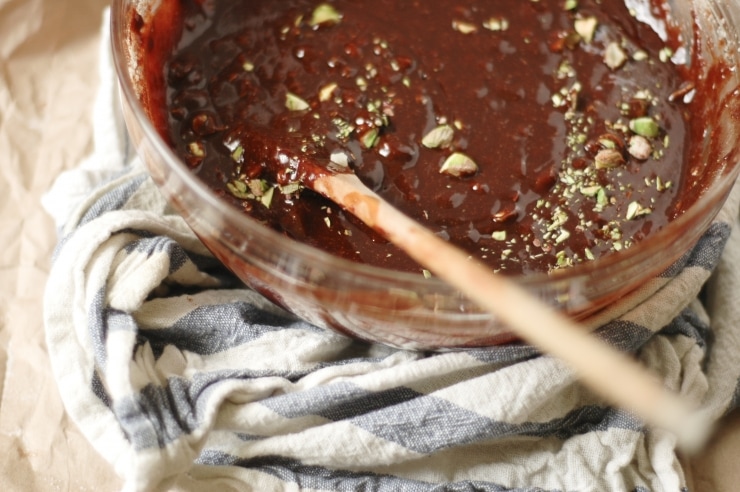 After surviving almost 800 miles in blue chinese take-out containers haphazardly placed in my backpack, they were immediately shared with friends during a mini in-room potluck, and during the next couple days of the conference. People moaned, swooned, smiled, and thanked me. Some friends went as far as dividing the 2-by-2 brownies into several pieces to share with others. It was a lovely feeling to see friends and strangers enjoy them.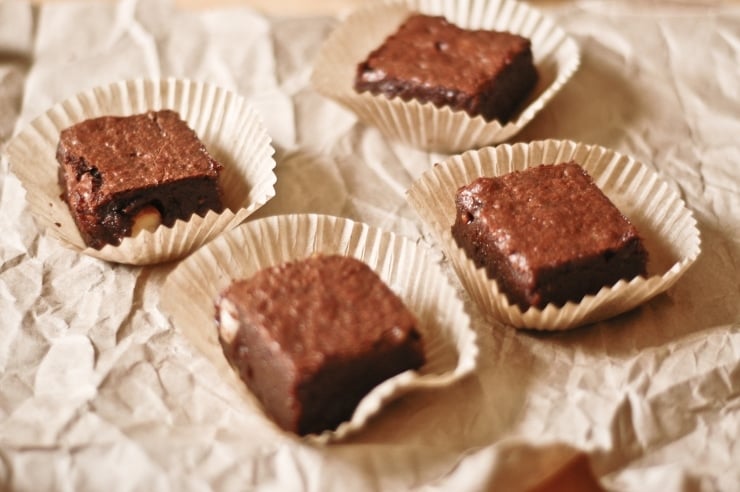 Elissa, Hannah, Lauren, and Tessa insisted that I mail them each a shoebox filled with the brownies. We'll be working out the brownie situation soon, but until then, my dear friends, I insist that all of you run (don't walk) into the kitchen and prepare a pan of these bad boys. You'll thank me. I promise.
Amazing Gluten-Free Chocolate Brownies
Inspired by various sources
Makes 16 – 25 Brownies

The dark muscovado sugar, along with the chocolate (there are a couple notes on chocolate at the bottom of this recipe) is part of what makes these brownies so darned good. If you can't find dark muscovado sugar, I suspect an equal amount of dark brown sugar serves as a good substitute. If you have neither on hand, simply up the amount of granulated sugar to 1 cup / 200g.

I adore the combination of macadamia nuts and pistachios in these brownies.They're pricey, but they're worth it. The macadamia nuts I used were already dry roasted, if the one's you have aren't, simply toast them in a dry pan over medium-high heat for a couple minutes until you can smell their nutty aroma. The pistachios were lightly salted, which I think works really well in these brownies. 1 cup / 90g of any of your favorite nut, or a combination, will work wonderfully, just be sure to lightly toast them in a dry pan over medium-heat for a couple minutes. It makes all the difference.

If you don't have almond meal on hand, simply process 1¾ cups / 145g almonds in a food processor until they resemble sand; be careful not to over-process them because you'll soon have almond butter! After the mixture is processed, I like to run it through a medium-meshed sieve, just to make sure there are no stray chunks of almonds left in the mixture.

Ingredients:
1 cup / 225g / 8 oz Unsalted butter, cubed
8 oz / 225g Good quality dark chocolate, at least 62% – 70% cocoa solids, chopped **
¾ cup / 150g / 5.3 oz Granulated sugar
¼ cup / 50g / 1.76 oz Packed dark muscovado sugar
⅛ teaspoon Fine grain sea salt
1 tablespoon (3 teaspoons) Pure vanilla extract
3 Large Eggs, briefly beaten
1 ¾ cups / 145g / 5.1 oz Almond meal, passed through a sieve
½ cup / 45g / 1.6 oz Macadamia nuts, chopped
½ cup / 45g / 1.6 oz Shelled pistachios, chopped

Preparation:

Position a rack in the upper third of the oven and pre-heat oven to 350ºF/ Gas Mark 4 / 180ºC. Line the bottom and sides of an 8-inch square baking pan with aluminum foil or baking parchment, being sure to leave an overhang around each side.

In a heavy-bottomed sauce pan, melt the butter and the chocolate together on low heat (I don't bother with a double boiler with these brownies; as long as the butter and the chocolate are melting together on a low flame, the chocolate won't burn, but if you're wary of burning your chocolate, feel free to use one).

Once the chocolate and the butter have melted into a smooth amalgamated mixture, whisk in the sugars, salt, and the vanilla.

Allow the mixture to cool for 5- 10 minutes. just until your finger can stay in the mixture for several seconds without being burned. The mixture will be granular, but once the eggs are added, everything will smooth out.

Add in the beaten eggs, stir vigorously.

Mix in the ground almonds, followed by the macadamia nuts and pistachios.

Place in foil or parchment-lined baking pan and bake for 25-30 minutes, until the top looks light in color, and feels soft to the touch. (Kamran Note: Using a cake tester to judge doneness for these brownies will serve absolutely little to no use; the cake tester will come out wet, even if the brownies are done.)

Allow to cool completely on a wire rack, then place in the freezer for 15 minutes for easy cutting. Cut into 16 or 25 squares.

Enjoy at room temperature with a glass of milk, or frozen with some ice cream! These brownies will keep in an airtight container in a cool place for up to 1 week.

Chocolate Notes:
** I've tested this recipe with quite a few brands of chocolate- Valhrona, Callebaut, El Rey, and Scharffen Berger. My conclusion- the better the chocolate, the better the brownies will taste. I must encourage you to spend your money on good-quality chocolate, and buy what you can afford. I find El Rey is probably the most affordable on the list, followed by Callebaut and Sharffenberger. Valhrona is pricey, but it's worth every penny. I can go on-an-on about how much I dislike the taste of Ghirardelli dark chocolate (their chocolate chips are good, though), but I won't. If you swear by Ghirardelli, use it, just don't tell me about it. I'm sure that any of the chocolate brands listed above can be found at a Whole Foods.

Side Note: if you're in an Airport and are traveling home from San Francisco and know that you have absolutely no time to go shopping for chocolate within the next week or two, stop at one of the news stands in your terminal and pick up Three 3-ounce bars of 62% Scharffen Berger. No need to thank me; I had to do it a few weeks ago.