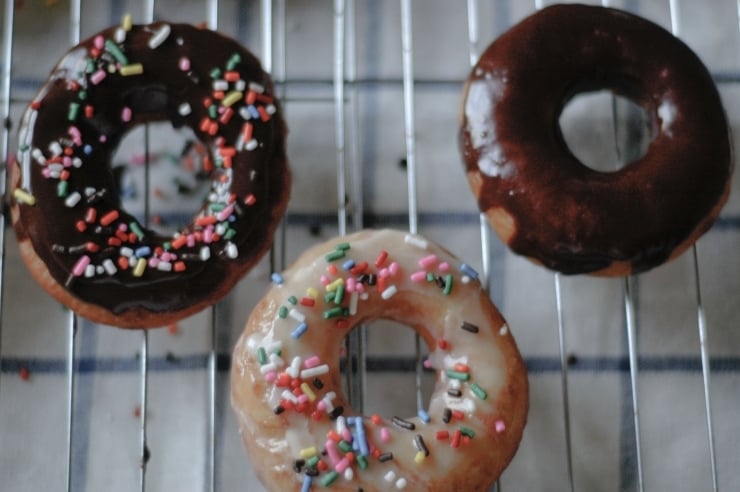 My love for homemade doughnuts is inexpressible. I have always had a secret not-so-secret obsession for these sweet confections. Whether raised doughnuts with a sweet chocolate glaze, french crullers, cake doughnuts with a crumb topping, churros, or small bite-size doughnut holes tossed in powdered sugar or filled with fruit preserves (or both!), I cannot get enough of doughnuts. And neither can my friend, Lara Ferroni, who wrote an entire cookbook centered around-yes, you've got that right- doughnuts!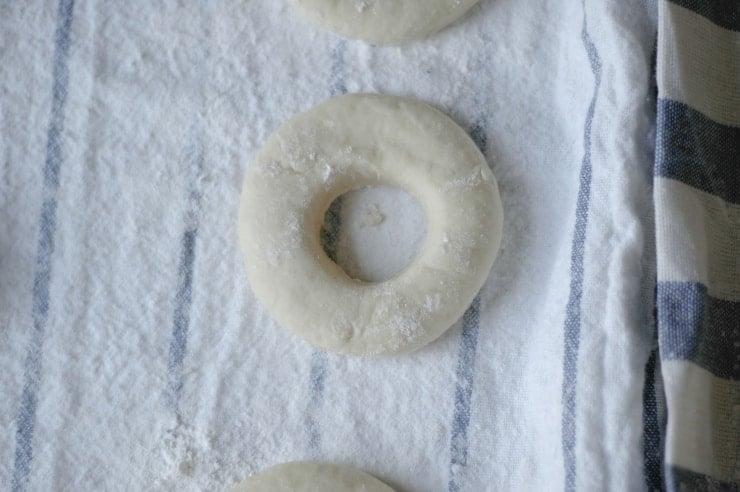 When my copy of Doughnuts came in the mail. I couldn't help express my love for the entire book to Lara. My younger sister who can barely boil water was even surprised as to how amazing the book was- the photography, the writing . . . everything (check out the trailer!). I was given permission to share a couple of recipes with you today.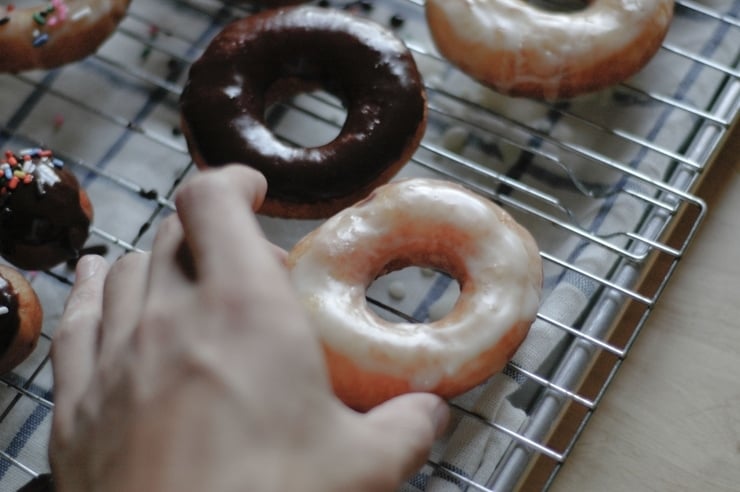 I honestly didn't know what I wanted to share today. I made three recipes from Lara's Book and took photos for each recipe. I made the apple cider doughnuts, the French crullers (I have an obsession with these things!), and of course- these lovely glazed doughnuts.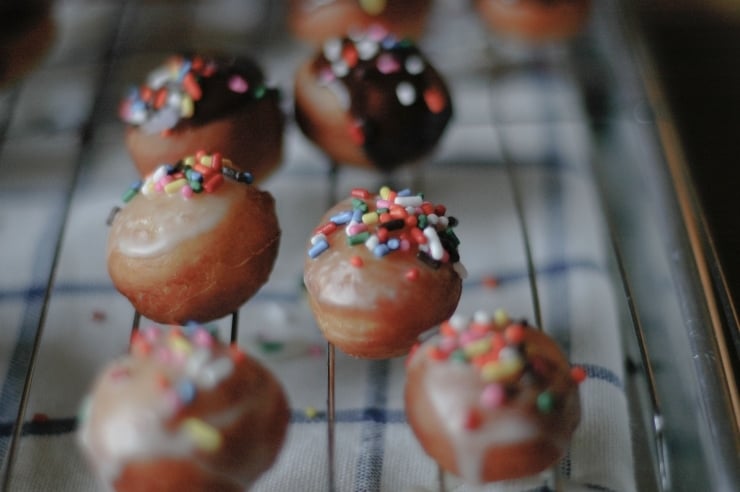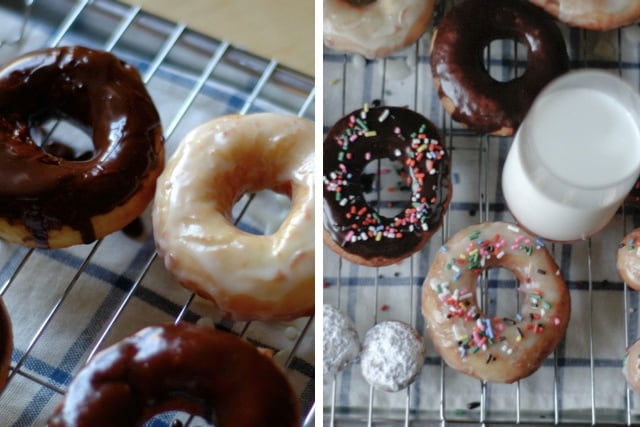 Yesterday, when I decided that posting not-so-nice photos of the first two recipes would not be a good idea at all. Especially when my family didn't leave a crumb for me to photograph. Jerks. So . . . I decided to try another recipe from the book. Raised doughnuts. And boy, do they pack a lot of flavor and character.
When I rolled out the dough, I made more doughnut holes than regular sized doughnuts because well- I like tossing the freshly fried doughnut rounds in a little powdered sugar. I didn't share any of those with my family, just in case you were wondering. My stomach thanked me.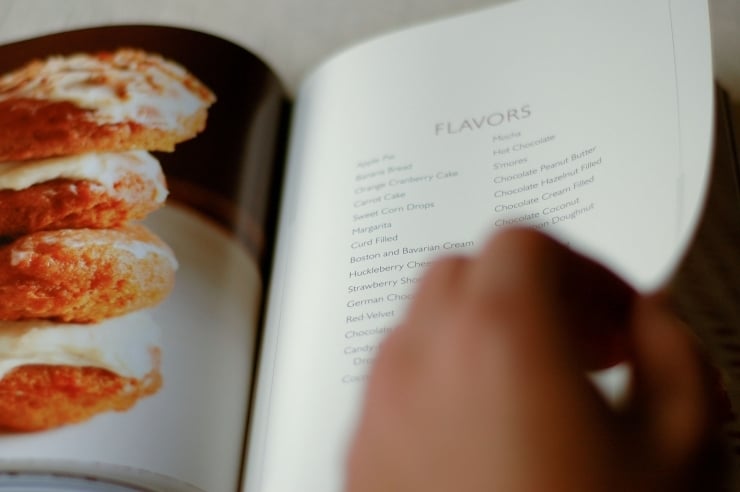 Homemade Glazed Doughnuts
Makes 8 to 14 Doughnuts
From Lara Ferroni's Cookbook, Doughnuts

The dough for this recipe can be made by hand, but expect a nice workout after you're done making the dough. For a touch that brings you back to your childhood, glaze the doughnuts and immediately place some sprinkles on top. You'll thank me.

Ingredients:

2 tablespoons (14.6 grams) active dry yeast
¾ cup of whole milk, heated to 110ºF
¾ cup bread flour

¼ cup whole milk, at room temperature
1 tablespoon yeast (7.3 grams)

2 tablespoons (30 grams) Superfine Sugar**
½ teaspoon salt
1 teaspoon pure vanilla extract
3 egg yolks, at room temperature
1 ¼ cups to 1 ¾ cups bread flour
½ stick (4 tblspns / 2 oz) unsalted butter or vegetable shortening, at room temperature

Vegetable oil for frying

**You can use granulated sugar, just follow the weight measurement or heap the two tablespoons.

Preparation:
1. In a medium bowl, dissolve 2 tablespoons of yeast into ¾ cup of milk. Add ¾ cup of flour and stir to create a smooth paste. Cover the flour mixture and let rest in a warm spot for 30 minutes.

2. Combine ¼ cup of room-temperature milk and 1 tablespoon of yeast in the bowl of a stand mixer fitted with the paddle attachment. Add the rested flour mixture (from step 1) along with the sugar, salt, vanilla, and egg yolks. Mix until smooth. Turn off the mixer and add ½ cup of the remaining flour. Mix on low for about 30 seconds. Add the butter and mix until it becomes incorporated, about 30 seconds. Switch to a dough hook and add more flour, about ¼ cup at a time with the mixer turned off, kneading the dough at medium speed between additions, until the dough pulls completely away from the sides of the bowl and is smooth and not too sticky. It will be very soft and moist, but not so sticky that you can't roll it out. You may have flour left over. Cover the bowl with plastic wrap and refrigerate for at least 1 hour (and up to 12 hours).

3. 20 minutes before taking the dough out, heat a heavy bottomed pot with at least 2 inches of oil until a deep-fat / candy thermometer registers 360ºF.

4. Line a baking sheet with a lightly floured non-terry dish towel. Roll out the dough on a slightly floured surface to ½ inch thick. With a doughnut or cookie cutter (can use a glass, too) cut out 3-inch-diameter rounds with 1-inch-diameter holes (if you plan on filling the doughnuts with preserves, don't cut out the holes).

5. Place the doughnuts on the baking sheet at least 1 inch apart and cover with plastic wrap. Let sit in a warm spot to proof until they almost double in size, 5 to 20 minutes (kamran note: it took about 5 minutes for mine to proof), testing at five-minute intervals. To test whether the dough Is ready, touch lightly with a fingertip. If it springs back immediately, it needs more time. If it springs back slowly, it is ready. If it does not spring back at all, it has overproofed; no worries- you can punch it down and re-roll it once.

6. Once the doughnuts have proofed, using a metal spatula, carefully place the doughnuts in the oil. Fry for 1 to 2 minutes per side (for the doughnut holes, it might be less than 30 seconds a side, so keep an eye on them!), or until golden brown. Remove with a slotted spoon, drain on a wire rack over a paper towel, and let cool before glazing.

7. Prepare the glaze, recipes follow.

8. Glaze the doughnuts, cover them with sprinkles, cover the doughnuts in powdered sugar, or do a mix of each. Enjoy!

Basic Sugar Glaze

Ingredients:
1 ½ cups (150 grams) confectioners' sugar, sifted to remove any lumps.
3 to 4 tablespoons milk or water
2 teaspoons pure vanilla extract (optional)

Preparation:
Place the sugar in a medium bowl and slowly stir in the milk and vanilla, a little at a time, to make a smooth pourable glaze.

Chocolate Glaze

Ingredients:
1 ½ cups (150 grams) confectioners' sugar, sifted to remove any lumps.
4 tablespoons (27 grams) cocoa powder
3 to 4 tablespoons milk or water
2 teaspoons pure vanilla extract (optional)

Preparation:
Sift together the sugar and cocoa powder in a medium bowl . Slowly stir in the milk and vanilla, a little at a time, to make a smooth pourable glaze.
For other great Doughnut Features, be sure to check out:

Oct 12—CakeSpy
Oct 13—Wasabi Prime
Oct 21—Cannelle et Vanille
Oct 22—Use Real Butter
Oct 25—Cream Puffs in Venice